Similarly to chocolate, more peanut butter makes everything better. At least that the analogy I went with for this recipe. More peanut butter the jollier!
Anyhow, I often find that third time usually is a charm when creating more difficult recipes. However, this recipe took four whole rounds of cookies to get to this perfect final recipe. Most of the problems that occurred was because I wanted to create a good cookie that was sweetened with only dates, with no added oil, AND was super delicious. Let me tell you, the hassle was totally worth the result, these cookies. This is a new favourite within my family, simply yum!
On another note, this is the first proper recipe I have shot in my my new little studio (all of you who follow me on Instagram have probably already seen it), and I couldn't be happier with the result. Finally (!!), I can create bigger, better, and more inspiring scenes for my recipe, which is so exciting! I can't wait to see how this next step will help my photography develop.
I always try to keep these rambling bits as short as possible, so enough talking. Enjoy guys!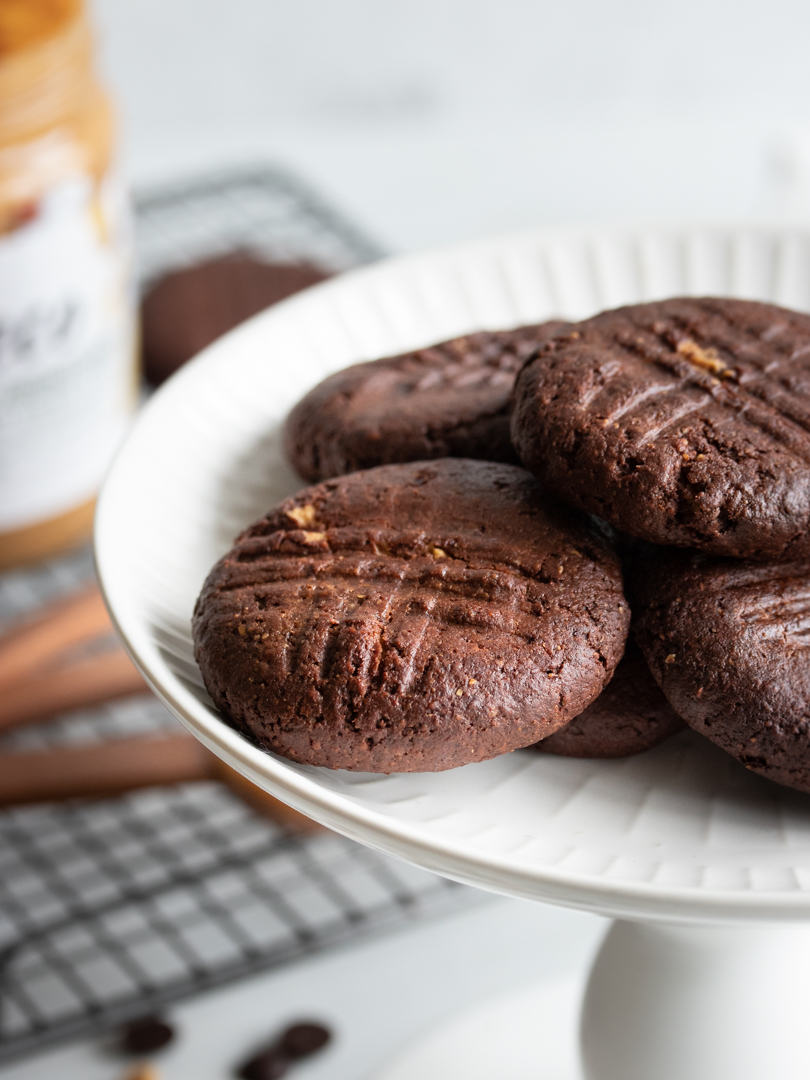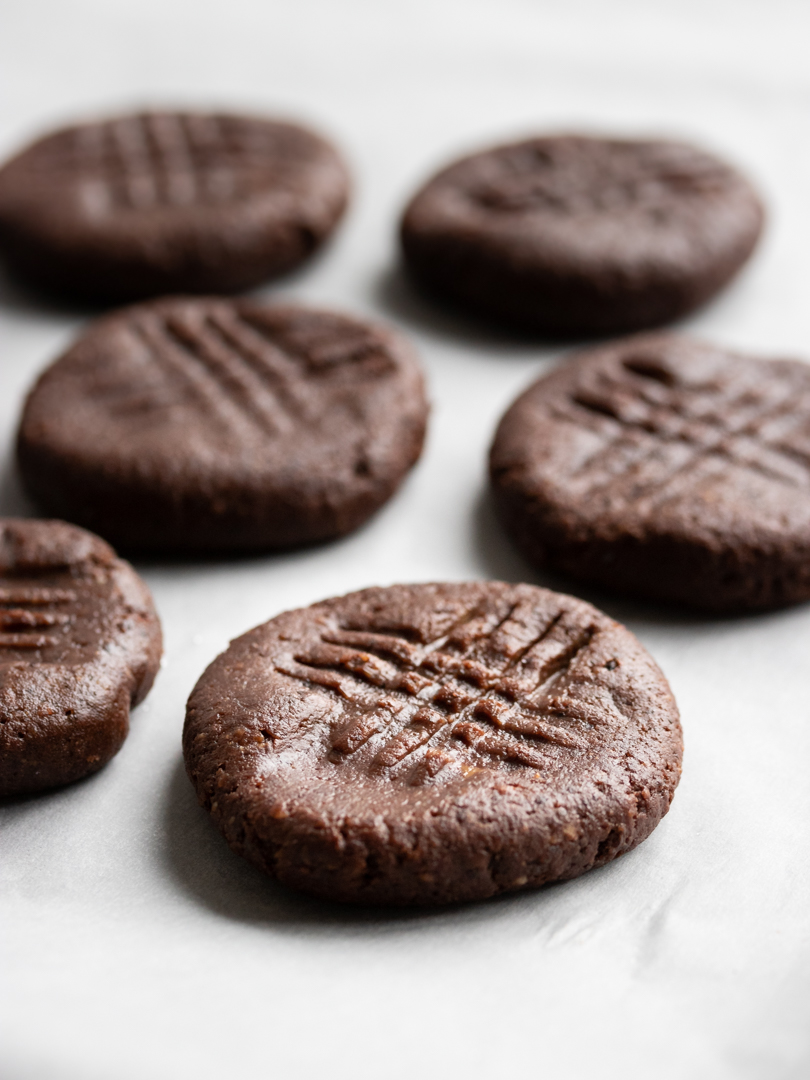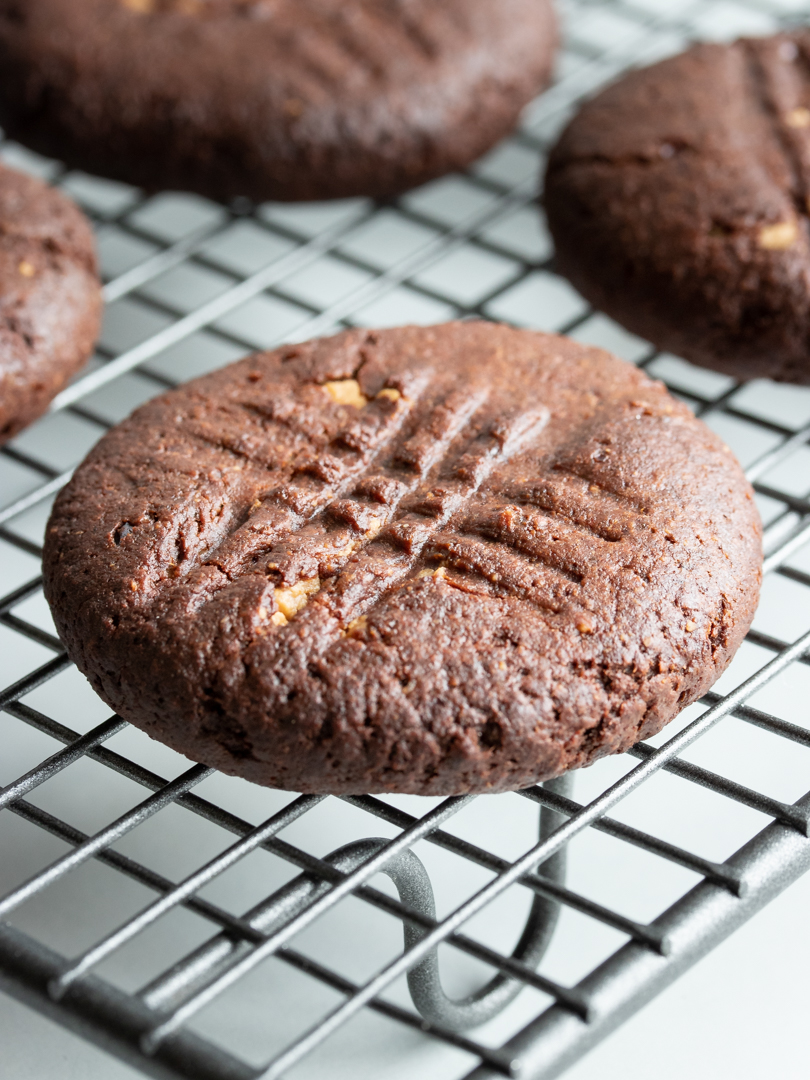 Print
The perfect Peanut butter stuffed soft baked Chocolate Peanut butter Cookies
Peanut butter stuffed chocolate cookies! Honestly, what is there not to like?
Filling (can be substituted for just 8 tbsp of peanut butter)
4 tbsp

peanut butter

2 tbsp

liquid sweetener
A pinch of salt
A splash of vanilla essence
Cookies
120g

/ 4,25 oz pitted dates

2 tbsp

peanut butter

15g

/ 1/2 oz chocolate, melted

3 tbsp

/ 20g / 0,7 oz flour (I used

1/2

oat- and

1/2

almond flour)

2 tbsp

/ 10g / 0,35 oz cocoa powder

1 tsp

baking powder
A pinch of salt

1/2 tsp

vanilla essence
Instructions
Start with making the filing by, in a small bowl, stir together all the ingredients: peanut butter, sweetener, salt, and vanilla, until smooth. Let firm up in the fridge or freezer for 10-15 minutes or while you make the cookie dough.
Preheat the oven to 150ºC / 300ºF.
In a food processor or strong blender process the dates, peanut butter until it forms a kind of dough. Add the rest of the ingredients and process until combined.
Prepare a cookie pan with parchment paper and divide and shape the dough into eight balls. Press down the balls and divide the filling between those "circles". (see GIF above to understand what I'm talking about, hehe) Using a fork dipped in some water, press down the back of the fork and then press again from the opposite direction to form that classic criss-cross pattern on the cookies.
Bake the cookies for 25-30 minutes, take out, let cool, and enjoy!
Keywords: Vegan, healthy, whole food, refined sugar-, gluten-, oil-free, fruit sweetened, cookies, peanut butter, chocolate