It is decadent and rich yet light, but how can that be? The secret is a base of silken tofu, whipped aquafaba, and good quality dark chocolate. Three simple ingredients which together give this cake the perfect amount of gosh darn delicious chocolatiness, creaminess, but also light- and fluffiness. That mousse together with a crumble bottom with oats and brown sugar for those caramel notes, and passion fruit for some freshness and delicious fruity notes. I also must mention that it's great to make in advance since if you wrap your cake pan with the cake in plastic wrap it should old for at least a few days.
As a fun experiment I used something I bought a long time ago, a kind of vegan alternative to gelatin called "Vegegel". I used it to make a light passion fruit jelly to top the cake with, which worked out great. it wasn't too firm nor too liquidly so it didn't set. I honestly was a little worried it was going to be like my childhood's weird gelatin set mousse cakes with a way to firm fruit jelly on top, but it totally wasn't anything like that. Simply delicious! However, if you don't have time or want to make an extra component like a jelly, you can simply top the mousse cake with the flesh from a few fresh passion fruits. Work just as well!
I made this cake for Easter, and had it with my family during our outside Easter celebration dinner. All I could hear once everyone dug into their slices was: "mmmmMMmMMm", and it all was finished by the six of us during that sitting, which says a lot.
Enjoy!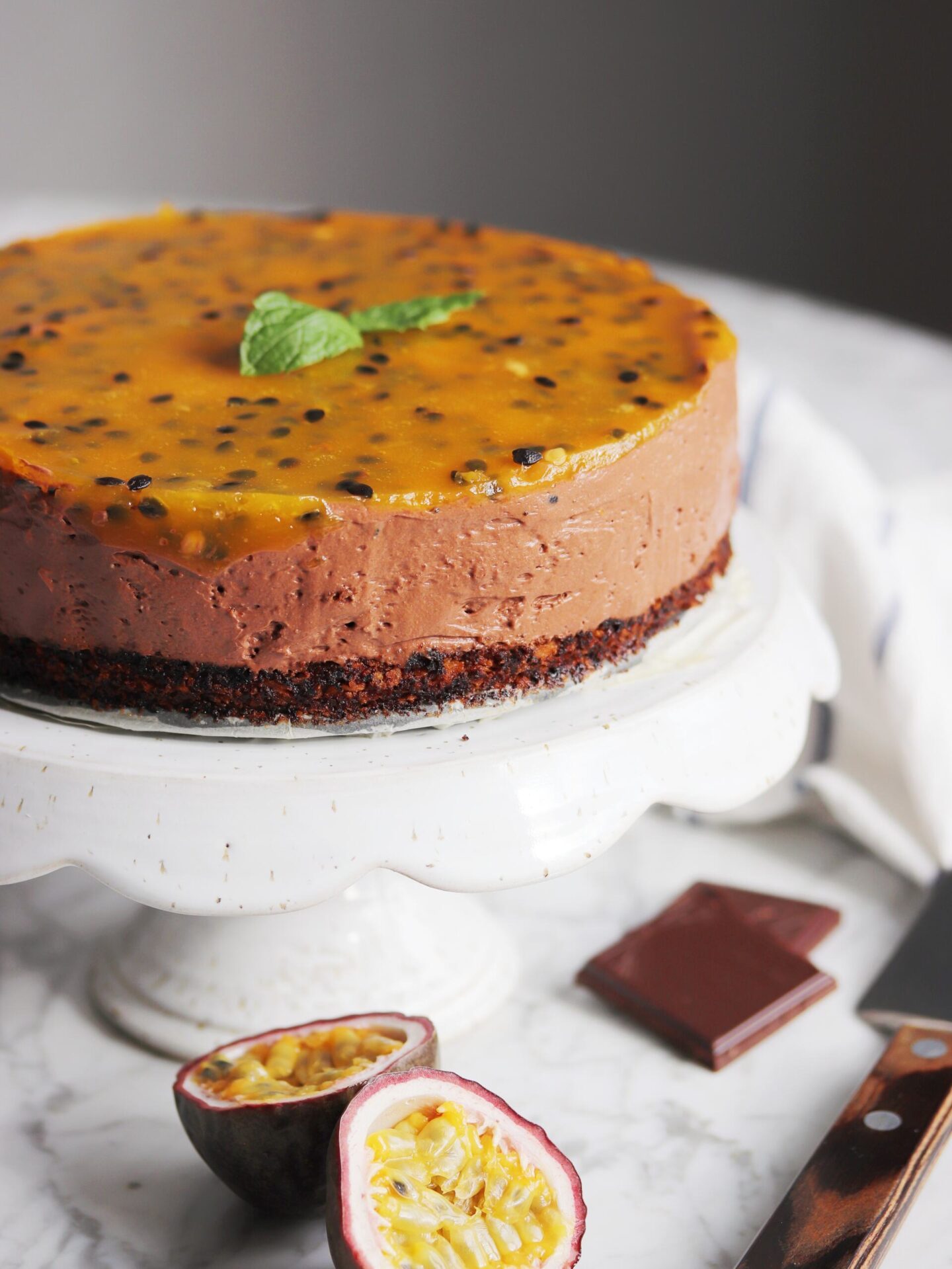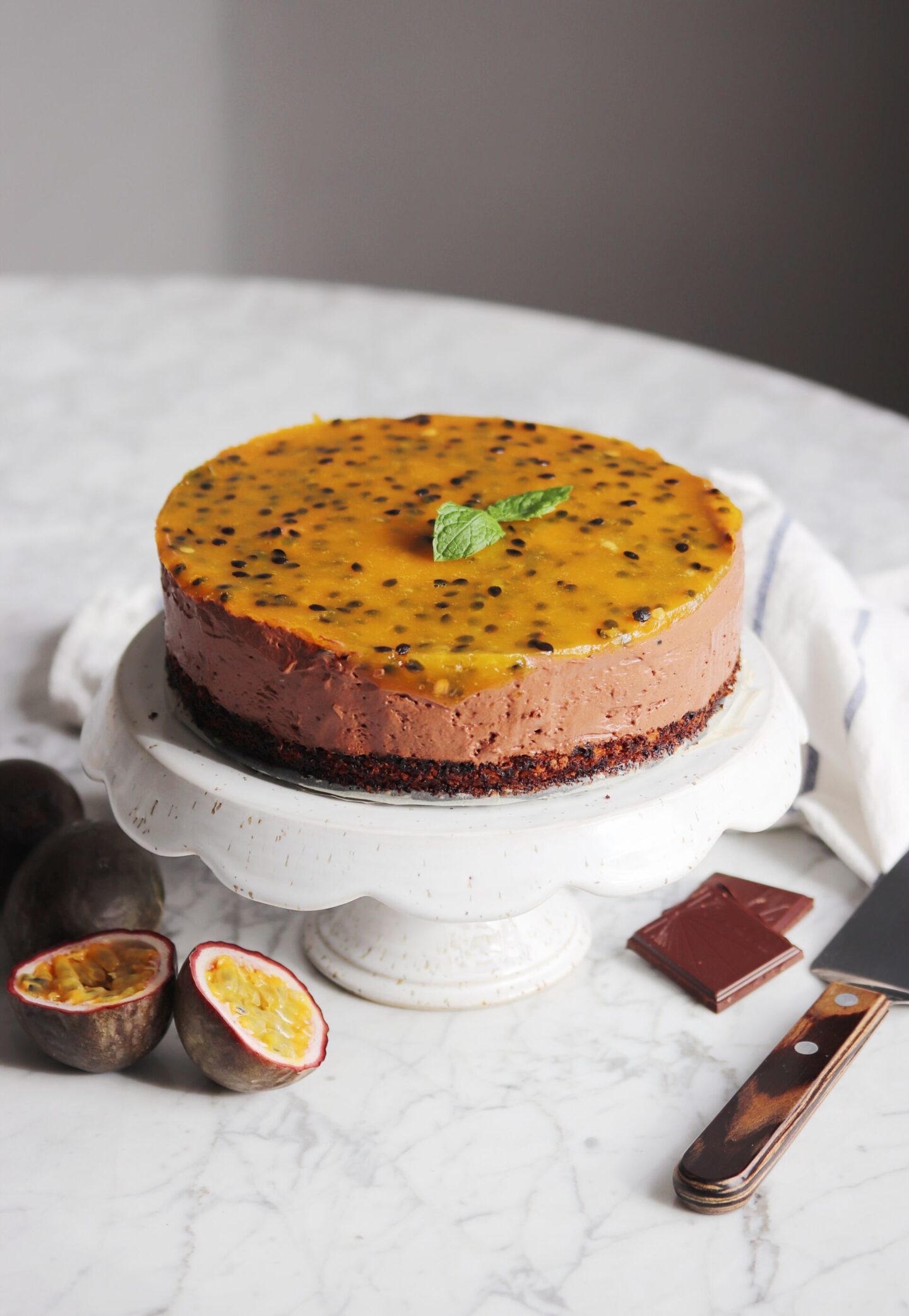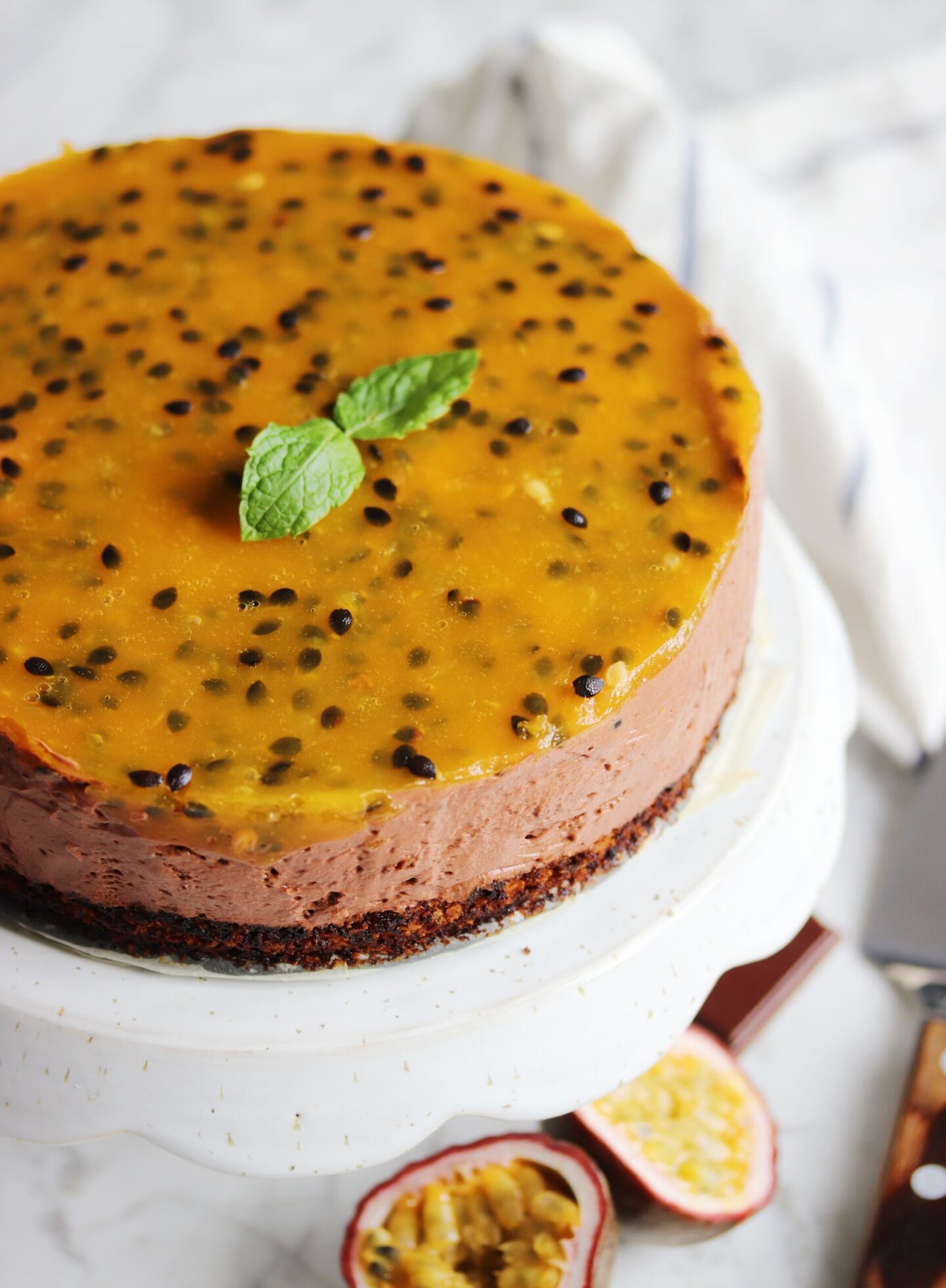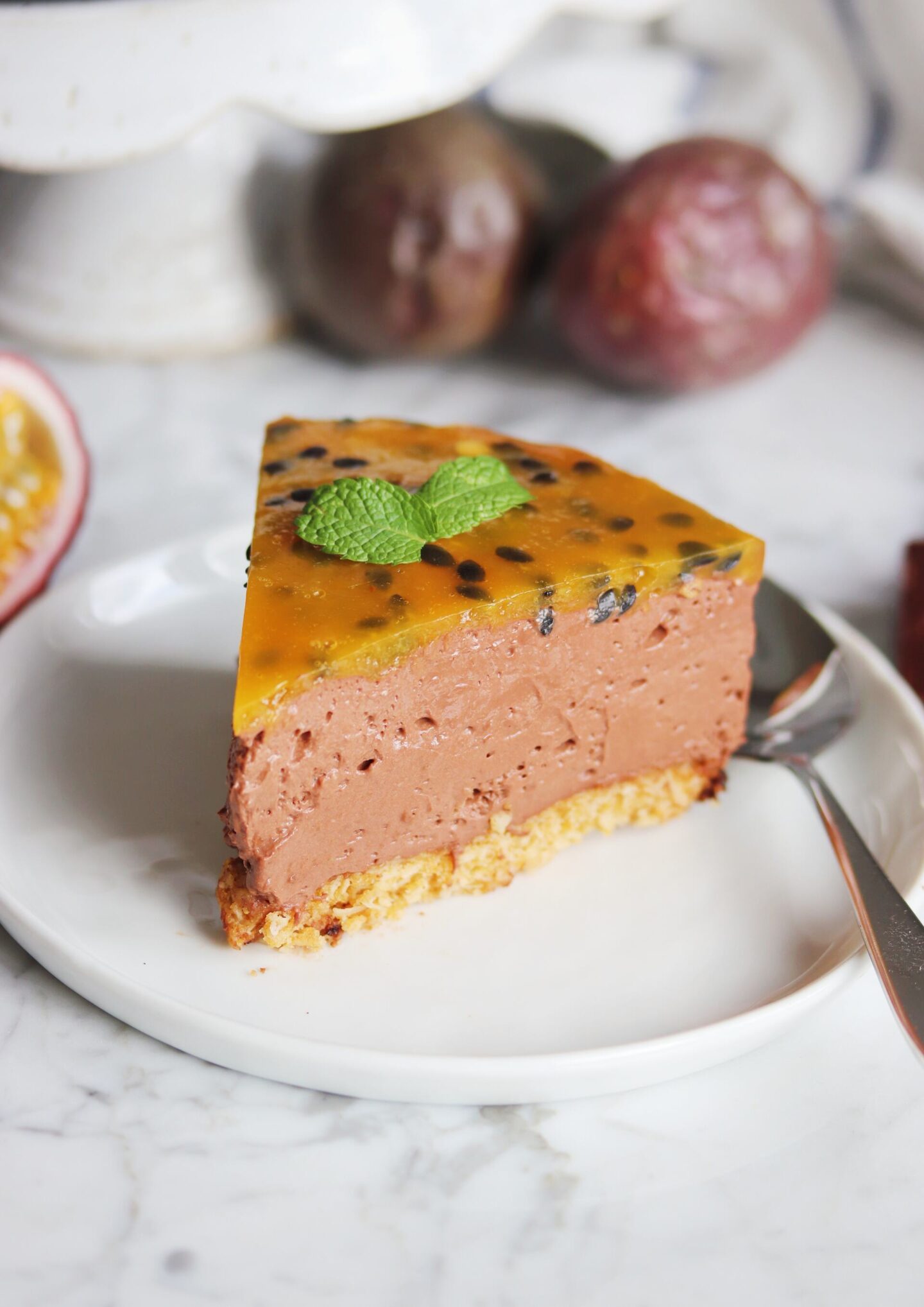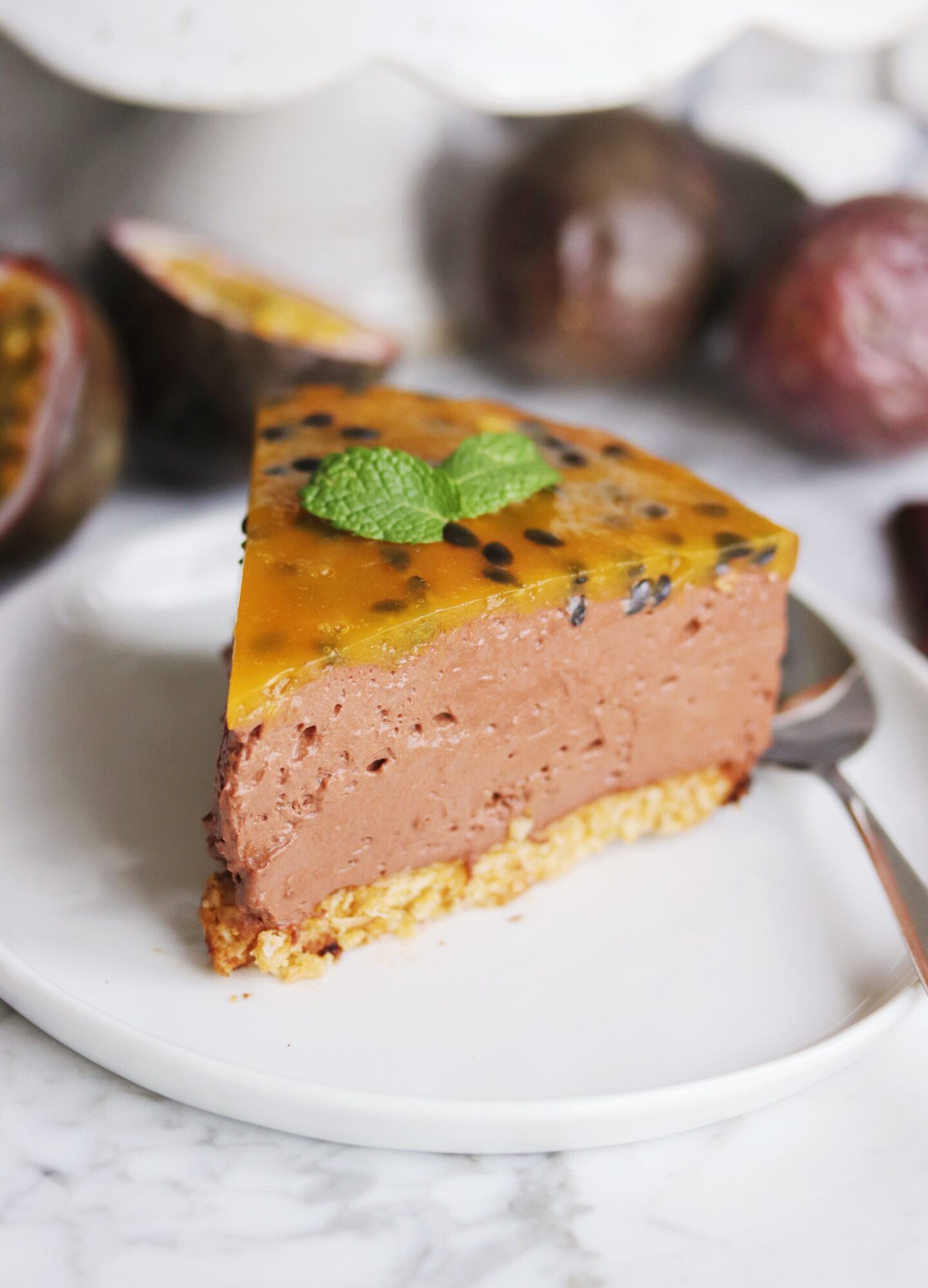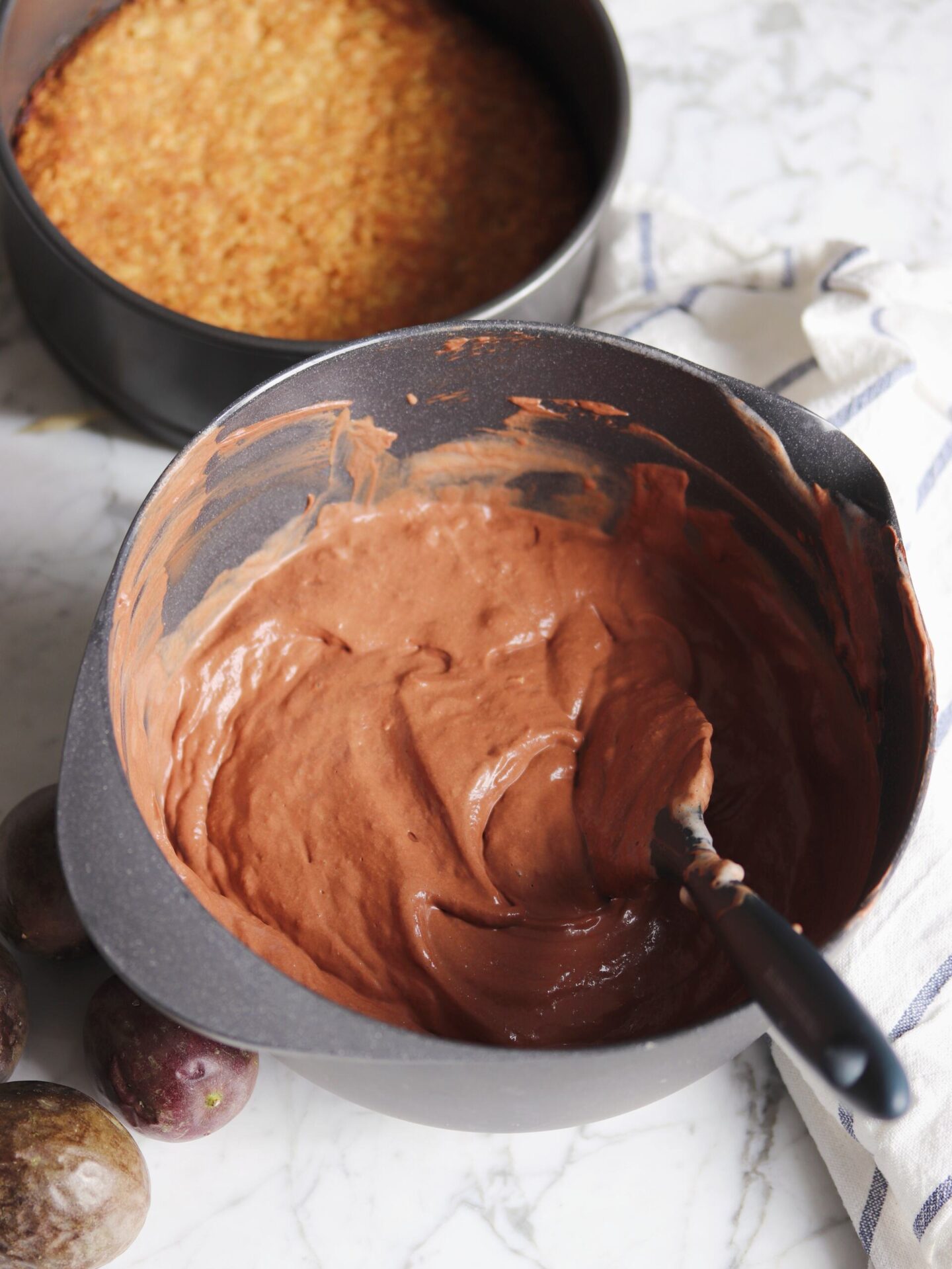 Have you seen a more gorgeous looking fluffy yet rich mousse? I certainly haven't!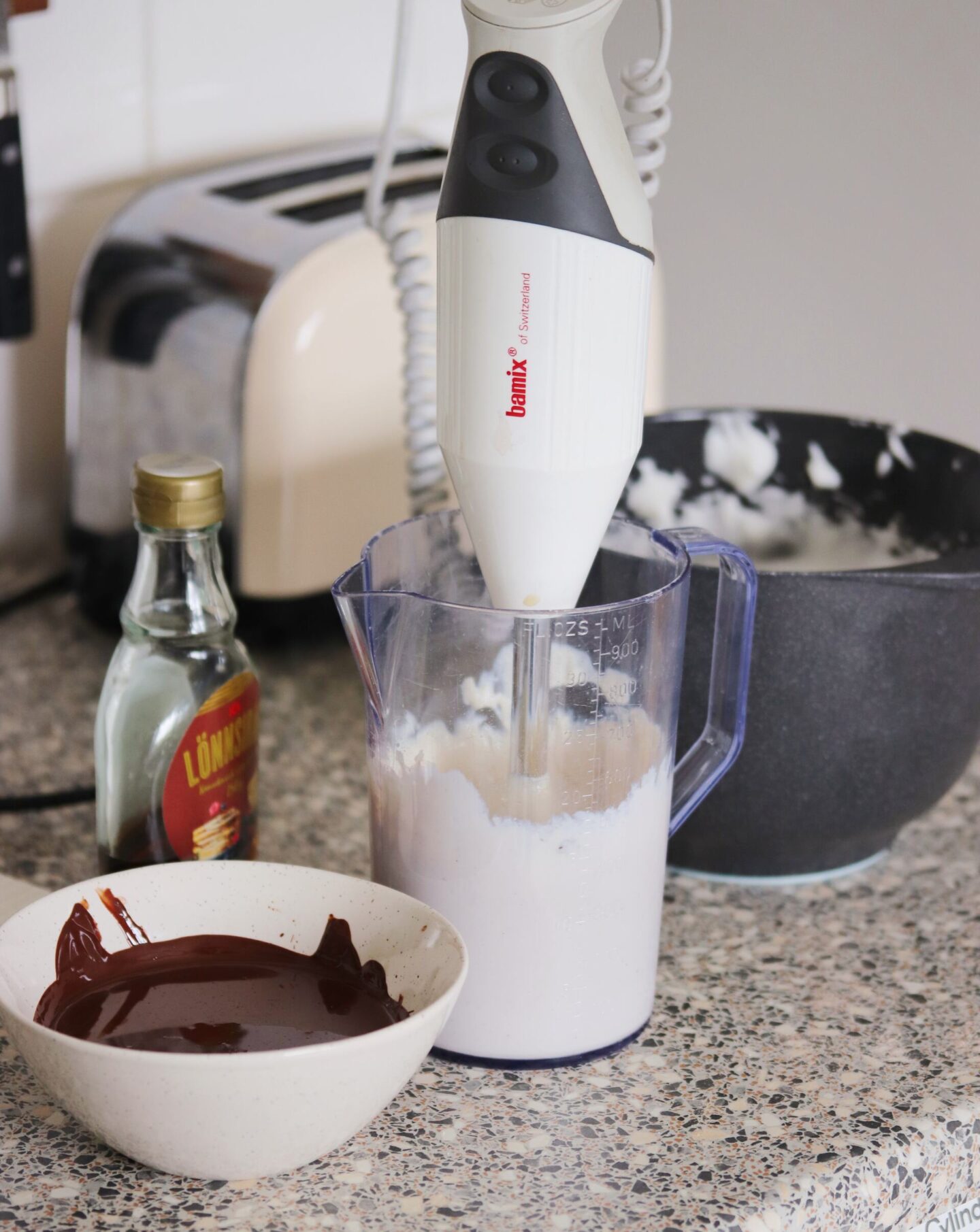 I used my stick blender to make the mousse base of tofu and melted chocolate. When I've made similar mousse recipes I've used a food processor, but a stick blender works just as well, and usually produces less dishes. Great, huh!
You can both use fresh passion fruit or thawed from frozen in this recipe. How convenient! In this recipe, I made a light passion fruit jelly, but you can just as well top the cake with fresh passion fruit. I used a vegan alternative to gelatin called "Vegegel" to set my jelly, which was a fun and successful experiment.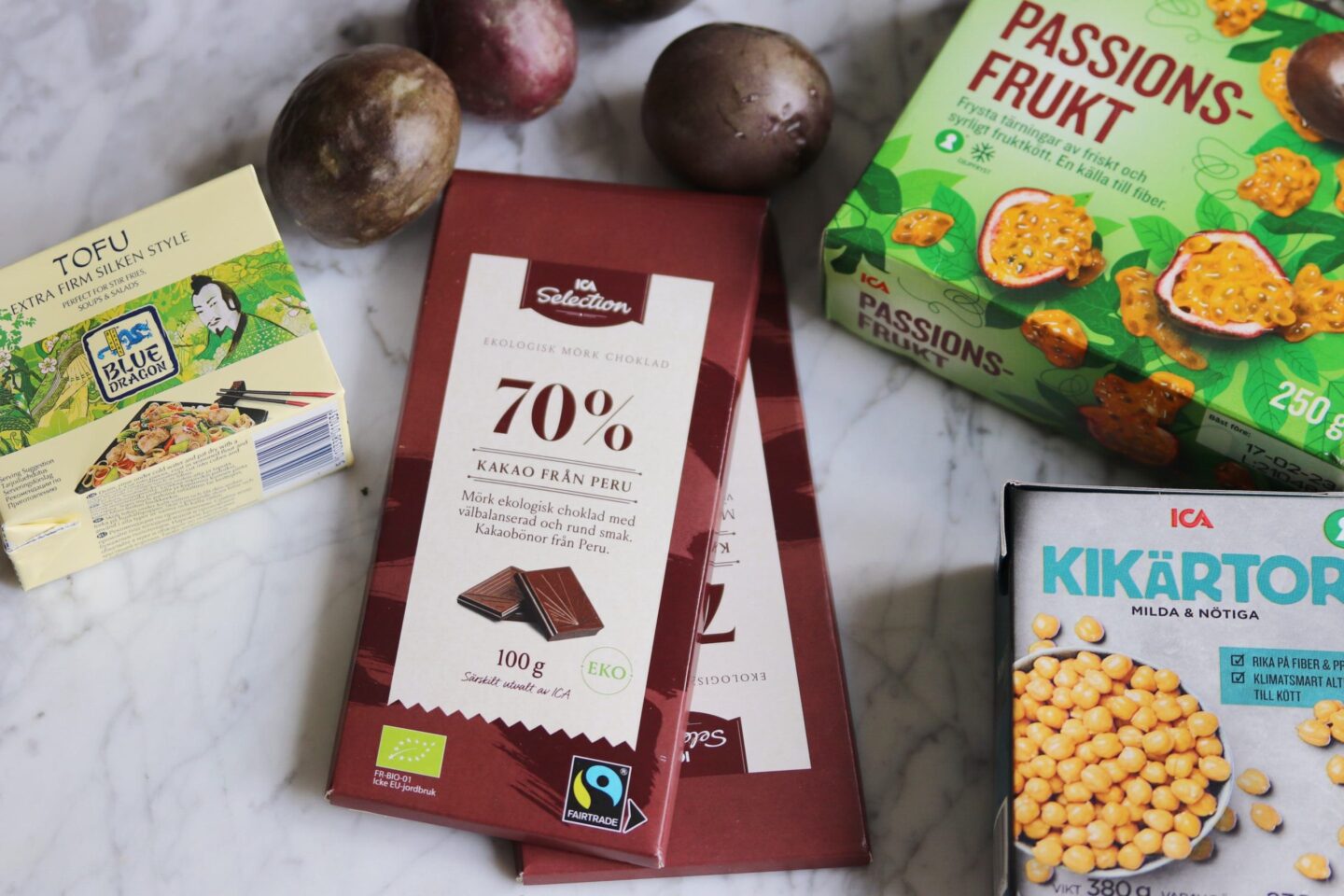 Pretty darn simple ingredients, right?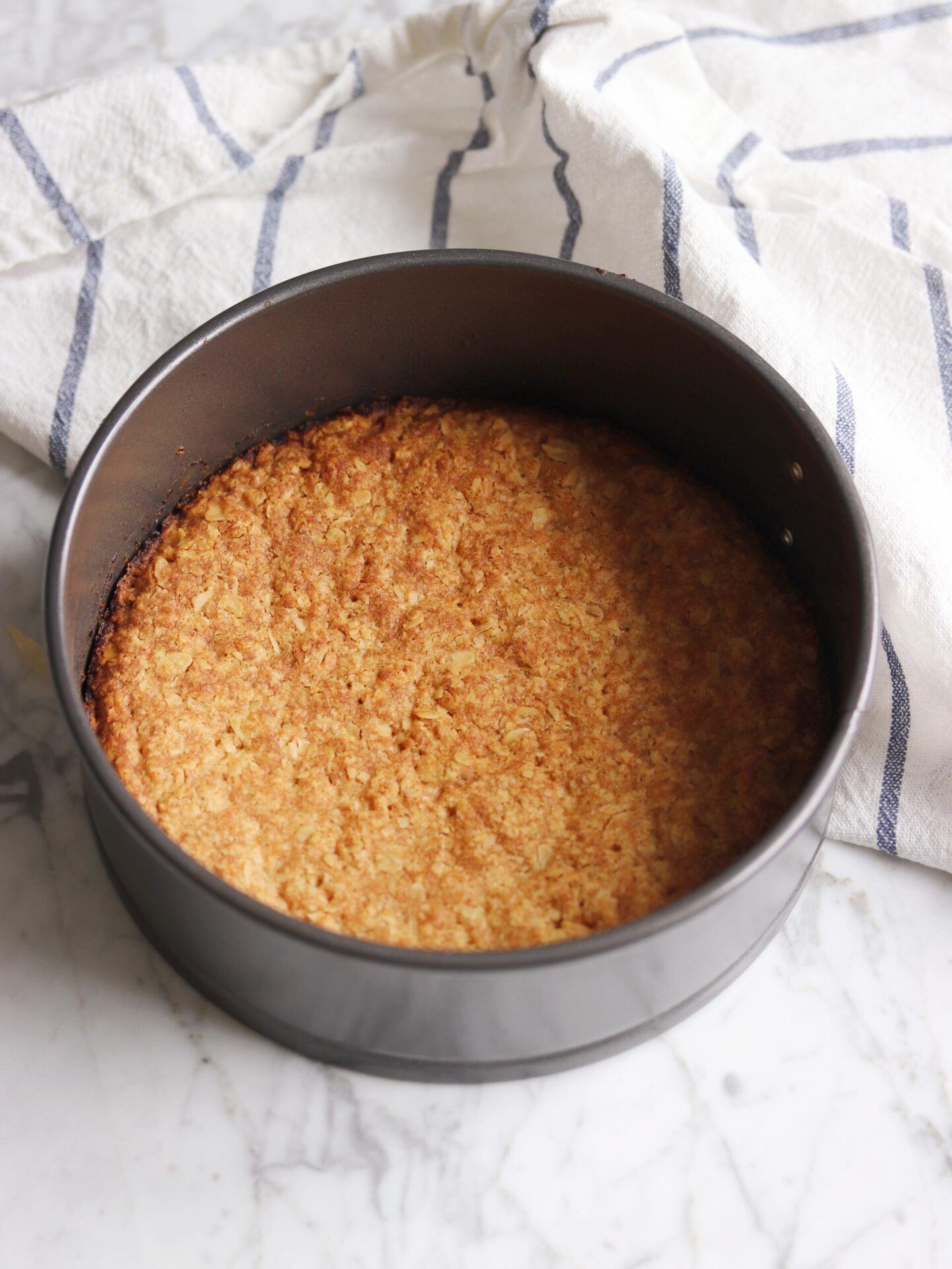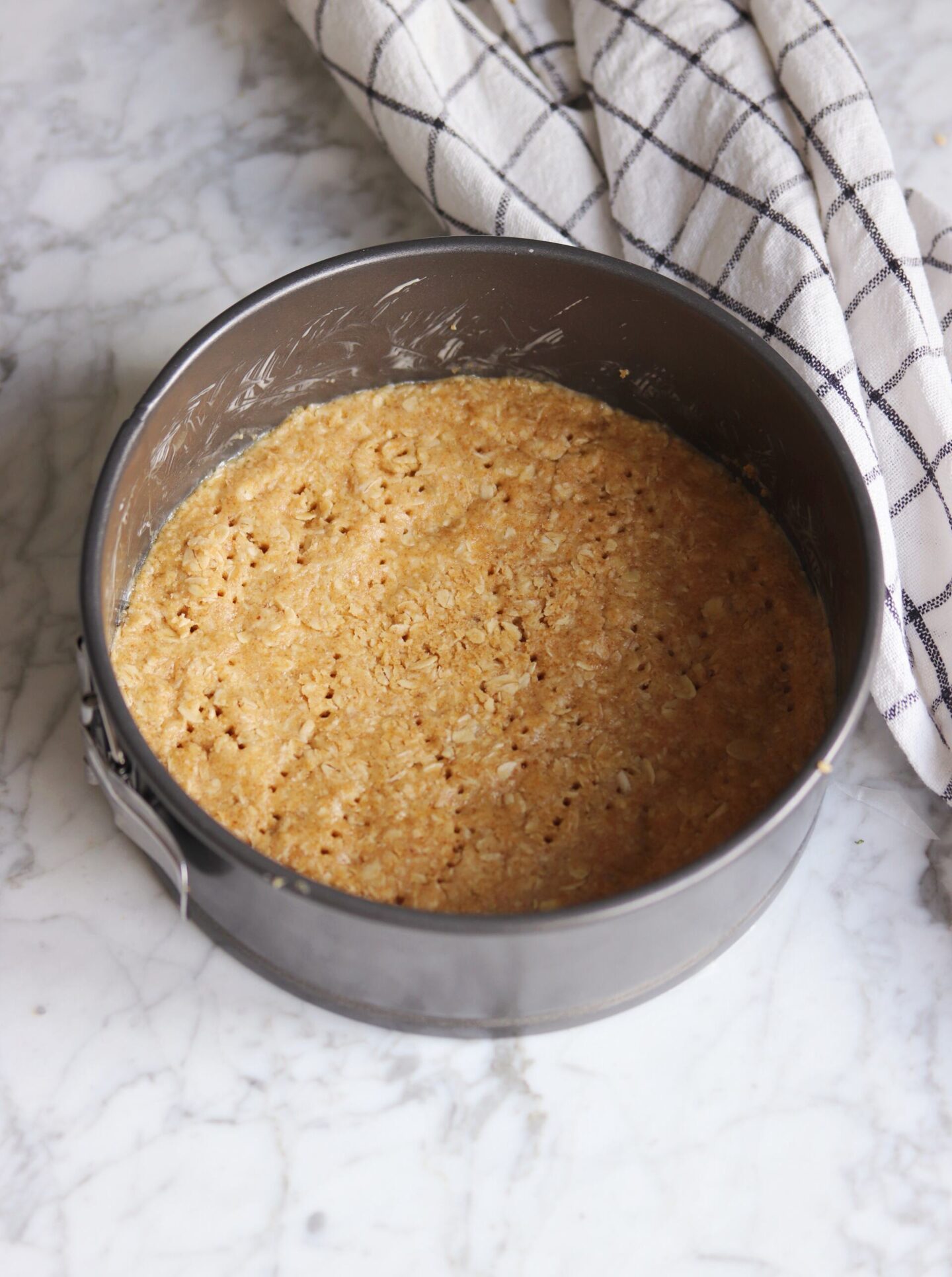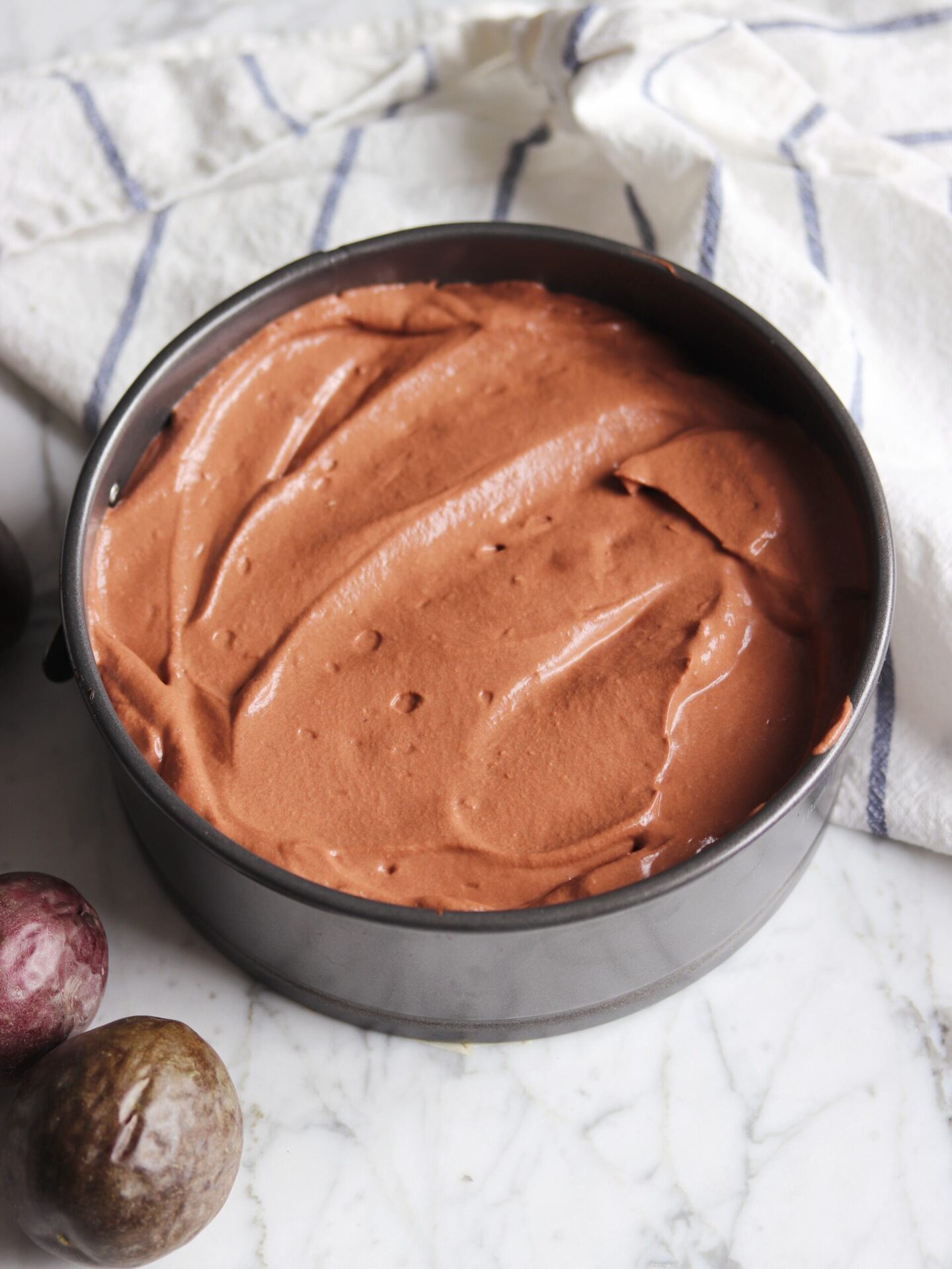 I call this the evolution of a chocolate mousse cake with a crumble bottom and passion fruit. Long name, I know, but I love showing step by step pictures.
Print
Fluffy & Creamy Vegan Chocolate Mousse Cake with passion fruit & a crumble bottom
With a base of silken tofu, whipped aquafaba, and dark good-quality chocolate this cake is creamy, delicious, decadent while not being too heavy. With the addition of a crumble bottom with oats and passion fruit, this cake is a dream come true. Since it can easily be made gluten-free and refined sugar free, and already is vegan (and delicious af) it is something for everyone!
Author: Hanna
Yield:

6

-

8

servings

1

x
Bottom
75g

/ 2,6 oz margarine/butter of choice

4 tbsp

sugar of choice, I used brown sugar

60g

/ 2,1 oz plain flour, can probably be subbed for oat flour or such

60g

/ 2,1 oz rolled oats
A pinch of salt
Mousse
350g

/ 12,4 oz silken tofu, room temperature

200g

/ 7 oz dark chocolate, I used 70%
Optional

2 tbsp

or more sweetener of choice, I used maple syrup

150

ml/ 5,3 oz (about a carton's worth) of aquafaba, the liquid from a can of chickpeas*
A pinch of salt
A splash of vanilla extract
Passion fruit layer (can be subbed for a few fresh passion fruits)
150g

passion fruit (I used thawed from frozen)
Optional

1tbsp

or more sweetener of choice

1 tbsp

water

1/2 tsp

"vegegel", vegan alternative to gelatin
Instructions
Bottom
Preheat the oven to 200C/400F. Prepare a cake pan by greasing it and lining it with parchment paper. My pan had a 18cm diameter.
In a bowl, using your hands crumble together the ingredients for the bottom till it becomes a somewhat "shapeable" crumble.
Transfer the mixture to the pan. Press out evenly and prick with a fork. Bake for 18-20 minutes or until firm and golden. Let cool while making the mousse.
Mousse
Using a food processor or stick blender, mix the tofu completely smooth. While the food processor or stick blender is still running, pour in the melted chocolate and mix until combined. Transfer to a bowl.
In a separate bowl, whip the aquafaba as hard and fluffy as possible. It may take a couple of minutes. Then transfer around half the whipped aquafaba to the chocolate mixture and carefully fold it together. Add the rest of the aquafaba and repeat the process.
Transfer the mousse to the cooled crumble bottom and spread evenly. Let cool in the fridge for an hour. If you're just using fresh passion fruit, simply top the cake with it and serve, and skip the next steps.
Passion fruit topping (can be skipped if just using fresh passion fruit)
Put all the ingredients in a sauce and bring to a simmer on medium high heat. Let cook for 2 minutes until starts to thicken. If you're not sure if the mixture will set, spread a little on a plate and put in the freezer for a minute or two till cooled and check the texture.
Transfer the mixture and pour over the mousse cake. Let set in the fridge for an hour before serving. Serve and enjoy!
Notes
*Choose a brand of chickpeas without added salt for flavour reasons
Keywords: Vegan, chocolate mousse, healthy, gluten free, chocolate mousse cake, mousse cake, cake, crumble, passionfruit, with passionfruit