Why not go out with a bang, am I right?
Soooo, this is basically my last recipe, at least for some time. I may return in a couple of weeks, months or years when I've found my spark and passion back. The only thing I know now is that I honestly feel more free than I've done for about half a year. Now, when school has started again, I can not understand how on earth I had time to have a full time job, which this is, on the side. This summer, I tried properly working with my platforms and recipe development. At first, it was suuuuper duper exciting. It was something new, and it gave me some extra spark for a short amount of time. Not until after I had crossed the very important line of the joy and fullfillment no longer being greater than the effort, I realised that I hadn't enjoyed baking for several months and neither did I enjoy taking photos as much anymore. When I had that realisation it was the most surreal moment ever. I was trying to develop some kind of trail mix cookies and caramel filled chocolate muffins and I suffenly realised I REALLY did not want to do this anymore. For some people blogging and recipe development is the love of their life, and for some it's their biggest shot in life. I mean this in the kindest way ever, but I want to do something bigger with my life.
I have been going back and forth A LOT the past two months, and it has not been easy. As silly as it sounds, this blog has been a biiig part of my life the past three years. I have been given super cool opportunities, learnt a lot about comminication with companies, and I have become a bloody good recipe creator and food photographer. So, a lot of tears have been shed making this decision as I've been scared to loose something precious. However, I have come to the point where this thing, my blog and all, isn't precious anymore as it literally only is energy draining. Seriously, I've noticed that I am really really bad at getting semi-mean comments online. Respect to those who are good with that kind of shiet of the internet.
Anyhow, yes this is my last recipe, but I have chosen this to be my last because of how goooosh darn delicious it is. Seriosuly, this my absolute favourite on my entire blog (I think)! It combines my absolute favourite banana bread which is both fluffy, moist, and simply perfect and a hazelnut butter nutella swirl/filling. Guys, these are to say the absoltue least EPIC! Also, they're easy to make, freezer friendly, "healthy" enough to have for breakfast, gluten-free, vegan, and simply perfect for everyone regardless of dietary preference. Hooray!
Enough said now, I cerainly hope you'll enjoy and love this recipe as much as I have. Until next time, take care and enjoy!
Yours Truly
Hanna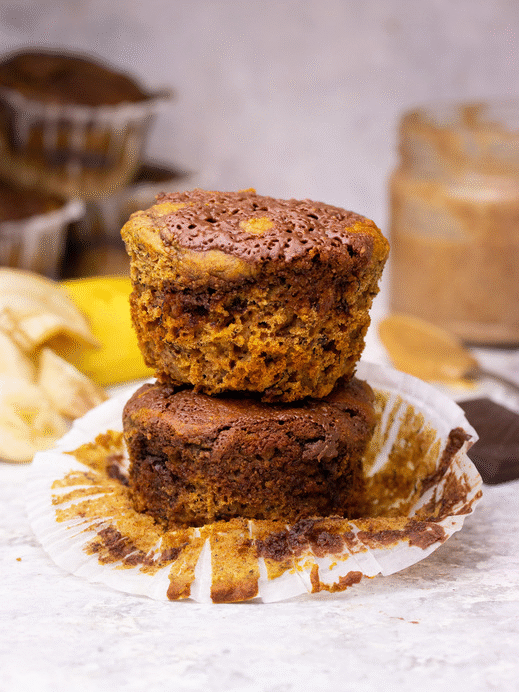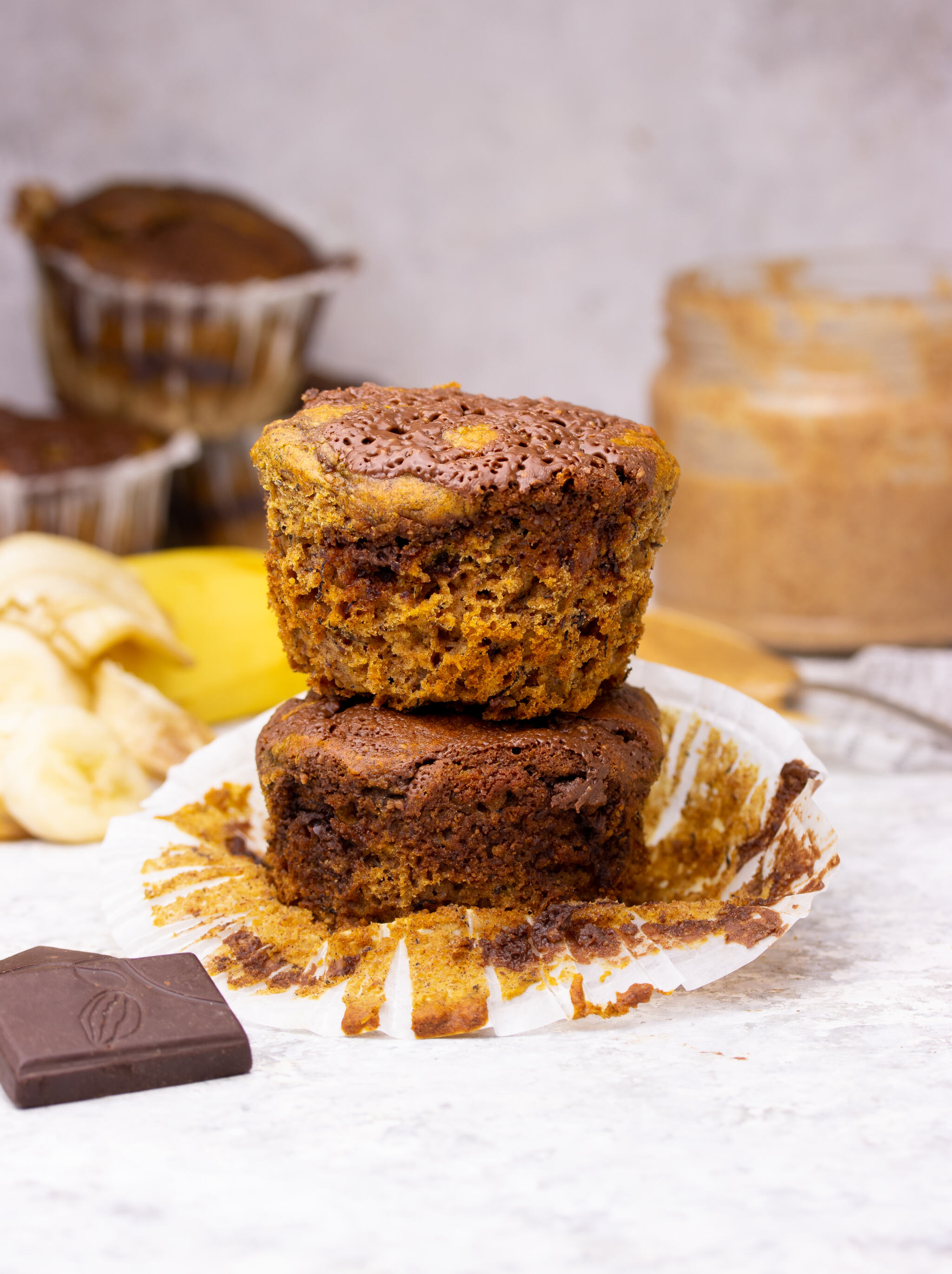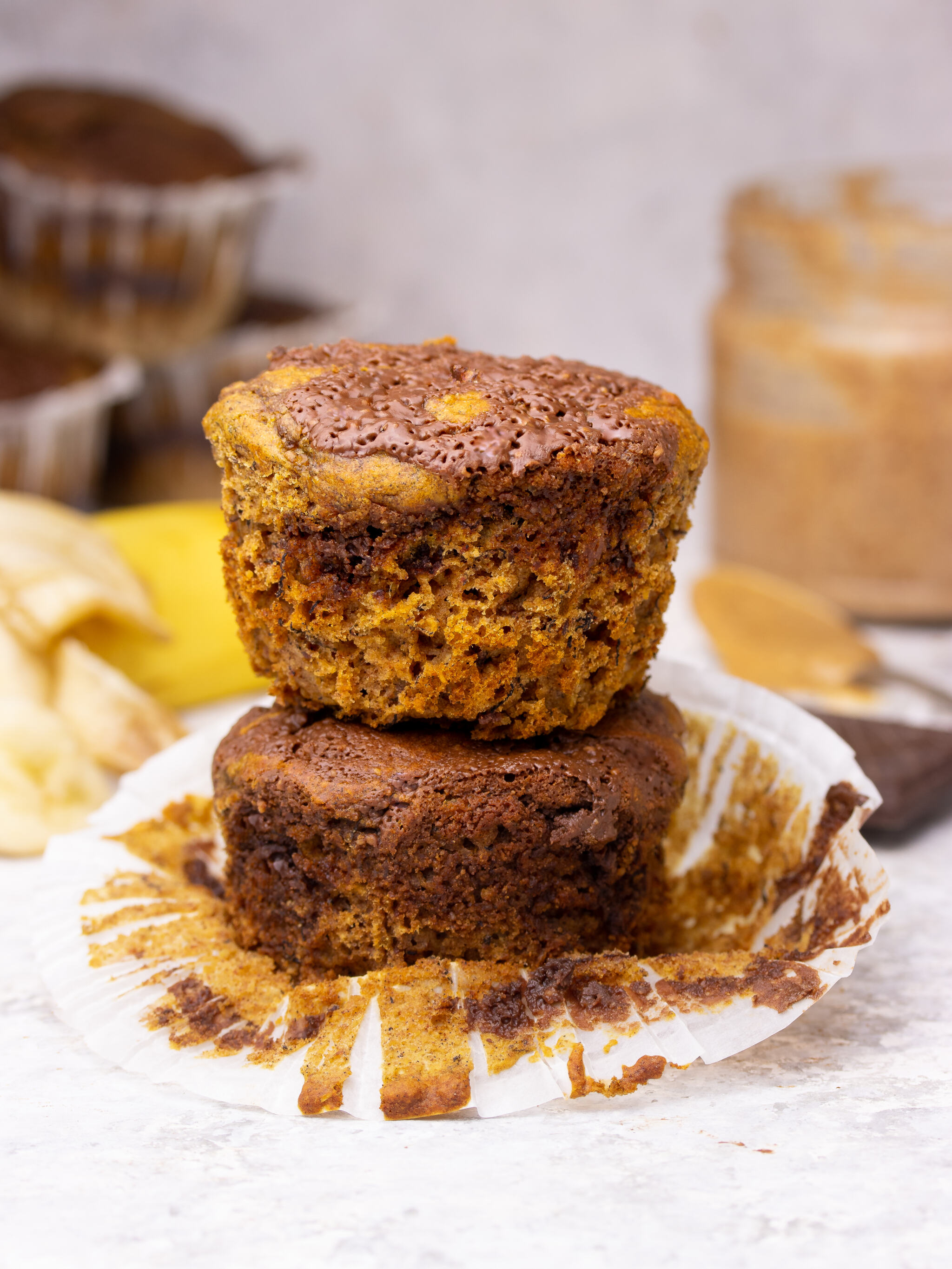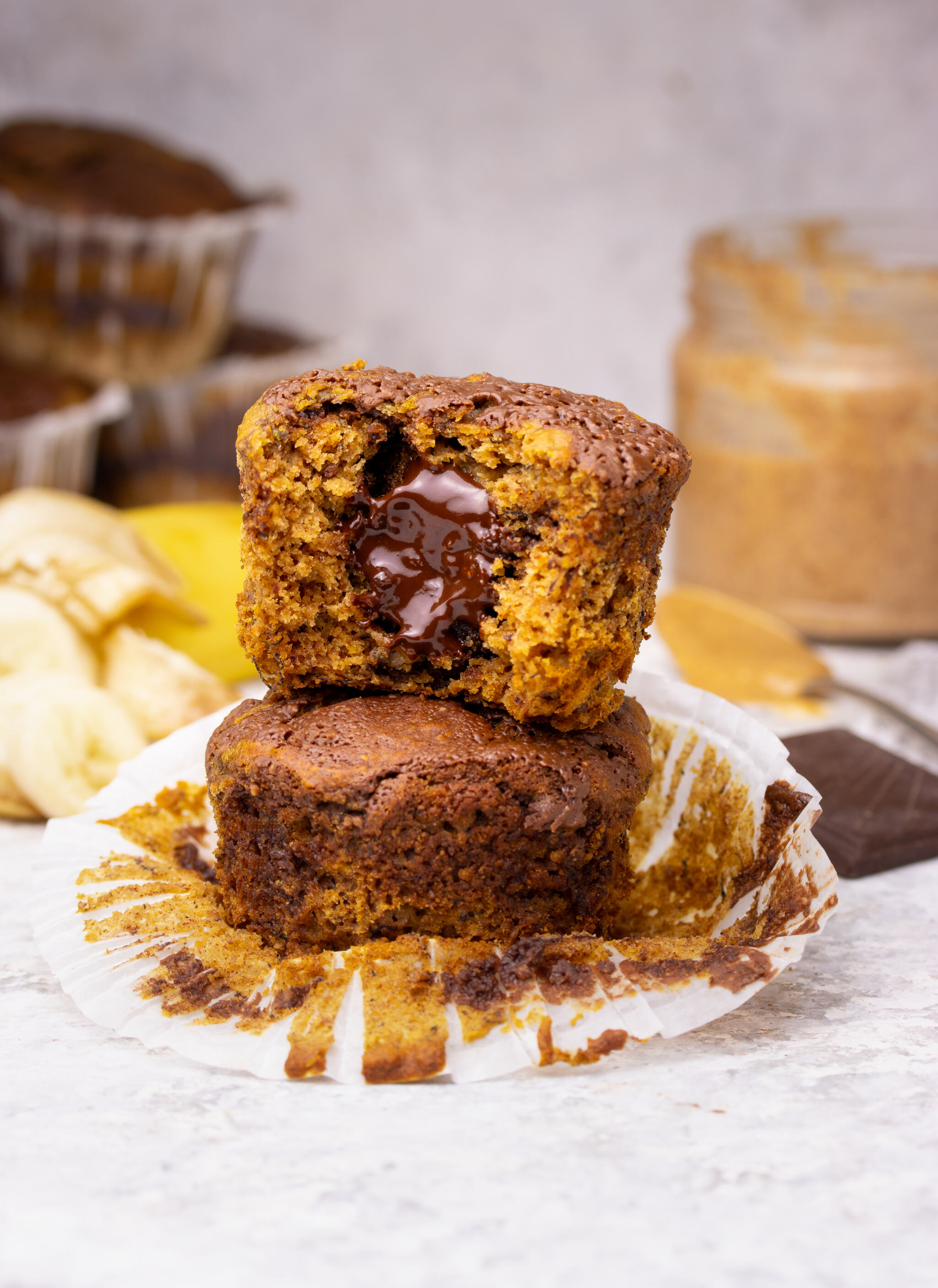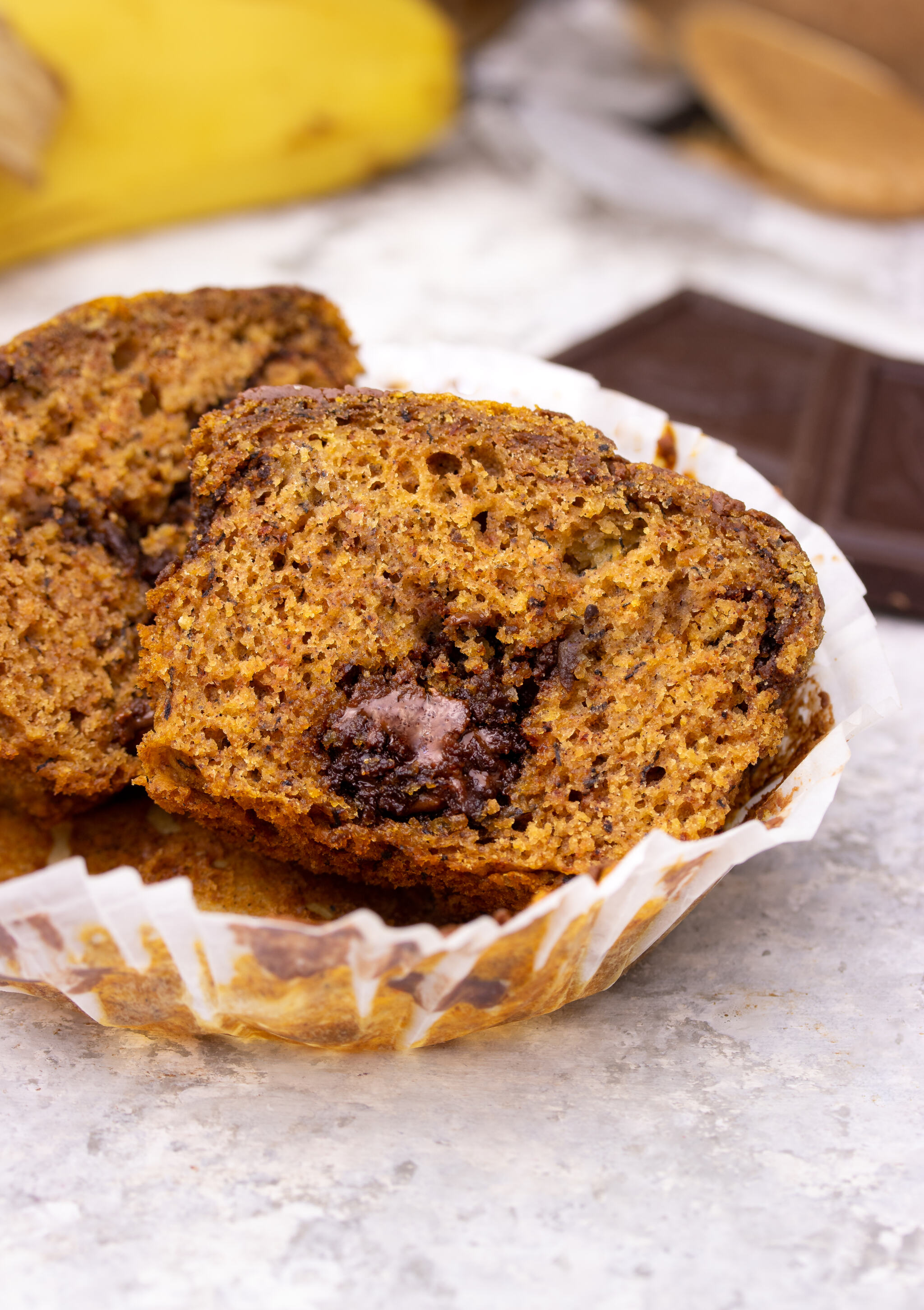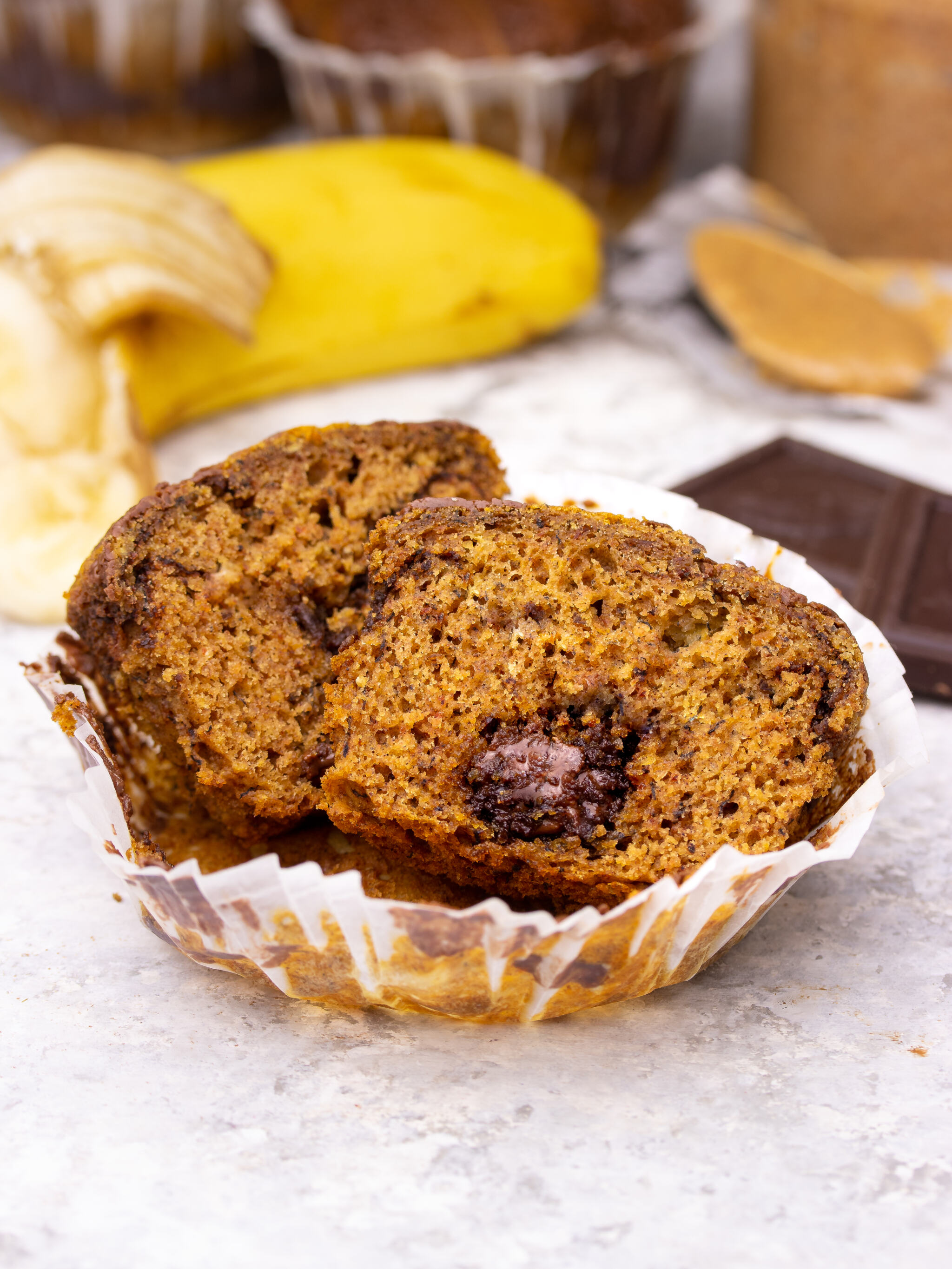 Print
Chocolate Stuffed Peanut Butter Banana Muffins
Author: Hanna
Yield:

8

muffins

1

x
Peanut Butter Banana Muffins
60

g / 2,1 oz buckwheat flour

50

g / 1,75 oz oat flour

3/4 tbsp

milled flax or chia seeds

1 tsp

baking powder

1/2 tbsp

 baking soda
A hearty pinch of salt

100

ml / 1/2 cup minus 2 tbsp milk of choice

30

g / 1 oz peanut butter

30

g / 1 oz coconut sugar or other granulated sweetener

50

g / 1,75 oz pitted dates (I peeled mine for looks)

1/2 tsp

 vanilla extract

3/4 tbsp

 white balsamic vinegar

120

g / 4,2 oz ripe banana, mashed
Chocolate Swirl
40g

/ 1,4 oz peanut butter

60g

/ 2,1 oz dark chocolate, melted
Instructions
Preheat the oven to 160ºC / 320ºF. Grease and line a muffin pan with 8 medium to large muffin liners.
In a large bowl, mix the buckwheat flour, oat flour, milled flax seeds, baking powder, baking soda, and salt.
In a blender, blend the milk, nut butter, sugar, dates, vanilla, and vinegar smooth.
For the chocolate swirl combine the peanut butter and melted chocolate in a small bowl.
Add the wet milk mixture and the mashed banana to the dry and mix until combined.
Fill each each muffin liner about 1/3. Divide the chocolate mixture between the muffin liners. Divide the remaining batter between the muffins liners. Do not fill them over 2/3 full. If you have any extra chocolate mixture, dollop on top and create a swirl pattern. Bake for 17-20 minutes minutes or until a toothpick runs clean. Let cool, serve, and enjoy!
Keywords: Chocolate stuffed, peanut butter, banana muffins, gluten free, vegan, healthy, oil free, refined sugar free