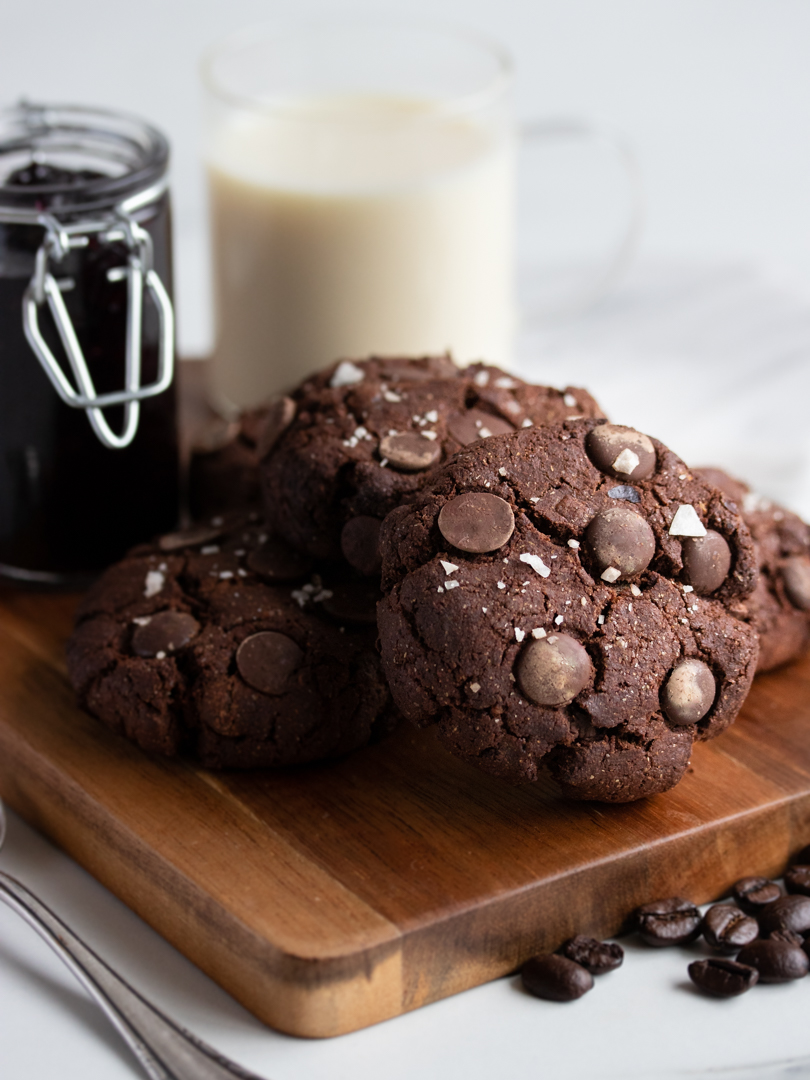 In case you have not noticed yet, I loooooove chocolate. I love chocolate almost too much, as two-thirds of all my recipes have something to do with cocoa or dark chocolate. Anyhow, I guess you, guys, have to live with it, haha. #chocoholic
Anyway, these bad boys are not only scones, scones so good they're basically cookies. They're moist, soft, fluffy, and made with baking powder like scones, but decadent tasting, flavourful, and have a crispy outside like cookies. It's a sconookie (?)!! Okay, that's a horrible name. I'll just call these cookie scones instead. In addition to being totally fab, these are made with whole grain rye flour (say whaaat?). It's a grain I really think isn't used enough in baking and cooking. Let me tell you, switching out some of the flour in your pancakes to rye flour makes them so much more delicious, and hearty. You can of course substitute the rye flour to some other flour, but I really think it brings the recipe to another level with its nutty heartiness.
As always, enjoy, guys!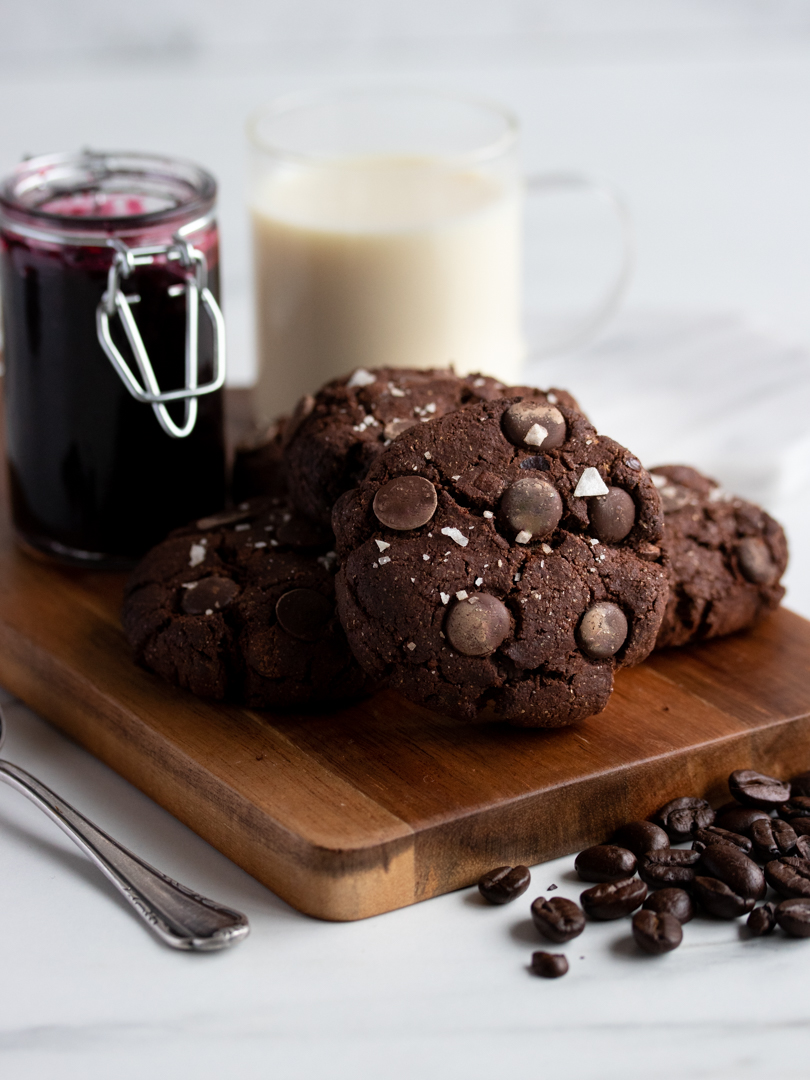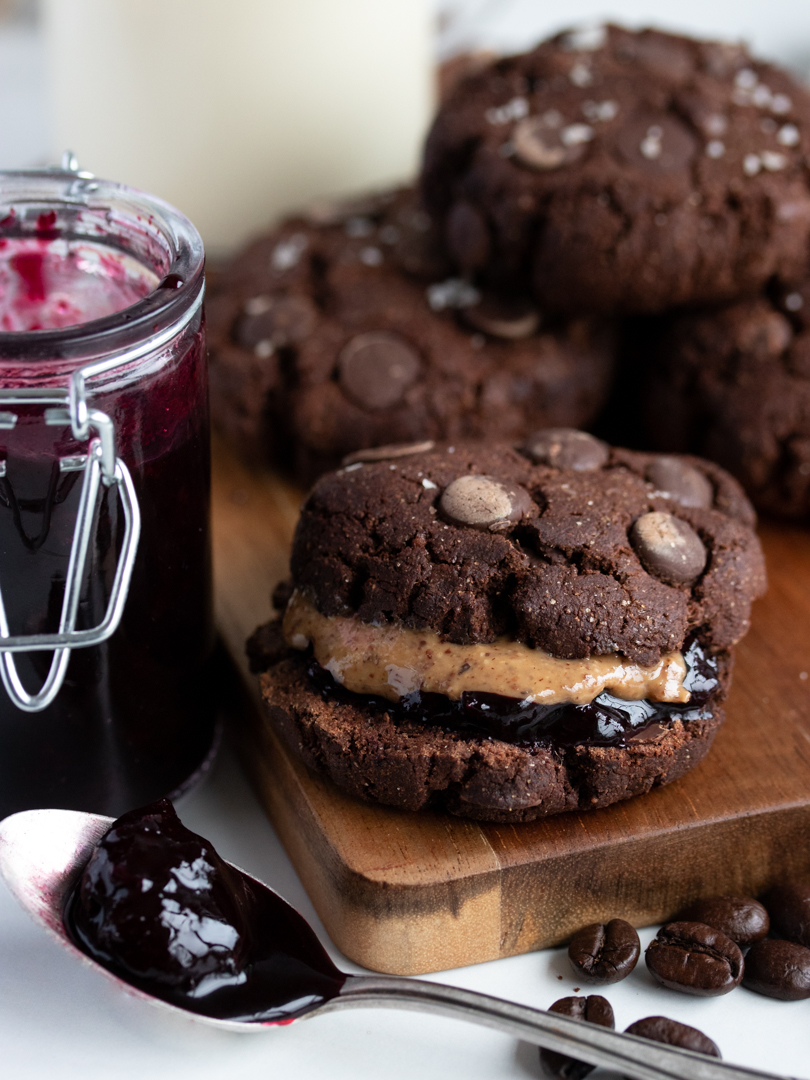 Print
Decadent Double Chocolate Mocca Rye Cookie Scones
A combination of crispy cookies and fluffy scones with lots of chocolate and nutty fine rye flour
100g

/ 3,5 oz rye flour

1 tsp

baking powder

2 tbsp

cocoa powder

20g

/ 0,7 oz coconut sugar or other granulated sweetener
A generous pinch of salt

30g

/ 1 oz dark chocolate

2 tbsp

milk of choice

2 tbsp

strong espresso (or more milk)

50g

dates, mashed with a fork more or less smooth (or equivalent amount liquid sweetener)
A handful of chopped chocolate or chocolate chips (around 30g / 1 oz)
Instructions
Preheat the oven to 150ºC / 300ºF and line a cookie tray with parchment paper.
In a large bowl mix together the rye flour, baking powder. cocoa, coconut sugar, and salt. In a separate bowl, put the chocolate, milk, and espresso. Melt in the microwave until the chocolate has melted, and mix together.
Add the dates and chocolate mixture to the dry and using a large spoon or your hands stir/knead together the ingredients. Add the chocolate chips and knead until folded in.
Bake the scones for 20-25 minutes, let cool, cut up, and enjoy.
Keywords: Scones, chocolate, vegan, afternoon tea, healthy, rye