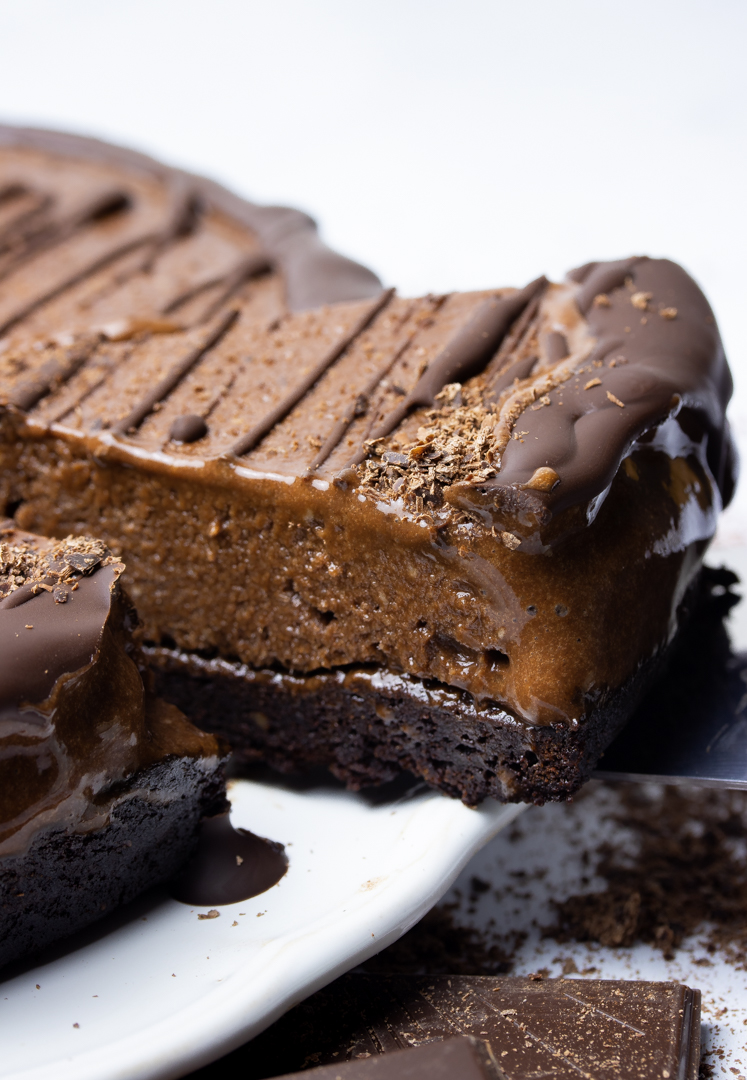 Hellooooooo good-looking, to say the least! This cake may seem almost too decadent to be true, however, trust me, having a slice of this cake will not leave you feeling drowsy caused by food coma. This cake is wholesome yet it'll make your taste buds party, partly because the fact that more chocolate makes chocolate even better! Not only is it perfect for occasions when you want to impress someone, but also for keeping in the freezer as a quick go to snack or dessert when you need to satisfy your chocolate cravings. I also found it perfect to have for night snack when I've needed some extra energy and fuel.
To conclude, I will leave you with the picture above. Just look at that absolutely divine texture of the cake. Enjoy!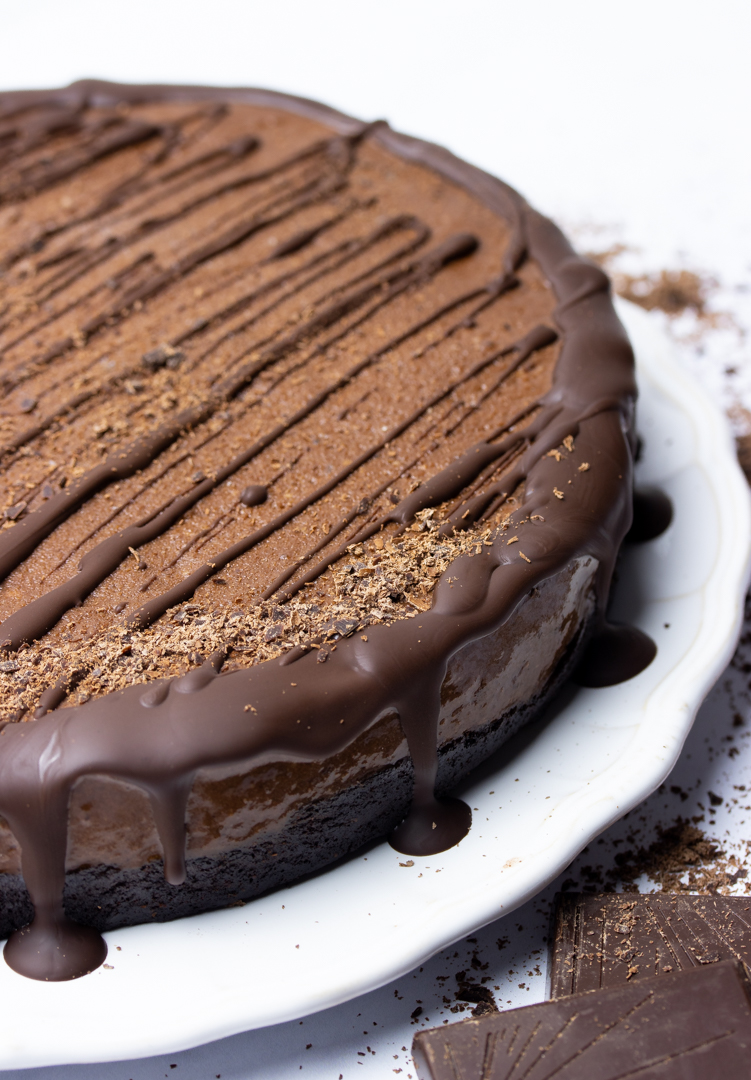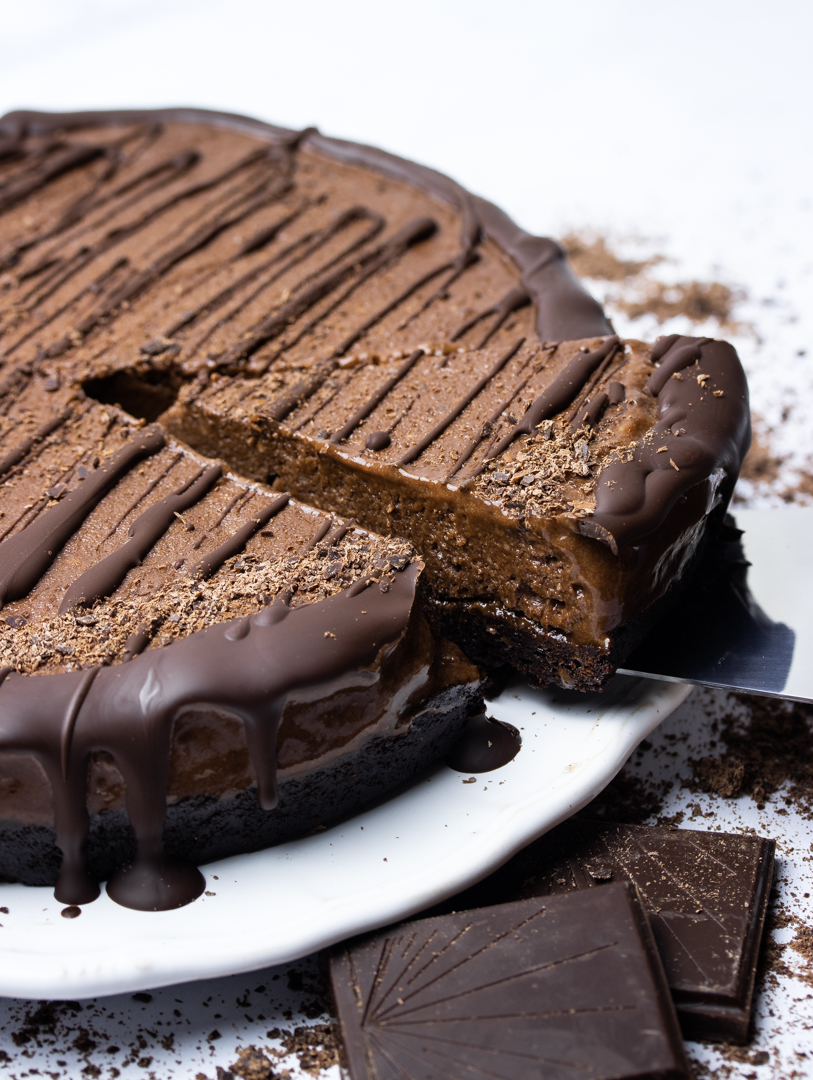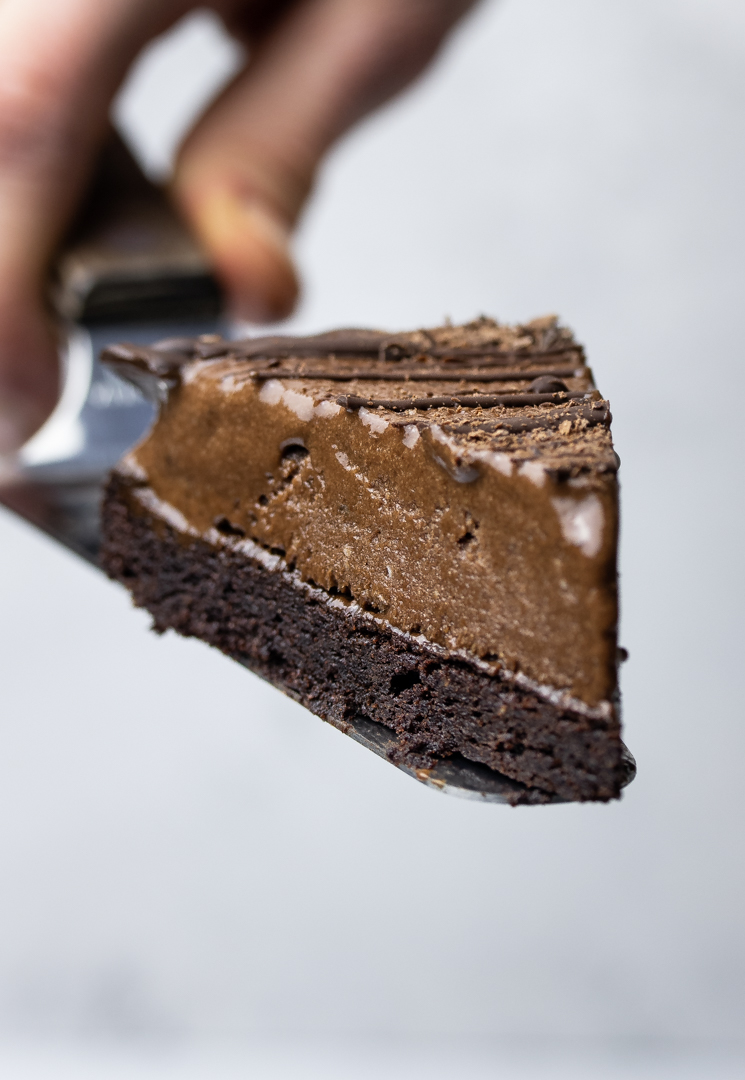 Print
Decadent Brownie Chocolate Nice Cream Cake
A decadent nice cream made with coconut milk cake with a chewy brownie bottom with lots of chocolate drizzle.
Brownie
120g

pitted dates

2 tbsp

water

2 tbsp

nut or seed butter of choice

3 tbsp

of cocoa powder

1/2 tsp

vanilla extract

1/2 tsp

baking soda

1/2 tsp

baking powder

3/4 tsp

white wine or similar vinegar
A pinch of salt
Chocolate Nice cream
300g

/ 10,5 oz frozen banana

1

,25 dl / 1/2 cup smooth coconut milk (or other milk of choice)

5 tbsp

cocoa powder
A hearty pinch of salt

1/2 tsp

vanilla extract
Decorating
Melted chocolate for drizzling and chocolate shaving for decorating
Instructions
Prepare a cake pan by greasing and lining it with parchment paper. My springform was 15cm / 6 inches in diameter.
Start with making the brownie bottom. In a food processor or powerful mixer, process dates, water, nut butter, cocoa powder, vanilla, baking soda, baking powder, vinegar, and salt until smooth.
Transfer the mixture into the pan, smooth and spread out. Bake in the oven for 20-22 minutes or until a toothpick runs clean. Let cool completely.
Quickly clean the food processor/mixer. Mix the frozen banana, coconut milk, cocoa, salt, and vanilla into a smooth soft serve.
If the brownie bottom hasn't cooled completely, store the nice cream in the freezer in the meantime. Once the bottom has cooled, transfer the nice cream to the pan and spread out evenly. Let set in the freezer. I let mine set over night. Before serving, preferably let thaw in the fridge for about an hour. Just before serving, optionally decorate with chocolate. Serve and enjoy!
Keywords: Nice cream, ice cream cake, brownies, vegan, refined sugar free, gluten free, healthy