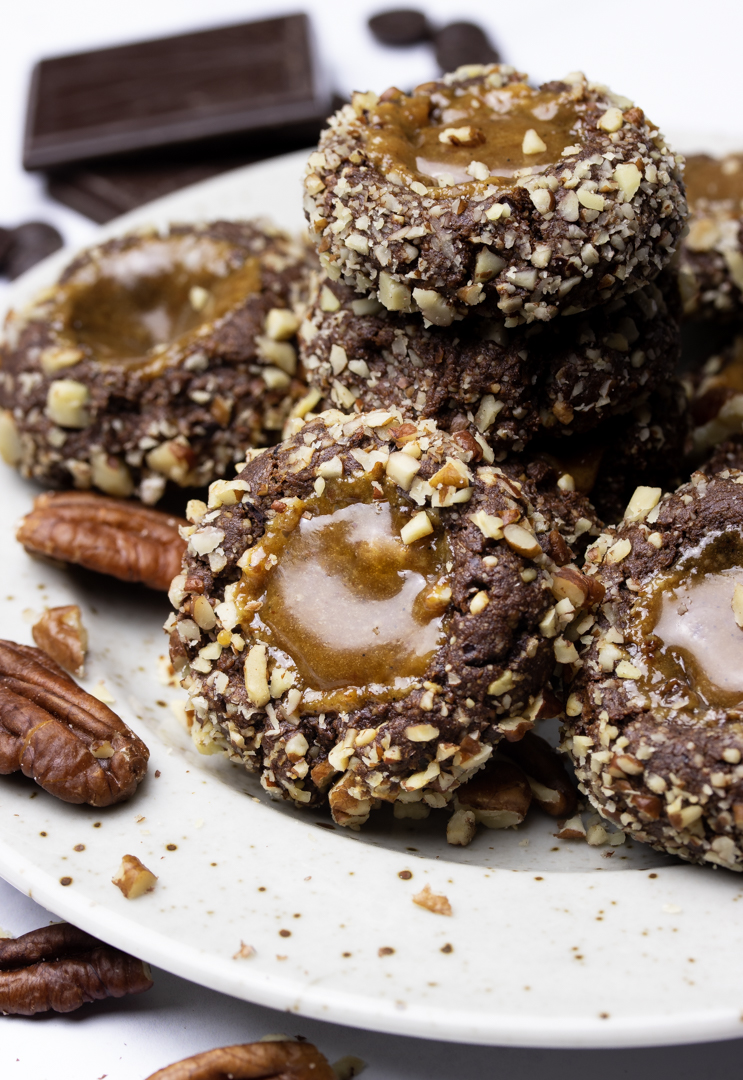 As a Swede, I did not know what Turtle Cookies were until I started googling it. Oh boy, I was in for a real treat and now you are as well! Ahem… This is what Google at least told me: Turtle cookies are delicious chocolate brownie tasting cookies, rolled in pecans, filled with salted caramel. Apparently, they're a common Christmas cookie in the US, but as I Swede I chose to ignore that and make them now anyways. I reckon and hope you don't mind that. 😉 Anyhow, the combination of a slightly chewy chocolate cookies covered in nutty, decadent chopped pecans and salted caramel is a combination of flavours that will make your taste buds dance. Plus, look how fancy and elegant they look. My grandmother came over when I was making these, and as she always does she commented on how I keep on making more and more mind blowing creations (not tooting my own horn). However, trust me, they do not take as much time to make as you may think. Once you've got the shaping of the dough and covering with chopped pecans technique down you'll be like a machine, a turtle cookie making machine.
To conclude, these are god damn delicious, easier to make than they look, and you will not regret making them. Enjoy!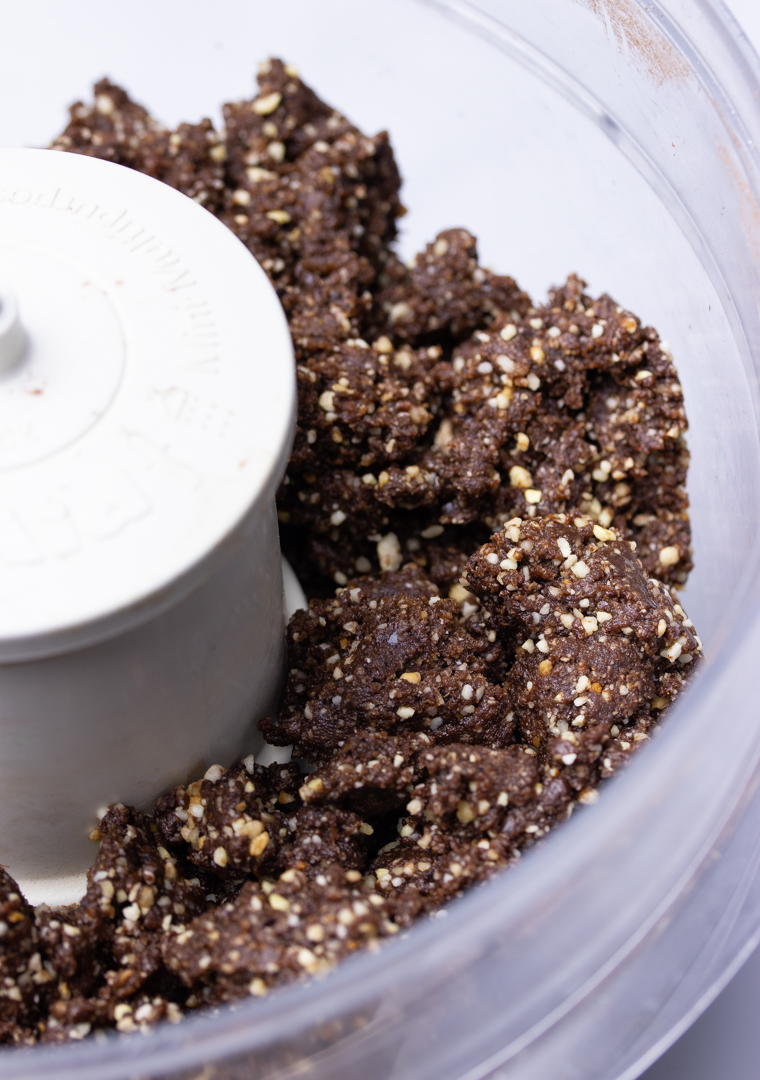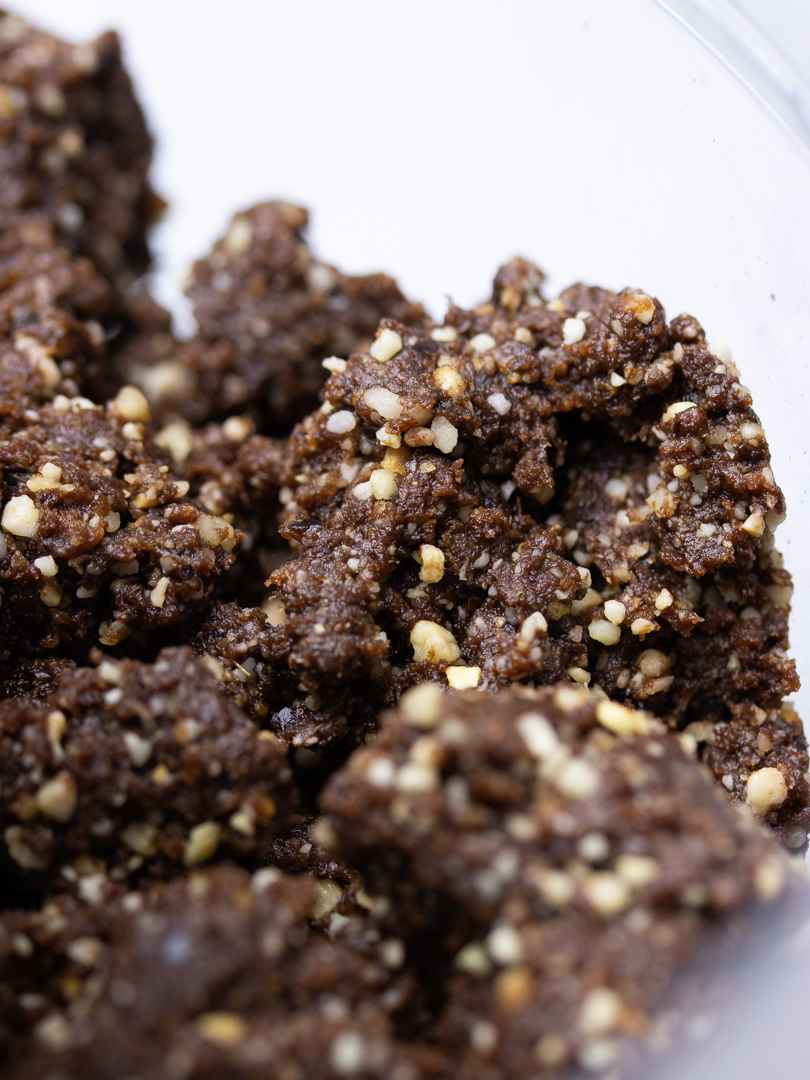 Look at that gorgeous texture though!! If it wasn't for that I knew I was going make this dough even better by making it into Turtle Cookies, I would eat it plain.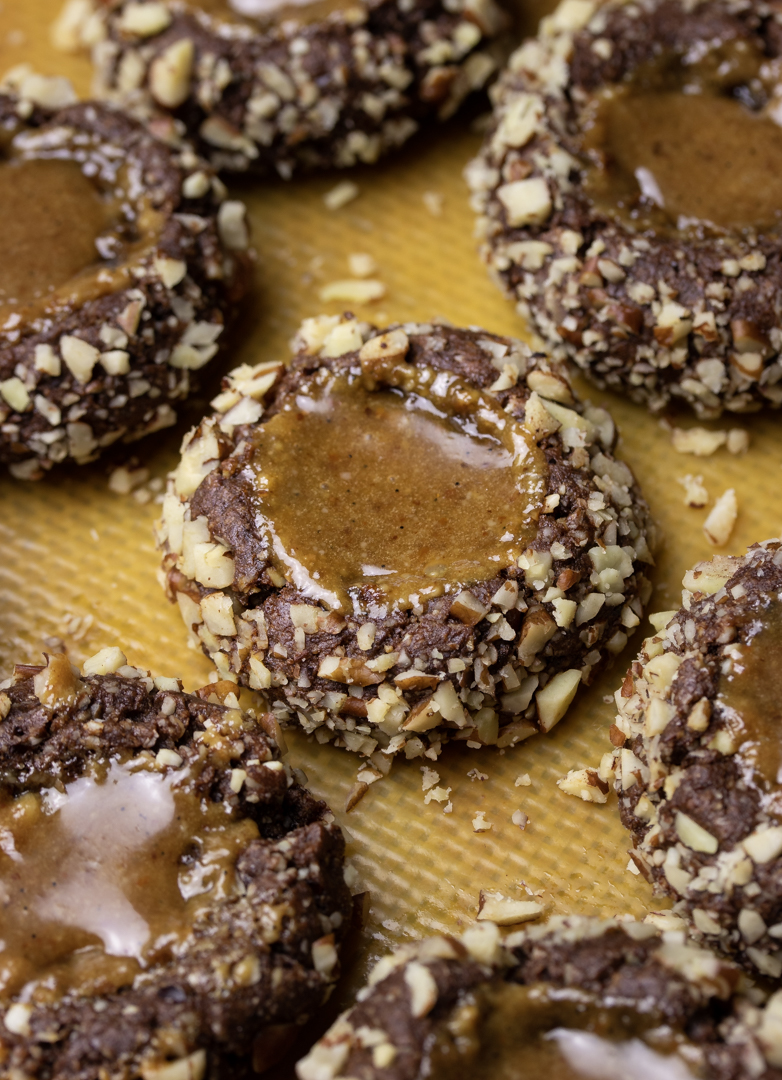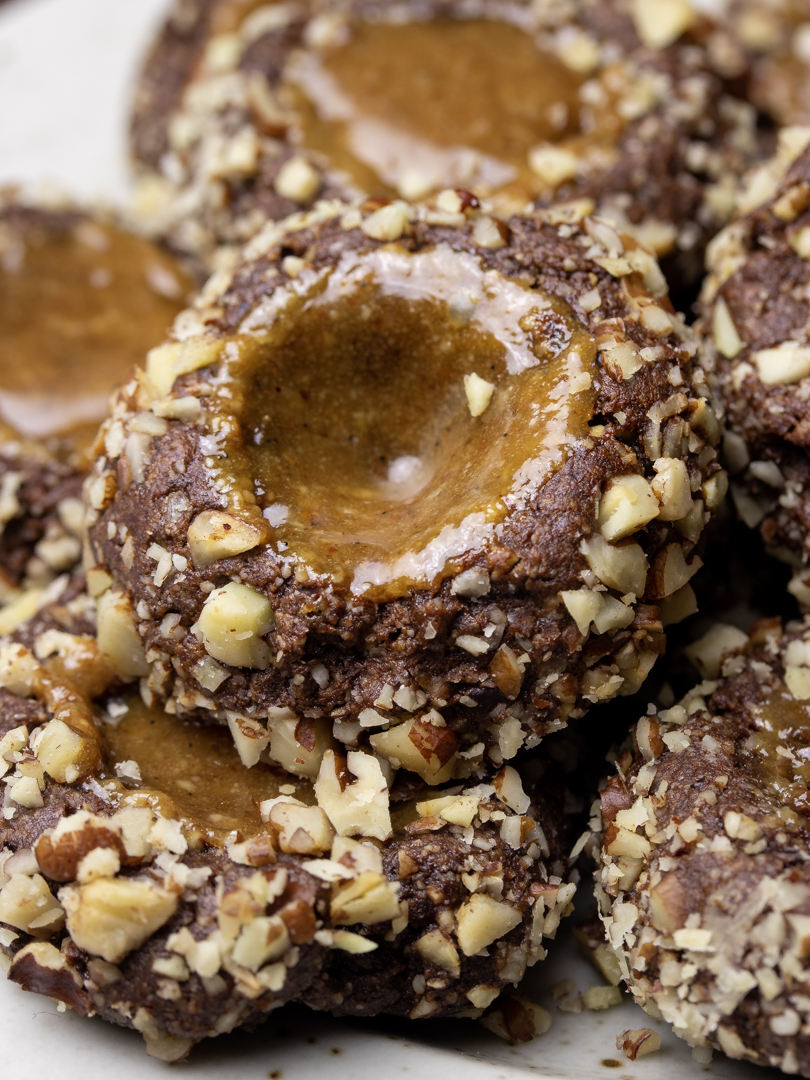 Print
Pecan Covered Salted Caramel Filled Chocolate Turtle Cookies
Turtle cookies are salted caramel filled chocolate cookies coating in nutty, decadent pecans. Yum!
Cookies
120g

/ 4,2 oz assorted nuts of choice (I used walnuts, hazelnuts, and cashews)

120g

/ 4,2 oz pitted dates

4 tbsp

oat flour

3 tbsp

cocoa powder

1 tsp

baking soda
A hearty pinch of salt

1/2 tsp

vanilla extract
Coating
Around

30g

/ 1 oz rather finely chopped pecan nuts for coating the cookies*
Caramel sauce
4 tbsp

liquid sweetener of choice

2 tbsp

nut butter of choice
A hearty pinch of salt

1/2 tsp

vanilla extract
Instructions
Preheat the oven to 150ºC / 300ºF and line one or two, depending on size, cookie trays by lining them with parchment paper.
In a food processor or powerful mixer, process the nuts until they become a nice flour texture. Add the dates, oat flour, cocoa, baking soda, salt, and vanilla and process until you get a nice moist dough. The dough should hold it shape very well and be moist, so if it's too dry add a small splash of water and process further.
Place the chopped pecan nuts on a plate and fill a small bowl with a little bit of water. Divide dough into 25 balls, around 10g /1/2 oz each. Press your thumb into the middle of a ball and create a nice well for the caramel, and dip the side of the dough ball in the water bowl, and then cover the wet side with chopped pecans, put on the baking tray and repeat for all the cookies.
Prepare the caramel sauce simply by mixing together the liquid sweetener, nut butter, salt, and vanilla in a small bowl. Divide the caramel sauce and fill all the cookies' "wells" to two thirds. Bake for 14-17 minutes. If the caramel in the cookies has sunken down and you have some left over caramel sauce, fill up the cookies and bake for an additional 2-3 minutes. Let cool and enjoy!
Notes
*You can of course swap out the pecans for some other nuts like walnuts or hazelnuts. As a Swede, I know how ridiculously expensive pecans can be.
Keywords: Turtle cookies, pecan, chocolate, Vegan, whole grain, whole food based, refined sugar-, gluten-, oil-free, healthy