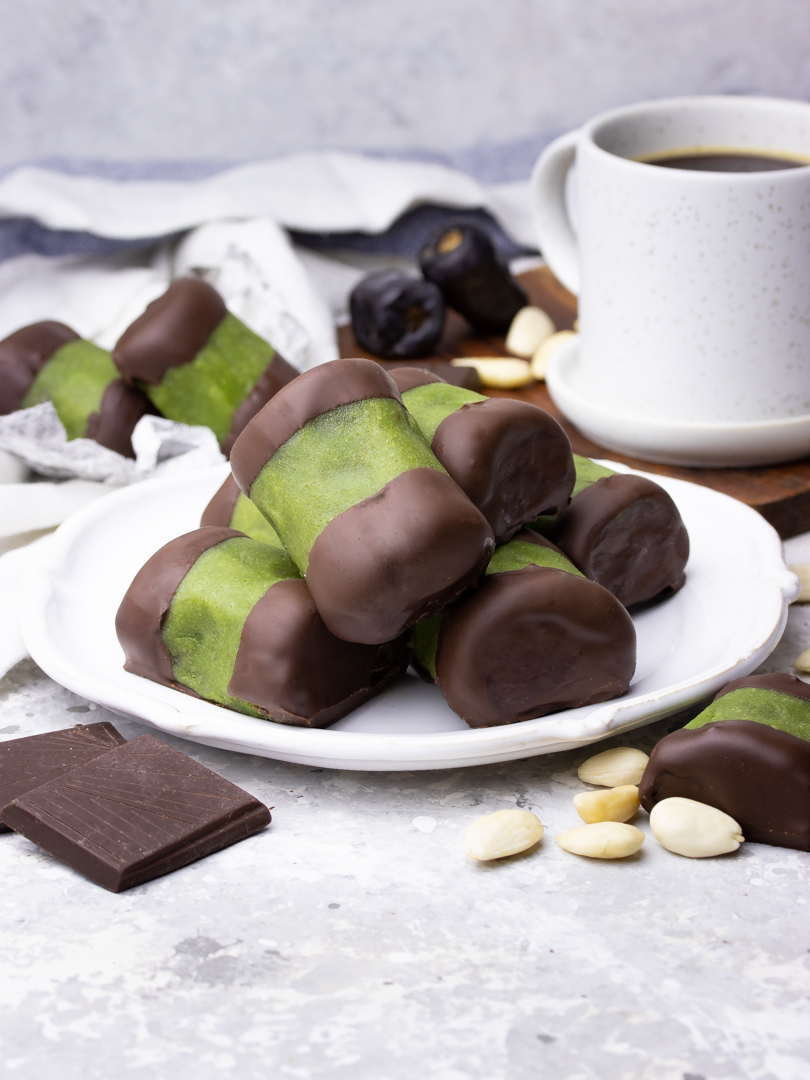 In case you're not a Swede, you're probably wondering what on earth these green things are. Let me quote Wikipedia:
"Punsch-roll (Swedish: Punschrulle) is a Swedish small cylindrical pastry covered with green marzipan with the ends dipped in chocolate, with an interior consisting of a mix of crushed biscuits, butter, and cocoa, flavoured with punsch liqueur."
There's a Swedish saying that goes: "a loved child has many names", which is very appropriate for this specific treat as it has a bunch of names. I myself call these "dammsugare", which means vacuum cleaner, but other common names are "punschrulle", punsch roll, and "arraksrulle", arrak roll. You may still bot be convinced, and I get it. They look a bit dodgy if you've not seen anything like before. However, there is a reason why you can find them at pretty much every café in Sweden. The combination of marzipan, chocolate, and punsch is delicious and for any Swede extremely nostalgic. Not to forget, this is the perfect treat to make when you have some leftover cake, which I had after experimenting to create the perfect vegan vanilla cake recipe.
Hopefully, I have now convinced you to give these a go, because you will not regret it. Enjoy!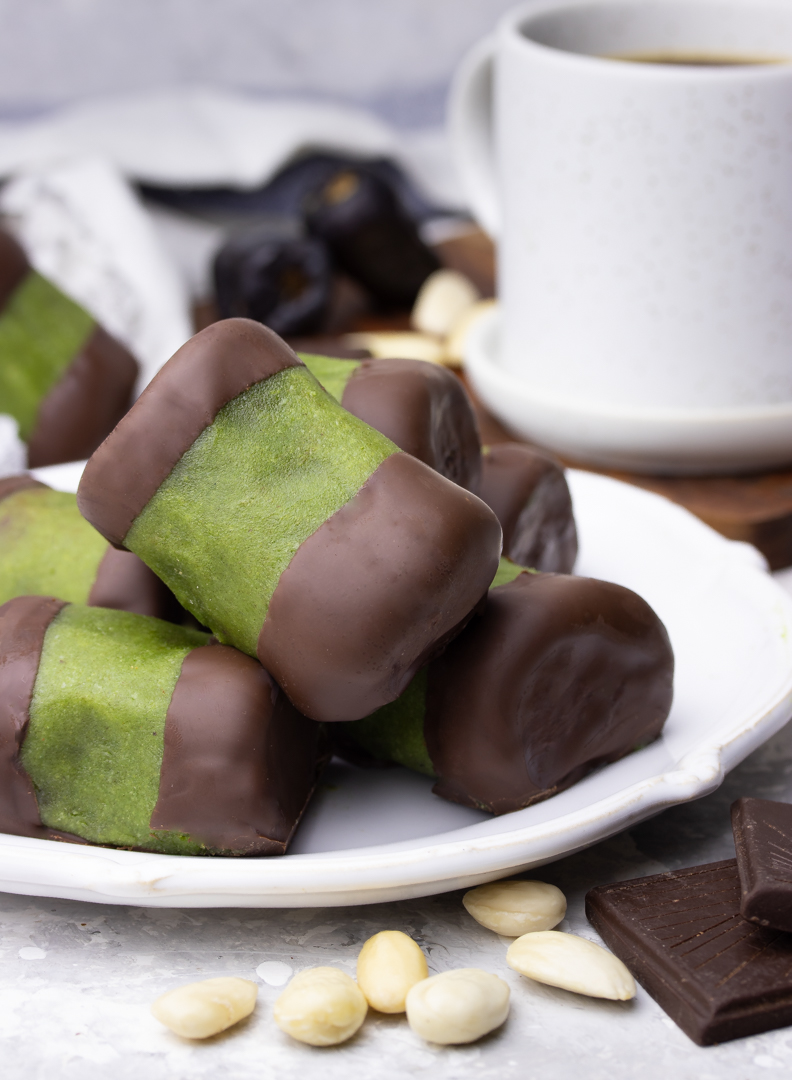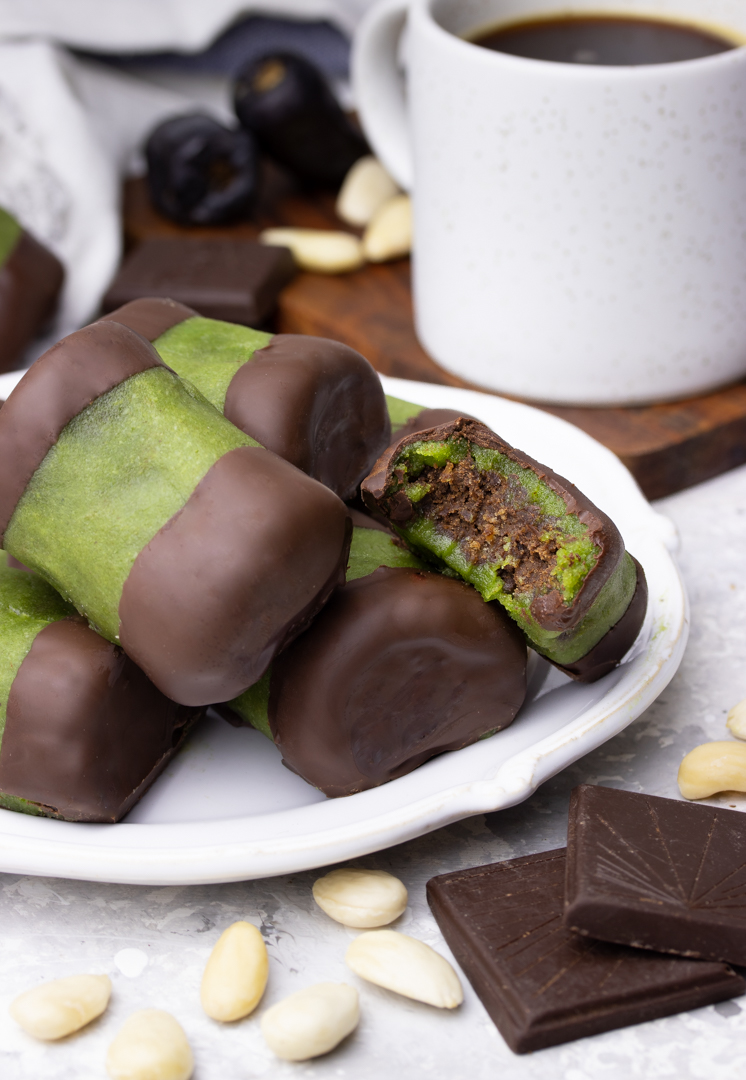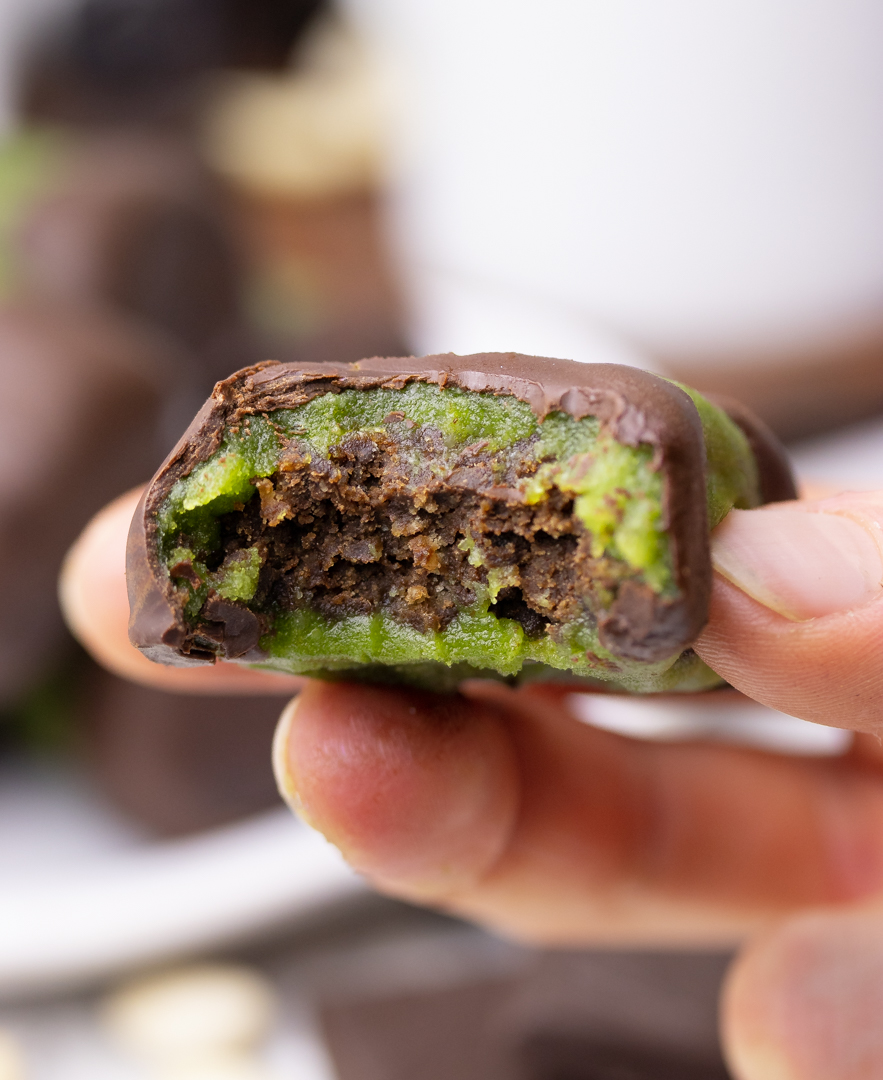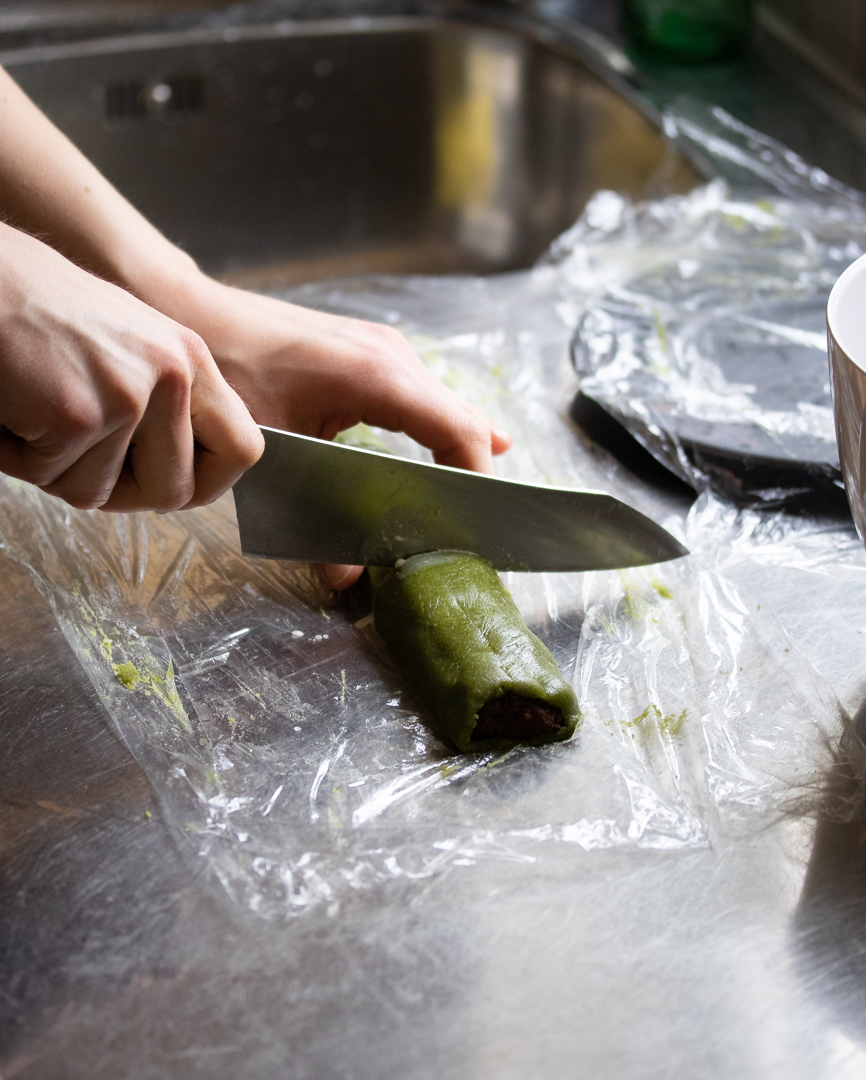 Print
Vegan Swedish Dammsugare – Punsch Rolls
There simply is no more Swedish treat than dammsugare. This classic no bake treat combines many flavours including marzipan, arrak, chocolate, and cake.
Author: Hanna
Yield:

20

pieces

1

x
Marzipan
150g

/ 5,3 oz pitted dates (I peeled the skin of mine just for looks)

125g

/ 4,4 oz almond flour
A pinch of salt
Bitter almond essence to taste
Green food colouring
Filling
200g

/ 7 oz worth of crumbled vanilla cake (

half a

batch of worth of this cake without the topping)

2 tbsp

cocoa powder

5

–

6

tbsp milk of choice

50g

/ 1,75 oz melted dark chocolate
A few drops of arrak aroma or arrak punsch
Chocolate-dipped ends
Roughly

100g

/ 3,5 oz chocolate for dipping the ends
Instructions
In a food processor, combine the ingredients for the marzipan. It should be quite dry and not too sticky to touch. If too sticky and moist, add more almond flour. Place in a bowl and put in the fridge to rest while making the filling.
Using your hands combine the ingredients for the filling. Put aside.
Divide the marzipan in two. Take two pieces of plastic wrap, spread out one on a flat surface, place one of the marzipan halves on it, and place the second piece of plastic wrap on top. Using a rolling pin, roll the marzipan into a 3mm thick long rectangle. The dimensions of the rectangle depends on how thick and large you want the "dammsugare" to be.
See pictures above for step for step pictures. Remove the top layer of plastic wrap, take half of the filling, and create a sausage in the middle of the rectangle. Take one of the sides of the plastic wrap and bring over the sausage. Repeat with the other end. Shape and round the sausage with your hands. With a sharp clean knife, cut the sausage in 10 equally sized rolls. You may need to wet and clean the knife every so often. Place the rolls on a plate lined with plastic wrap or parchment paper. Repeat with the rest of the marzipan and filling.
In a microwave safe bowl, melt the chocolate and dip both ends of each roll. Let the chocolate set and enjoy!
Keywords: Dammsugare, vegan, gluten free, healthy, cake pops, no bake