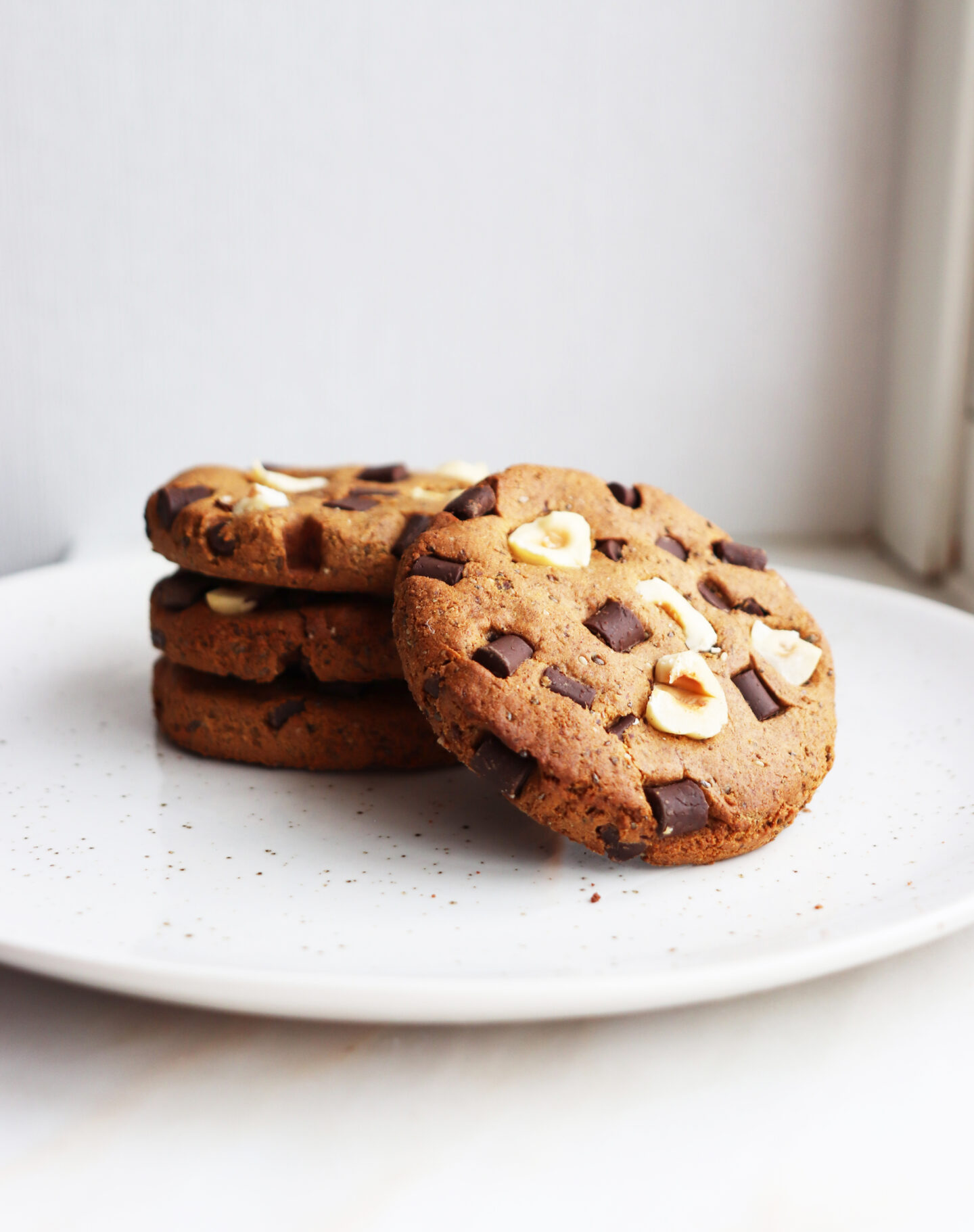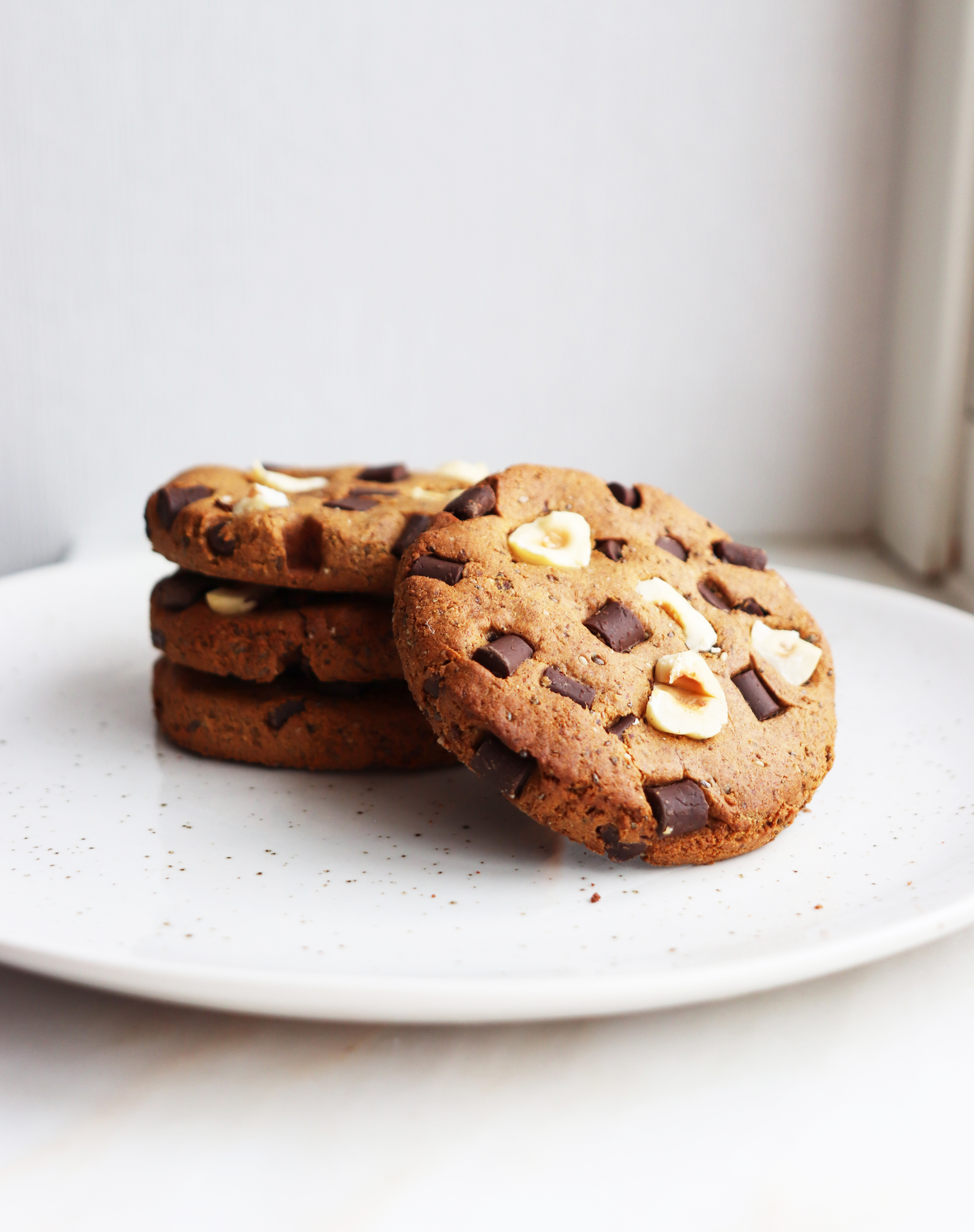 – Chestnut flour? Wait… What? Not another healthy foodie using weird ingredients that are hard to find…, you might think.
Hear me out, I had never heard of chestnut flour until a couple of weeks ago, when I randomly found it when wandering around the supermarket. The thought of it maybe tasting bland or like raw chickpea flour (ewww) definitely hit me. However, I decided to experiment and take the risk, and also treat myself. The flour wasn't inexpensive, still it really was not more expensive compared to other nut- and other odd flours. Now when I think about it, it is way less expensive than any nut flour, including almond. A couple of weeks past, I had an intense period of my life consisting of: school, basketball, and life in general.
Finally, I got some time over and started doing some research on how on earth one can use this mysterious flour. Turns out that it is commonly used in Tuscany, a part of Italy, in many amazing traditional recipes. This fact surprised me greatly because I have actually visited Florence, which is situated in Tuscany, Italy. If you'd like to read more into it, here's a great website where they mention and explain a bunch of traditional dishes.
In conclusion, I don't know how easy or difficult chestnut flour is to find where you live. However, if you can I truly recommend purshasing it. The flour is light yet nutty, unlike oat and nut flours, and really gives the cookies the perfectly light and crunchy texture. Even though I haven't tried it myself, I see little to no reason why the recipe wouldn't work using other flours, for example: almond, hazelnut (that would be amazing), oat, etcetera. One just has to remember not to expect the exact same result as I got.
Enough rambling, enjoy guys!
PS. I seldom am as excited for a recipe, as I am right now. Oh my God! The recipe is just so perfect, not only taste and texture wise, but the ingredients are also amazing. Healthy, vegan, free from everything! The perfect cookie! *Drooling* I almost forgot; I would love to know if you decide to try it out. Sending lots of love to you guys!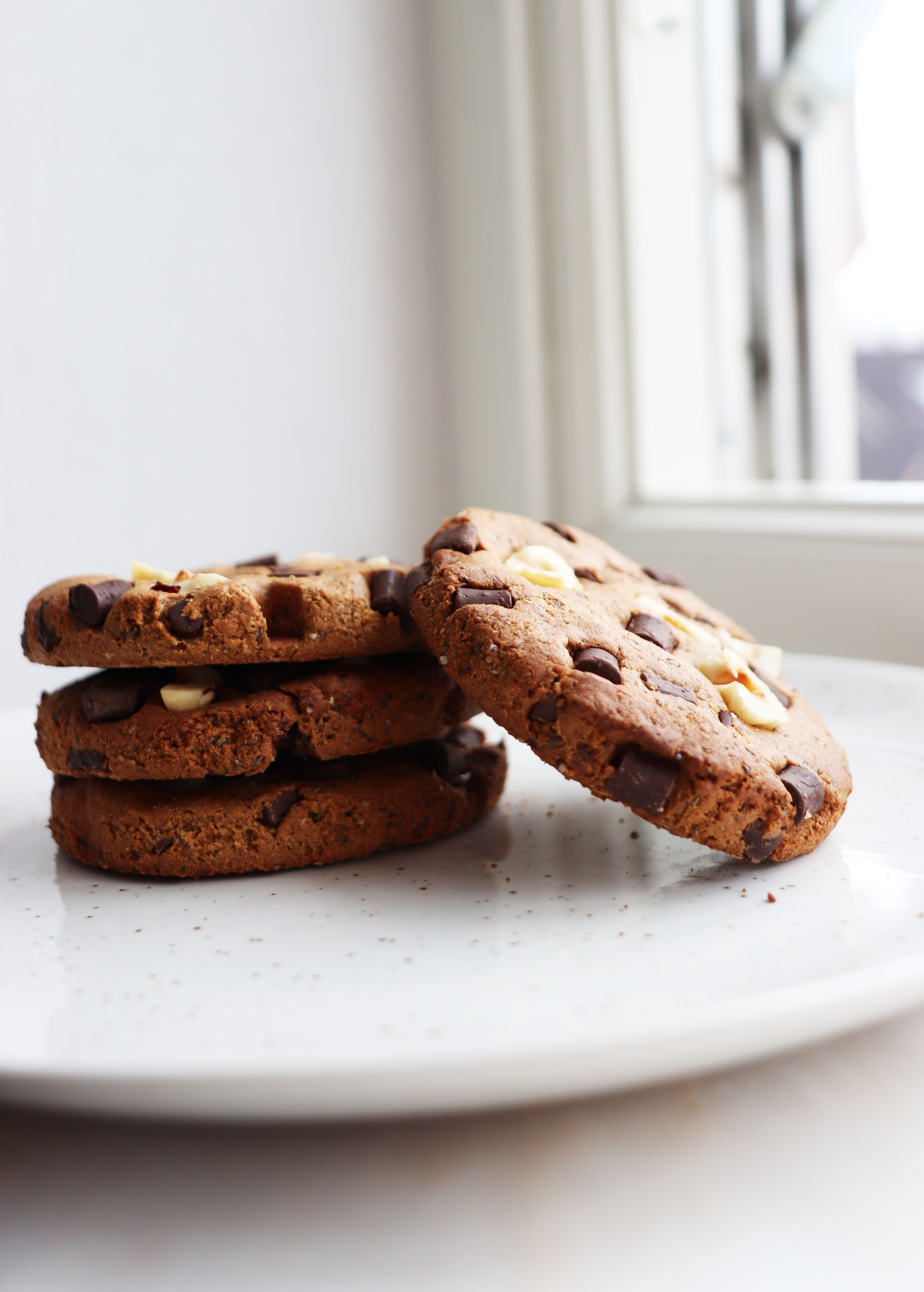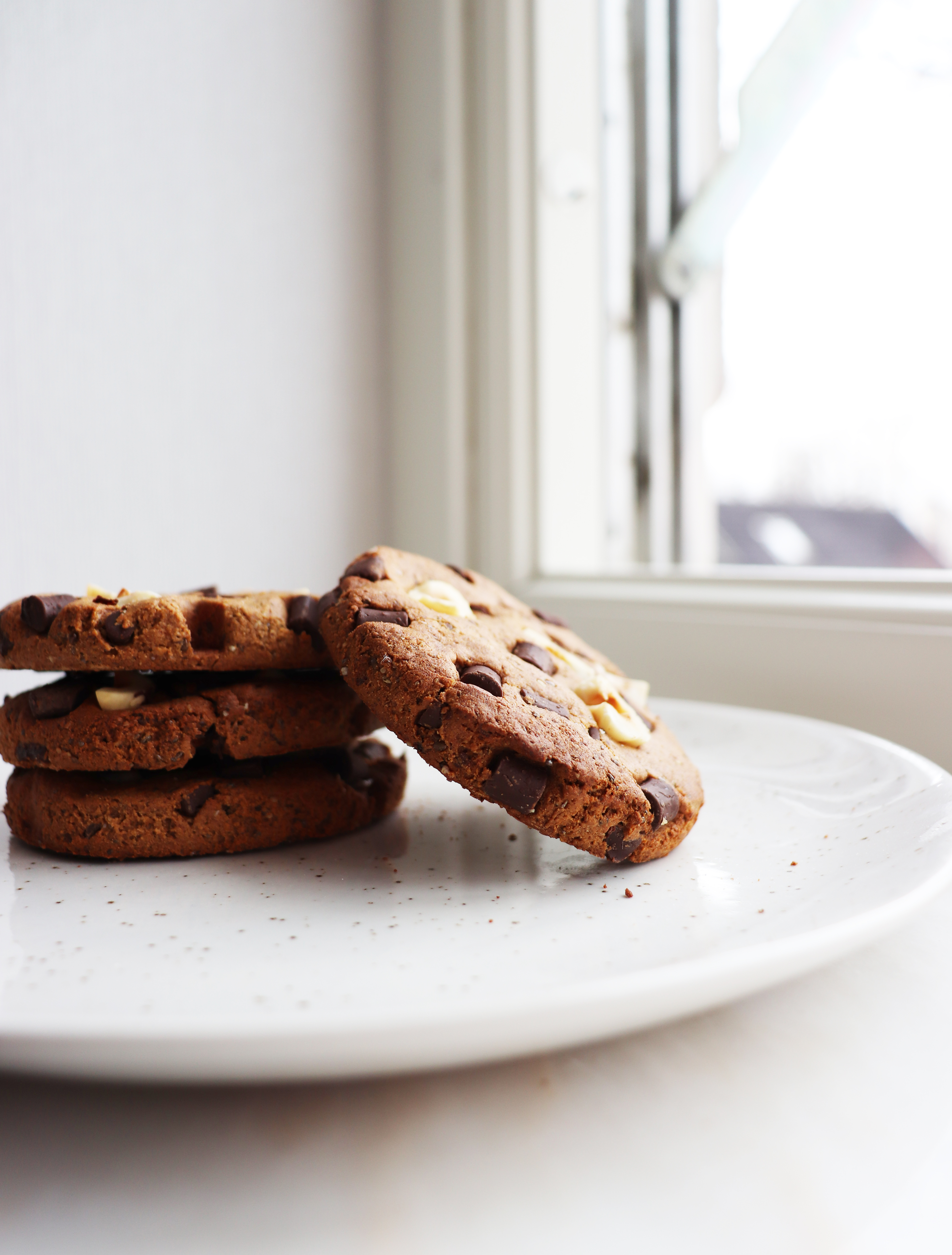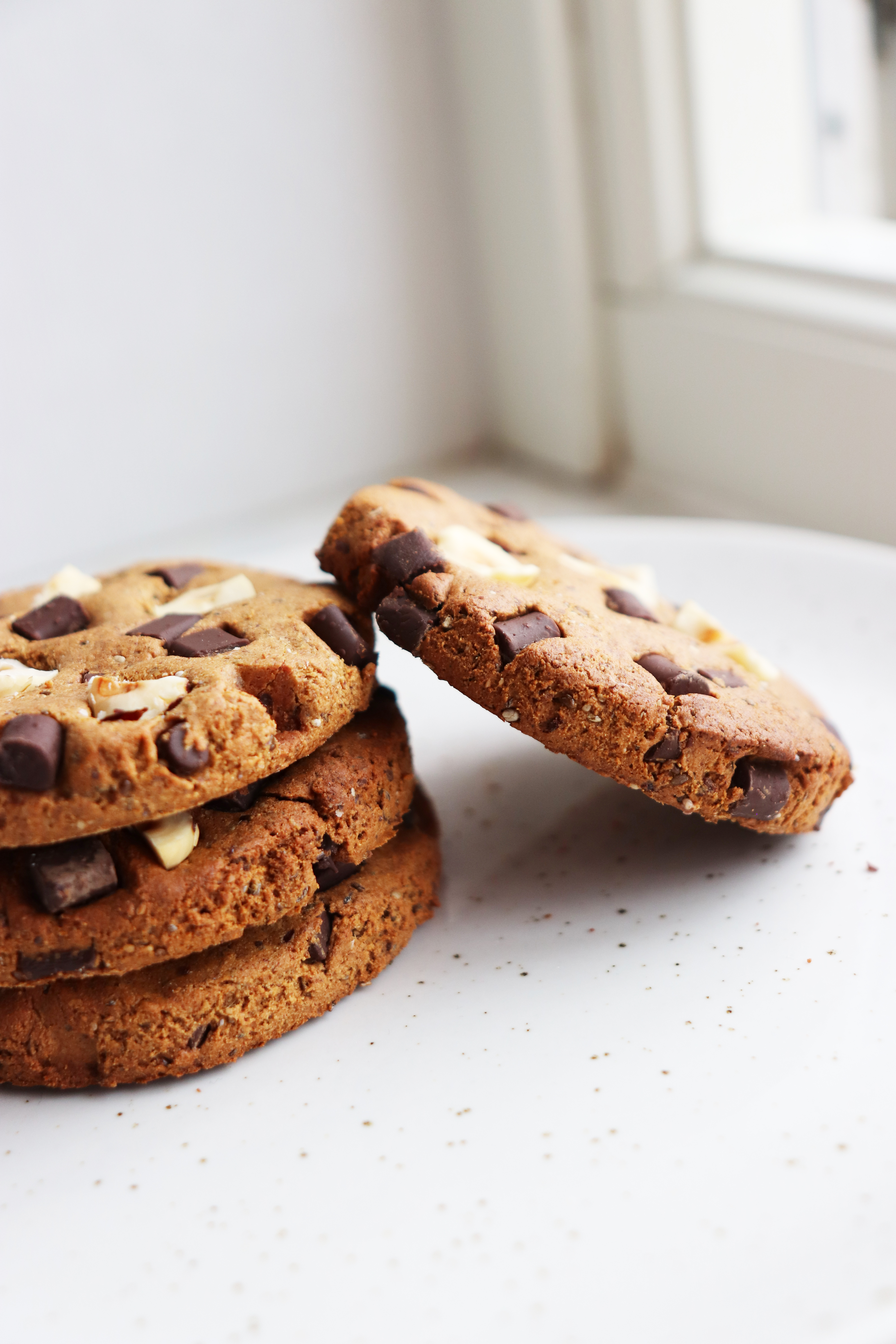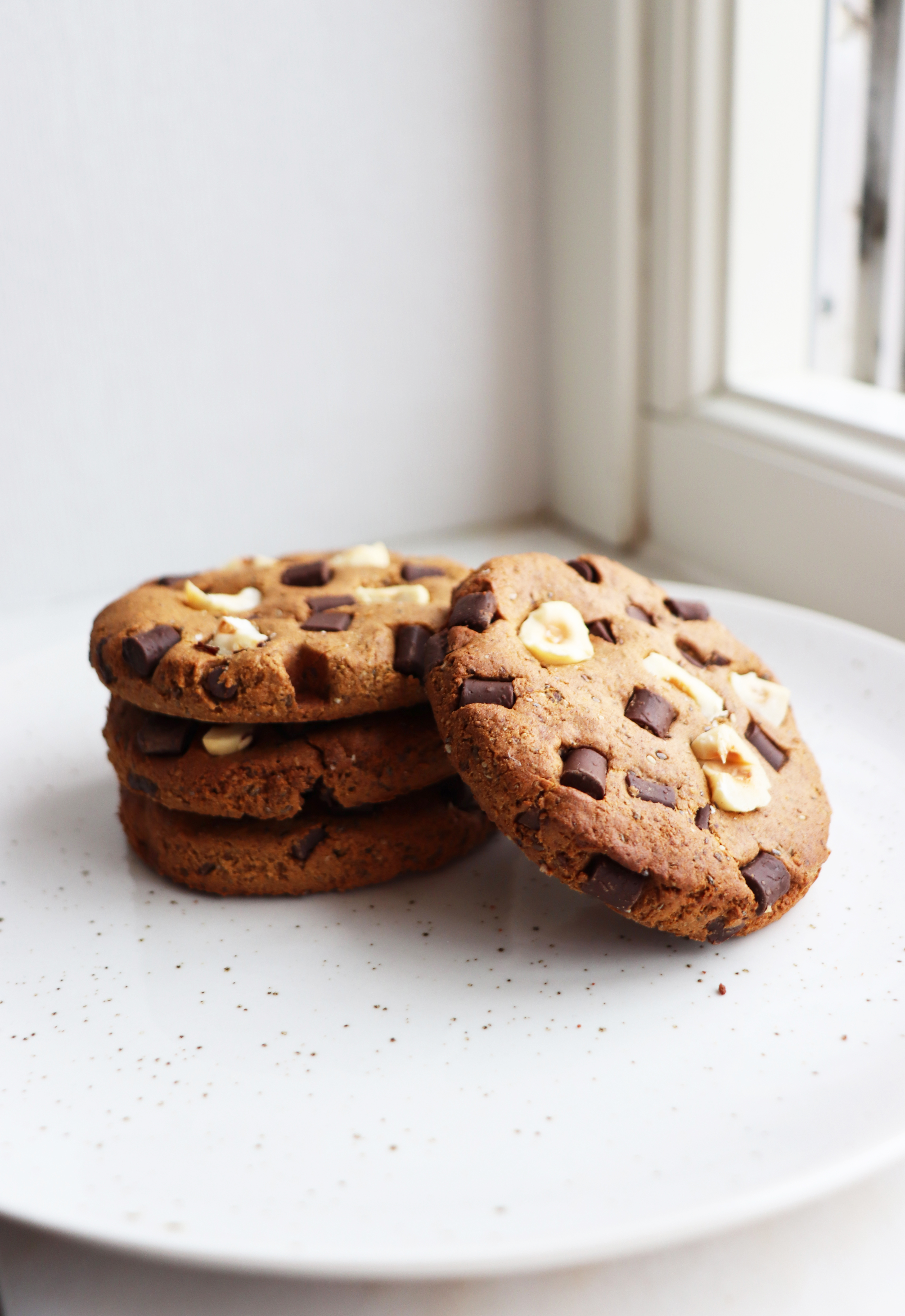 Print
The most fabulous Chestnut Coffee Chocolate Chip cookies
1

,5 dl / 1/2 cup +

3 tbsp

/ 60g / 2 oz chestnut flour

2 tbsp

milled flax or chia seeds

1/2 tsp

baking soda

6

/ 60g / 2 oz dates

1

,5 tbsp strong coffee

1

–

2

tbsp / 15-30g / 1/2-1 oz nut butter of choice
A pinch of salt
Optionally a splash of vanilla essence

30g

/ 1 oz chocolate chips or chopped chocolate or cacao nibs
Optionally A small handful of roughly chopped roasted hazelnuts
Instructions
Preheat the oven to 175ºC / 350ºF.
In a bowl mix the chestnut flour together with the baking soda.
Using a hand mixer, in a food processor or a mixer mix the dates, coffee, nut butter, salt and vanilla smooth.
Add the dates paste to the dry, "knead" with your hands until combined and add the chocolate and chopped nuts.
Divide into four to five cookies and place on a baking tray. Bake for 18-25 minutes or until golden. Flatter and thinner cookies the crunchier the result will be, the thicker, the "cakier". Let cool before devouring. Enjoy!
Keywords: Chestnut flour, cookies, chocolate chip cookies, Vegan, Whole food, Gluten free, grain free