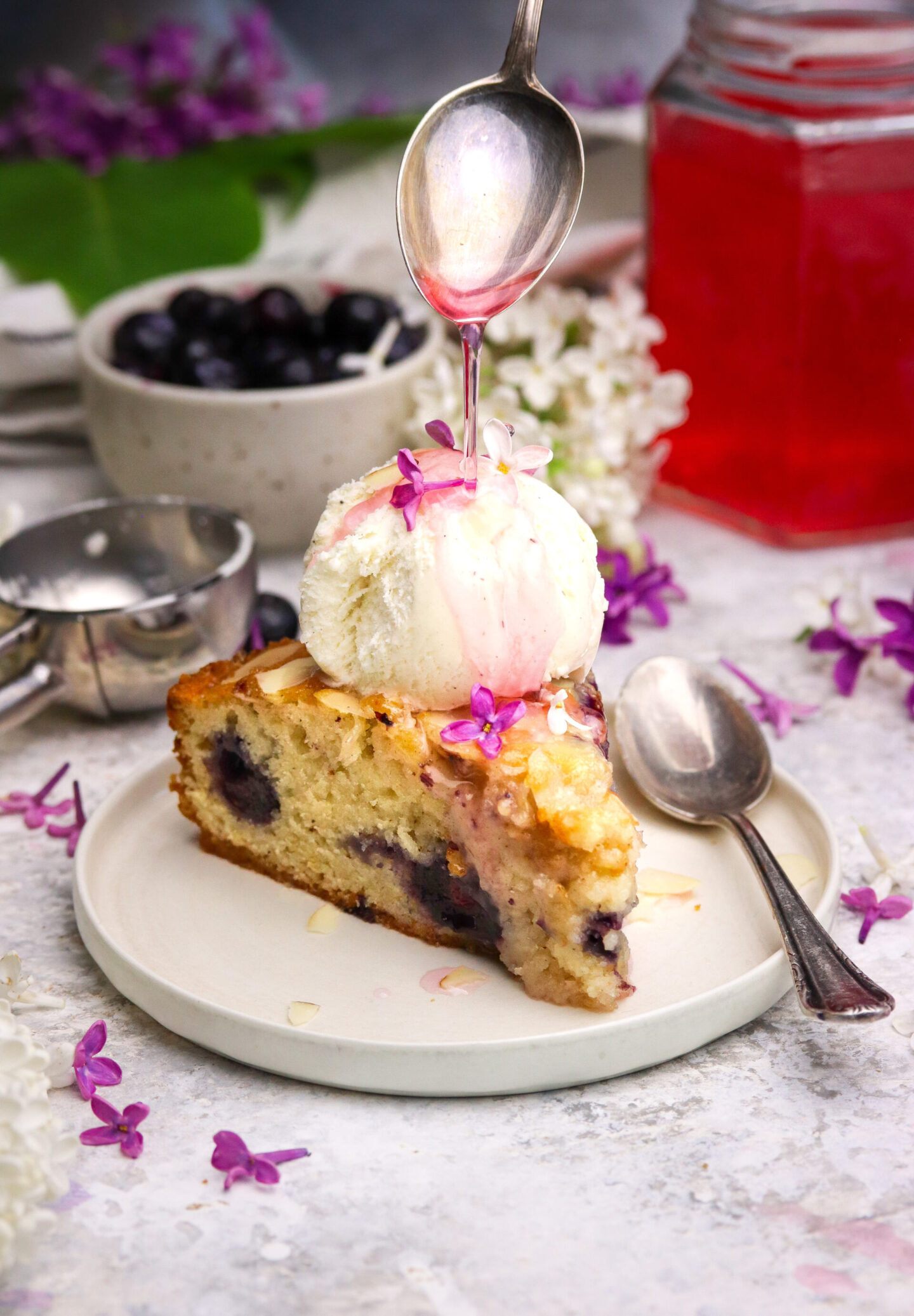 Lilac in baking?! Yes, you heard right! I've hear about it for a couple of years, but it wasn't until a few days ago I decided to actually make some lilac syrup myself. The lilac bushes are blooming all over town, and I made it to a fun thing together with my parents. Since moving out eight months ago, I've started to appreciate plants and flowers a ridiculous amount, and now when spring has arrived to Skåne, the south of Sweden, I couldn't be happier to see all the lilacs and other flowers bloom.
Anyhow, with this cake, I had A VISION! I thought about it for a week before actually making it and knew exactly what flavour combo, texture, and photos I wanted to create. This cake is fluffy, light, moist, and jam packed with flavours like blueberries, almond, and lovely lilac. I made it vegan, but still more classic with sugar, flour, and butter. If you would like a gluten free and "healthier" version, you can follow this cake recipe instead and skip the ganache and so on. In case you're wondering: "How on earth do I make lilac syrup?!", here's my recipe for just that!
Definitely let me know if you try this out since it always makes my day! Have a lovely day!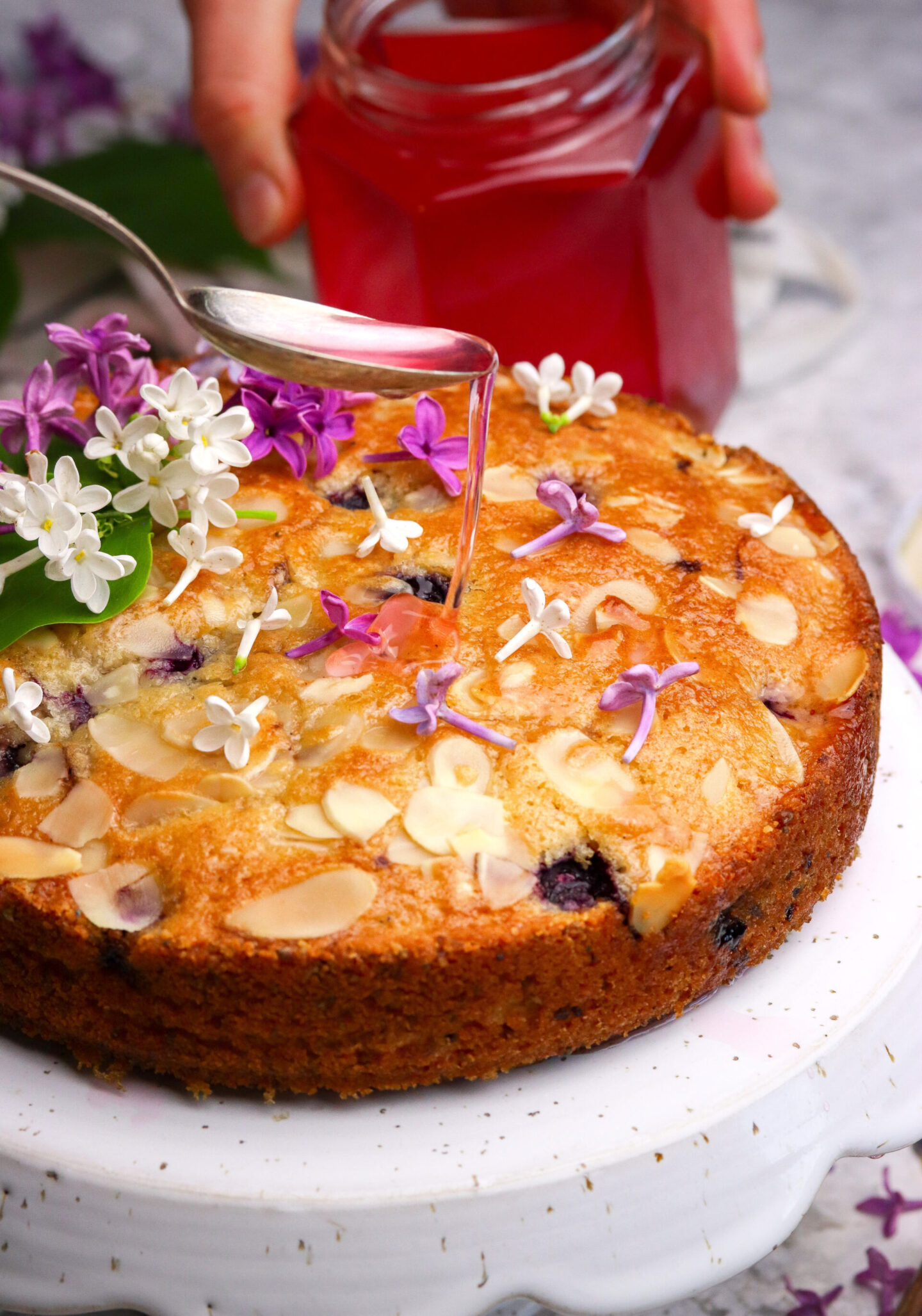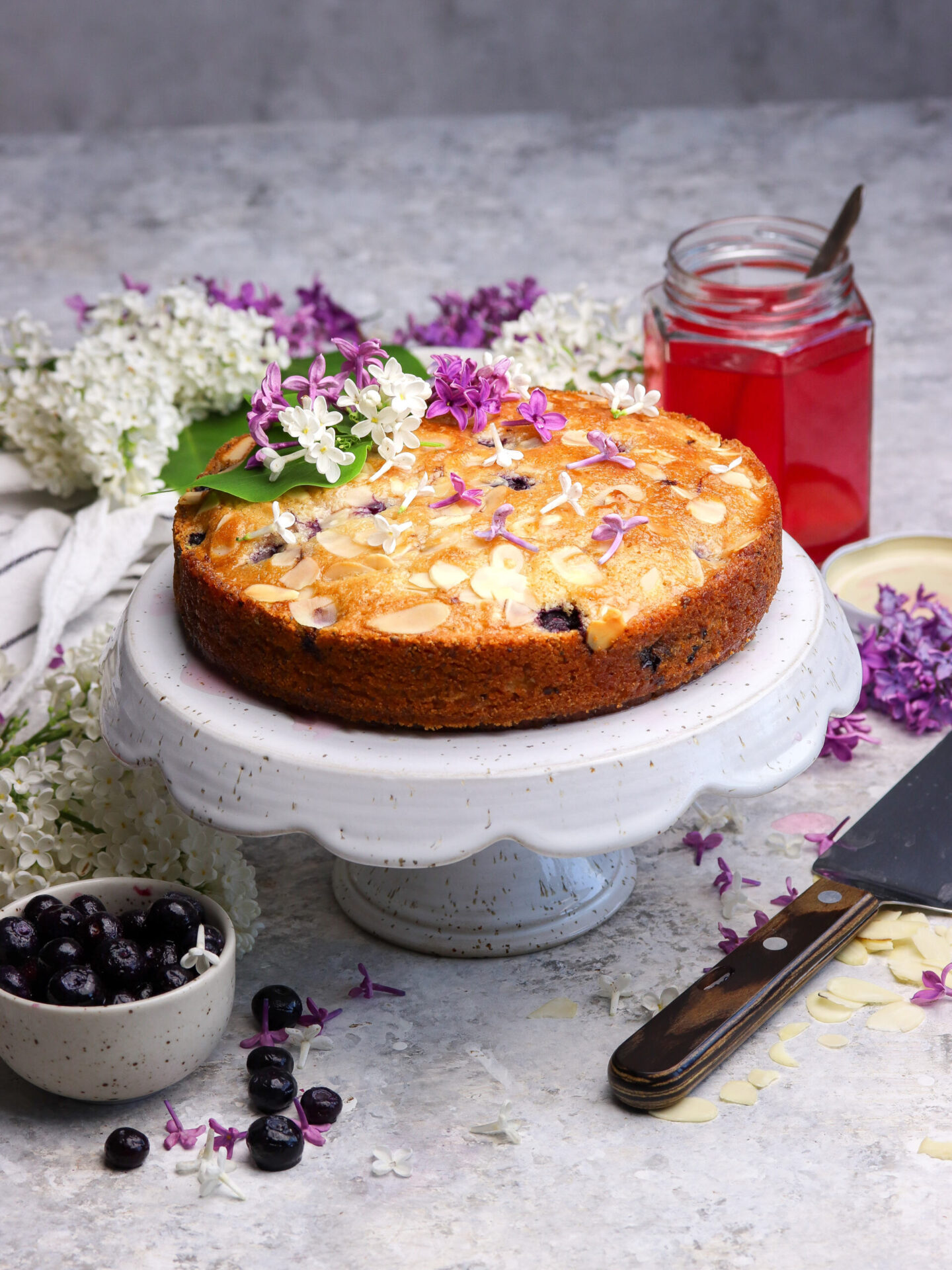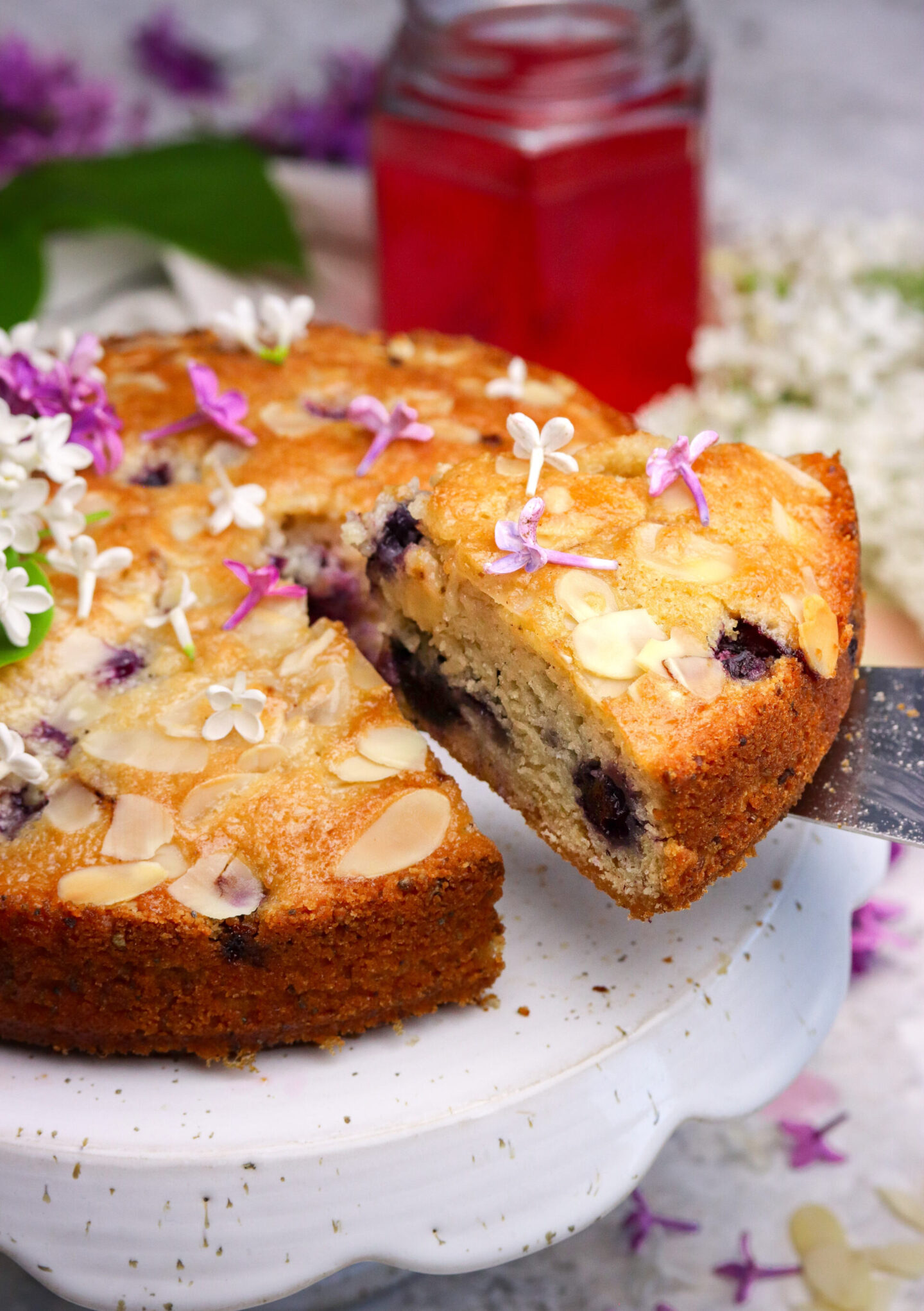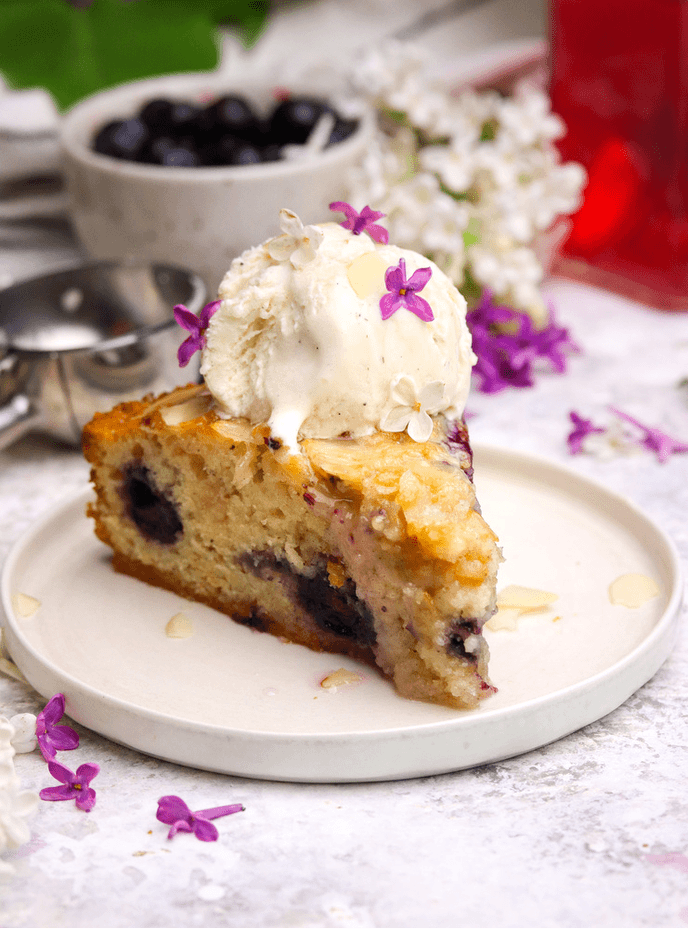 Print
Blueberry & Cardamom Cake with Lilac Syrup
Lilacs in baking?! Yes! This cake is light and moist and infused with mild flavours like lilac, blueberries, cardamom (a classic in Swedish baking), and almonds. Simply all the flavours perfect for spring. I like to serve this with vanilla ice cream, but it would be great with whipped cream or just plain as well. Not to forget, this cake is both vegan and jam packed with flavour!
Author: Hanna
Yield: about

6

-

8

servings

1

x
The cake (for gluten-free and "healthier follow this cake recipe)
140g

/ 5 oz caster sugar

85g

/ 3 oz aquafaba (the liquid from a can of chickpeas)

140g

/ 5 oz plain flour

1

,5 tsp baking powder

1 tsp

of vanilla sugar

1 tsp

ground cardamom, preferably freshly ground
A hearty pinch of salt

50g

margarine or butter, melted

65g

/ 4,5 tbsp milk of choice
A couple of handfuls frozen or fresh blueberries
Flaky almonds for topping
A good amount of lilac syrup
Instructions
Preheat the oven to 175C/350F and grease and line a pan with parchment paper. My pan was ⌀18cm/7 inches.
Mix the dry ingredients in a bowl.
In a separate clean bowl, whip the aquafaba and sugar white and fluffy, but not all the way to the meringue stage.
Fold in the dry mixture, melted margarine/butter, and milk. Do not stir and only fold into just incorporated!
Transfer the batter to the pan, top with blueberries and flaky almonds. Slightly press the blueberries and flaky almonds into the batter. Bake in the bottom of the oven for 25-30 minutes or until a toothpick runs clean.
Let cool and then drizzle a good amount of the lilac syrup on top, slice up, serve, and enjoy!
Keywords: lilac syrup, blueberry cake, vegan cake, cardamom, kardemumma, nyttig, vegansk kaka, mjuk kaka, syrénsirp, syrénkaka, syrén, sockerkaka, blåbärskaka, recept, recipe