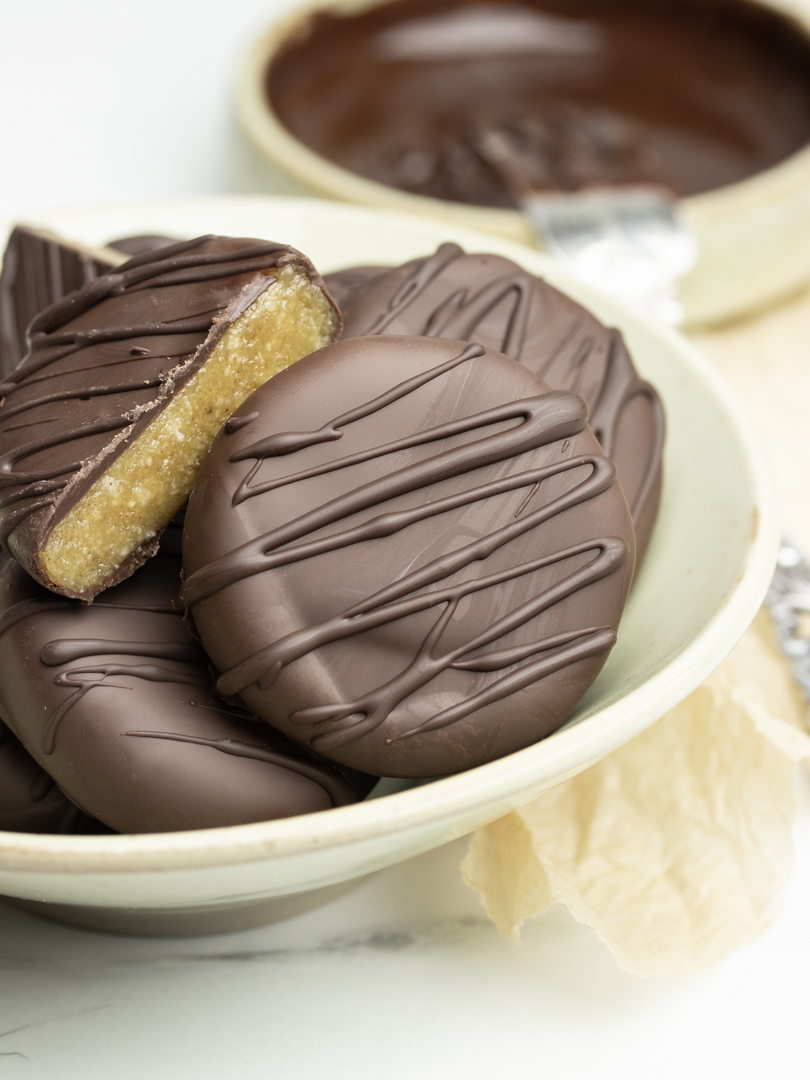 I don't know about you, but After Eight is an extremely nostalgic treat for me. I associate this mint filled chocolate dipped square with celebrating Christmas at my mother's parents house, and with Christmas and celebrations in general. Also, I remember that I would eat my After Eights in the most messy and complicated ways. Did you do that when you were little too? Like eating the sides and corner first and making your way in to the middle and other weird ways of eating food?
Anyhow, I'm mighty proud over how freakishly delicious these are. These are not as messy as After Eight, as the patty filling is less runny, but these still have a wonderful melt in your mouth feel. Just make sure to not have someone who hates peppermint in the house as my whole house ended up smelling like it, haha. In conclusion, these couldn't be easier to make nor more deliciously nostalgic, at least for me. In addition, who can say no to a delicious nourishing treat that basically contains 5 ingredients? I certainly can not!
On another note, to all of you who are in the middle of the Christmas rush, don't forget to mind the reason behind the season. I'm sending lots of love to you all, and enjoy!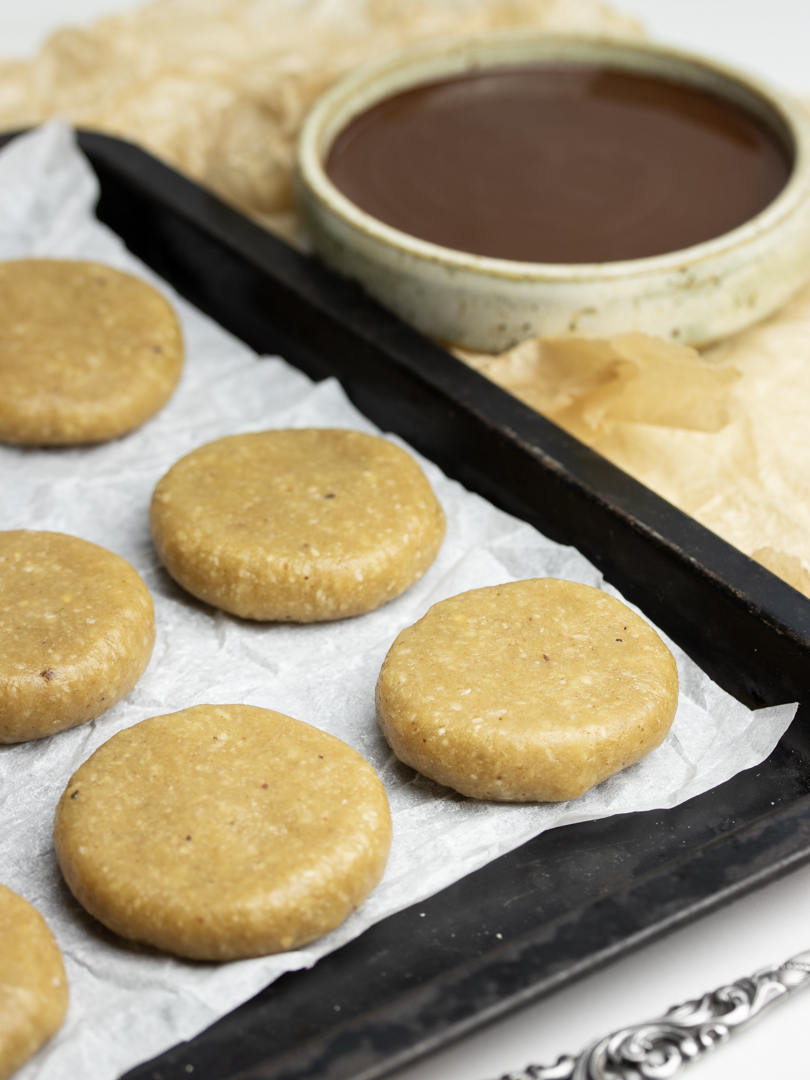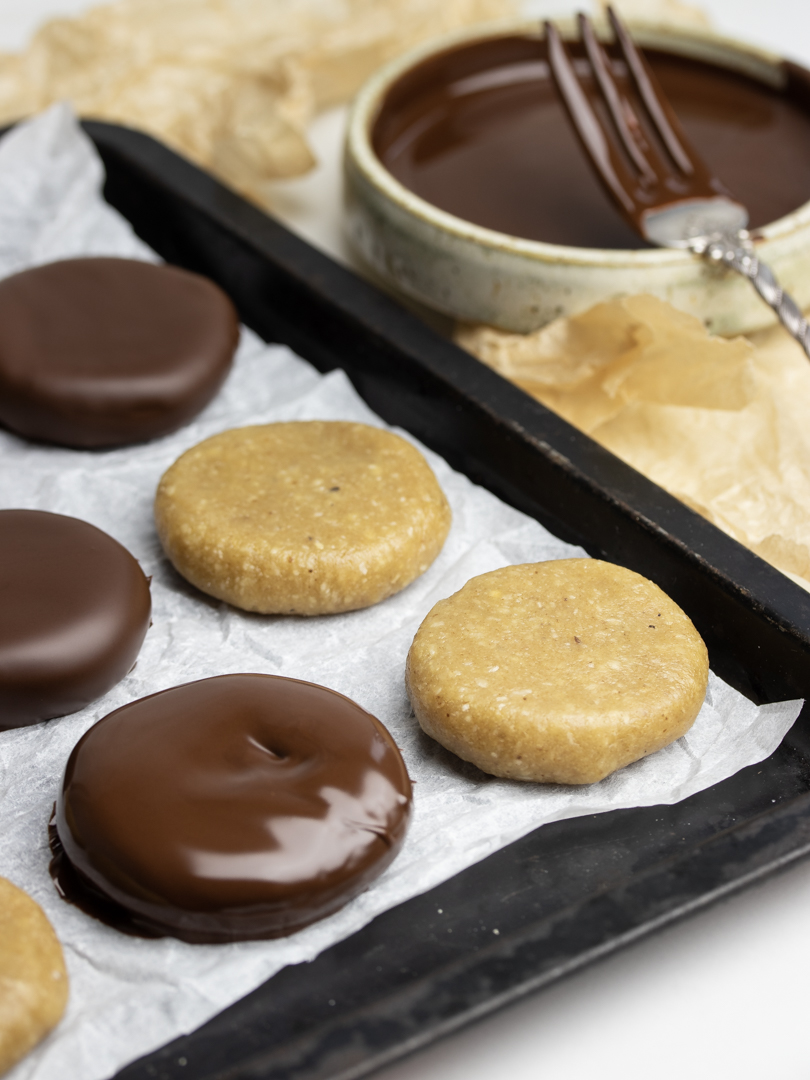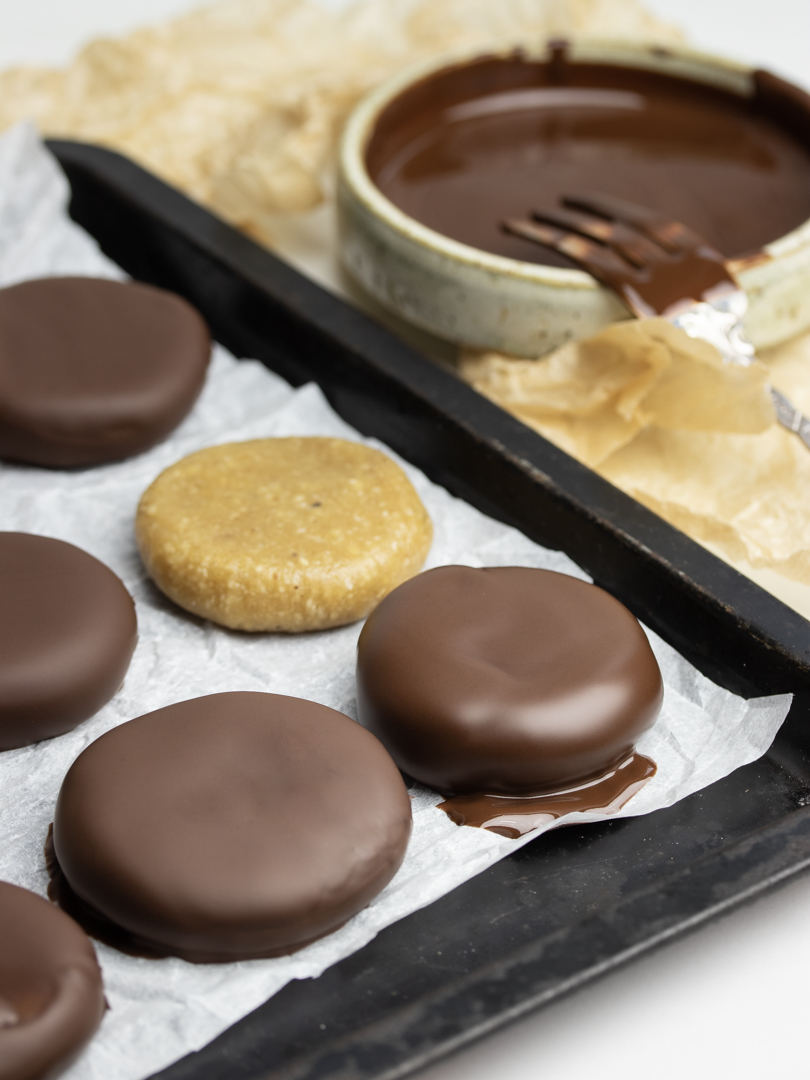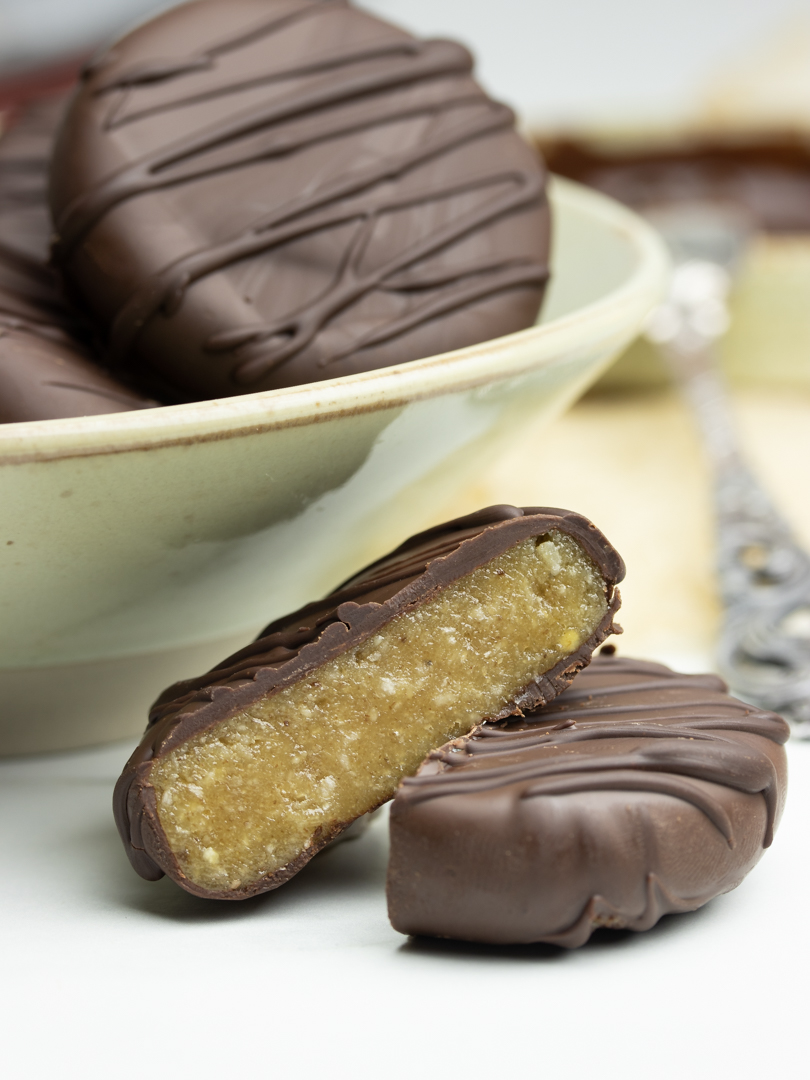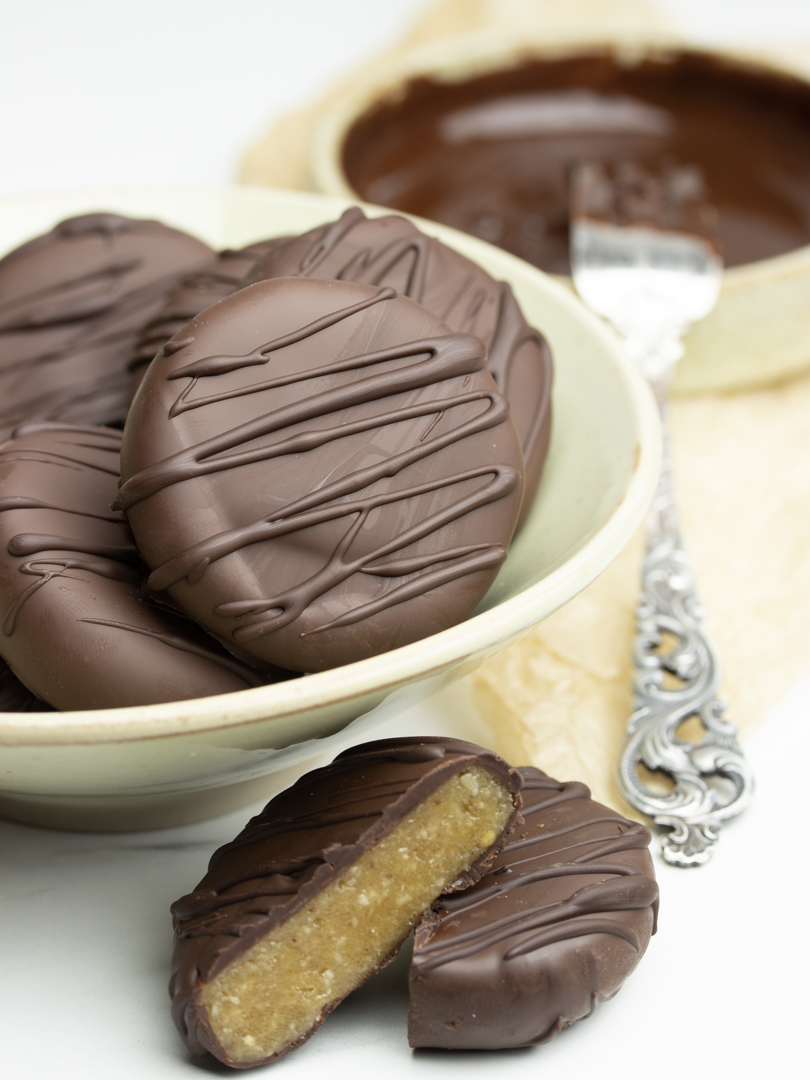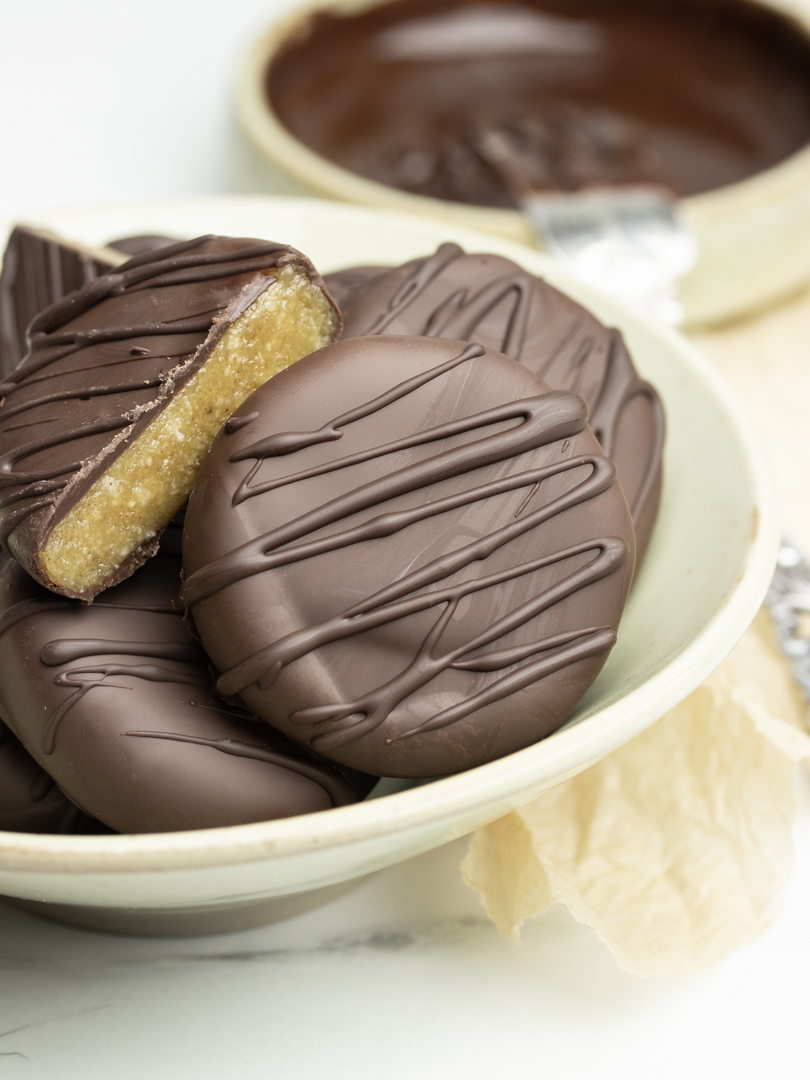 Print
After Eight Mint Patties
Now you can make your favourite after dinner treat easily at home. This treat is loved by everyone but can now also be enjoyed by anyone regardless of dietary preference since these are vegan, wholesome, and gluten free.
10 rather large patties
60g

/ 2,1 oz cashews

40g

/ 1,4 oz shredded coconut

80g

/ 2,8 oz pitted dates (I removed the skin of mine too, just for looks)
A hearty pinch of salt
A few drops of peppermint extract/flavouring
Around

60g

/ 2 oz chocolate for dipping
Instructions
In a food processor or powerful blender process the nuts and shredded coconut until nut butter consistency. If you're machine isn't very strong there may remain some pieces of shredded coconut. As long as you don't mind it yourself, it is no problem.
Add the dates and process until you get a nice more or less smooth dough. Add the salt and peppermint to taste. Take it easy with the extract and add a little at a time.
Divide the dough into 10 balls. Flatten and shape the balls into patties. Put the patties on a plate, cookie tray or such lined with parchment paper or plastic wrap. Let them stiffen up in the freezer for 15-30 minutes, until slightly cool.
Melt the chocolate and take the patties out of the freezer. Dip the patties in chocolate and put them on the prepared plate/cookie tray and let the chocolate harden. Serve and enjoy! Preferably store these in the fridge.
Keywords: After eight, mint patties, homemade, vegan, healthy, gluten free, sugar free