So seasonal, so rich and creamy, so balanced, so fresh, and SO DELICIOUS! These cuties really are something! Making these was actually my first time making cheesecake. Pretty crazy since I've been baking since I was nine and I'm now 20, but I've seldom had it growing up! My first time, however, did not disappoint! I made this recipe completely vegan with oat based alternatives to cream cheese and whipping cream, and my boyfriend couldn't tell! "You'd easily fool me with this", he said. I also used vegan white chocolate, and was a liiiittle bit worried about the sweetness to creaminess & tartness balance, but it turned out perfectly in combination with the seasonal and fruity rhubarb and strawberry compote and buttery and nutty biscuit bottom! So all in all, couldn't be happier with this recipe! Worth mentioning that this recipe can also be easily made gluten free on top of being vegan by switching to gluten free biscuits in the bottom.
Hope you're having a great summer! Enjoy!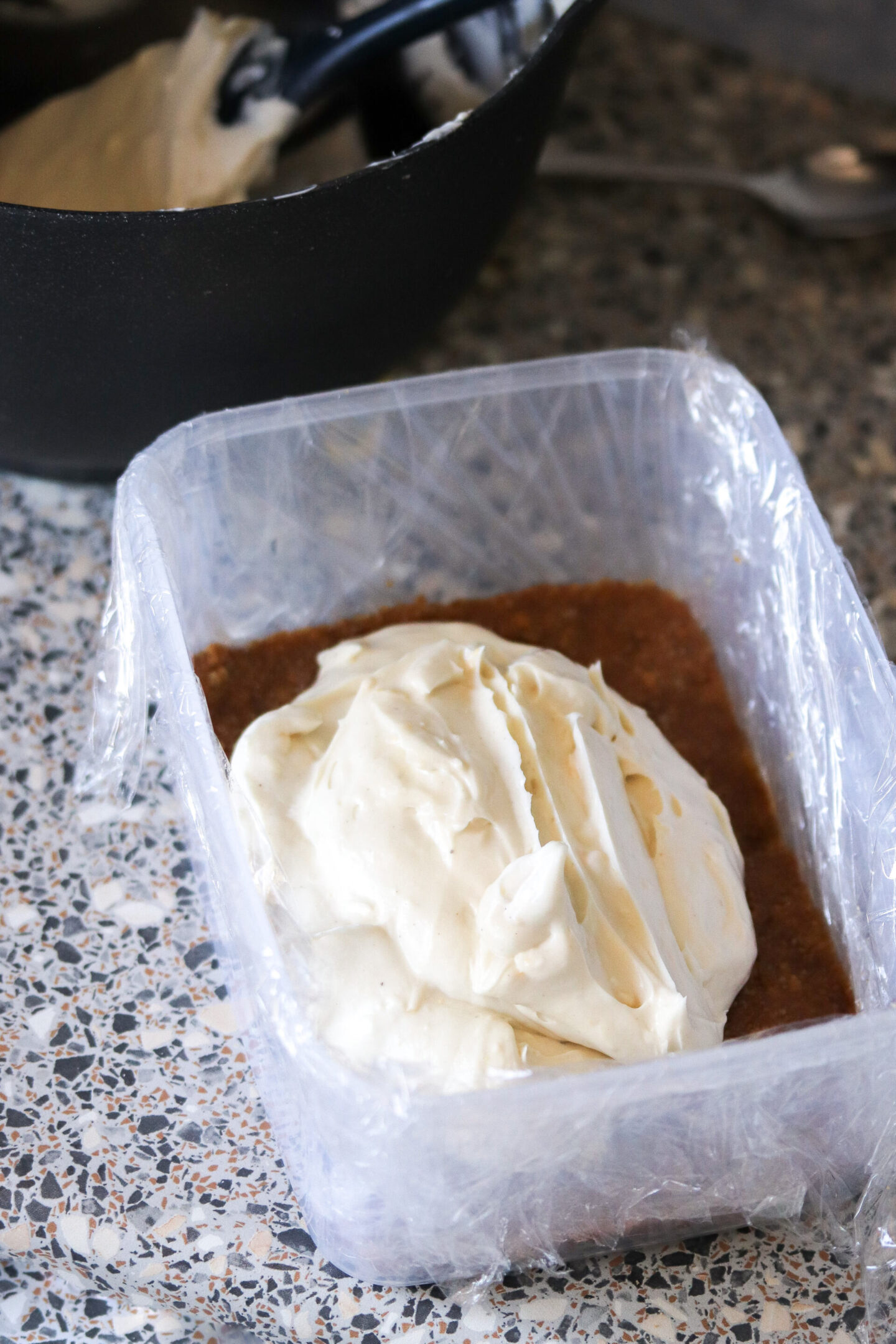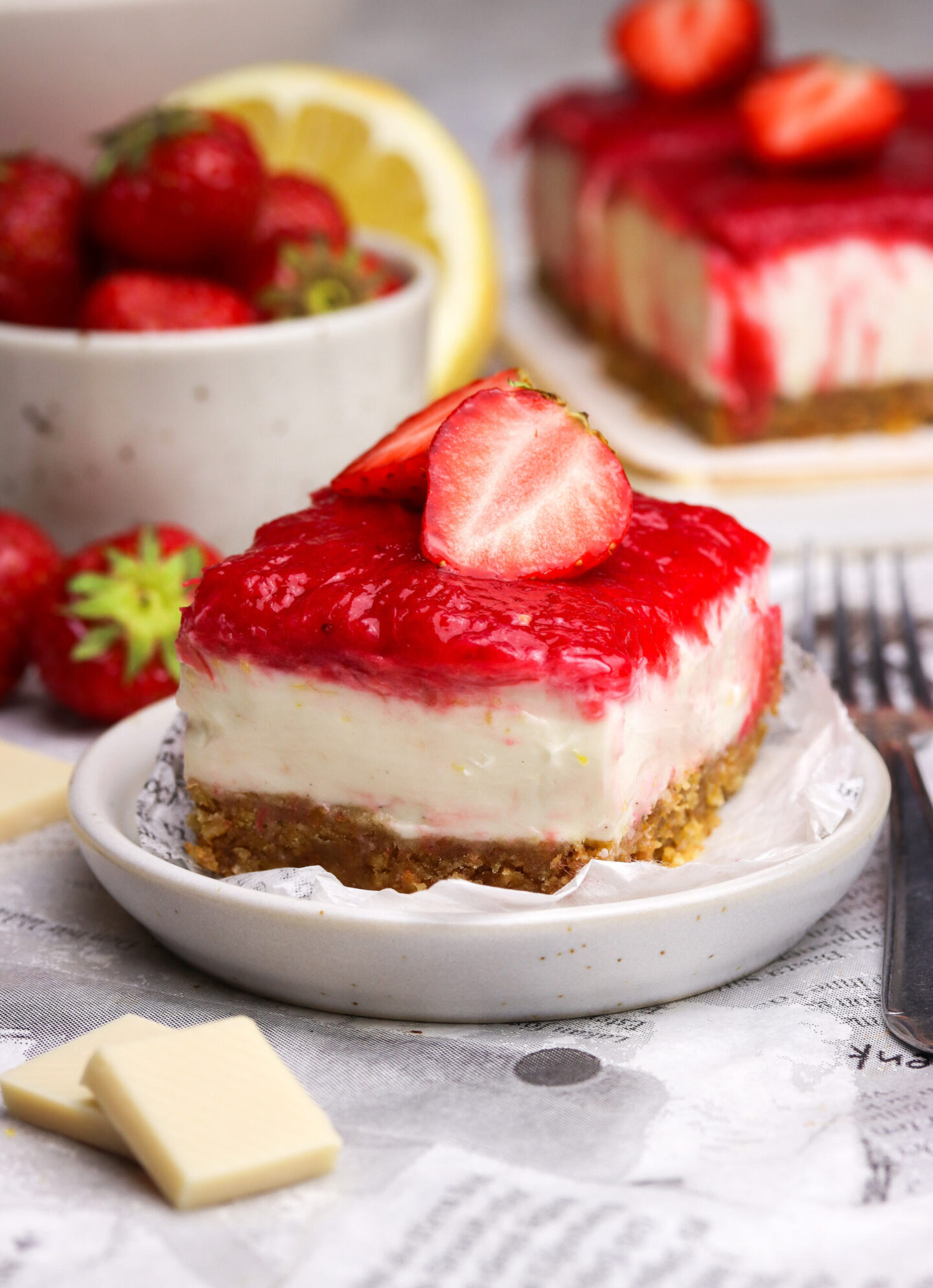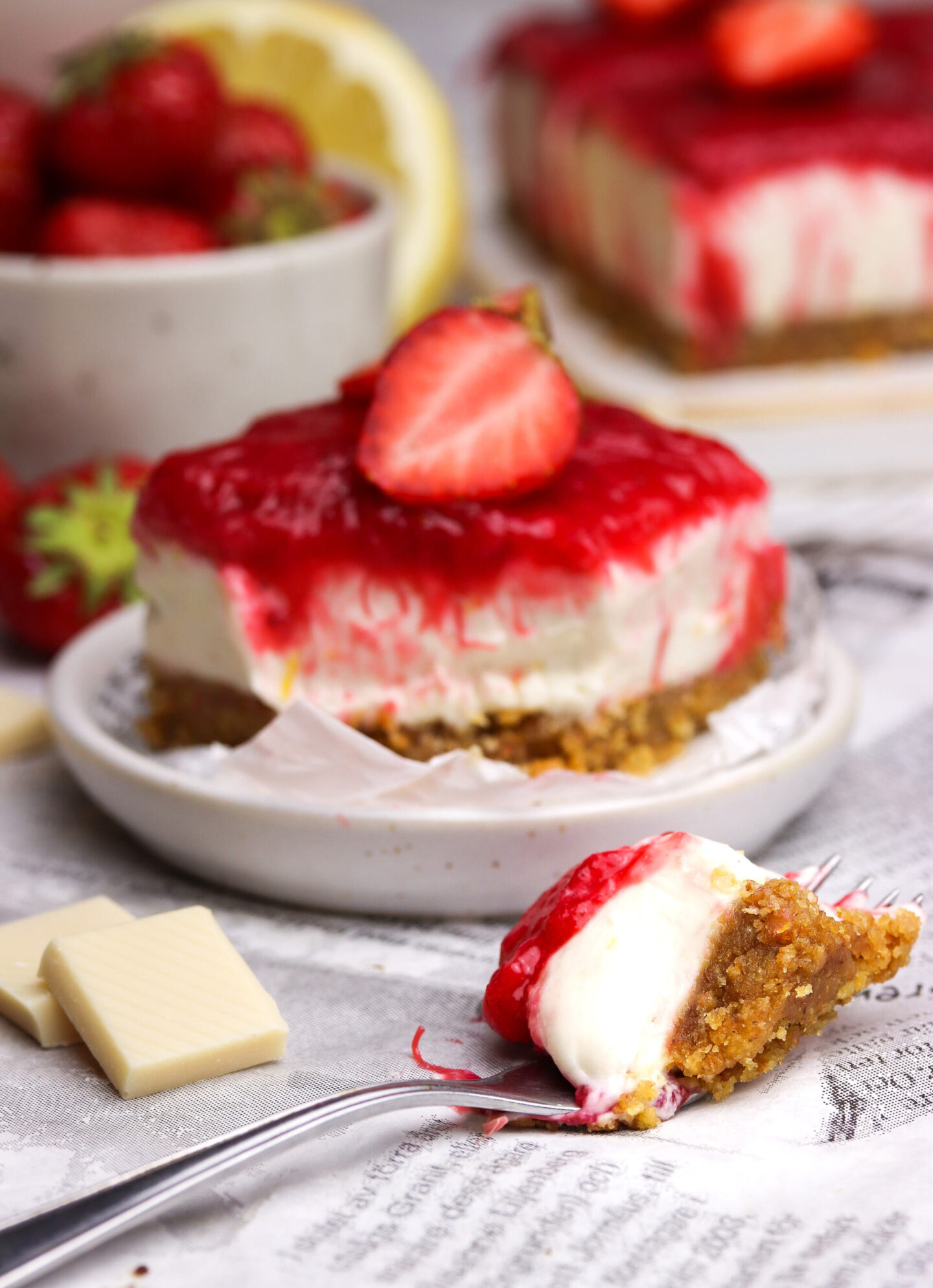 Print
White Chocolate Cheesecake with Rhubarb & Strawberries
Fresh, lovely, rich, seasonal, no bake, and absolutely delicious! All you'll ever need, and easy to make in advance and then keep in the freezer, make vegan and gluten free!
Author: Hanna
Yield:

9

-

12

hearty slices

1

x
Biscuit bottom layer
150g

digestive or similar biscuits, crushed

65g

melted margarine or butter
White Chocolate Cheesecake
300g

/ 10,6 oz cream cheese of choice*

100g

/ 3,5 oz whipping cream of choice*

30g

/ 1 oz powdered sugar

1 tbsp

vanilla sugar or a splash of vanilla essence
Zest and juice of 1 lemon

100g

/ 3,5 oz white chocolate of choice, melted
Rhubarb compote – can be replaced with lots of fresh berries and/or poached rhubarb
150g

/ 5,3 oz rhubarb, roughly chopped

75g

/ 2,6 oz strawberries, sliced

60g

/ 2,1 oz sugar
Optional

1 tsp

 "vegegel", vegan alternative to gelatin
Instructions
Start with he bottom. Process/crumble together the crushed up biscuits and butter, preferably in a food processor or using your hands and having patience.
Line a square container, I used a classic food box which was 18x14cm / 7×5,5 inches, with plastic wrap. Transfer the biscuit crumble and evenly press into a rather dense layer. Let set in the fridge while you make the filling.
Moving on to the filling, in a large bowl, whip together the cream cheese and cream until fluffy.
Fold in the powdered sugar, vanilla, and lemon juice and zest.
Fold in the melted white chocolate, transfer and spread on top of the biscuit bottom, and let set in the fridge for at least an hour while you make the compote.
For the compote, place all the ingredients in a sauce pan, bring to a simmer on medium heat, and let cook until desired thickness. If you're not using a thickening agent like the "vegegel", you can just let it cook for longer. The compote will be less "gel" like. Let cool to room temperature, and then spread on top of the cheese cake. Now let set in the fridge for 2-3 hours.
Now, once set, you can slice these babies up, serve, and enjoy! They may be messy to slice up if not completely set, and if the compote is too liquidly. You can slightly freeze them to make the slicing up less messy if needed. Pro tip though, once sliced up, these are great to store in the freezer. You can just take some out, place them on a plate, and let them thaw in room temperature or in the fridge over night in case you need a quick dessert.
Keywords: vegan, white chocolate cheesecake, dessert, efterrätt, vitchoklad, vit choklad, vegansk, glutenfri, gluten free, strawberries, rhubarb, summer, sommar, sommarefterätt, digestive, biscuit, classic, summer, sommardessert,,