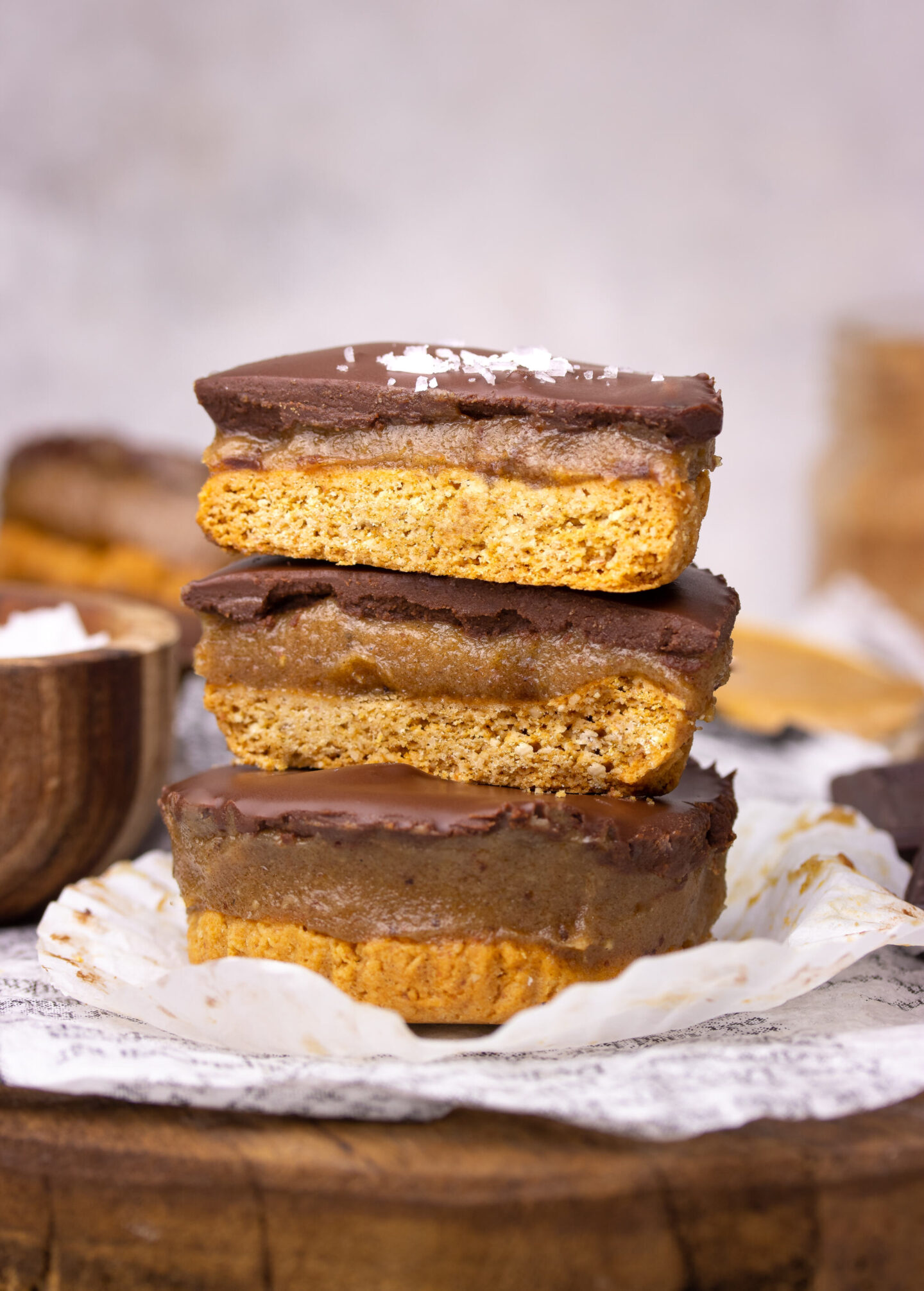 This is a recipe I've been requested to make many times. I have made different variations of Bounty and Snickers, but never any proper Twix recipes. I wanted to make a simple recipe that has that a beautiful crunchy bottom, nice caramel, and a smooth chocolate that when you bite into the Twix doesn't smooch everywhere. Also, I wanted to avoid the problem with cutting the bars since the crunchy bottom in combination with gooey caramel can be tricky to cut. Therefore, I decided to make these cuties in the shape of cups.
So these consist of:
A crunchy, crumbly bottom
A gooey salted caramel middle
Smoooooth chocolate ganache top
If that doesn't make your mouth water, then who are you? Also, who doesn't like portion sized little cuties like these? 
Moving on, I'd recommend storing these in the freezer as they'll hold longer and the caramel gets extra deliciously chewy. Yum! Also, if you'd like to make these into Snicker cups you can just top them with some roasted peanuts on top of the caramel. Hooray for customisation!
Lastly, I want to say that these cuties are really the best little treat ever. Your sweet tooth will be satisfied after one of these and they're a great energy giving snack to power through your day and kick some butts. Boy, I do love that kind of treats and hopefully you do too. Enjoy!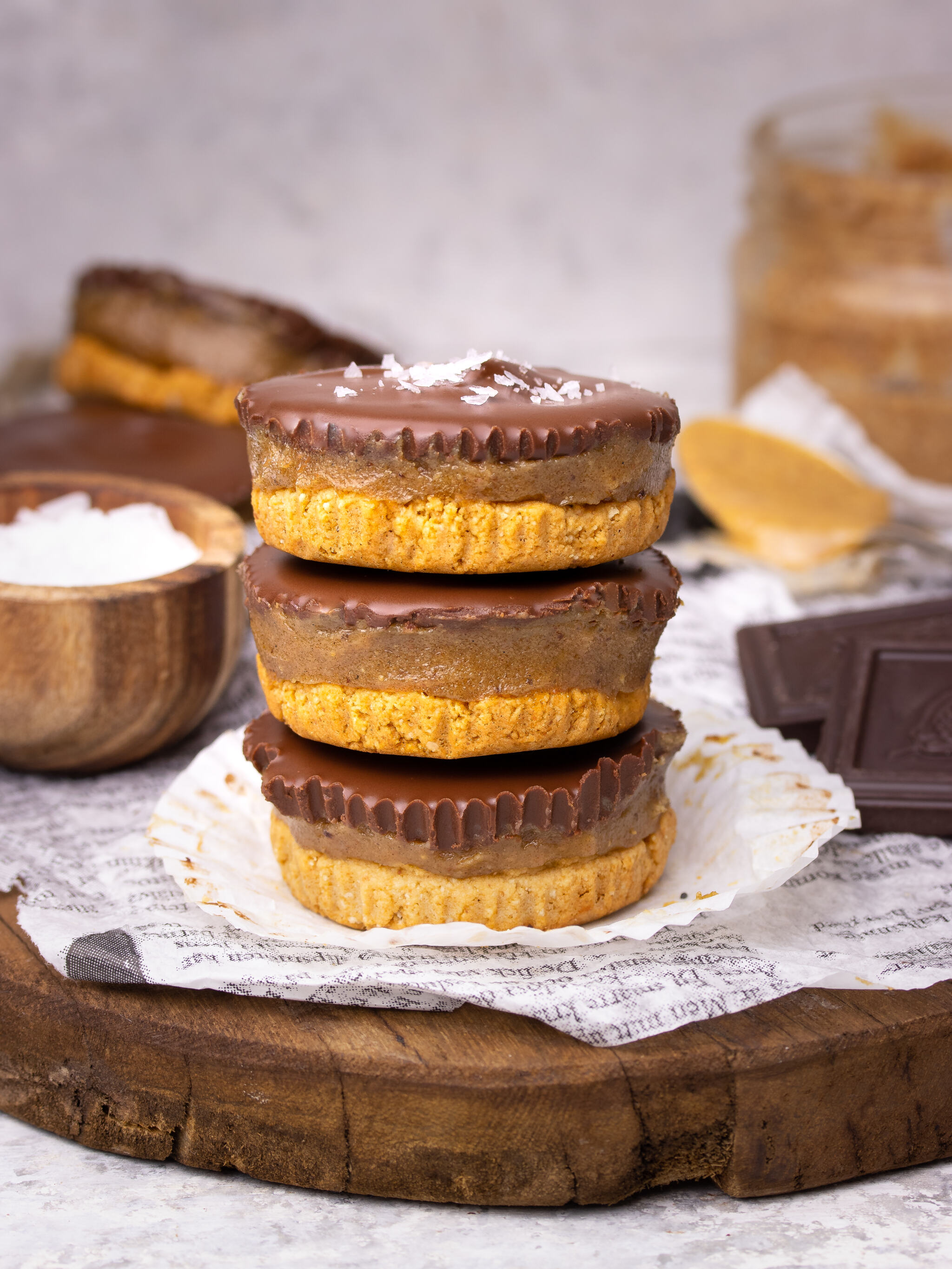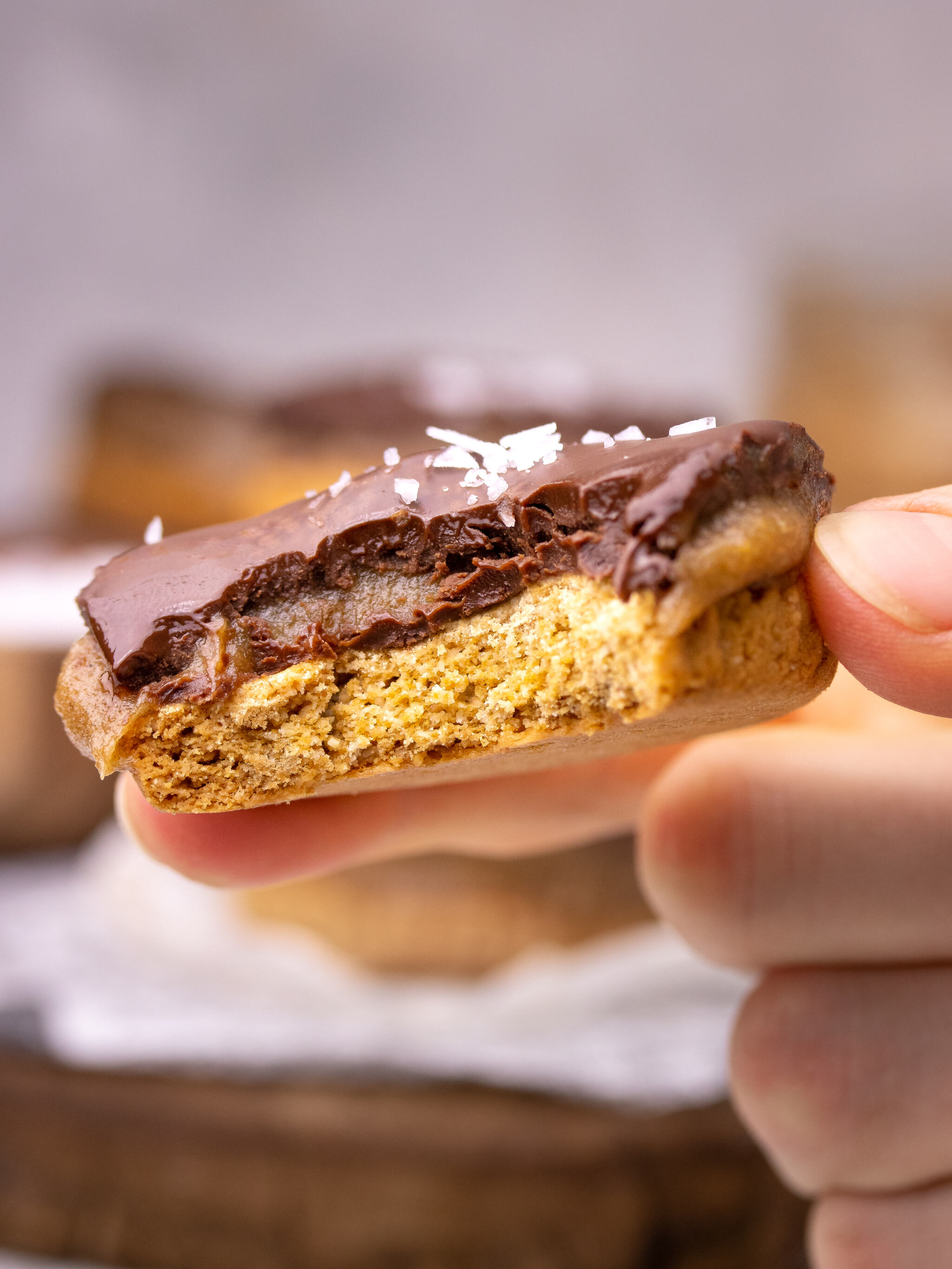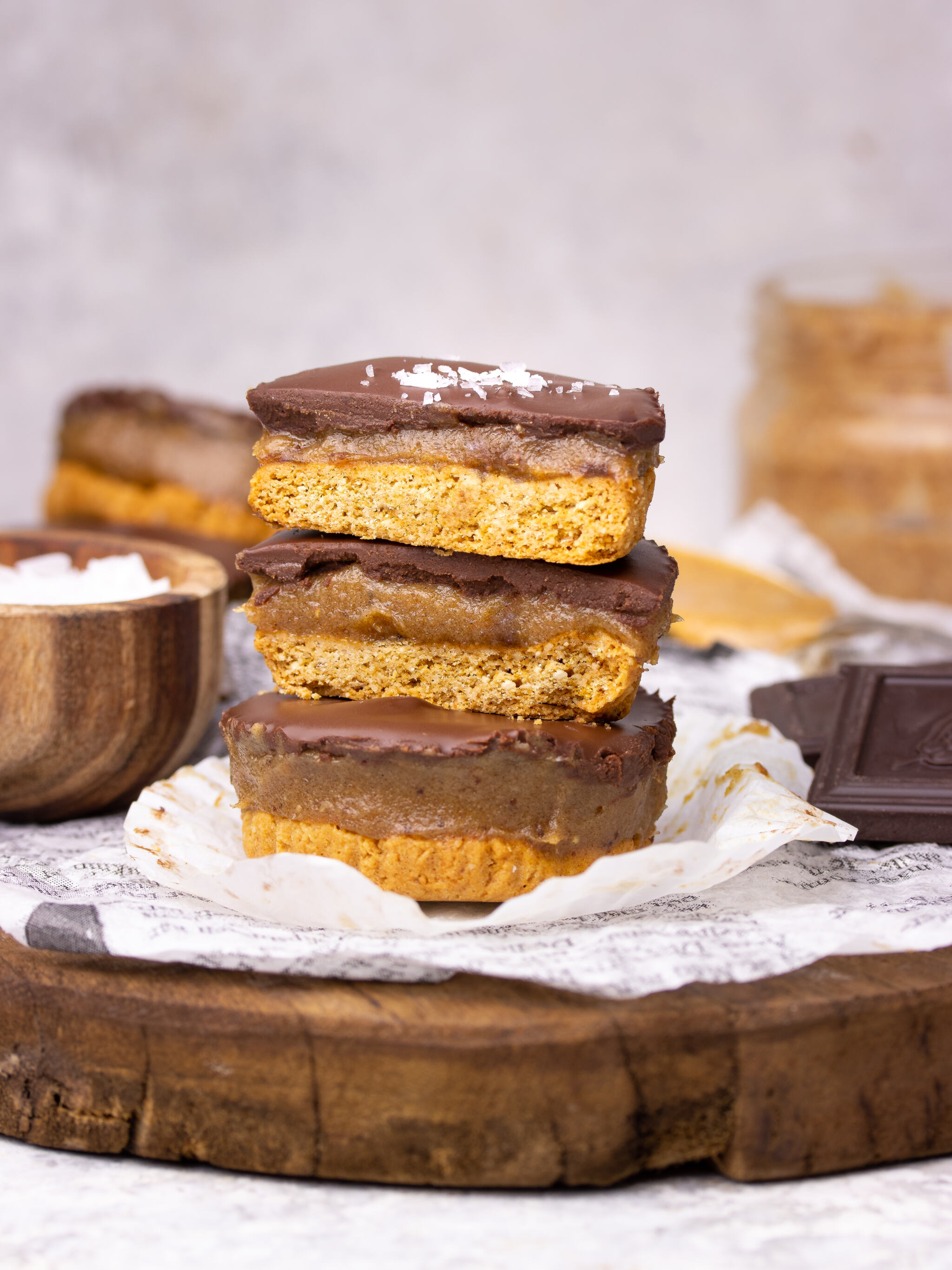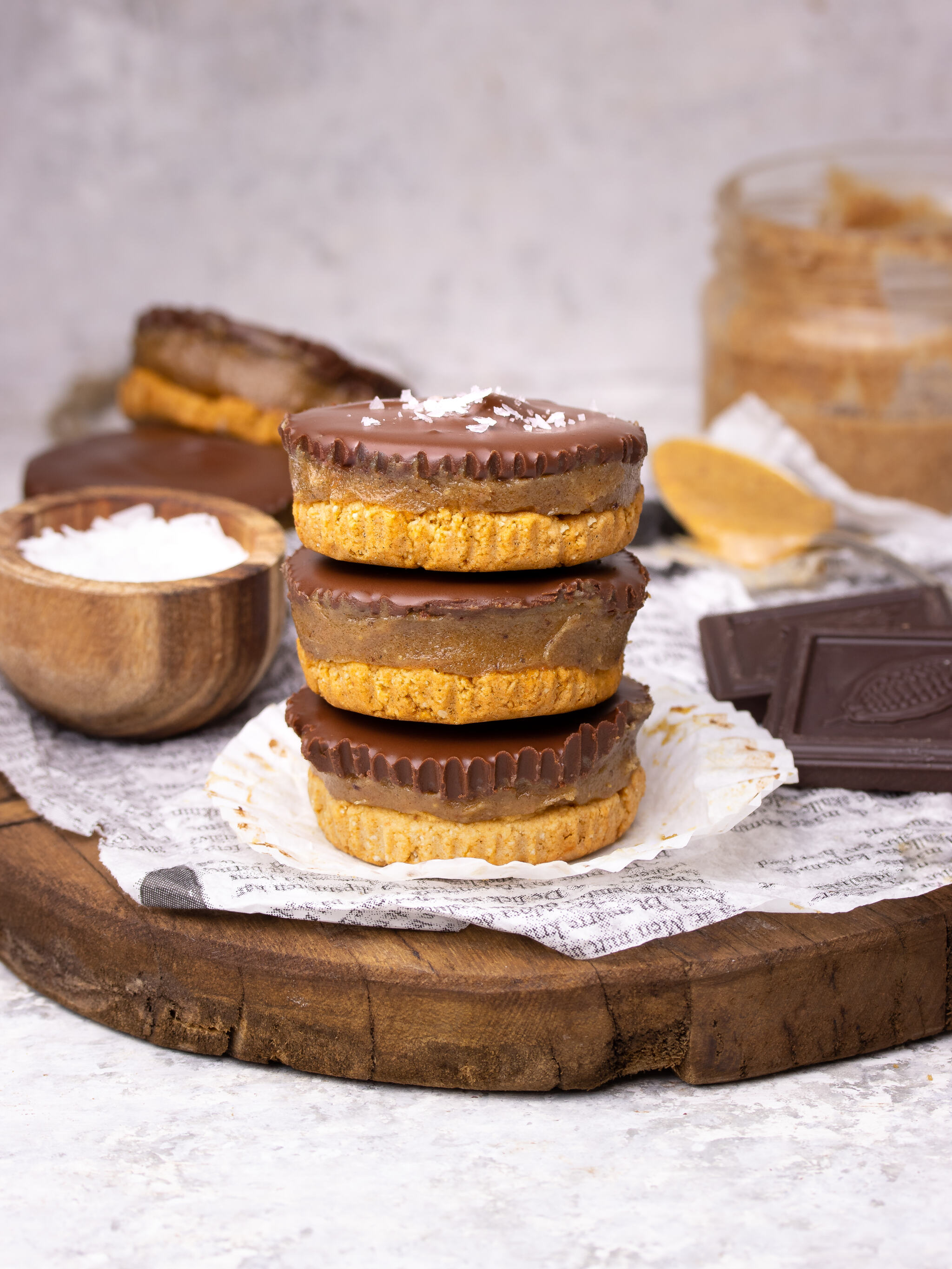 Print
Easy Twix Cups
This version of the classic Twix with its delicious crumbly bottom, salted caramel, and chocolate is not only just as delicious but super easy to make, wholesome, vegan, gluten free, and basically suitable for everyone regardless of allergy.
Author: Hanna
Yield:

12 cups

1

x
Bottom
100g

/ 3,5 oz oat and/or nut flour of choice (I used

70g

oat flour and

30g

almond flour)

1/2 tsp

baking soda
A pinch of salt

4 tbsp

liquid sweetener of choice

2 tbsp

nut butter of choice
Caramel
200g

/ 7 oz pitted dates* (I peeled mine for looks)

3 tbsp

nut butter of choice
Two hearty pinches of salt
A splash of vanilla

1

–

3

tbsp water depending on your dates moisture
Chocolate Ganache
120g

/ 4,2 oz dark chocolate

4 tbsp

water
A hearty pinch of salt
Instructions
Preheat the oven to 150ºC / 300ºF and line a muffin or cookie pan with 12 muffin liners.
In a bowl, mix the flour, baking soda, and salt. In a separate bowl combine the liquid sweetener and nut butter. Add the wet to the dry and mix until you get a nice "dough". It should be quite moist and not crumbly.
Divide the dough between the liners. Using your hands, evenly press out to all corners and prick with a fork. Bake for 16-18 minutes or until golden. Let cool.
While the bottoms are baking, prepare the caramel by mixing the dates, nut butter, salt, and vanilla smooth in a food processor. If too dry, add a splash or two of water.
Divide the caramel between the muffin liners and spread smoothly to all corners. Let firm up in the freezer for at least 3 hours.
In a small microwave-safe bowl, put the dark chocolate, water, and salt. Microwave on low to medium effect for 30 second intervals until the chocolate has almost completely melted. Once melted enough, mix until you get a smooth ganache. Pour and spread the ganache on top of the caramel layer. Then put them in the freezer until the ganache has set. Enjoy!
Notes
*If your dates are very dry, soak them in warm water for at least an hours or more.
Keywords: Easy Twix, vegan, gluten free, healthy, refined sugar free, oil free