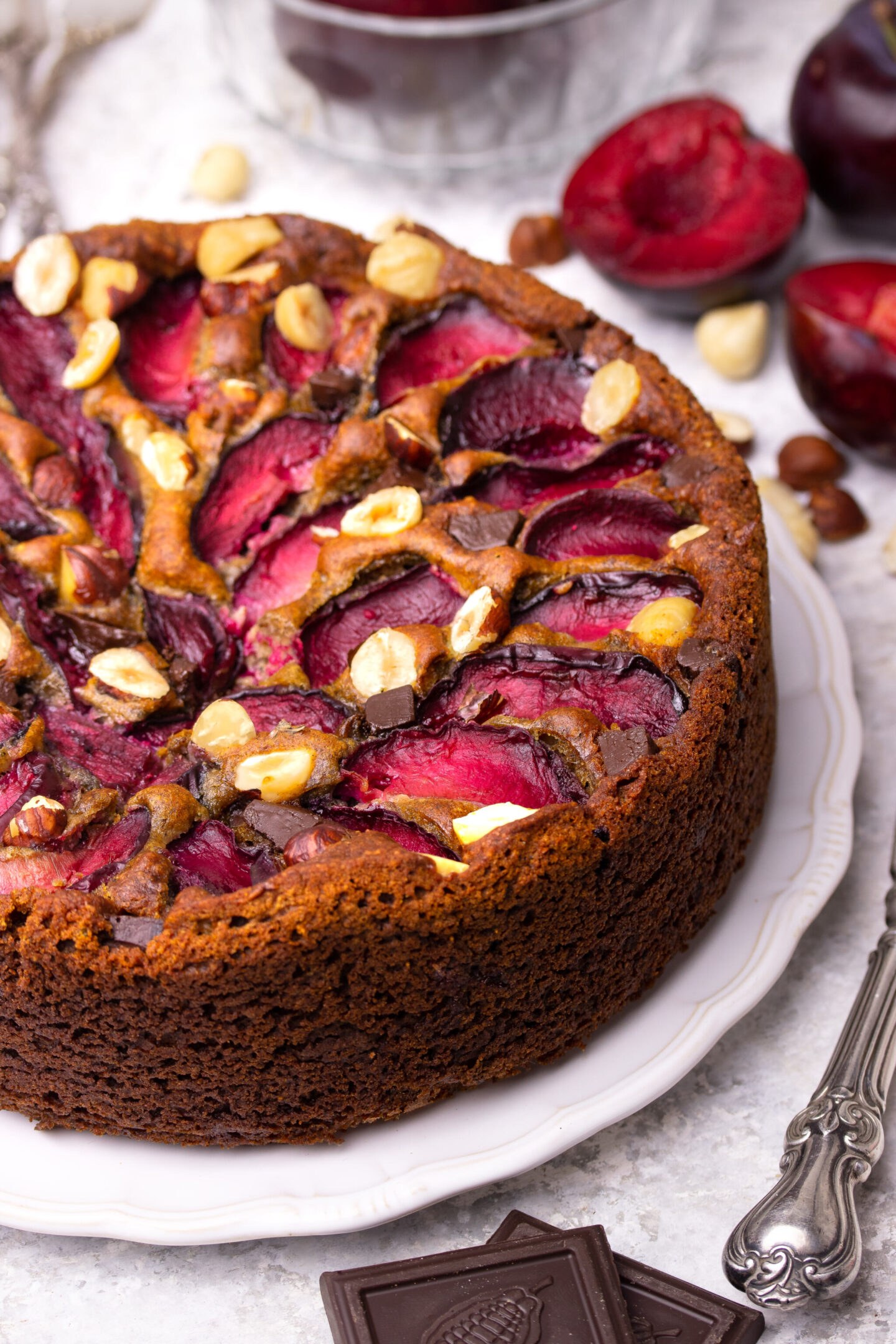 Plums are a very underrated fruit. Many will immediately associate plums with prune and dried prunes, but plums are way better. They have a sweet and not mushy flesh and a slightly sour but not unpleasantly sour skin. As always with all my recipes, I love pairing one delicious produce with another, and guess what is beautifully paired with plums? Dark chocolate and roasted hazelnuts (which you probably could guess from the title of this recipe)!
Firstly, chocolate and hazelnut together is a winning combination, but with the addition of plums to the equation you, my friend, have an award-worthy cake. If you're not completely convinced then think about how delicious dark chocolate and cherries are together. Secondly, this cake does the impossible. It is:
Fluffy
Moist
Delicious
Moreish
Sophisticated
Easy to make
yet
Seasonal
Vegan
Gluten free
Wholesome (refined sugar free, oil free, etcetera)
A.K.A. for everyone to enjoy regardless of dietary preference! Heck yeah!
So when we've got that covered, let me just say that this cake really is a must to make. You may think the flavour combo is a bit over the top fancy, but you couldn't be more incorrect. Also, I know that there are a lot of people out there like me who have a plum or prune tree (you could also use prunes even though plums are superior) and every year don't know what to do with all of the fruit. However, this year I can provide you with the answer to your problem which is to simply make this cake. Okay, it's time for me to stop rambling. Enjoy!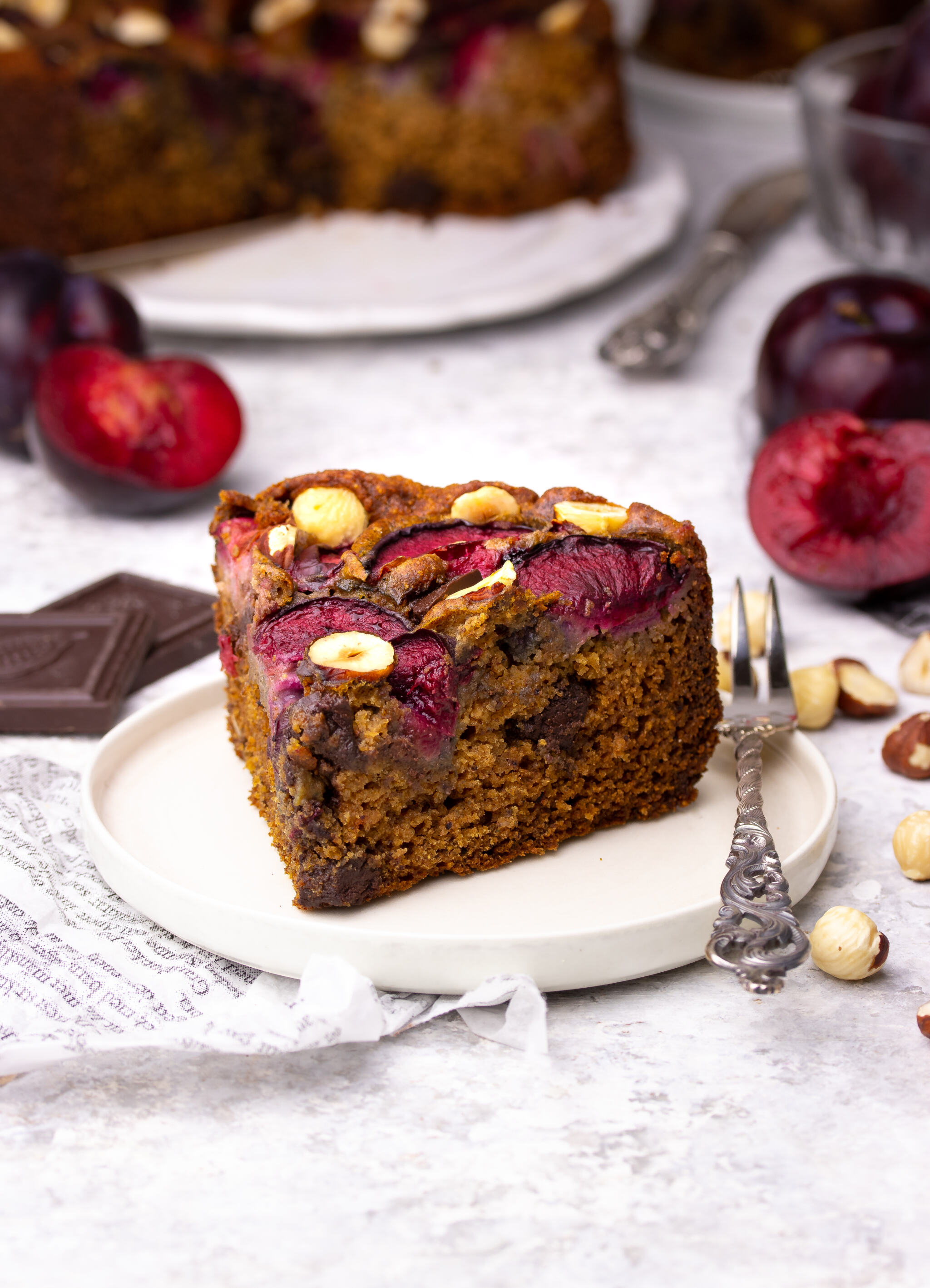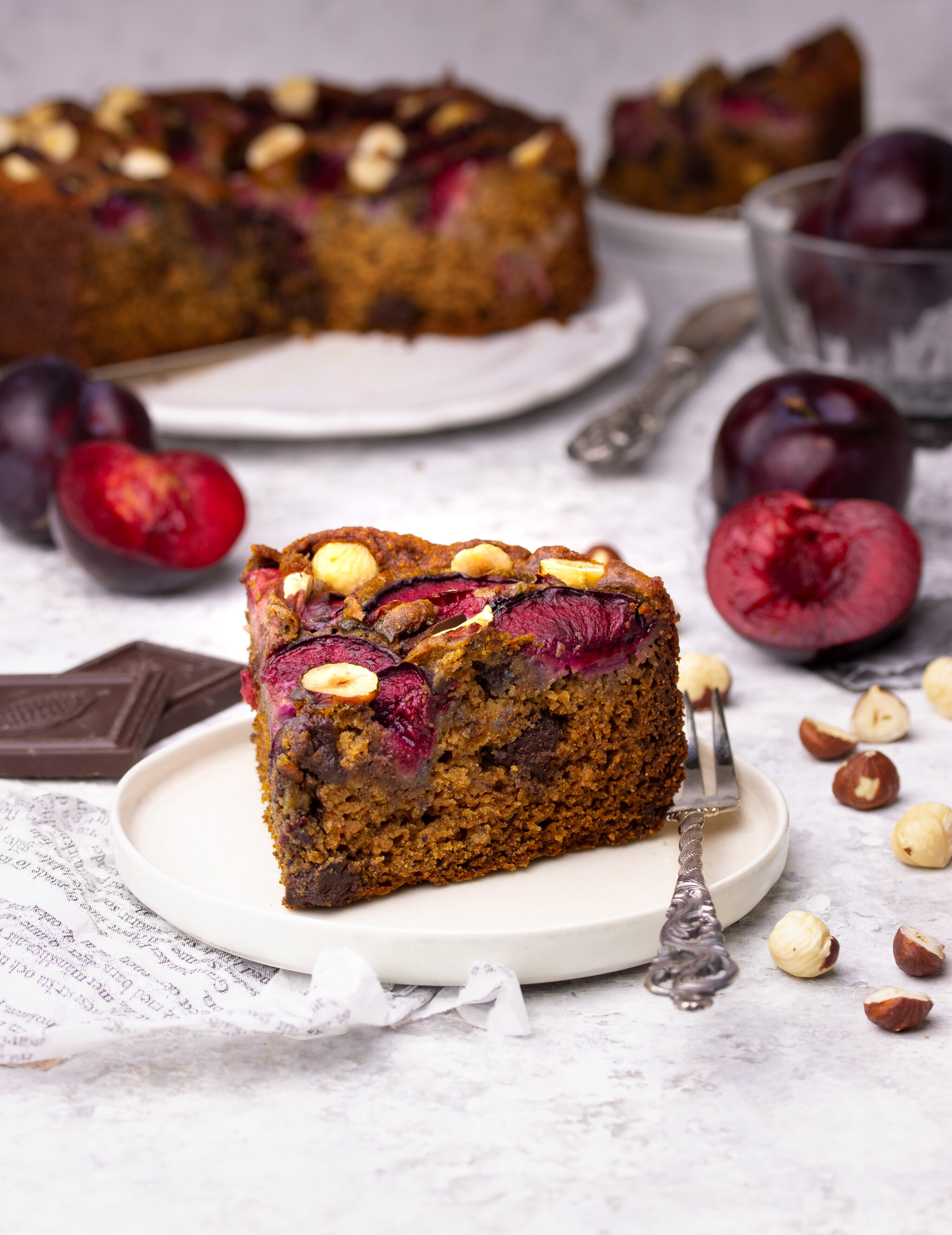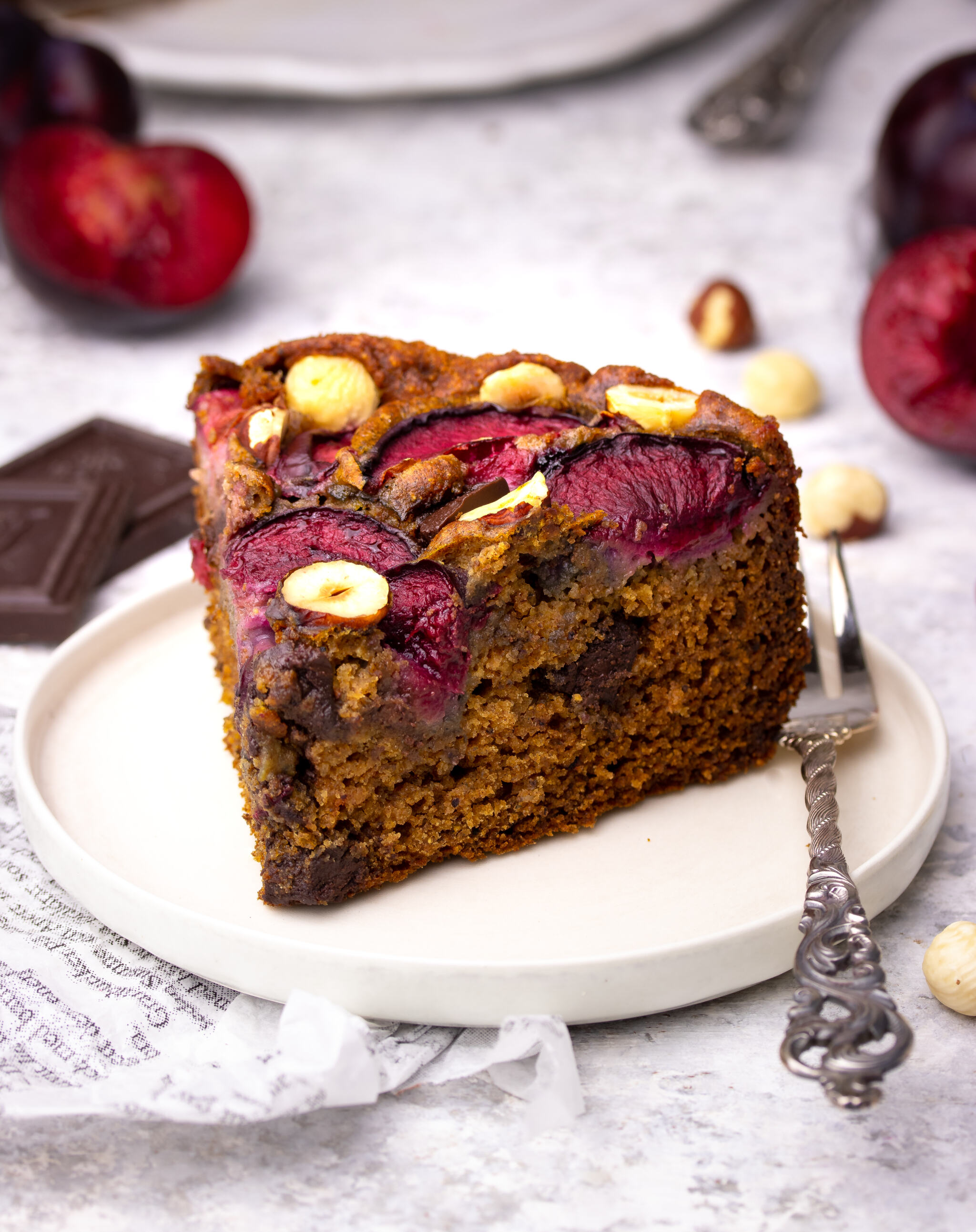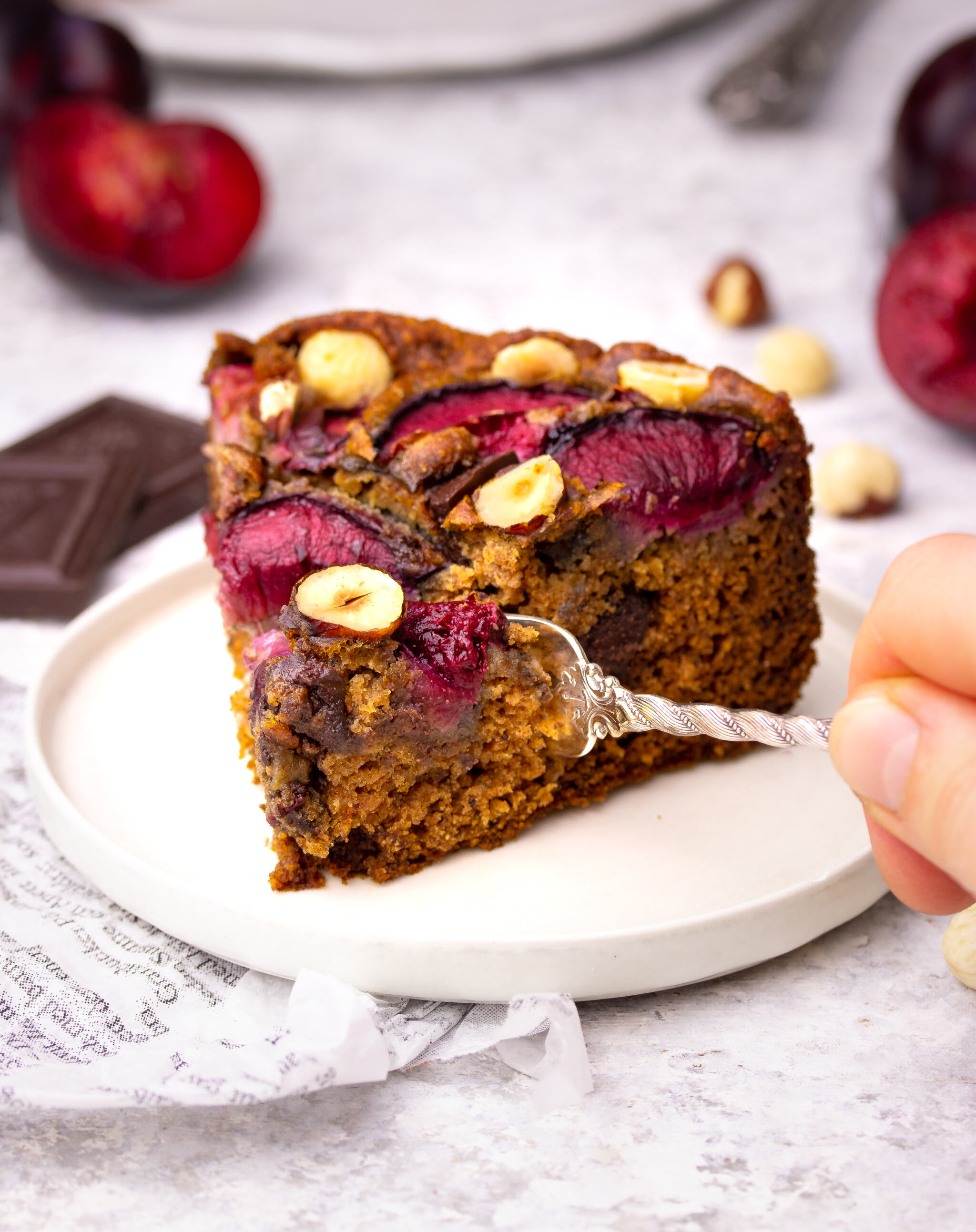 Oooooh, I hate when crumbs fall of when I'm making a GIF. God damn you perfectionism! Still look as that cake! I don't know about you but my mouth is watering.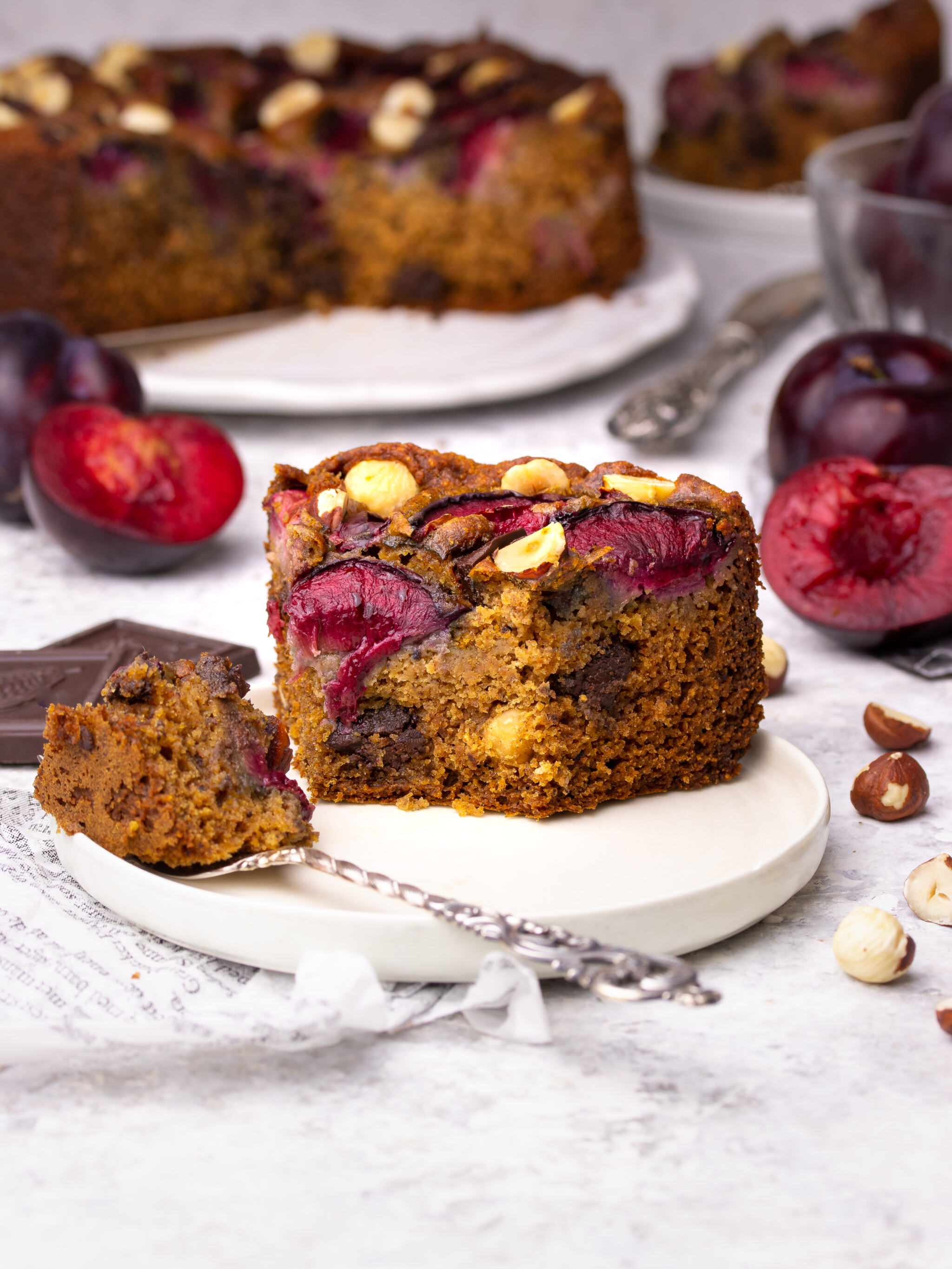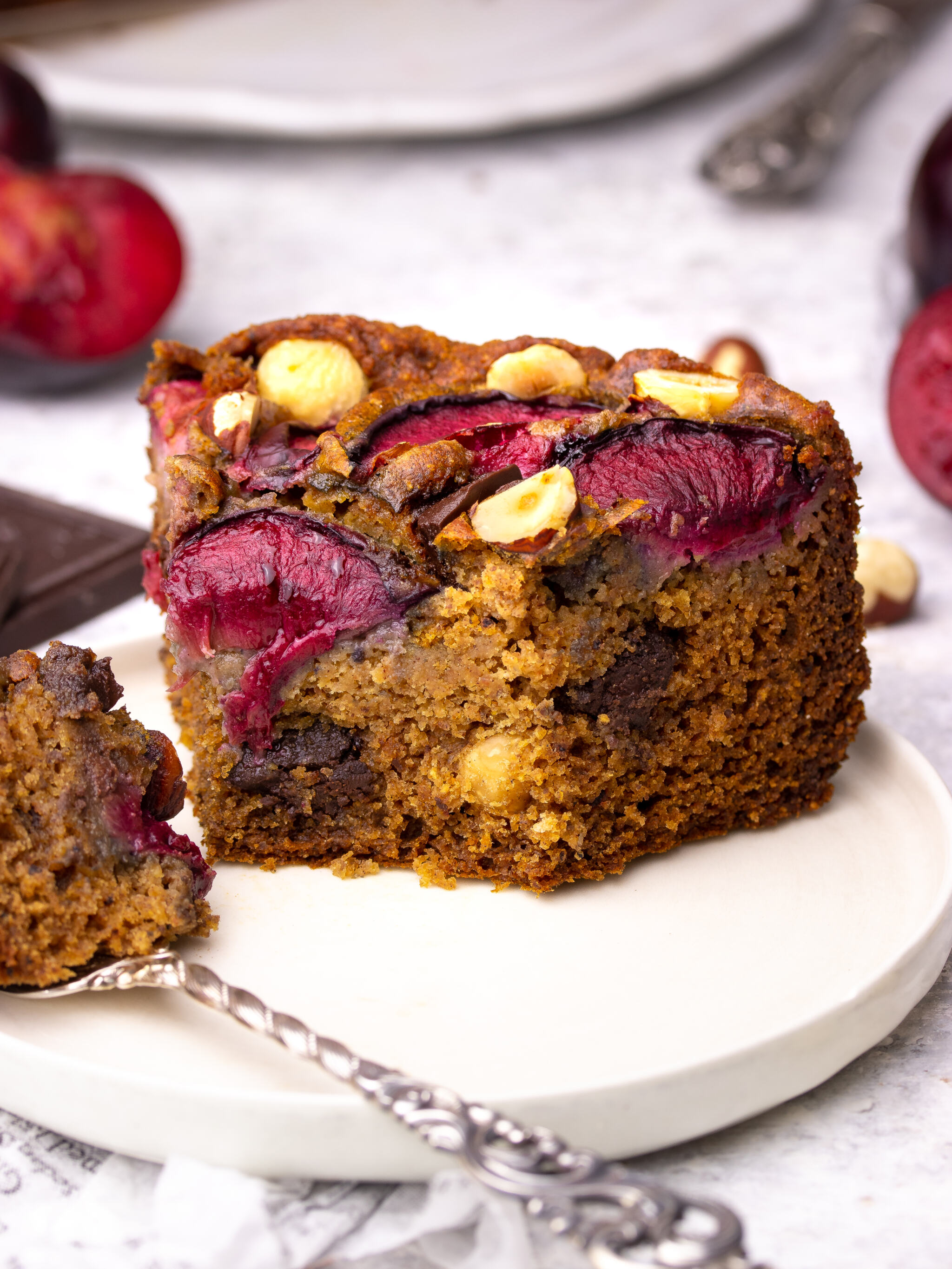 Print
Plum Cake with Dark Chocolate & Hazelnuts
A moreish yet sophisticated cake with beautiful & seasonal plums paired with dark chocolate and roasted hazelnuts.
Author: Hanna
Yield:

8

–

10

servings

1

x
100

g / 3,5 oz oat flour

90

g / 3,2 oz buckwheat flour

1

,5 tbsp milled flax or chia seeds

2

,25 tsp baking powder

1 tbsp

 baking soda
A hearty pinch of salt

300

ml / 1 cup plus 3 tbsp milk of choice

60

g / 2,1 oz coconut sugar or other granulated sweetener

100

g / 3,5 oz pitted dates (I peeled mine for looks)

60

g / 2,1 oz nut or seed butter

1 tbsp

 white balsamic vinegar*

1 tsp

 vanilla extract

75g

/ 2,6 oz dark chocolate, roughly chopped or chips

2

handfuls hazelnuts halved
Approx. 200g / 7 oz plums, in 2,5 cm / 1 inch thick slices
Instructions
Preheat the oven to 150ºC / 300ºF, prepare and grease a baking pan. My pan had a diameter of 18cm / 7 inches which yielded a thick and nice cake. If you use a bigger pan you can bake the cake at 160ºC / 320ºF and adjust the baking time.
In a large bowl, mix the oat flour, buckwheat flour, milled flax seeds, cardamom, baking powder, baking soda, and salt.
In a blender, blend the milk, sugar, dates, nut butter, vinegar, and vanilla smooth.
Do the following steps as quickly as possible. Add the wet to the dry and mix until just combined. Fold in half of the chocolate and hazelnuts.
Transfer to the cake pan, decorate with the sliced plum as well as the remaining chocolate and hazelnuts. Slightly press them into the batter. Bake for 45-50 minutes or until a toothpick uns clean. Take out, let cool, serve, and enjoy!
Notes
*You can probably use another kind of vinegar, but since I've not tried any other myself I can not promise the same results.
Keywords: Plum cake, vegan, healthy, gluten free, summer dessert, prunes, dark chocolate, hazelnuts