In paid collaboration with Vivani
In proud collaboration with Vivani, I am brining you a brand new, even better, more decadent, and classic recipe for Swedish dammsugare! They may look exotic to a non-Swede, and I completely understand why! However, I don't want you to get scared by the the green marzipan and chocolate covered ends, that look odd to say the least, since this treat is something deliciously special. It is a true classic and a strong participant in the traditional fika. The name dammsugare, which means vacuum-cleaner, funnily enough comes from the similarity between the treat and old school vacuum cleaners. It's often also called punschrulle, punsch-roll, which does describe the treat better. To quote Wikipedia:
"Punsch-roll (Swedish: Punschrulle) is a Swedish small cylindrical pastry covered with green marzipan with the ends dipped in chocolate, with an interior consisting of a mix of crushed biscuits or cake, butter, and cocoa, flavoured with punsch liqueur."
So, punschrullar basically are old school cake pops, but even better! The flavour combo of chocolate, cake, marzipan, and punsch (can be omitted) is not only heavenly but pure nostalgia for any Swede. I have put an extra chocolatey twist to the classic and have added extra much "chocolateyness" to the filling by adding lots of Vivani's Dark Nougat chocolate, which tastes like nutella in the shape of a chocolate bar. The Dark Nougat's silky, chocolatey, and nutty richness makes this version even better than any other I've had before. I also used their 70% baking chocolate to dip the ends in, and my honest opinion is that it's one of the highest quality chocolates I've ever had. When you take a piece and without realizing say out loud to yourself: "wow, this is some good chocolate", you know it's good for real.
I can not forget why this little delicious treat was first created, to use up scraps and left over cake or cookies. Making dammsugare honestly is the way to make your dry cake even better than it was fresh! Before I go, for a "healthy" version, check out this recipe of mine, which uses more "whole foody" ingredients. Enough said, I am super proud to present this recipe, and I hope you like it as much. Enjoy!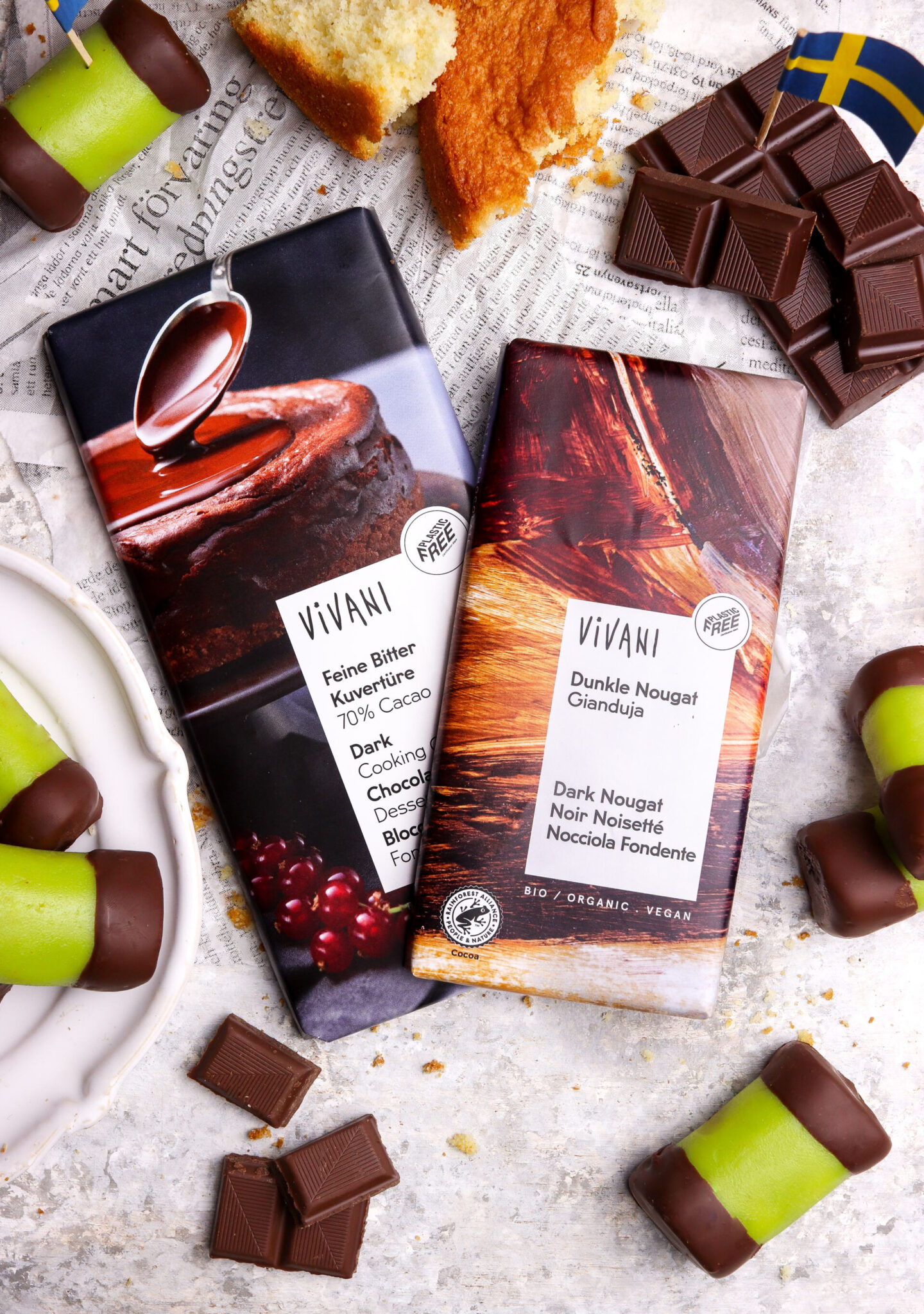 Vivani's Dark Nougat and 70% Cooking Chocolate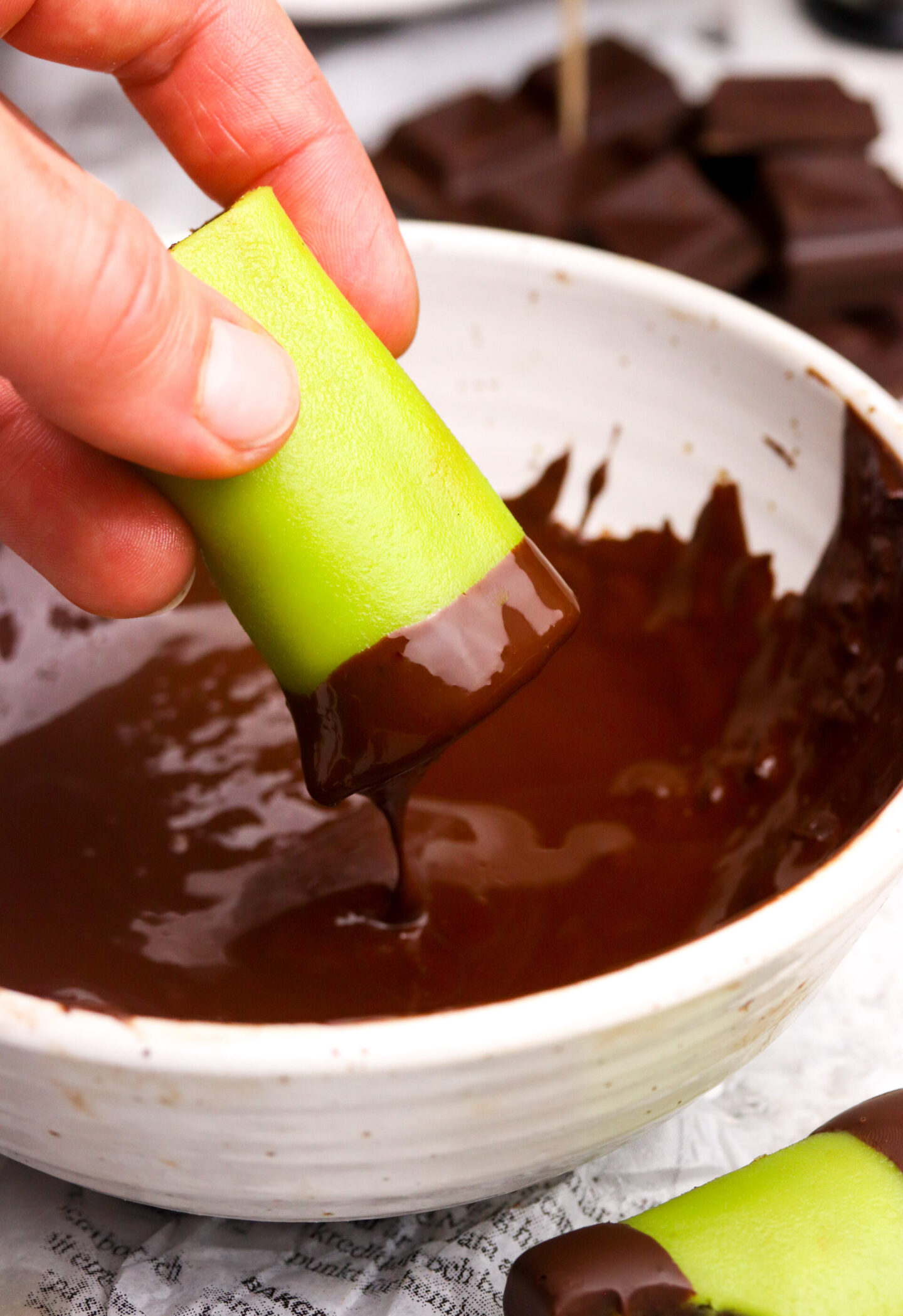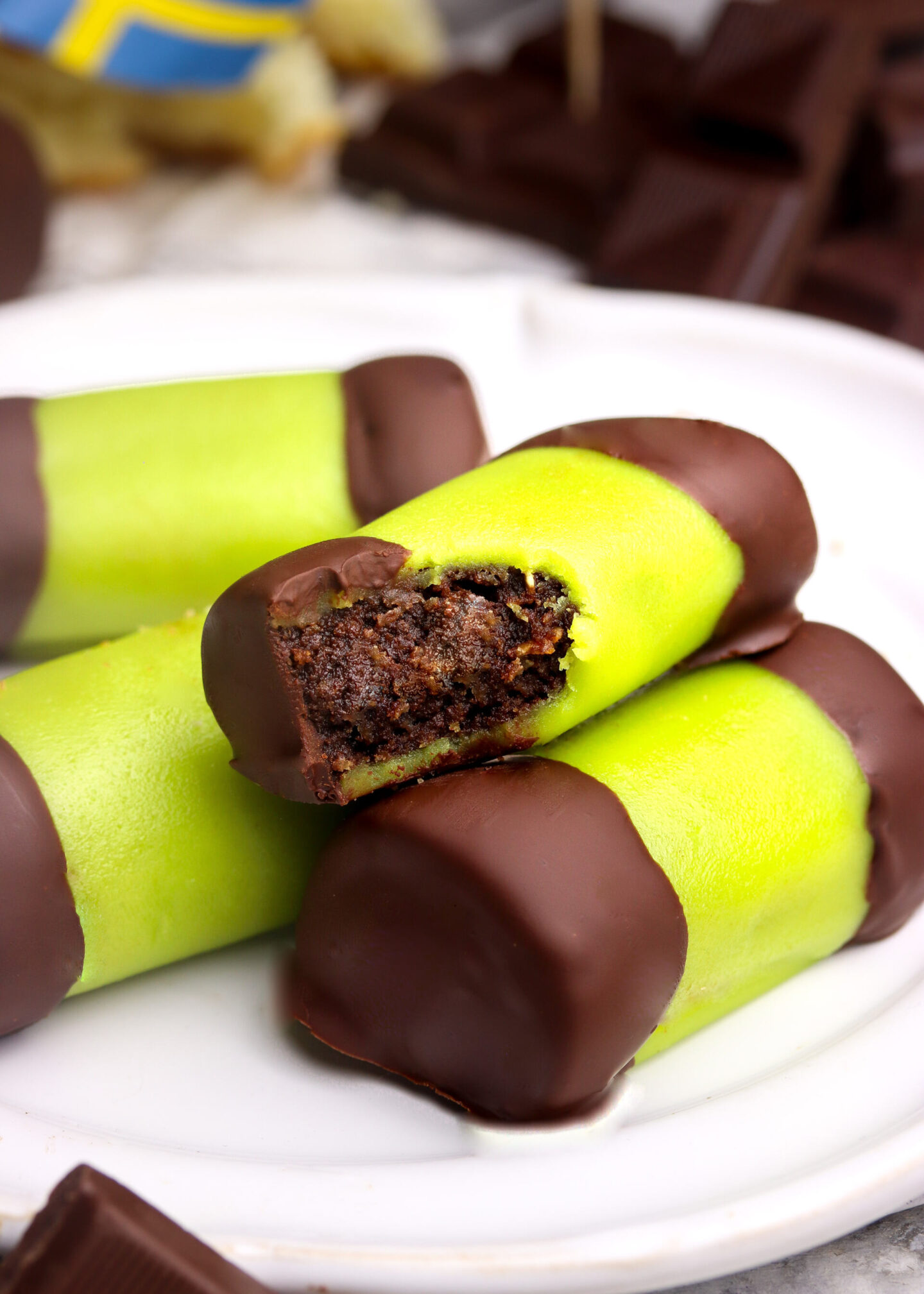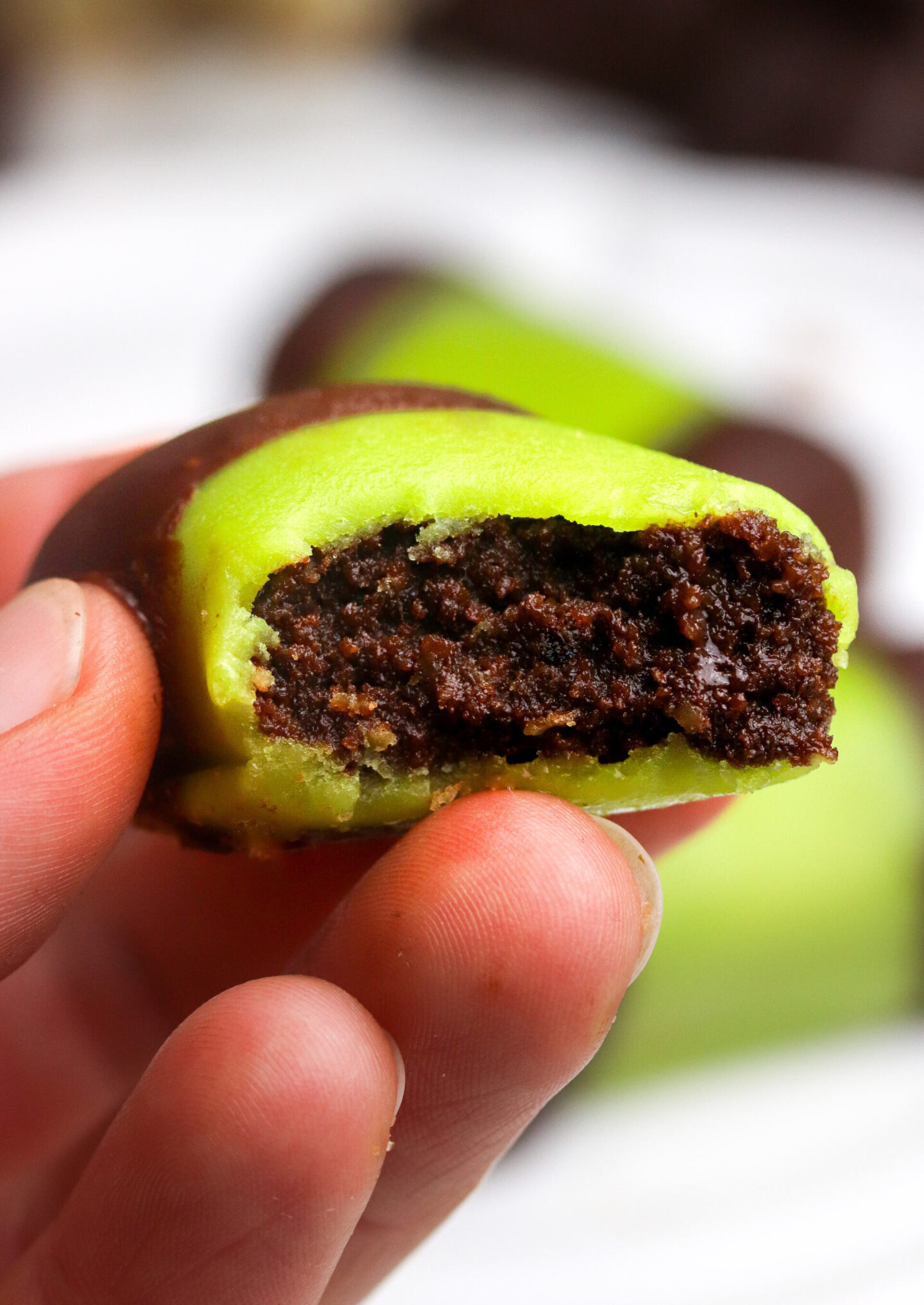 Here's a video showing how to shape and roll the dammsugare!
Print
Swedish No Bake Punsch Rolls AKA "Dammsugare"
Delicious, creamy, rich little treats made with leftover cake, and flavoured with chocolate, marzipan, and punsch. A Swedish classic nostalgic to any Swede and delicious to everyone!
Author: Hanna
Yield:

15

rolls

1

x
50g

/ 1,75 oz butter or margarine, room temperature

60g

/ 2,1 oz rolled oats

60g

/ 2,1 oz powdered sugar
A hearty pinch of salt

30g

/ 1,1 oz cocoa powder

3 tbsp

strong coffee or milk
"Arrak aroma" or classic punsch to taste

200g

/ 7 oz left over cake, crumbled finely (I used vanilla sponge cake)

100g

/ 3,5 oz Vivani's Dark Nougat, melted*

200g

/ 7 oz marzipan (or a marzipan lid which is available in Sweden)
Corn starch for rolling
Around

100g

/ 3,5 oz Vivani's Dark Cooking Chocolate +

1/2 tsp

neutral oil*
Instructions
Using an electric mixer, start with whipping the butter, oats, powdered sugar, and salt creamy and until the oats become fine pieces.
Add the cocoa, coffee, and arrack aroma, and whip until just incorporated. Then stir in the crumbled cake.
Lastly, fold in the melted dark nougat chocolate. If your dough feels to dry to shape at this step, add more butter, melted chocolate, and/or coffee. Let firm up in the fidge for half an hour.
In the meantime, start working your marzipan with your hands to be moldable. If it's too sticky, knead in some corn starch.
Roll out the marzipan to a 2-3 mm thick rectangle. Take dough and roll into a long roll, about 2-4cm thick, and just long as the long side of the marzipan.
Place the log onto the marzipan, envelop the log in the marzipan, and cut of any excess but do make sure the marzipan fully covers the log. Repeat until all marzipan or dough is used.
Cut the marzipan covered logs into smaller pieces. I like about 5cm. Place on a plate covered in plastic wrap or parchment paper.
Let the mini logs chill in the fridge while you melt the baking chocolate. Once melted, add a tiny splash, about 1/2 tsp, neutral oil to give a glossy finish.
Now, dip each end of the logs in melted chocolate. Let excess chocolate drip off and then place on the lined plate. Let set in the fridge, and enjoy!
Notes
*This recipe is in paid collaboration with Vivani. Can be subbed for other chocolates.
Keywords: dammsugare, swedish, svenska, recept, recipe, vegan, punschrulle, punsch rolls, no bake, baka utan ugn, marzipan, cake pop, arrak, chocolate, punsch, left over cake, överbliven kaka, veganksa