Guys, Christmas in just in a week! Well, at least for us, Swedes, because we celebrate Christmas on the 24th of December. The reason why us, Swedes, celebrate Christmas on the 24th is that before the vikings converted to Christianity they actually already celebrated a pagan festival on the 24th of December. This festive celebration was to celebrate how from the 24th, what the vikings thought was the darkest day of the year, it could only get brighter. Funny, huh? In result, we have continued celebrating Christmas on the 24th, even though it was a day too early.
In my opinion, this parfait is a dessert for kings. It is easily prepared in the advance, which makes it perfect for Christmas. Also, it is versatile and can be served with any fruit or topping of choice. I personally like the combination of saffron rice pudding with cherries, raspberries and almonds. I also adore having rice pudding for breakfast or snack. Trust me, it's an amazing pre-workout snack. On another note, rice pudding actually has a rather important role in the Swedish Christmas tradition. So to all of you who might be interested in some history about saffron pudding, here you go:
The first record of rice porridge being served in Sweden was in 1328, at the funeral wake for the father of St. Bridget of Sweden. In the 1700s, rice porridge/pudding was considered to be fashionable and was served at all the finest parties.
Rice pudding can be served at any time of year, but it is nearly always included as part of a julbord (Christmas buffet). It is normally dusted with cinnamon with an almond is hidden in the pudding. Whoever gets the almond gets a task, like composing thanks in rhyme for the meal or wash the dishes. In the old days, if a single young man or woman found the almond, it was a sign that the coming year would bring true love.
Finally it is important to put a dish of risgrynsgröt outside the front door for the Christmas elf, because otherwise he will get annoyed and cause mischief. In some families the risgrynsgröt should be put out before dawn on Christmas Eve, but others leave it until the evening.
Of course, this saffron rice pudding is a version of classical rice pudding, simply with a "saffrony" twist. However, I think traditional dishes need to be renewed every so often. I don't know what you think, but I get bored of eating the same not too delicious dishes every Christmas. Enough talking, this is a crowd pleasing and impressive dessert to bring to the table.
Enjoy guys and happy Holidays!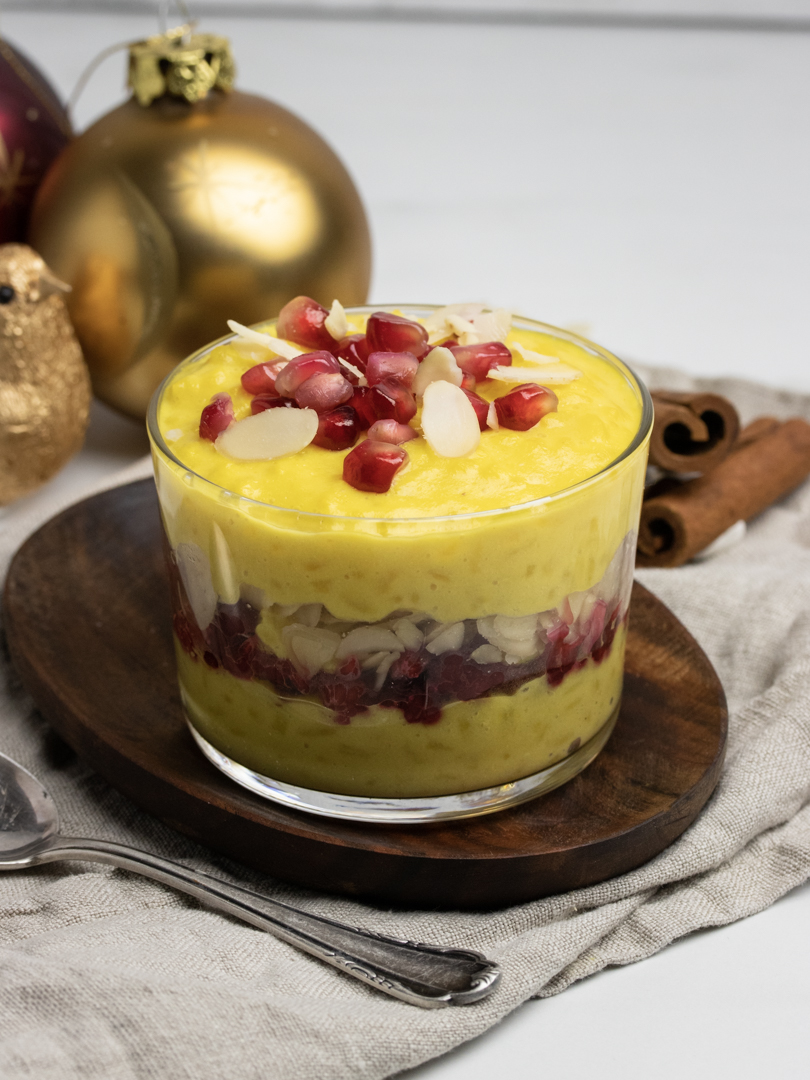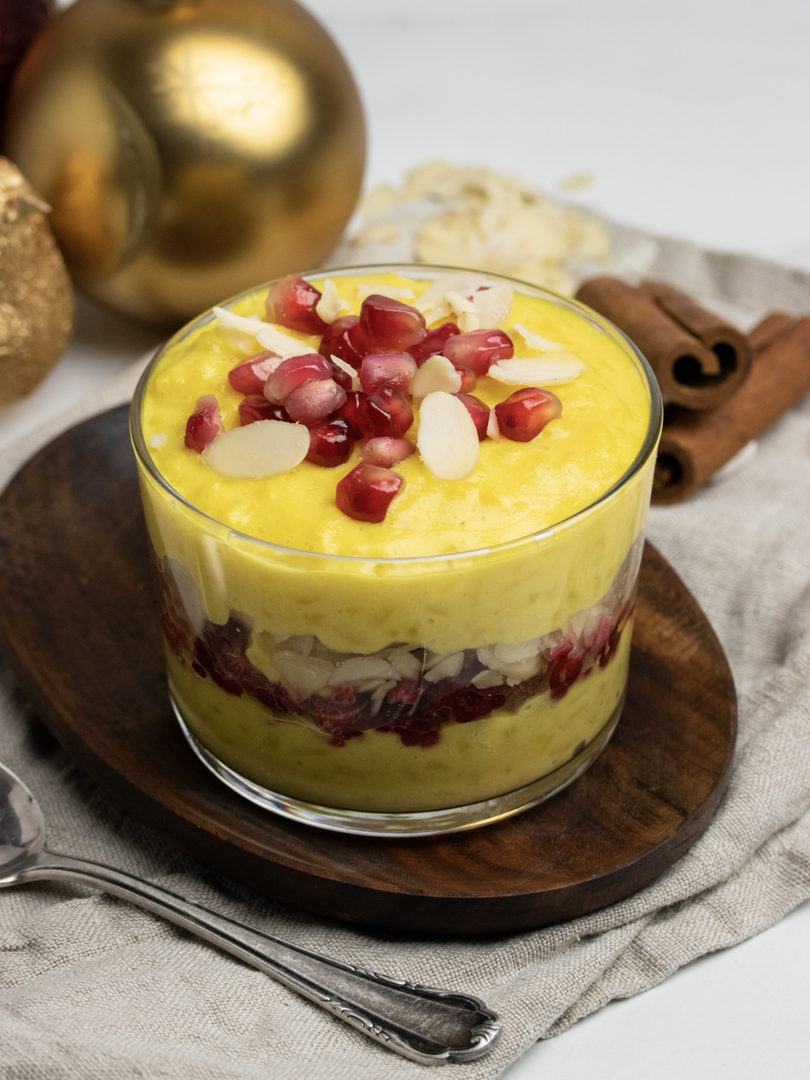 Print
Saffron Rice Pudding parfait
200g

 / 7 oz short grain pudding rice
A pinch of salt

4

dl / 1,75 cups water

6

–

8

dl / 2,5-3 cups of milk of choice
Optionally sweetener of choice
A cinnamon stick
One package à 0,5g saffron
Toppings, for example ground cinnamon, pomegranate seeds, slivered almonds or such.
Instructions
Bring the rice, water, and salt to a boil. Let cook for 10 minutes.
Add the milk, sweetener, cinnamon stick, and saffron, and lower the heat.
On low heat, let the pudding swell for 30-40 minutes. Make sure to stir every now and then. Serve immediately or store in an air tight container in the fridge.
Keywords: Vegansk risgrynsgröt, saffran, saffron rice pudding