Let's just take a moment and appreciate the thickness of this cake!! Okay, it took super long to bake, but all the pretty pictures were worth the extra long wait. Anyhow, I am now not only in a vanilla cake recipe streak, but also in a rhubarb mania. I'm simply trying to make up for all these years without any rhubarb in a very short amount of time. What can you do, you know?
So, I made this fabulous cake for mother's day, which was on the 26th of May in Sweden, and my mum loved it. Originally I got the idea for this cake after being gifted some amaziiiing Caramel flavoured white chocolate from Loving Earth by Quality Brands Sweden. I just had to use the chocolate in some amazing way because that was the only right thing to do. I did some research, and to my delight rhubarb, white chocolate, and cardamom is a combination from the heavens. So, here we are looking at this amazing cake. It's super easy to make, fluffy, moist, moreish, decadent-tasting, yet has the most delightful, kind of sophisticated flavour combination of rhubarb, white chocolate, cardamom, and amazing caramel notes.
Guys, this cake is not only the perfect mother's day cake, but also the perfect every occasion cake. It is wholesome, oil-, gluten, and refined-sugar free so you can eat or serve this to anyone regardless of dietary preference for any occasion from dinner party's, afternoon tea to even perhaps breakfast or snacks. Isn't that just perfect?
Enough said and I think I'll let the pictures take over from here and definitely let me know if you try this out! Enjoy!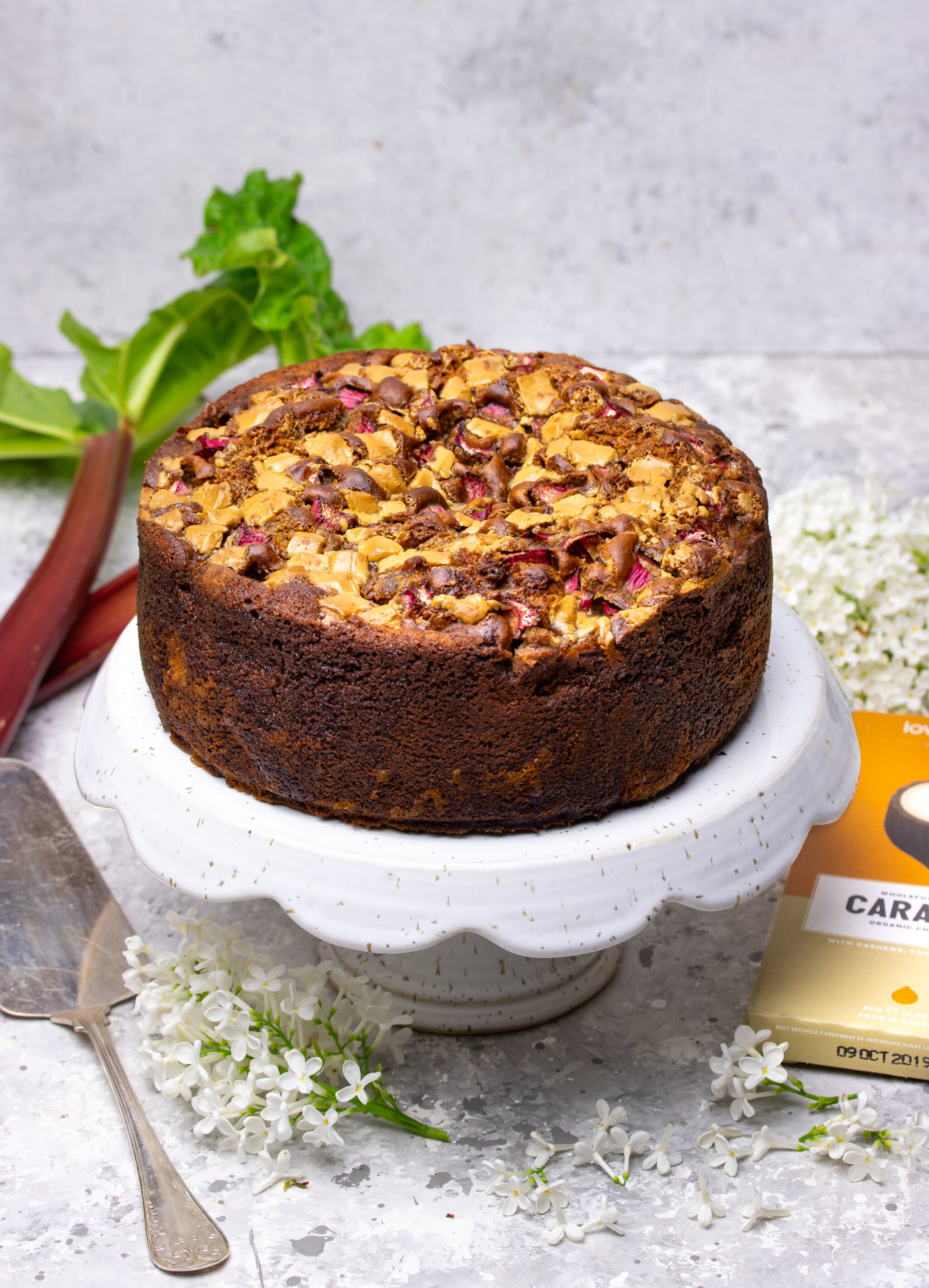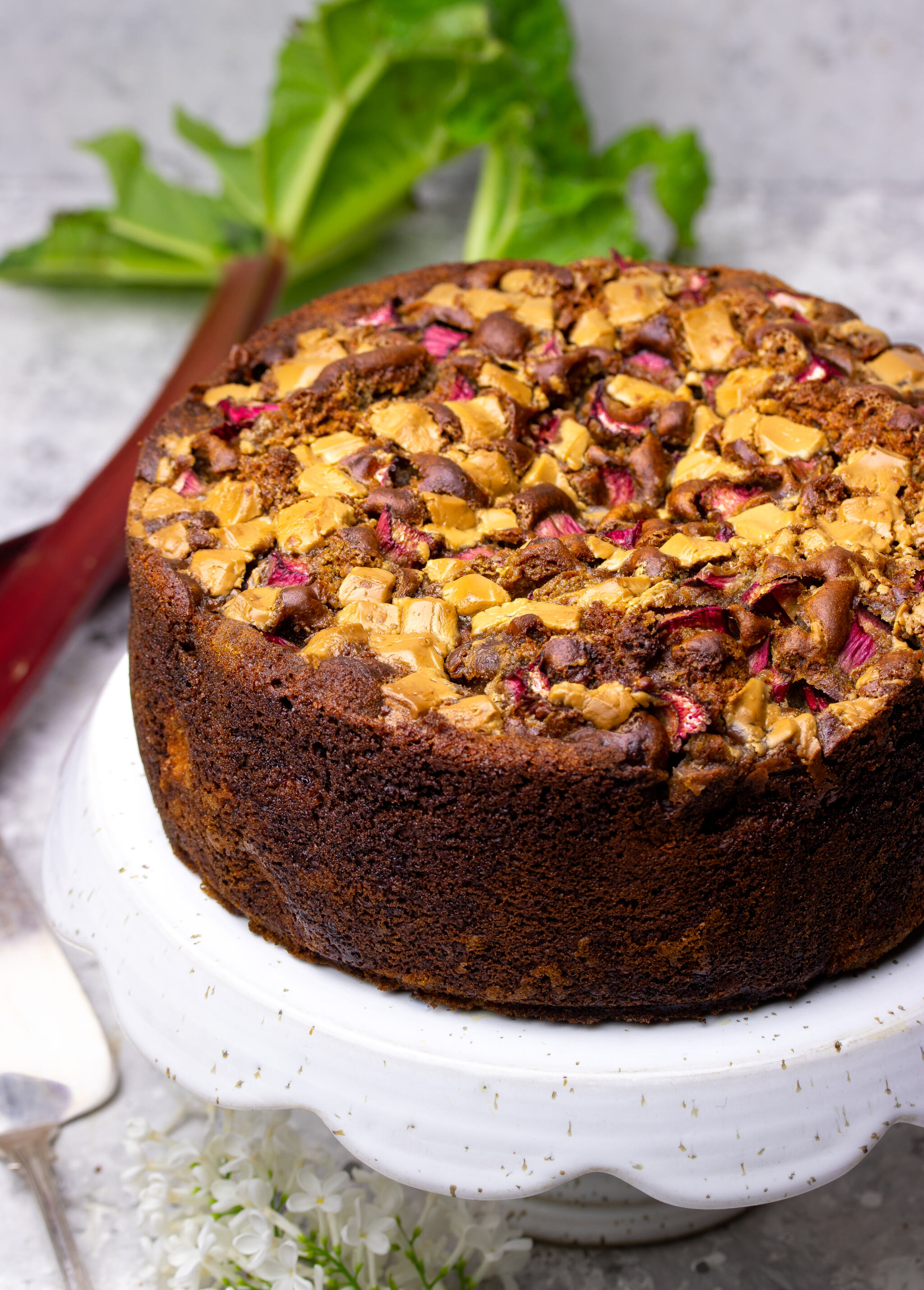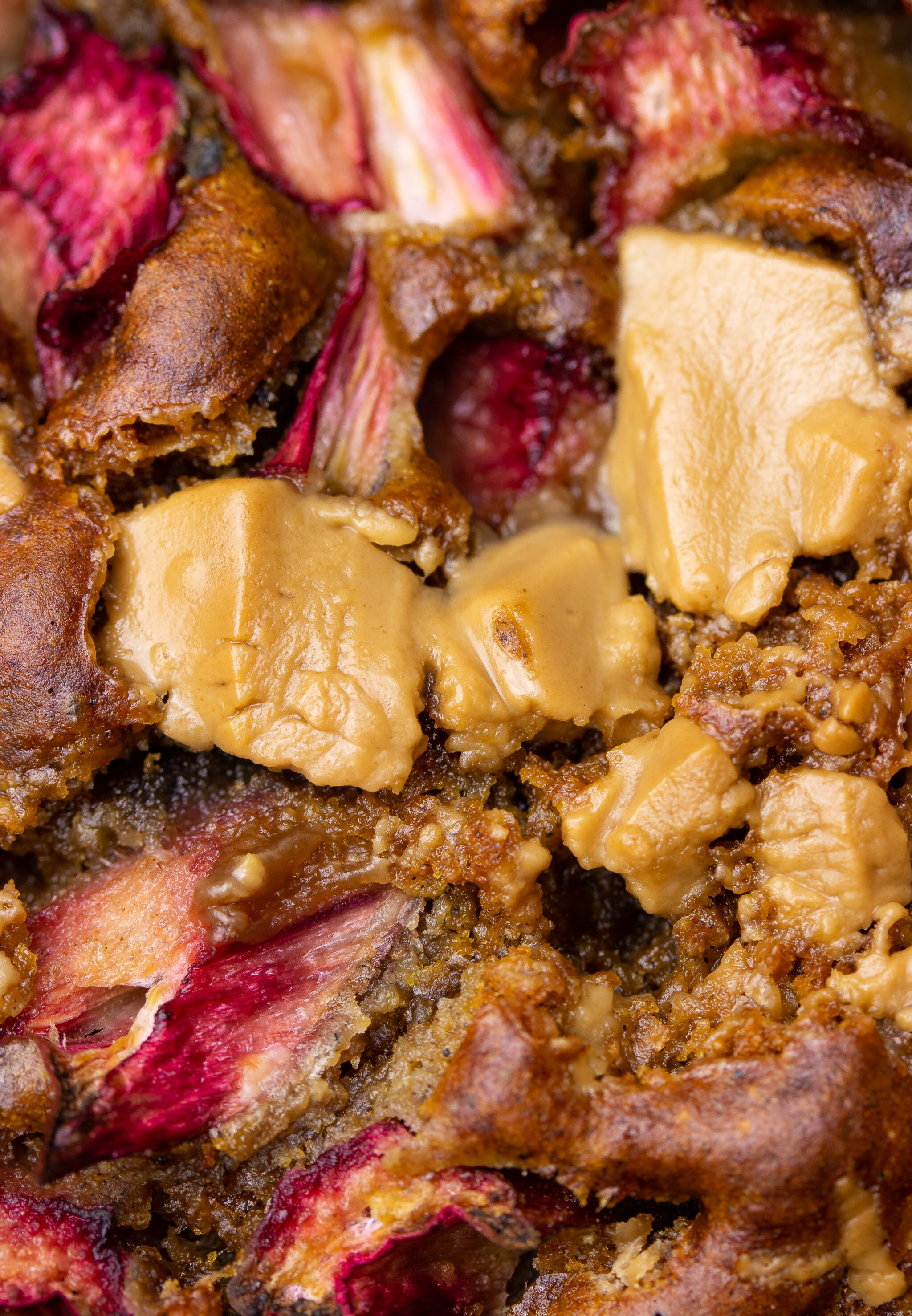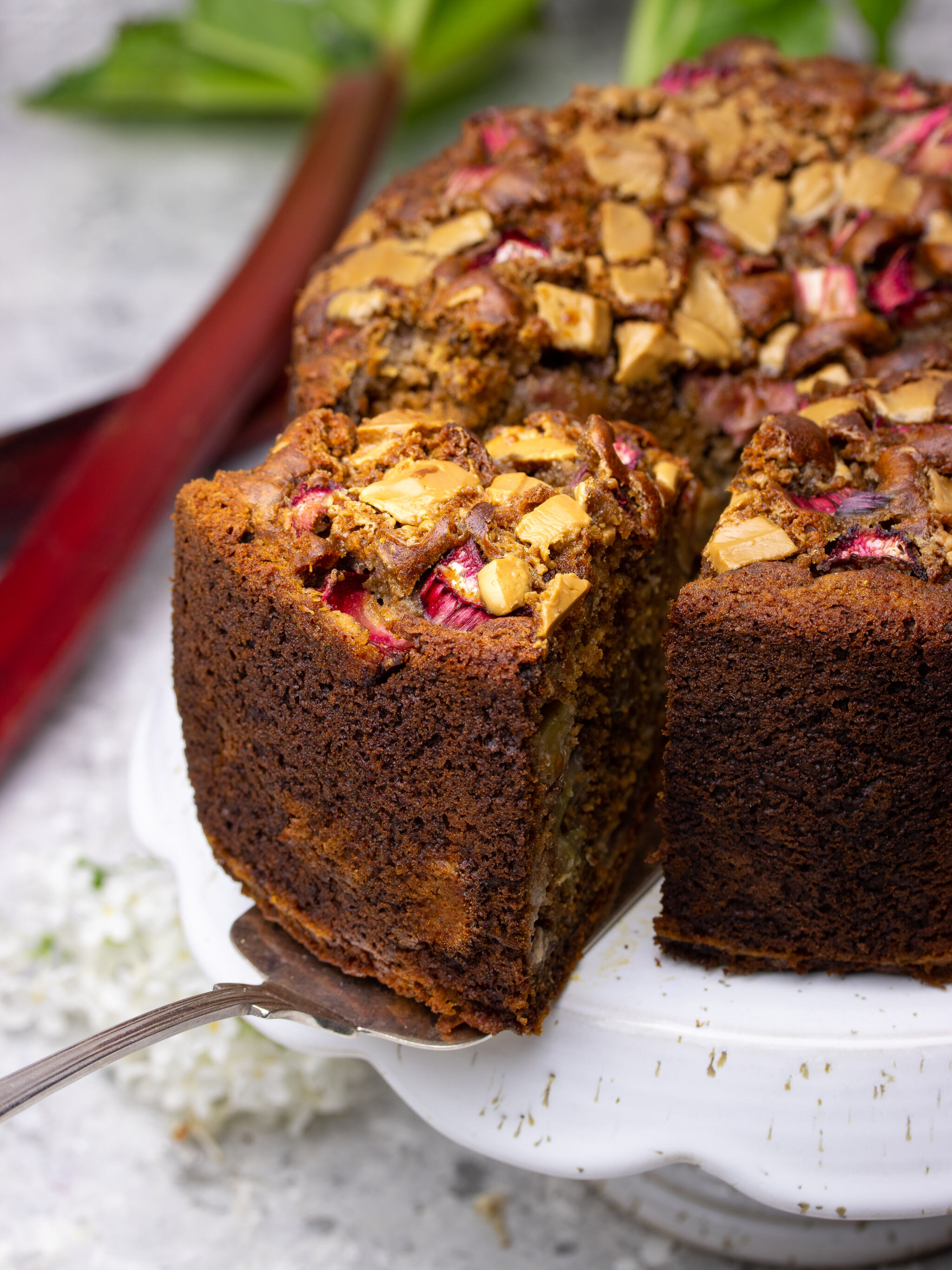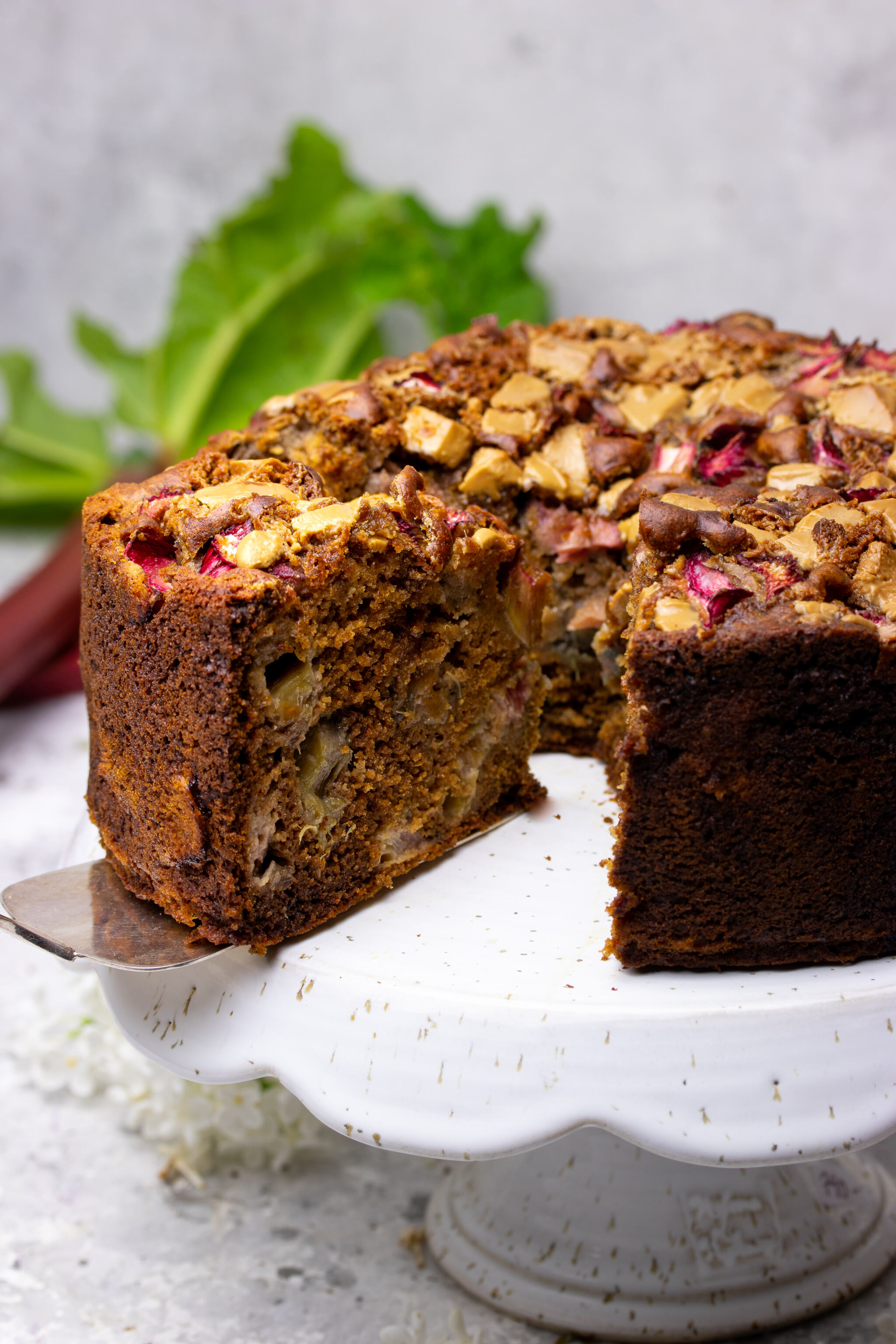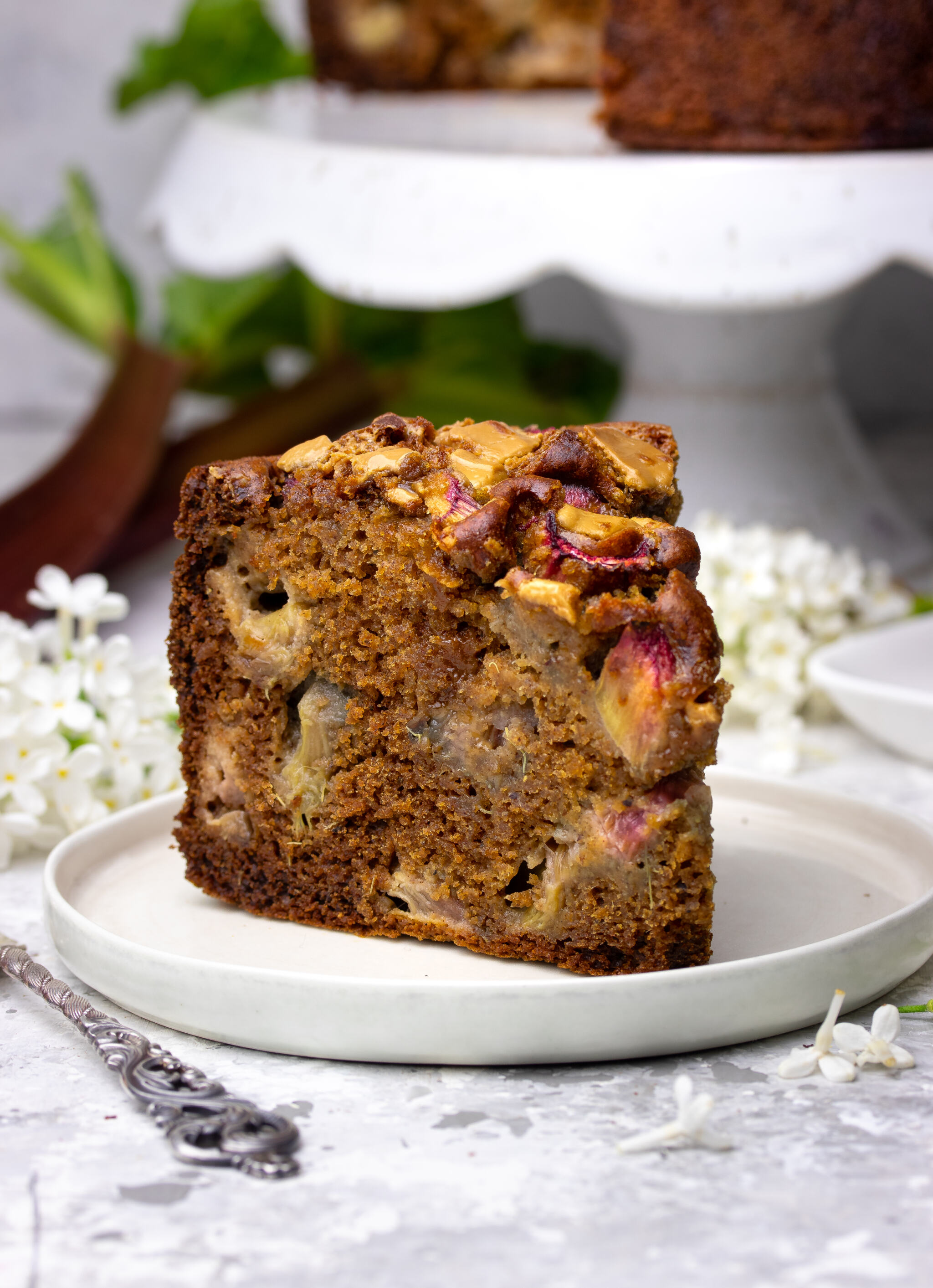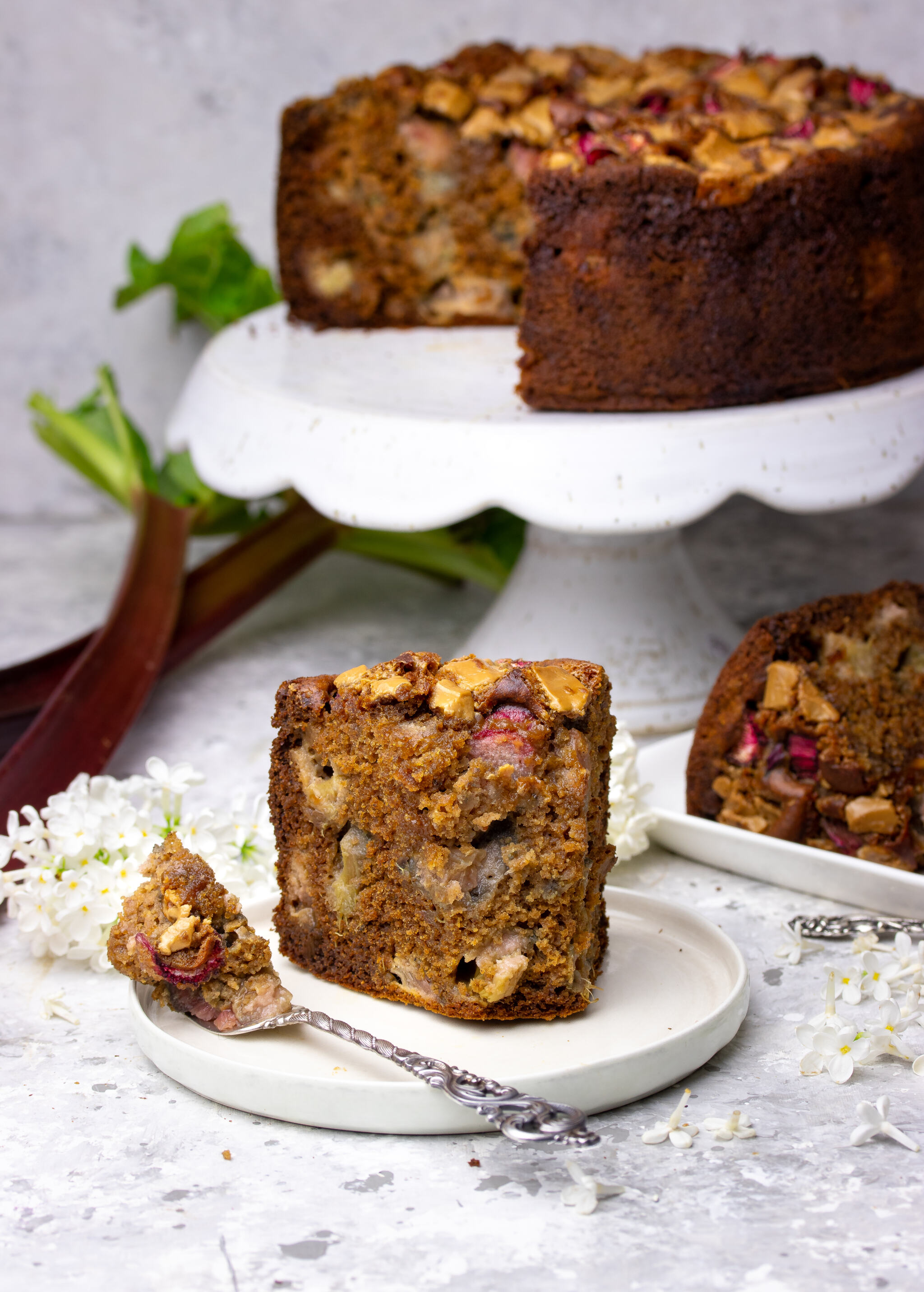 Print
Moreish Vegan Rhubarb Caramel White Chocolate Cake with Cardamom
The combination of fresh, seasonal rhubarb, cardamom, and caramel-infused white chocolate truly is heavenly. This is the kind of cake you cake both make to impress someone who's over for dinner or while drinking some coffee with close friends. 
100g

/ 3,5 oz oat flour

90g

/ 3,2 oz buckwheat flour

1

,5 tbsp milled flax or chia seeds

1/2 tbsp

ground cardamom (can be omitted)

2

,25 tsp baking powder

1 tbsp

baking soda
A hearty pinch of salt

300

ml / 1 cup plus 3 tbsp milk of choice

60g

/ 2,1 oz coconut sugar or other granulated sweetener

100g

/ 3,5 oz pitted dates (I peeled mine for looks)

60g

/ 2,1 oz nut butter of choice

1 tbsp

white balsamic vinegar*

1 tsp

vanilla extract

300g

/ 10,6 oz worth of 1 cm / 1/2 inch thick slices of rhubarb

100g

/ 3,5 oz roughly chopped white chocolate (I used this Caramel Chocolate from Loving Earth)
Instructions
Preheat the oven to 150ºC / 300ºF, prepare and grease a baking pan. My pan had a diameter of 18cm / 7 inches which yielded a VERY thick and nice cake. If you use a bigger pan you can bake the cake at 160ºC / 320ºF instead.
In a large bowl, mix the oat flour, buckwheat flour, milled flax seeds, cardamom, baking powder, baking soda, and salt.
In a blender, blend the milk, sugar, dates, nut butter, vinegar, and vanilla smooth.
Add the wet to the dry and mix until just combined. The batter should thicken within the matter of a couples of minutes.
Fold in half the sliced rhubarb and 1/3 of the white chocolate. Transfer to the cake pan, top with the remaining rhubarb and white chocolate slightly pressing it into the batter, and bake for 50-60 minutes or until a toothpick runs clean. My cake was super thick, hence, the super long baking time. If your cake is thinner, bake it for 25-35 minutes.
Notes
*You can probably use another kind of vinegar, but since I've not tried any other myself I can not promise the same results.
Keywords: Rhubarb cake, white chocolate, cardamom, vegan, gluten free, without oil, refined sugar free, healthy