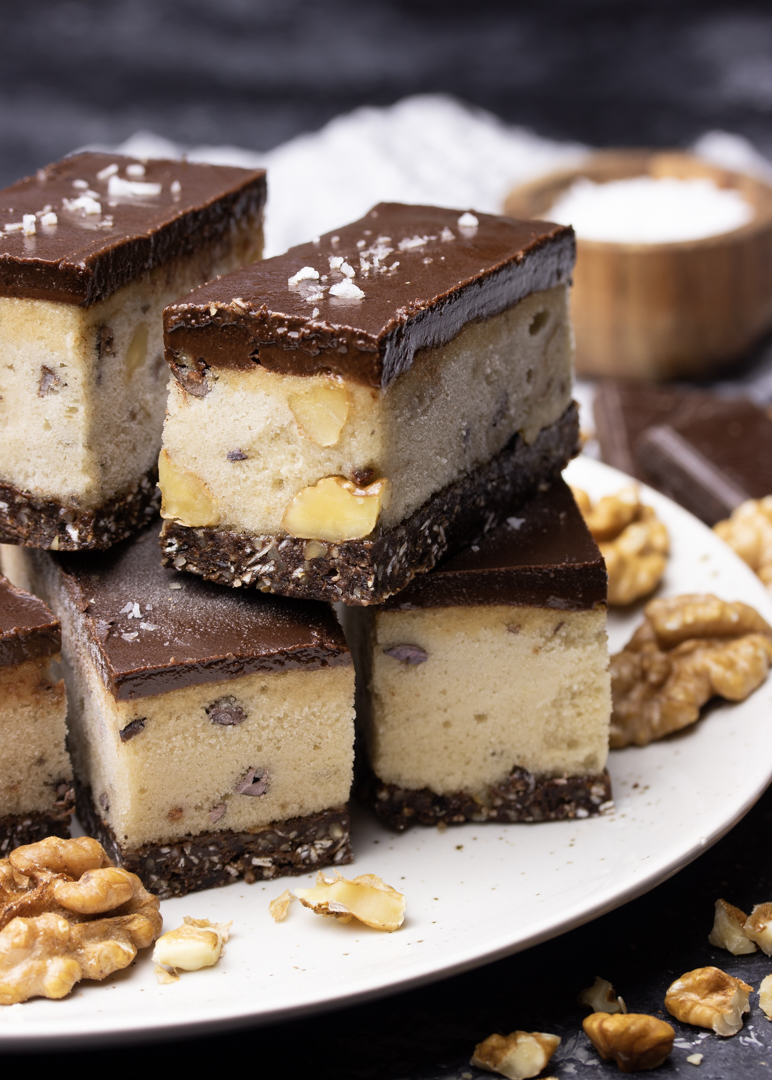 Walnuts, chocolate, banana, and brownies? Honestly, could it get any better?! Well, that's at least what I thought when creating this recipe because, as Phoebe would have said, "blooming heck" is it delicious! Yes, this is the same mouth watering no bake brownie recipe you've already seen a couple of times and will se even more of in the future. I just find it to be the perfect balance of nuts, oats, dates, and cocoa, so I just keep on using it. What reasons are there not to? Anyhow, as spring's arriving I find myself craving smoothie bowls instead of oatmeal and porridge in the morning. Not only does my need of refreshing smoothie bowls grow, but also my hunger for ice cream and other cooler foods. So you'll also be seeing some more ice cream orientated recipes the coming weeks. I just find having some pieces of absolute deliciousness, ready to be eaten whenever, in the freezer very convenient to say the least. Hopefully, you agree with me. 😉
Enough rambling, enjoy!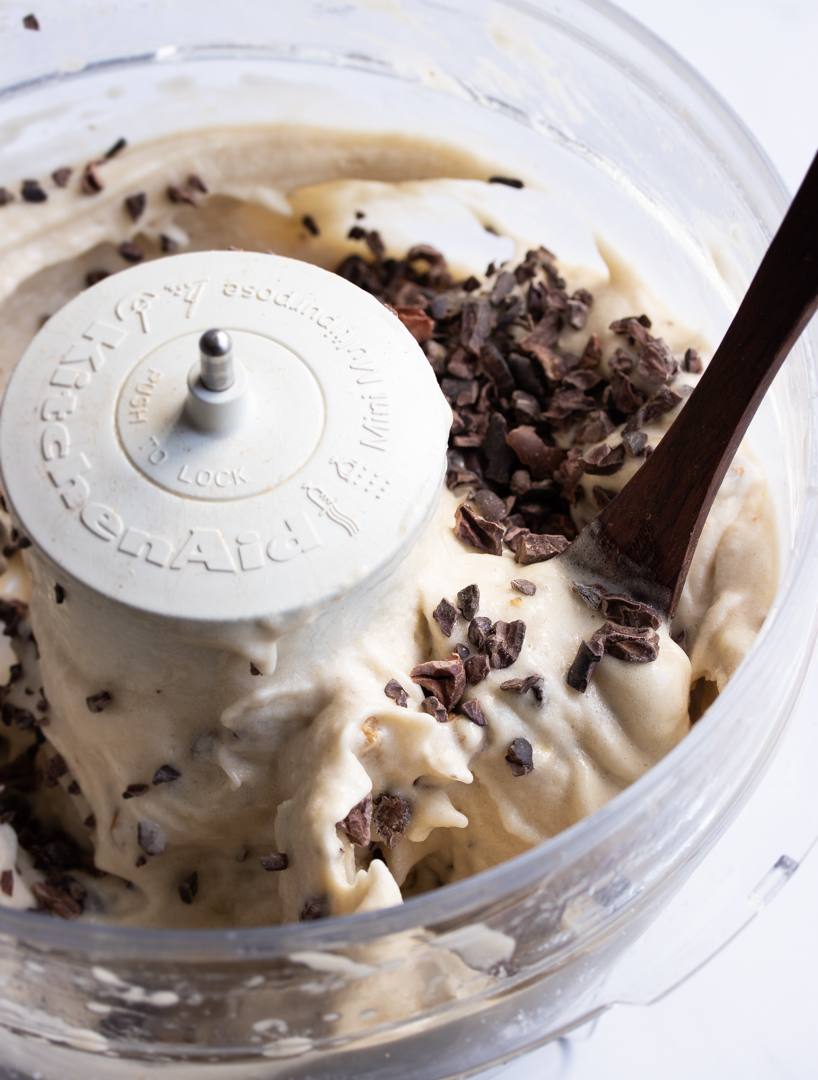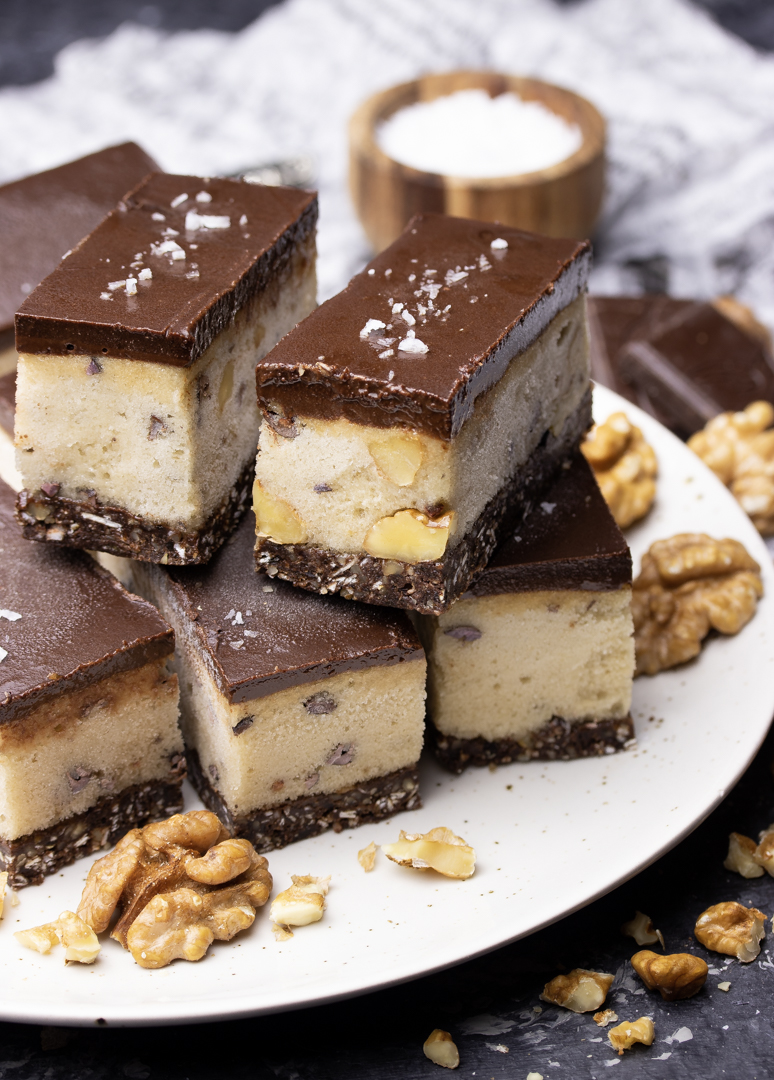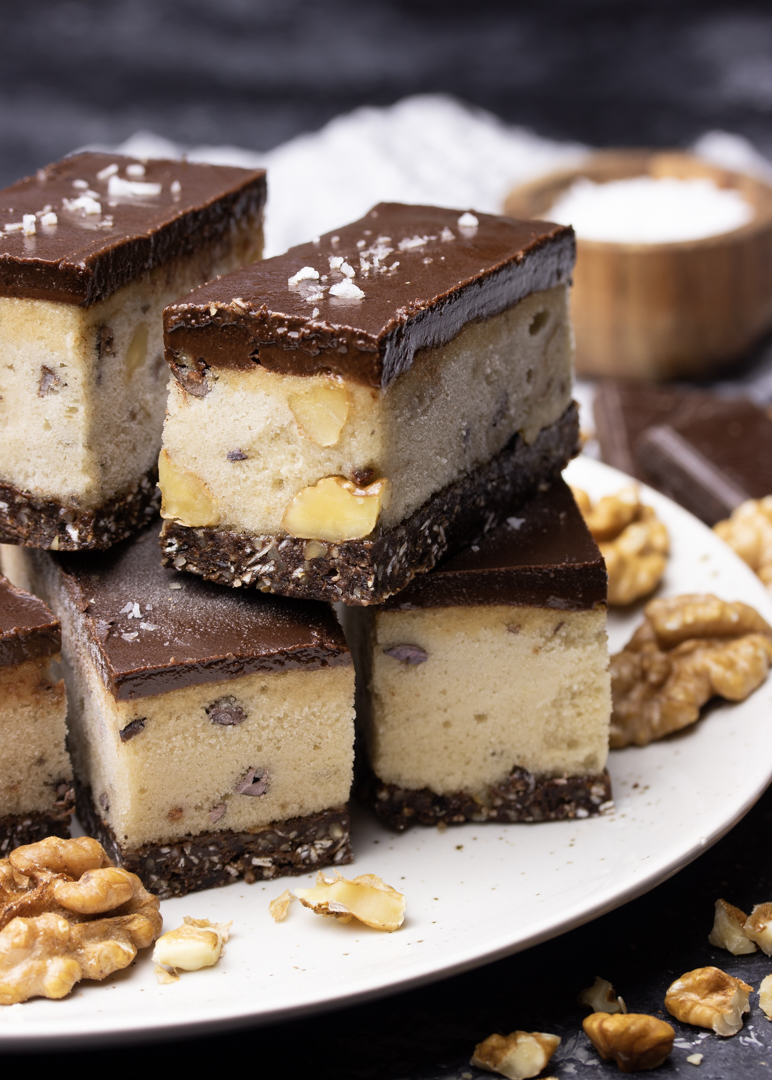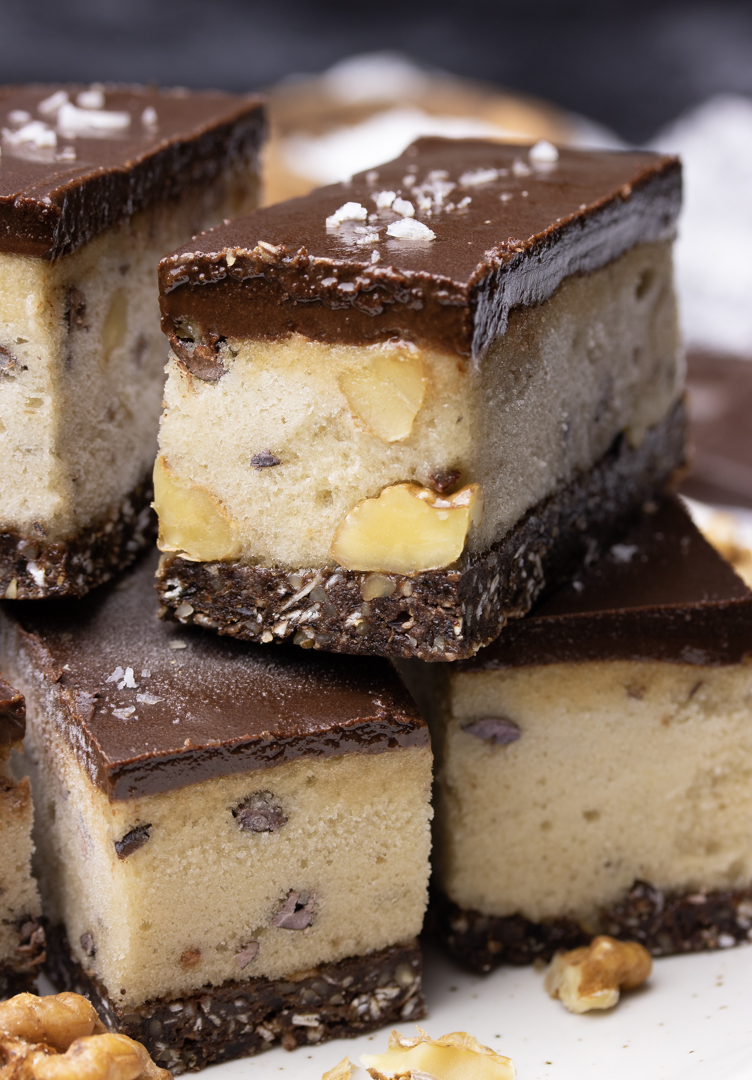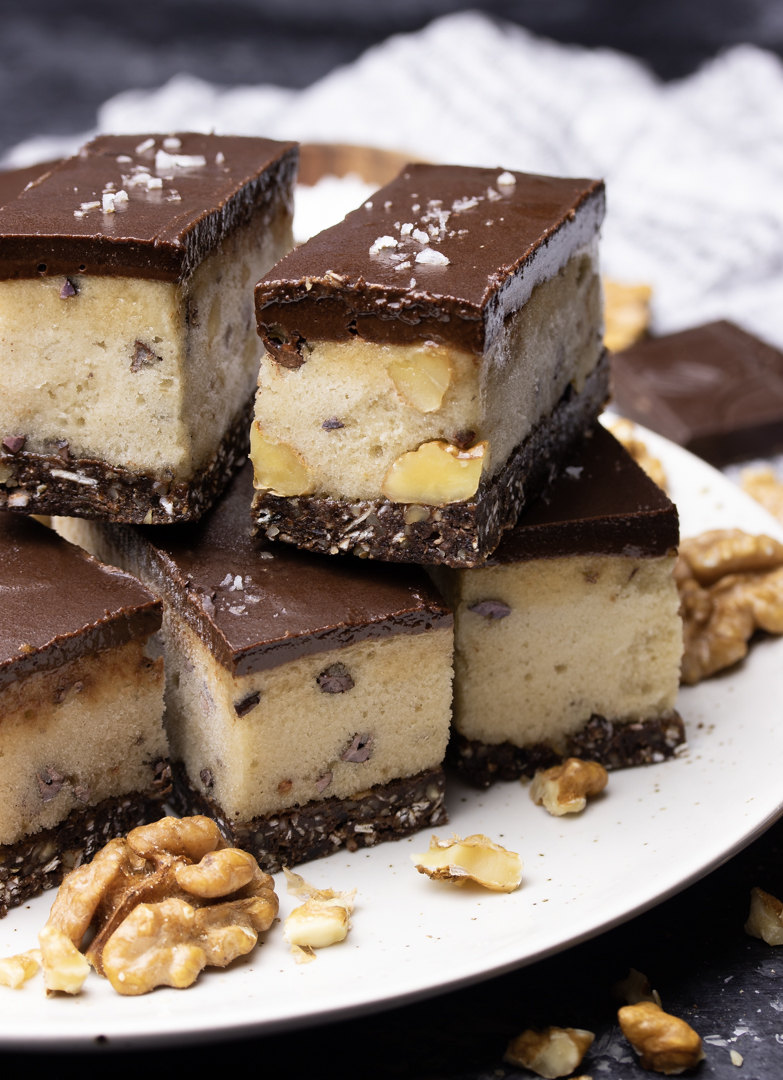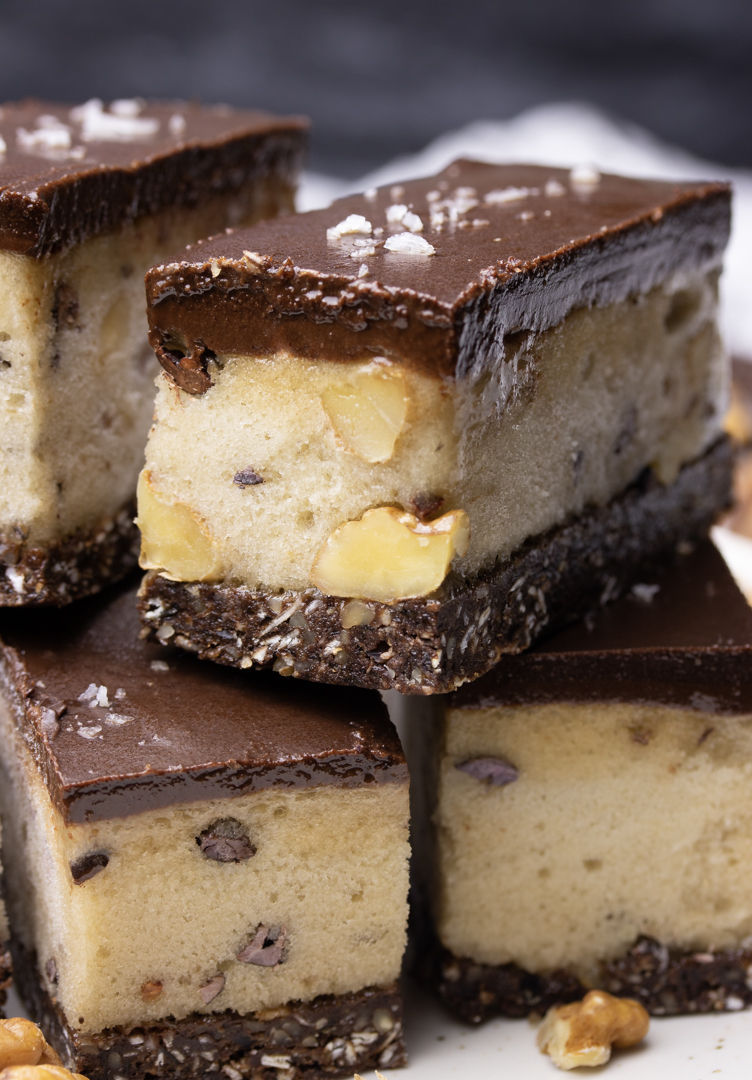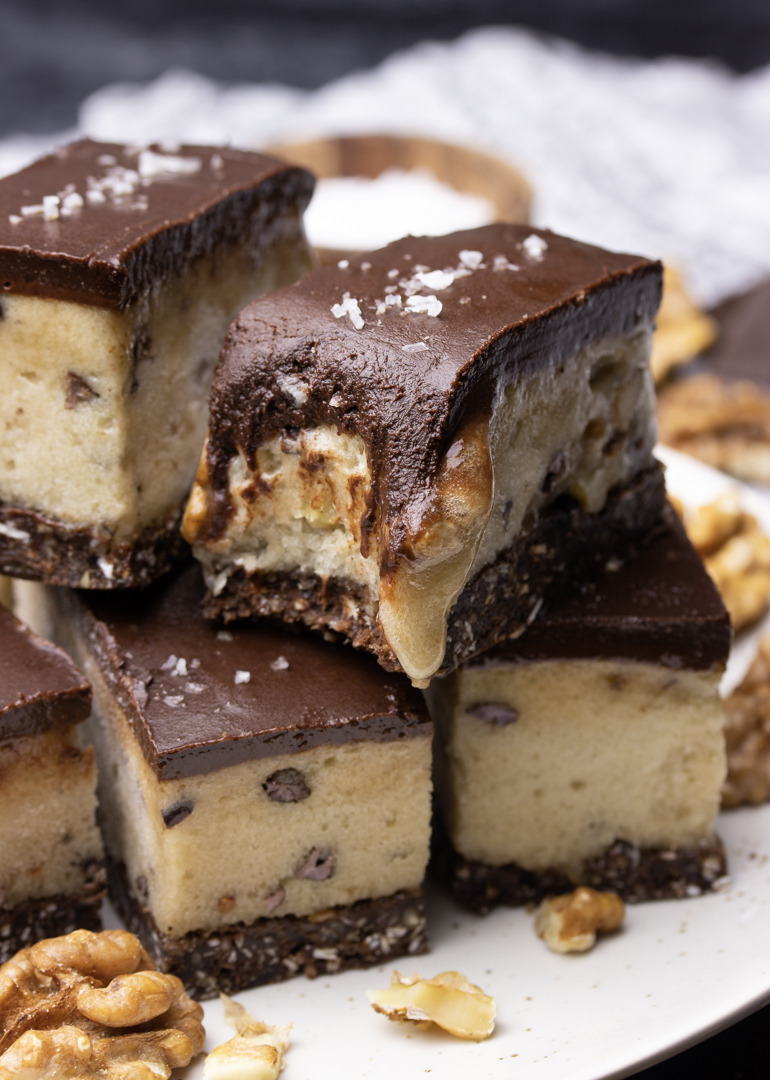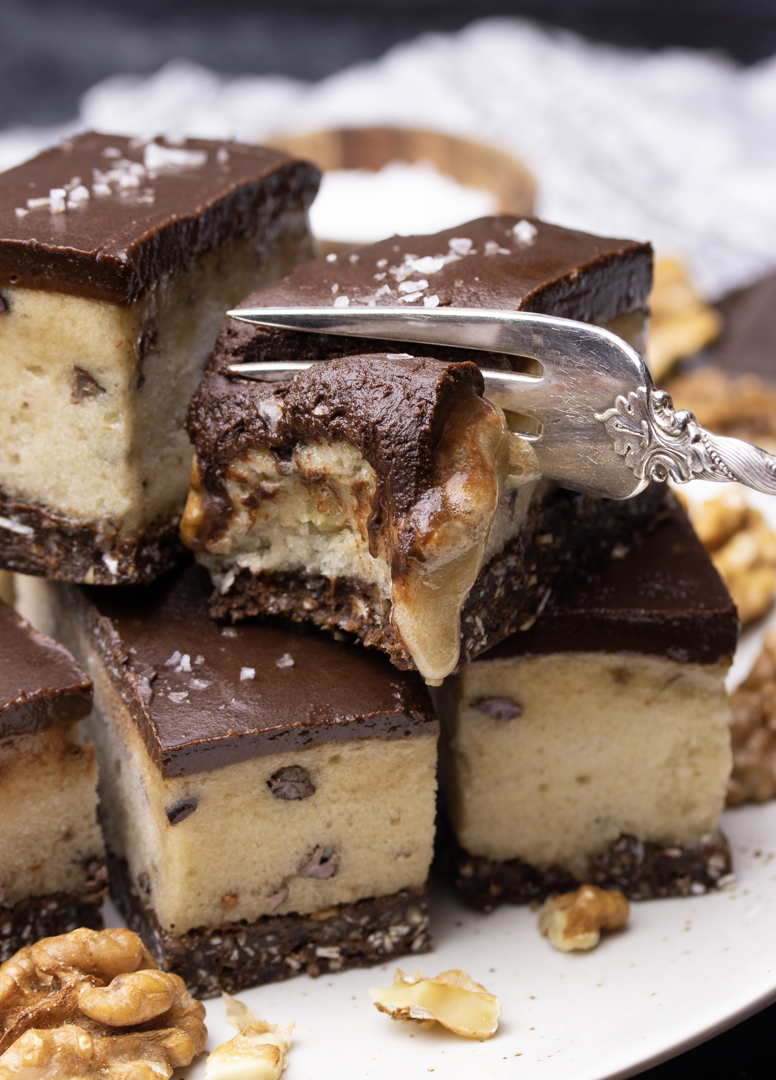 Print
Chunky Monkey Brownie Ice Cream Bars
The simple combination of walnuts, chocolate, and banana nice cream in the form of an ice cream bar with the perfect no bake brownie and a decadent chocolate ganache.
Brownie layer
100g

/ 3,5 oz pitted dates

60g

/ 2 oz nuts and seeds of choice (I used walnuts, almond, and cashews)

3 tbsp

rolled oats

3 tbsp

cocoa powder
A generous pinch of salt
A splash of vanilla extract
Ice cream
300g

/ 11 oz frozen banana in chunks
A small splash of milk of choice

1/2 tsp

vanilla extract
A hearty pinch of salt
A handful of walnut pieces
A handful of cacao nibs, chocolate chips or roughly chopped chocolate
Chocolate ganache
30g

/ 1 oz dark chocolate, broken up into pieces

1 tbsp

water

1 tbsp

liquid sweetener of choice
A pinch of salt
A splash of vanilla extract
Instructions
Start with lining a square or rectangular dish with plastic wrap or parchment paper. My dish was 12 x 16 cm / 5 x 6 inches.
Start with the brownie layer by processing the dates, nuts and seeds, rolled oats, cocoa, salt, and vanilla in a food processor or powerful blender into a nice slightly crumbly dough. It should easily keep it's shape squeezed in your hand.
Transfer the brownie "dough" to the prepped dish and press and flatten using your hands.
Give the food processor a quick rinse, then move on to the ice cream layer. In the food processor, mix the frozen banana together with the milk, vanilla, and salt until you get a nice soft serve like ice cream. Stir in the walnuts and chocolate. Transfer the ice cream to the dish and smooth out. Let set in the freezer for at least 3 hours.
In a small microwave-safe bowl, put the dark chocolate, water, liquid sweetener, salt, and vanilla. Microwave on low to medium effect for 30 second intervals until the chocolate has almost completely melted. Once melted enough, mix until you get a smooth ganache. Pour and spread the ganache onto the ice cream. Put in the freezer until the ganache has set. Cut up and enjoy.
Keywords: Nice cream, chunky monkey, ice cream, vegan, gluten free, no bake brownie, chocolate ganache, healthy