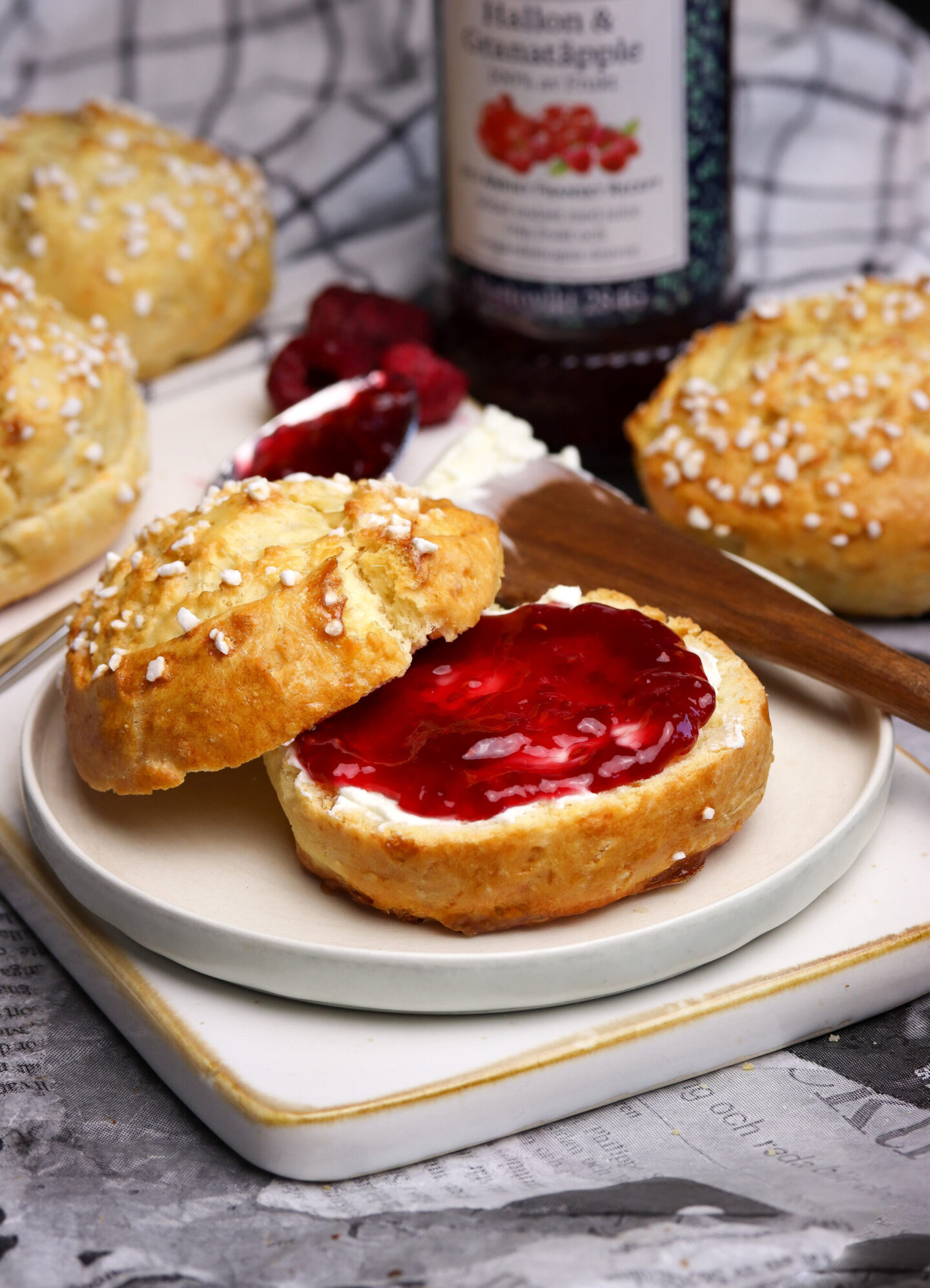 Hanna, what do you mean with "à la Bloom"? Well, between the ages of 14 to 17, I worked at a restaurant in Malmö called Bloom in the Park. During my time there, they actually had a Michelin Star, which they later lost once there was a shift in the staff and head chef, legendary Titti Qvarnström. Anyhow, I worked in the kitchen during their afternoon tea on Sundays, and my main task was to make scones. The most part of what we served was prepped beforehand by the other chefs, but I still learned a lot and many life lessons. After working there for some time, I was actually deemed the "Queen of Scones", since I could make this recipe to perfection without even thinking. Pretty darn cool, huh!
Moving on, I made these scones when having a "fika" with my grandmother in my new apartment for the first time since the pandemic. It couldn't be a more perfect moment, and I'm so glad to be able to hug the people I love again. I hadn't made these scones since I stopped working at the restaurant back in 2018 to prioritise school and having more free time, but I still could make them by memory.
Enough said! These are fluffy, balanced, and just the perfect addtion to any brunch, snack of afternoon tea. Enjoy!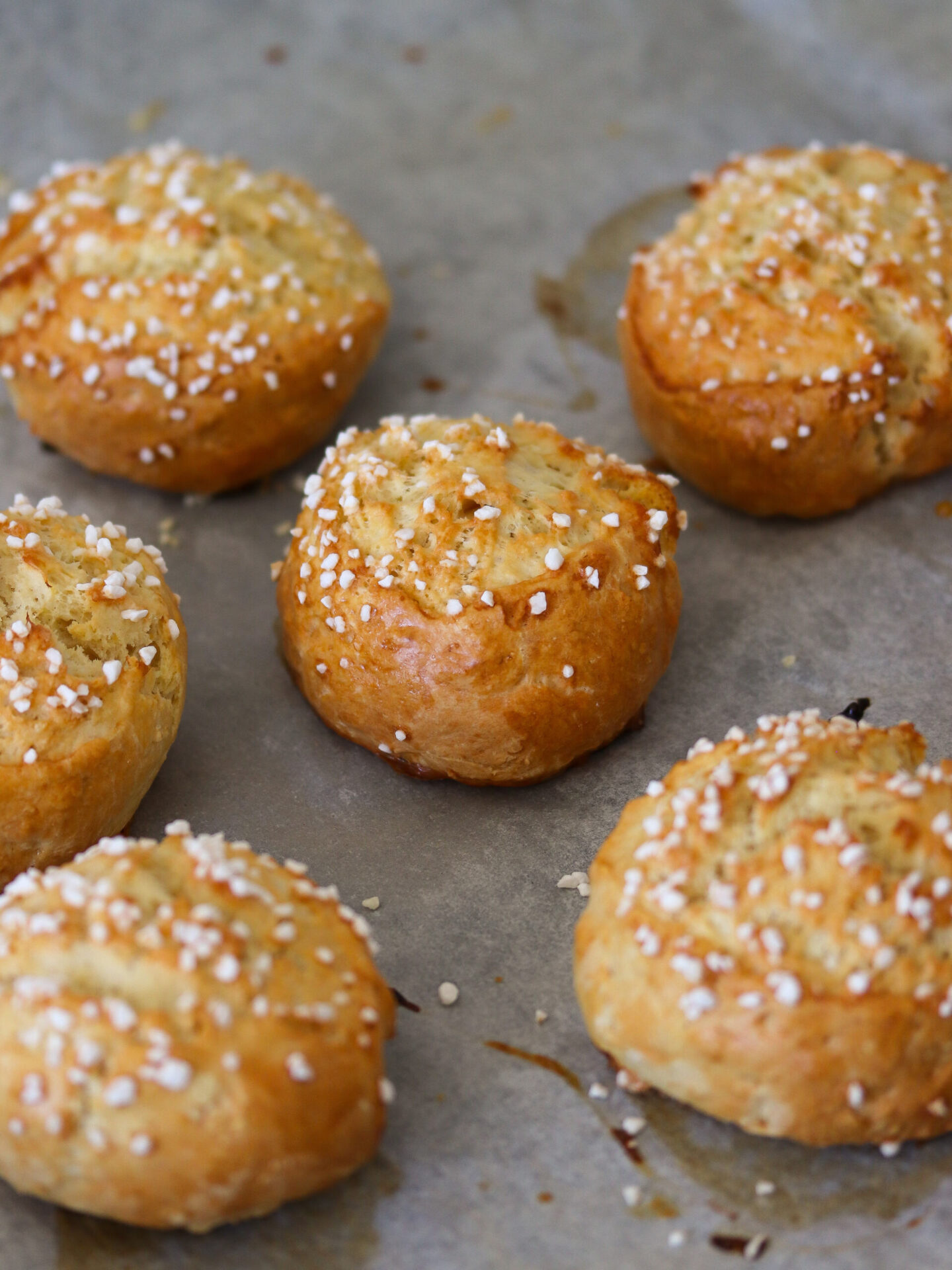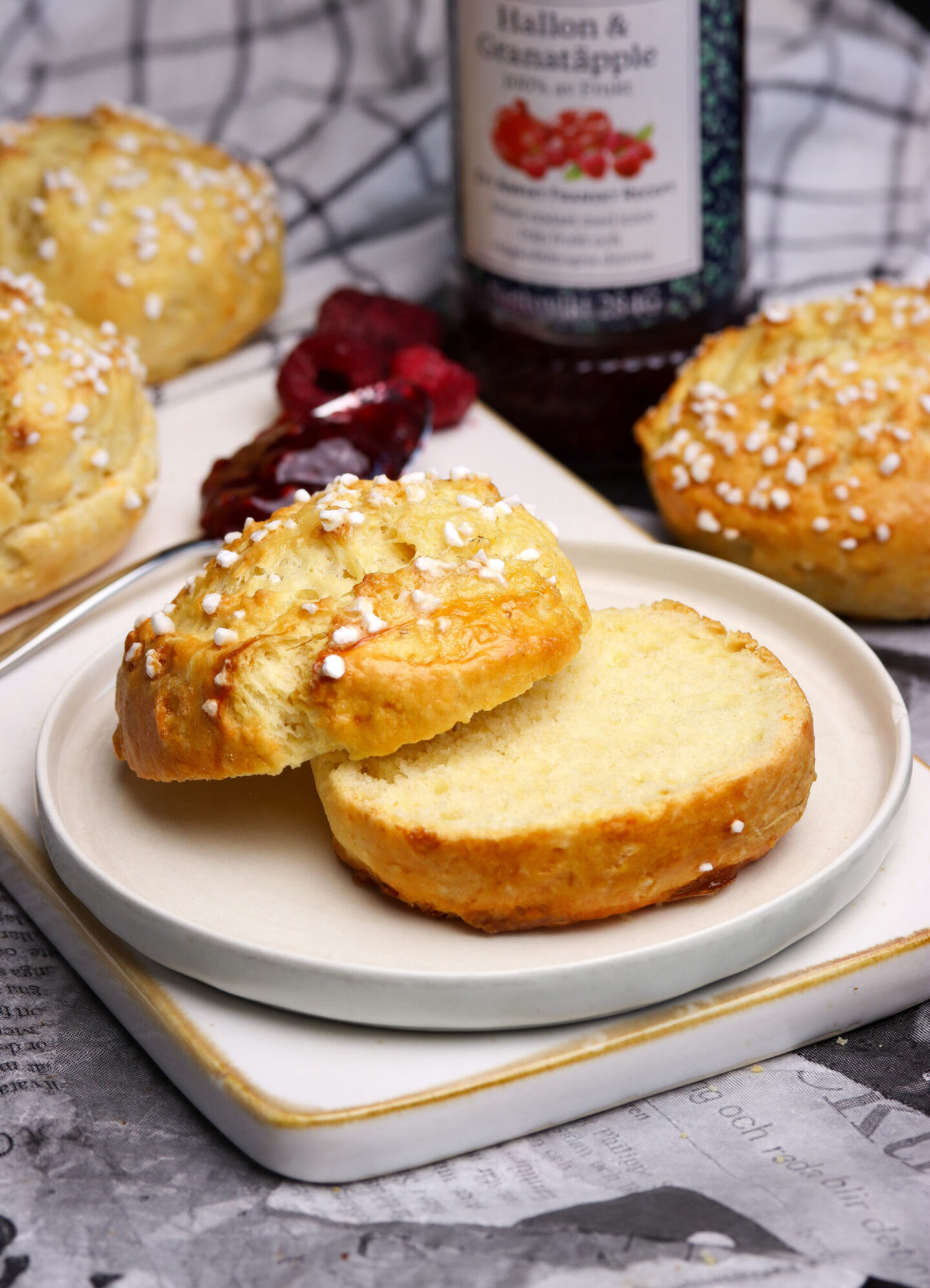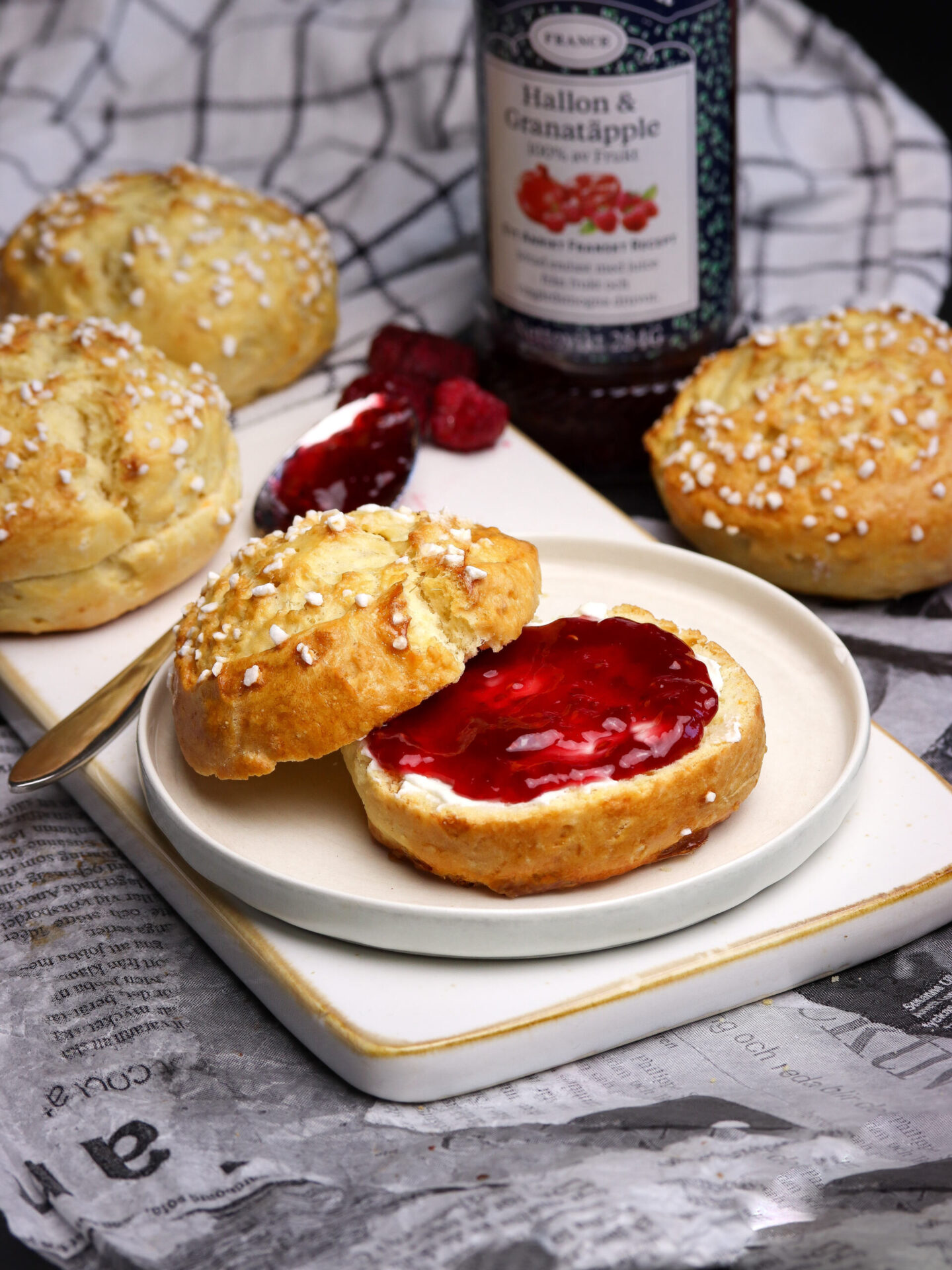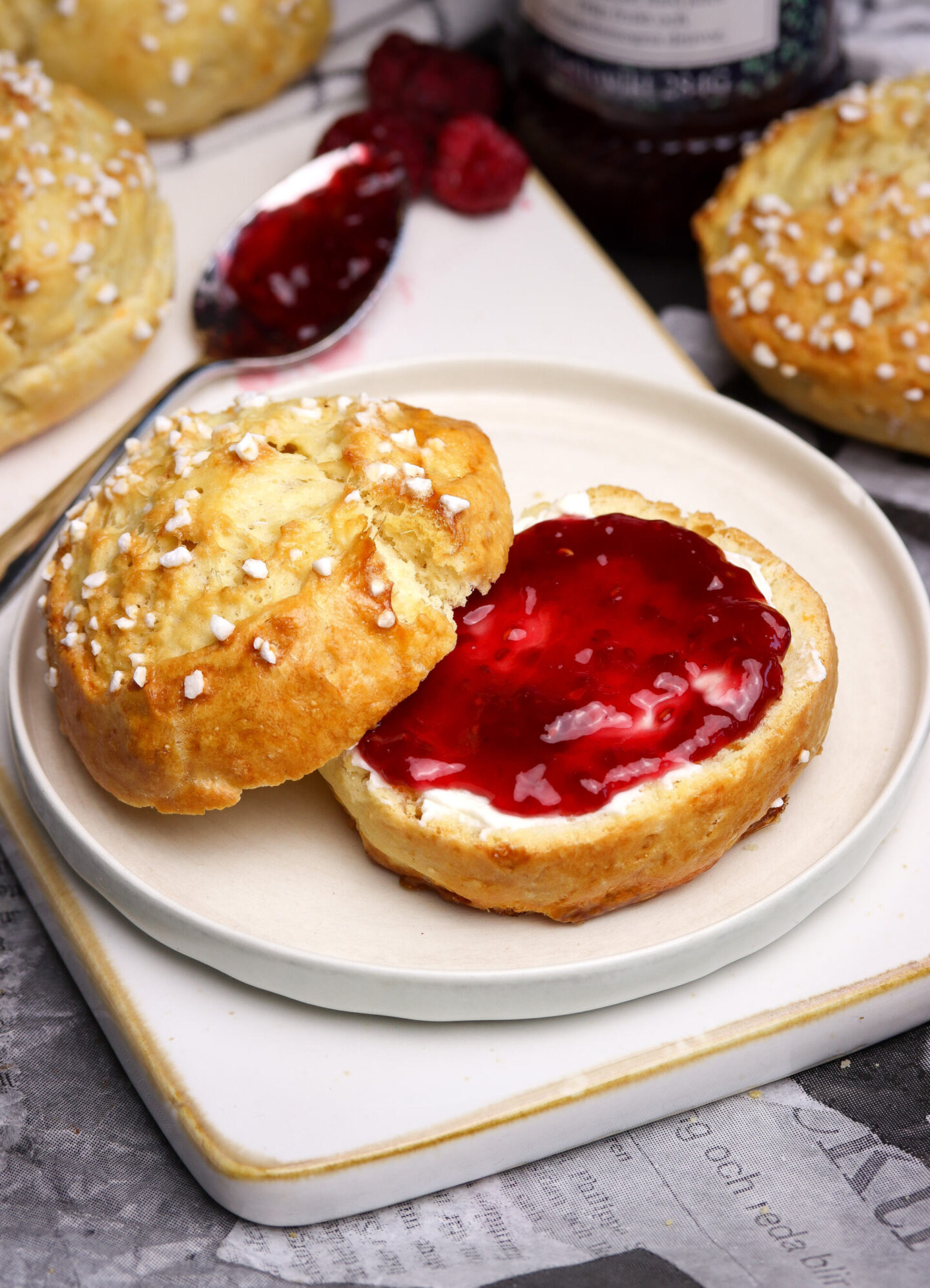 Print
Luxurious Scones á La Bloom
Every Sunday for 3 years, I've made these when I worked at a restaurant in Malmö called Bloom in the Park. They're Michellin Star quality, and look a little bit different and less rustic than most scones, but are perfect for brunch, as a snack, classic fika, or afternoon tea. They're moist, fluffy, rich, super easy to whip together, and can be frozen to be heated up when you need something quick. Enjoy!
Author: Hanna
Yield:

8

medium scones

1

x
270g

/ 9,5 oz / 4,5dl plain flour

1 tbsp

(yes, not tsp) baking powder

1/2 tsp

salt

40g

/ 1,4 oz margarine or butter, cold

150g

plain yoghurt of choice*

1

egg + for brushing**
Pearl sugar for topping (optional)
Instructions
Preheat the oven to 200C/400F and line an baking tray with parchment paper.
Start with mixing the dry.
Finely crumble the margarine into the flour mixture.
Add the egg and yoghurt. Using a large spoon or spatula, start mixing together the dough. In the end, to get a uniform dough I use my hands. If too dry, add a little bit more yoghurt.
Roll the dough into a log and cut into 8 even pieces. Using your hands, you can shape and smooth out the dough pieces. Place evenly on the prepared baking tray, give an egg wash, sprinkle with pearl sugar, and bake for 18-22 minutes or until golden. Let cool, cut up, serve, and enjoy!
Notes
*I used plain soy yoghurt, but preferably use a richer yoghurt with a higher fat percentage
**You can probably switch the egg for an flax egg and add a little bit more butter.