Oh my loroooord! This flavour combo may sound like the weirdest thing since spirulina, however, it is the best of chocolate flavour-combinations ever! Just as good, or even better, than chocolate and peppermint, orange, coffee, raspberry, all of them! Note that I DO NOT take any credit for this magnificent flavour combination. It's all thanks to Phoebe from Honey Bunch of Onion Tops. It's her fabulous and absolutely scrumptious Salted Chocolate Rosemary Cookies that originally gave me the idea. (We all should hail to her from now on as that recipe is the work of a god.)
As always, these bad boys are easily customizable to your liking. You can easily skip the rosemary if you want to – if you'd like that for some crazy bananas reason. Instead, you can add some drops of peppermint oil, the zest of an orange, some fresh brewed coffee, what do I know?! Anyway, these brownies have the perfect amount of chunkiness, which, in my opinion, is vital for any raw/no bake dessert. That is, however, completely up to your preference.
Lastly, I just want to say that I have tried making a healthy kind of frosting like a gazillion times and always failed so hard… Finally, this time I succeeded! I am pretty darn happy with myself! Sometimes you're allowed to be proud of the small accomplishments, even the silliest of things.
Enough talking! Make sure to check Phoebe out!! She is the most person I know and deserves all the viewers and cyber love in this world. I just adore her blog, vlogs, recipes, and recipe videos, and I think you would too.
Enjoy!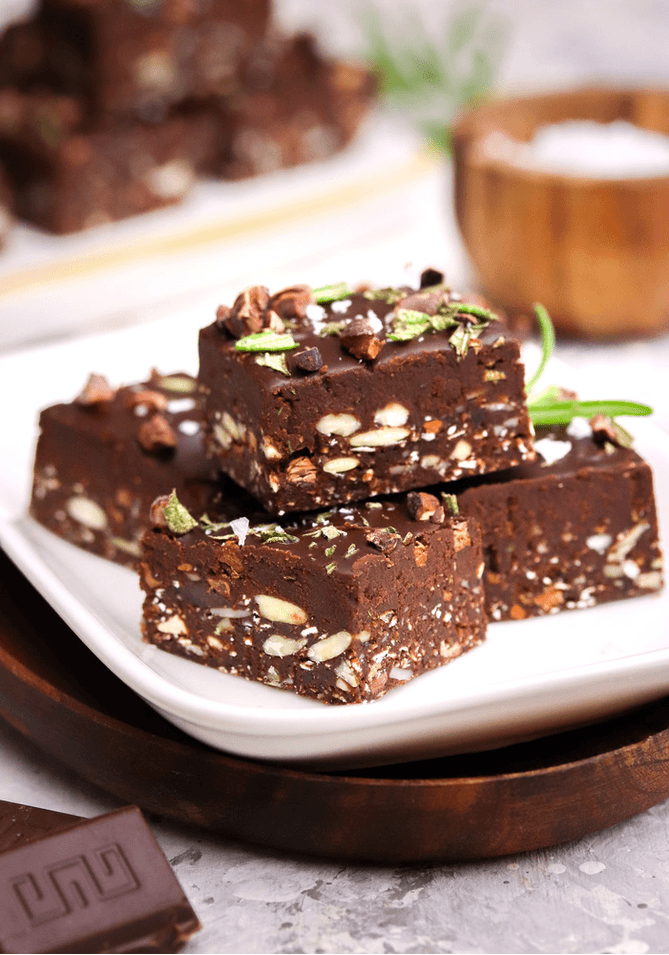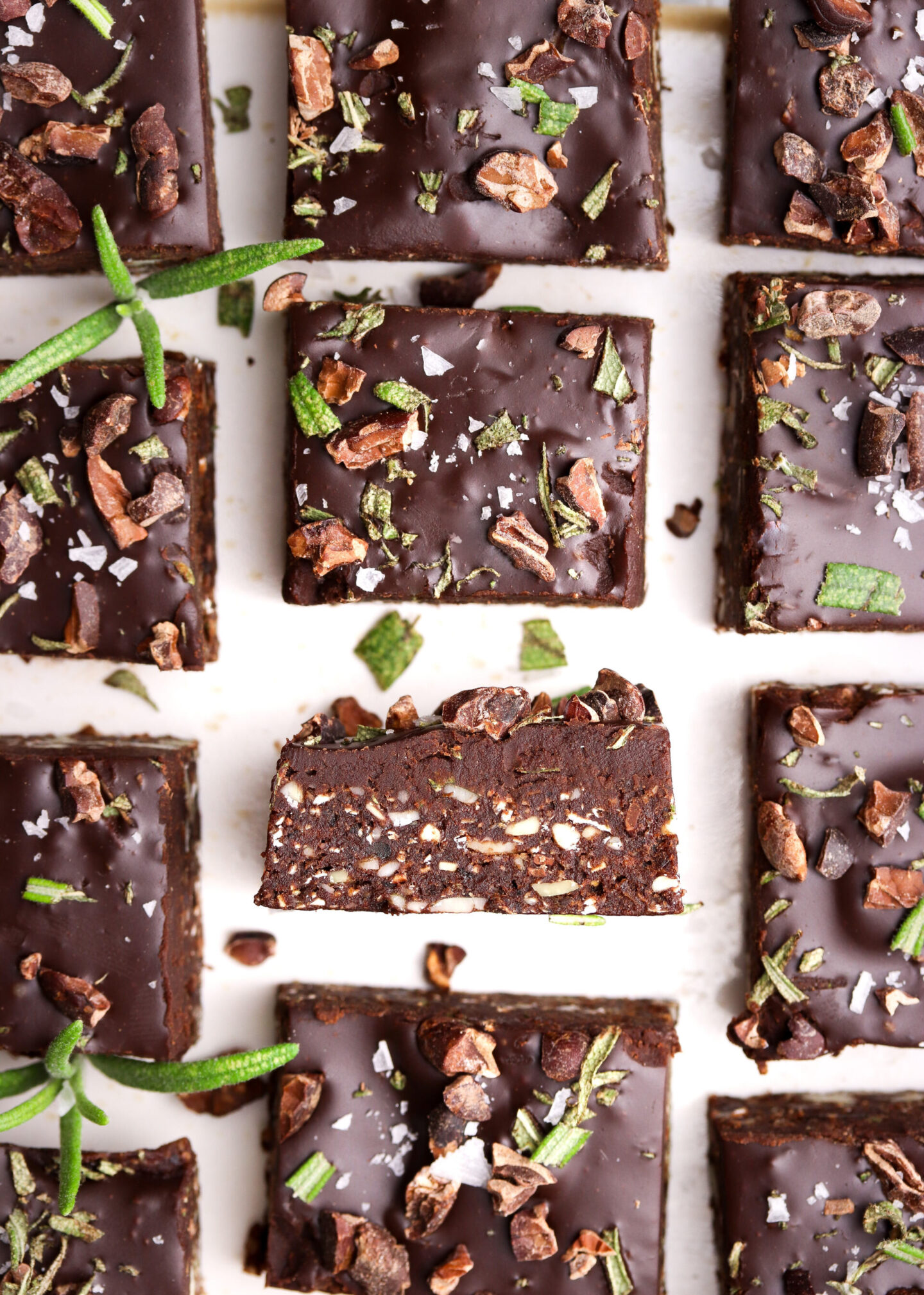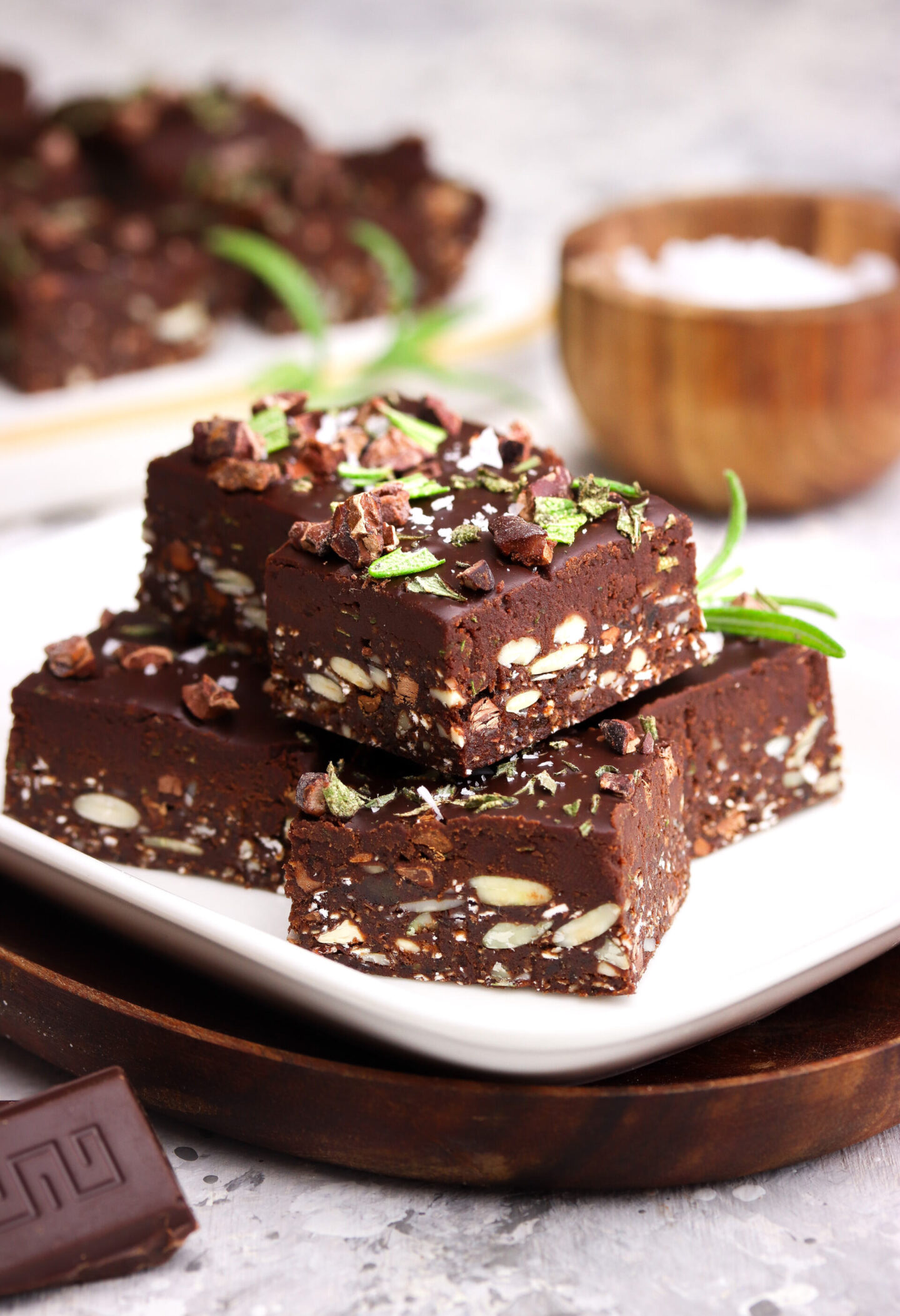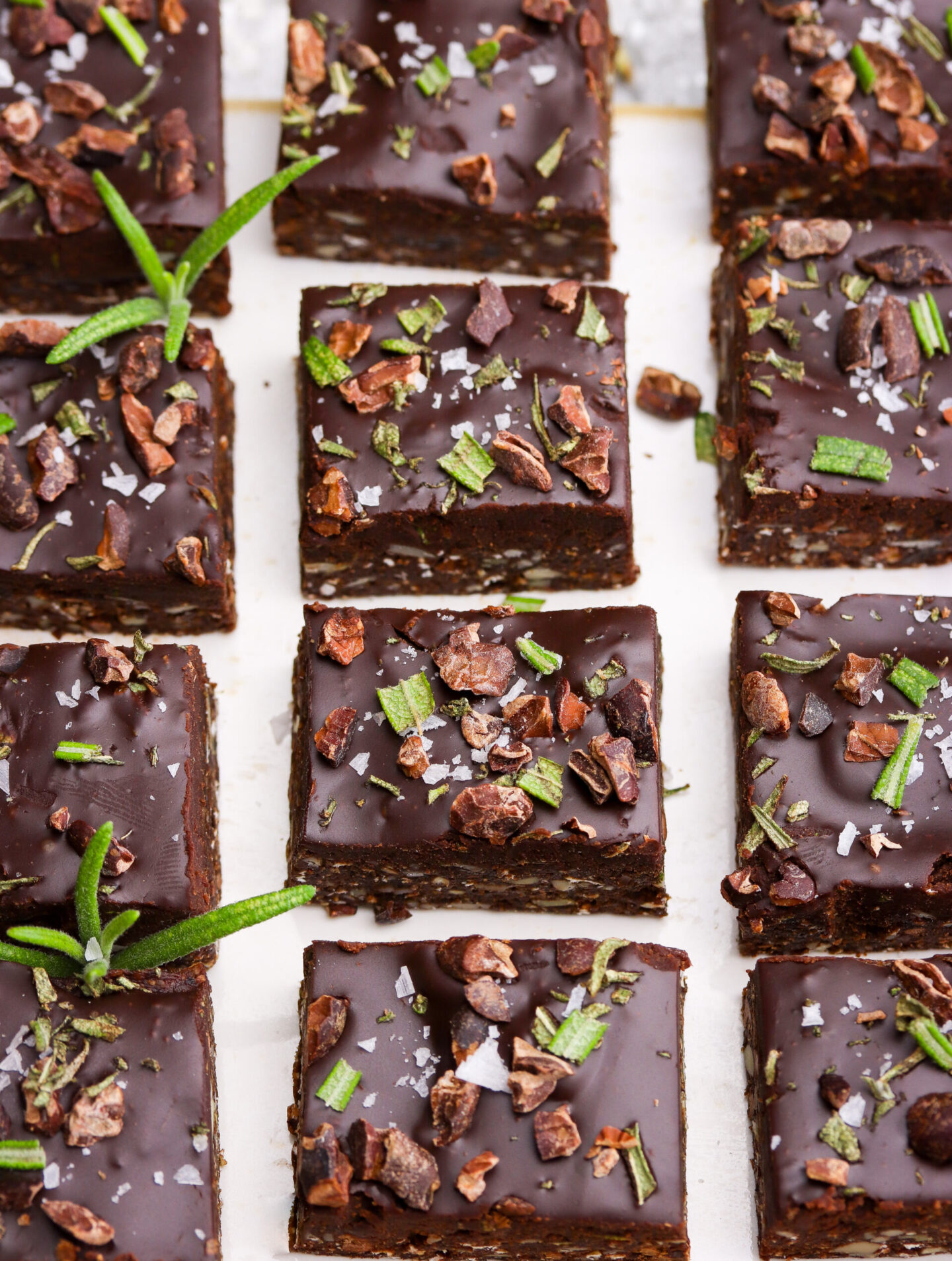 Print
Luxurious No Bake Brownies with Chocolate Ganache & Rosemary
Author: Hanna
Yield:

16

bite size or

9

medium brownies

1

x
Brownie layer
150

g / 5,3 oz pitted dates

90

g / 3,2 oz nuts and seeds of choice (I used walnuts, almond, and cashews)

4 tbsp

 rolled oats

4

,5 tbsp cocoa powder
A generous pinch of salt
A splash of vanilla extract
Chocolate ganache
50

g / 1,6 oz dark chocolate, broken up into pieces

1

,5 tbsp water

1

,5 tbsp liquid sweetener of choice
A pinch of salt
A splash of vanilla extract

1

–

2

tbsp finely chopped fresh rosemary
Instructions
Start with lining a square or rectangular dish with plastic wrap or parchment paper. My dish was 12 x 16 cm / 5 x 6 inches.
Start with the brownie layer by processing the dates, nuts and seeds, rolled oats, cocoa, salt, and vanilla in a food processor or powerful blender into a nice slightly crumbly dough. It should easily keep it's shape squeezed in your hand. If too dry, add a tiny splash of water.
Transfer the brownie "dough" to the prepped dish and press and flatten using your hands.
In a small microwave-safe bowl, put the dark chocolate, water, liquid sweetener, salt, and vanilla. Microwave on low to medium effect for 30 second intervals until the chocolate has almost completely melted. Once melted enough, mix until you get a smooth ganache, and mix in the finely chopped rosemary. Pour and spread the ganache on top of the brownie, and decorate with some flaky salt and cacao nibs or such if you want to. Put in the fridge or freezer until the ganache has set. Cut up and enjoy!