Granola is one of the world's most loved, delicious and easiest homemade breakfast items and toppings. Well, nut butter is slightly higher on my list of favourite toppings, but making your own nut butter requires things like roasting them and a very strong food processor/blender. This recipe, however, only requires you to make a super-duper quick (honestly it only takes minutes to make) caramel to then pour over your grains, nuts, and seeds.
I may have many granola recipes, some closer to my heart than other (my absolute fav has to be my Perfect Decadent Salted Chocolate Mocca Granola only because I do LOVE my chocolate almost too much), this however is extra luxurious and decadent tasting as it's made with extra nuts and a quick caramel consisting of nut butter and coconut sugar. This granola is perfectly nutty, crispy, and sweet with an absolutely scroumptious taste of cinnamon and caramel. Plus, if you like having larger clusters in your granola, that is as easily done as making more fine granola.
In conclusion, this granola is the perfect granola. Enjoy!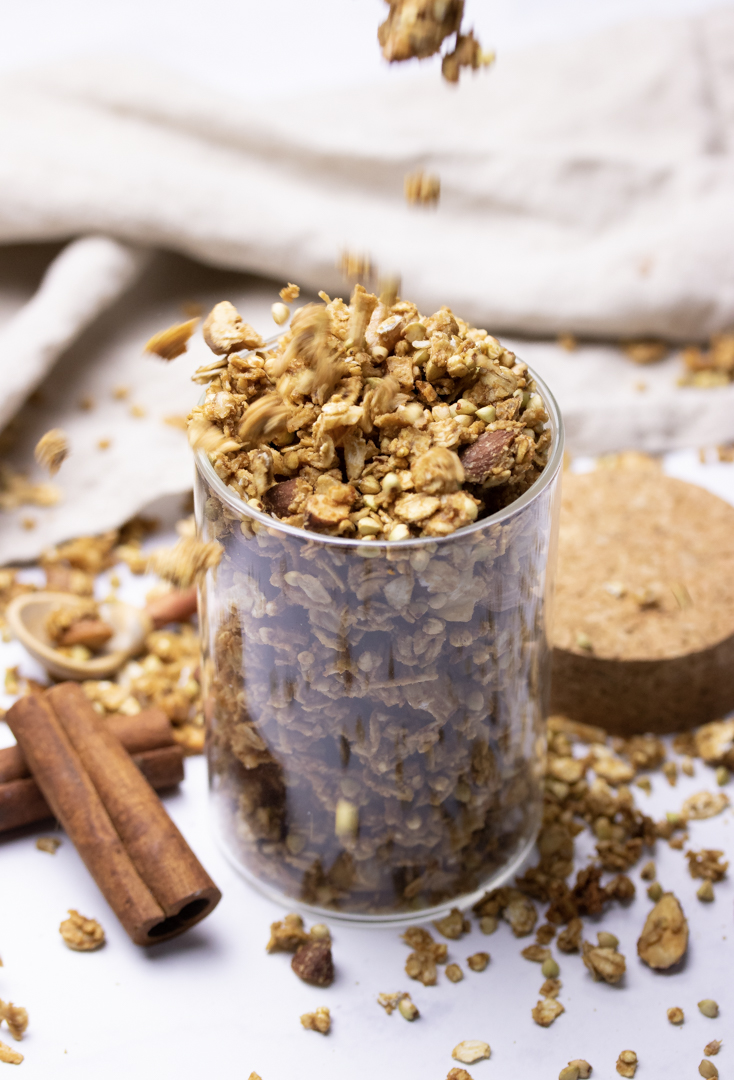 Yup, I'm still experimenting with in action shots. You wouldn't believe how many tries it took for me to be able to time pouring the granola and taking a photo at the same time. Let me just say that the making of this still very blurry photo contributed to granola ending up all over the place…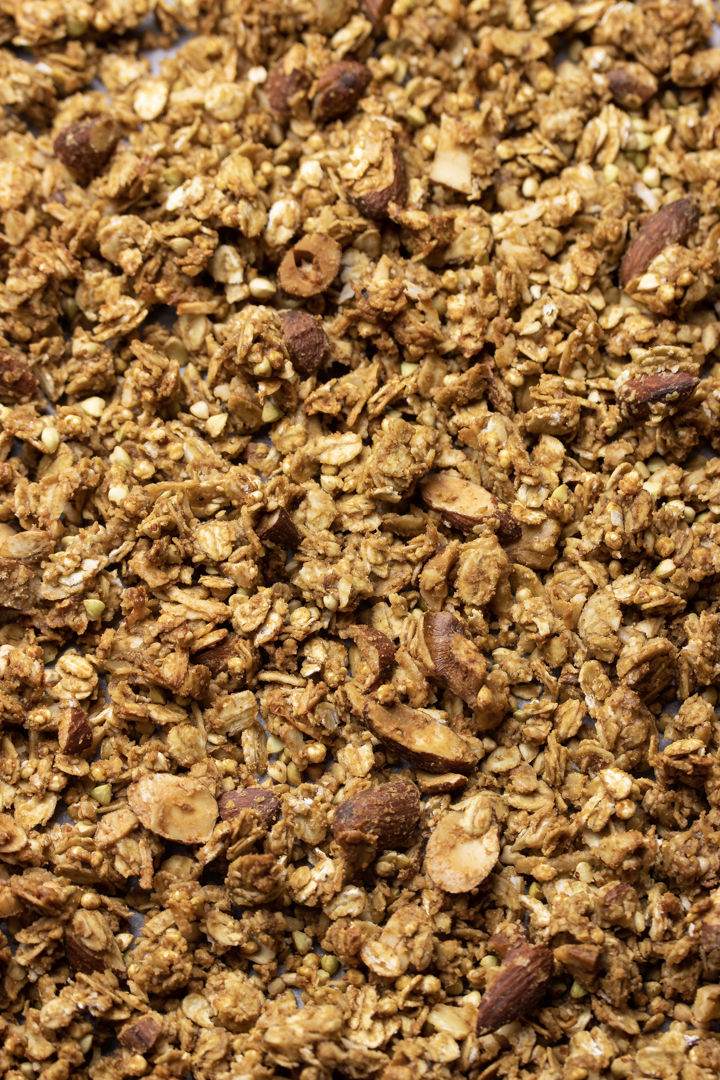 (Don't mind the fact that I forgot to add the dried fruit to the granola before photographing it, hehe.) I added some delicious dried mulberries to give the granola and extra caramel tasting boost, but raisins, apricots, figs or any other dried fruit is equally deeeeeelicious.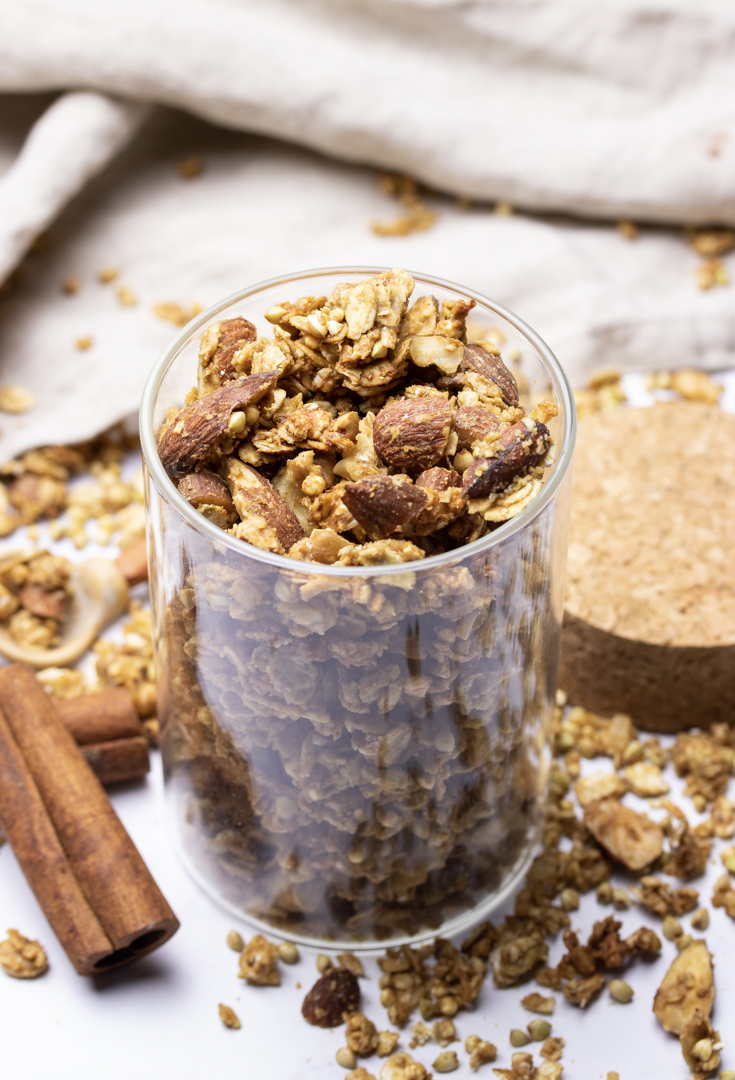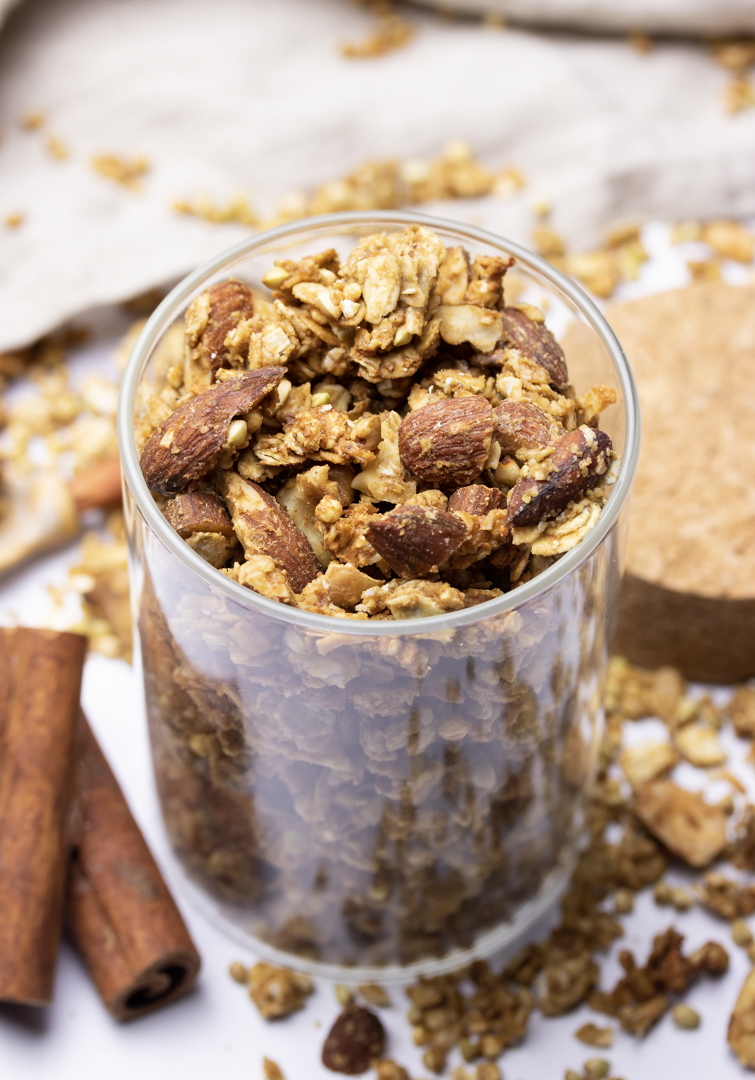 Print
The Perfect Luxurious Granola
This granola is quite something! You make a beautiful caramel sauce with nut butter and coconut sugar which you then massage into the rolled oats and nuts that you then bake to perfect. Yum!
5

dl / 2 cups rolled oats

2

,5 dl / 1 cup buckwheat, puffed cereal, extra nuts or seeds

2

,5 dl  / 1 cup roughly chopped nut or seeds of choice

1

,25 dl / 120g / 1/2 cup nut butter

1

,25 dl / 80g / 1/2 cup coconut sugar or other granulated sugar

1

,5 dl / 1/2 cup +

2 tbsp

water
A pinch of salt
A splash of vanilla essence

1 tsp

cinnamon
Optionally

1

–

2

,5 dl / 1/2 – 1 cup of dried fruit of choice
Instructions
Preheat your oven to 150ºC / 300ºF.
In a large bowl, combine the oats, buckwheat, cereal, and nuts.
In a sauce pan, whisk together the nut butter, coconut sugar, water, salt, vanilla, and cinnamon to a smooth mixture. While heating over low-medium heat on the stove, stir every so often until the caramel mixture starts to bubble slightly and thicken. Be careful as it gets really hot!
Add the "caramel" to the dry and mix with a large wooden spoon or such and make sure everything gets nicely coated. Bake for 20-25 minutes, stirring half through, or until crispy and golden. Let cool and enjoy!
Keywords: Granola, refined sugar free, healthy, oil free