Hey you! Long time no see since my last travel post, right? Anyway, I love writing these posts, especially as it's nice to have a reason to photograph during the trip. It's also so nice to be able to make pretty collages and just remember everything you experienced.
To the point! I went to Gotland, Sweden's largest island, with my parents and enjoyed our stay for four days. To summarize, it was an amazingly cozy and nice place! I'm definitely going back!! Anyway, this post will be mostly photos, very pretty ones, with some comments for context. Hope you guys enjoy!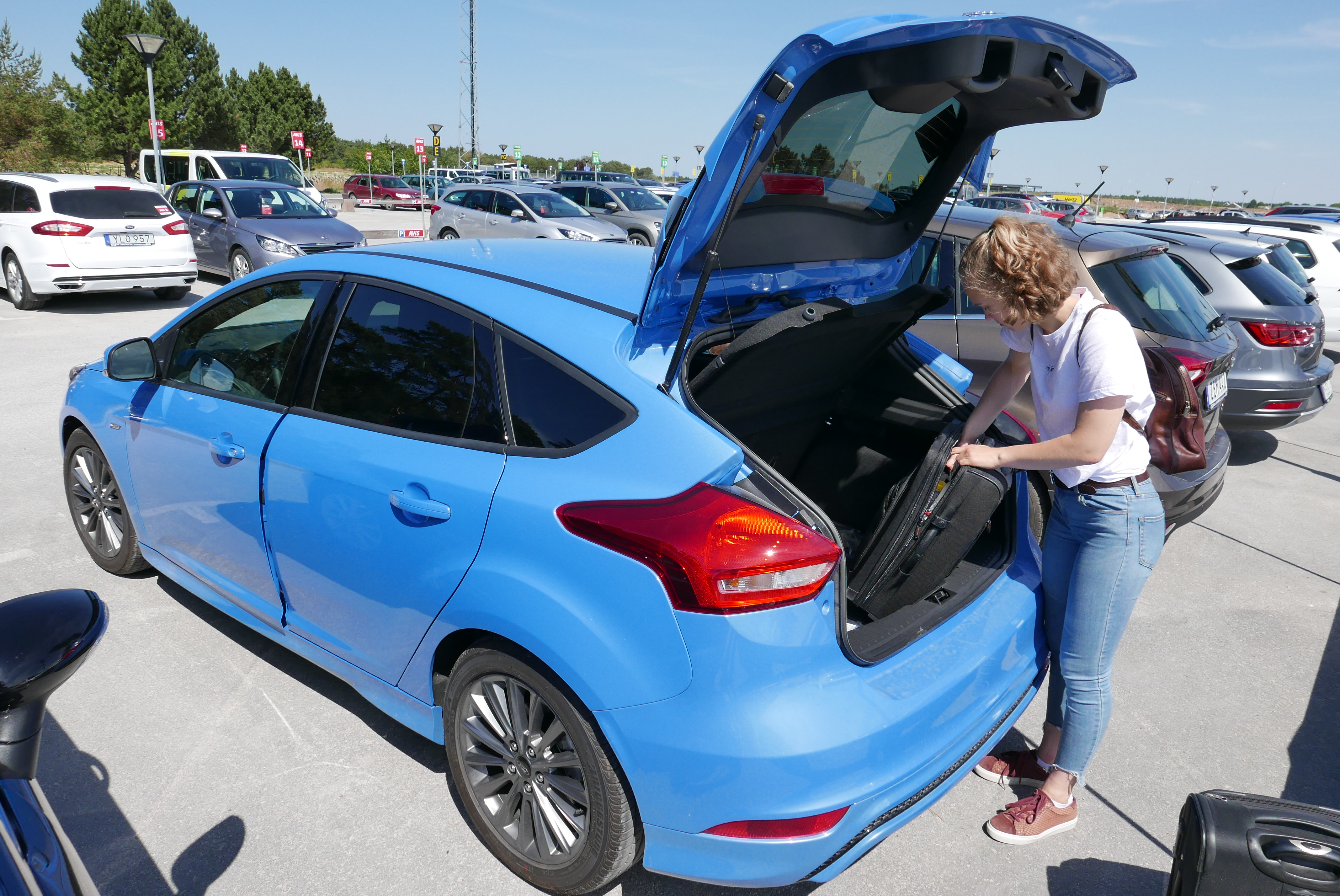 The very blue rental car we drove around with. Sadly, we had to fly instead from driving and taking the Ferry, all the ferries were booked months in advance.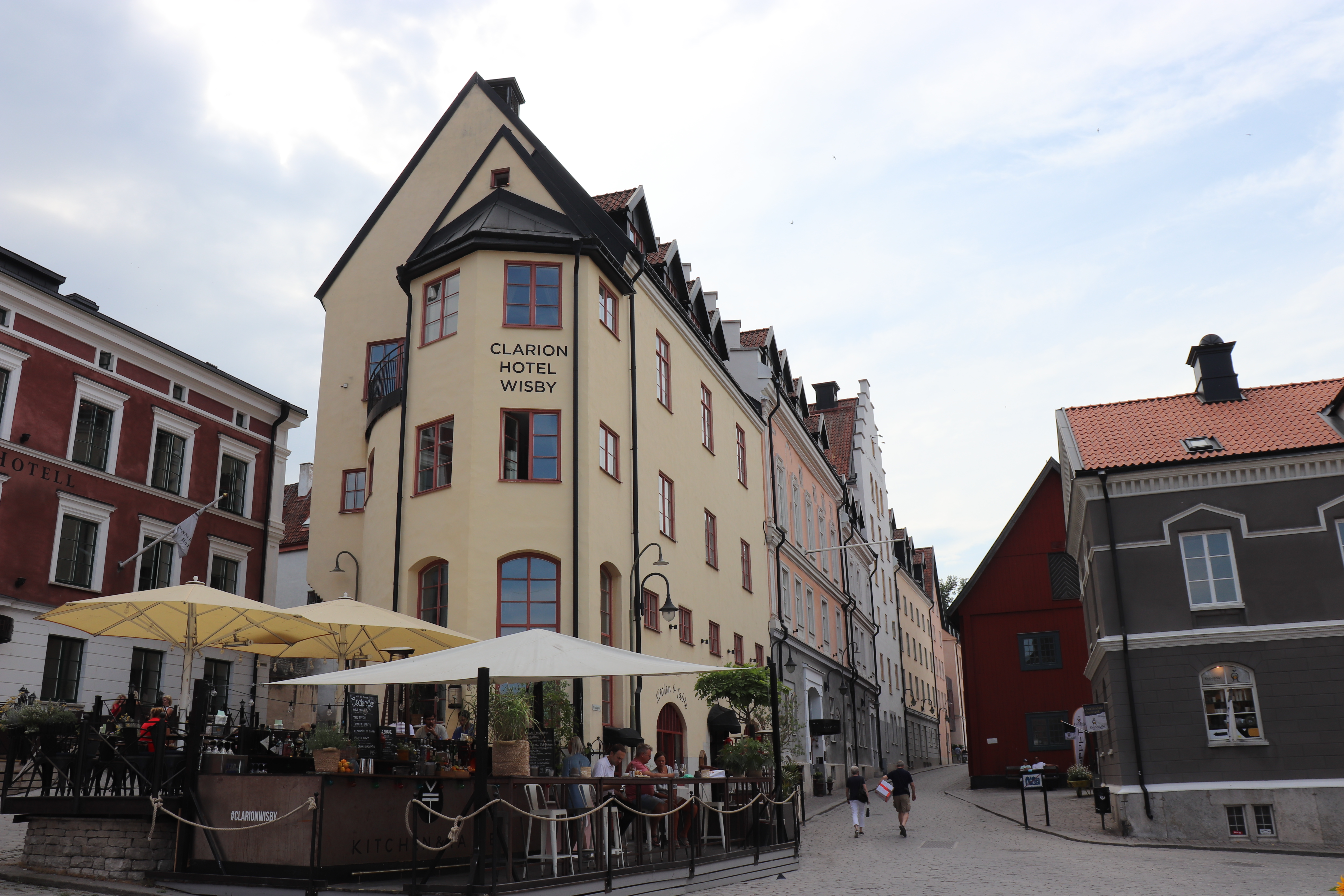 The beautiful hotel we stayed at, Clarion Hotel Wisby. Let me say that the breakfast was far from bad, especially as they had vegan yoghurt and such.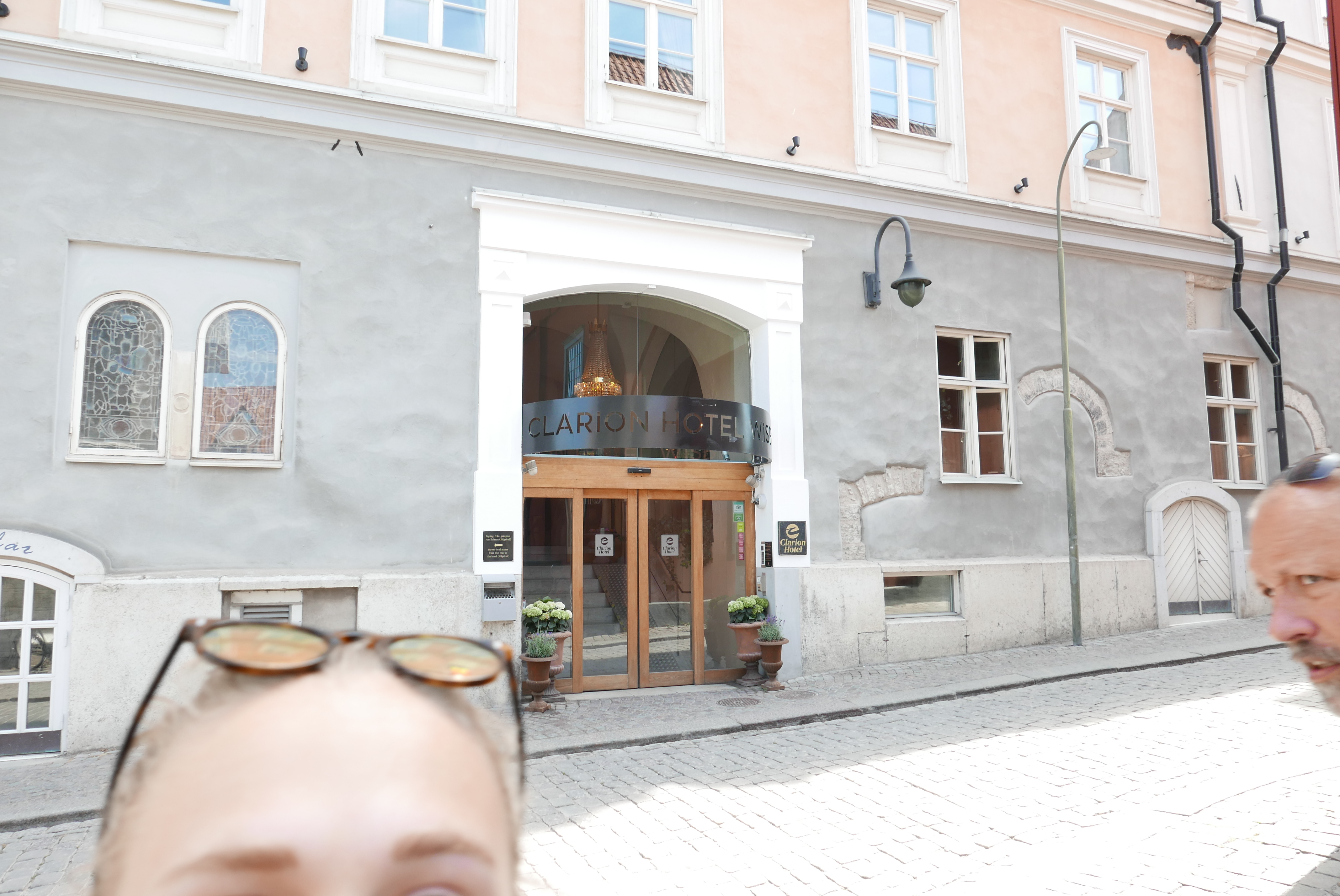 Photobombing as usual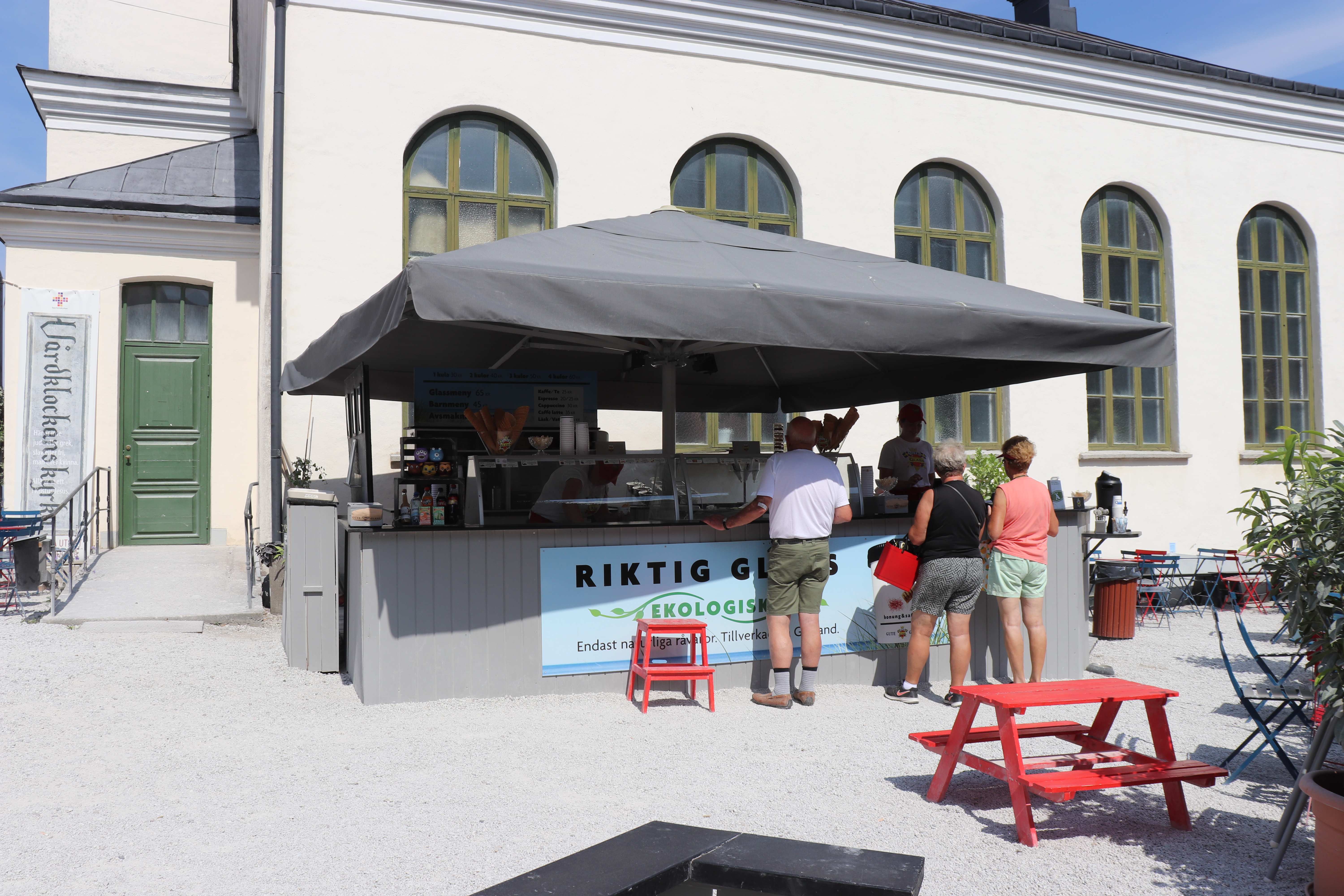 Even though this might look like a boring stand, this stand is rather extravagantly non-boring. Gute Glass, Gotlandic ice cream, makes and sells amazingly genuine and delicious organic ice cream, without any funny additives. They sell a bunch of sorbets and a coconut based ice cream. My favourite flavours were mango sorbet and chocolate & coconut (yum!!). At first, I thought the mango sorbet was going to be just like any other, boy I was wrong! On the picture bellow, you can see a scoop of the chocolate & coconut ice cream topped with "salmbär" jam. I'll talk more about "salmbär" later.
The first day, we spent mostly strolling around town. We had dinner with an old friend of mine dad's and his partner. I didn't take any pictures but we dined at "Kitchen and Table" just by our hotel. It wasn't really great, good but not great. The food was delicious ut the waiters were unpersonal, slow, and did absolutely nothing than being slightly rude…
To the left, a picture of the ruins of the Roma monastery. To the right, my mother and I looking at an art exhibition by the ruins.
Lunching at a very nice restaurant. The food was great, I had a crispy asian shrimp salad, that consisted of glass noodles, shrimp, peanuts, cucumber, pickled red onion, lime, and lots of deliciousness. They had loads of vegan options, which was awesome. However, what the menue didn't say was that the salad had a bunch of mayo hiding under the shrimp. So my kind that helped me and let them know of the problem (I really don't like mayo). Funnily and annoyingly, the first came with a salad that was exactly the same and then when we told them again, with one without mayo.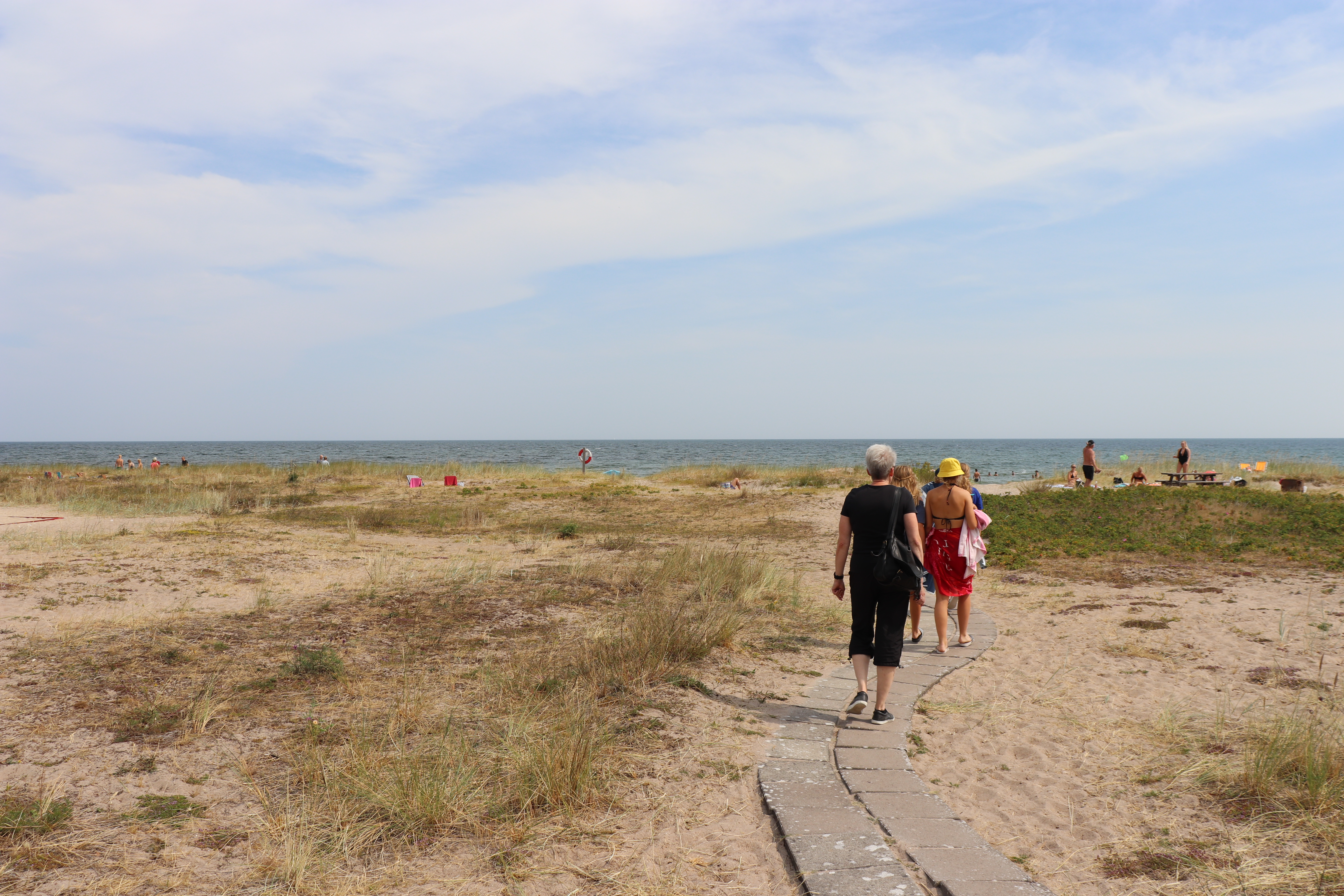 The beach by the restaurant we lunched at.
We stopped by this extremely cool artist, Elena Berg Österdahl. You need to chekc her out. Visiting her is totally worth a detour!
At the southest part of Gotland, you can find "hoburgsgubben", a "rauk", that not only looks like a man when viewed from the side, but also is an important character in the local mythical tales.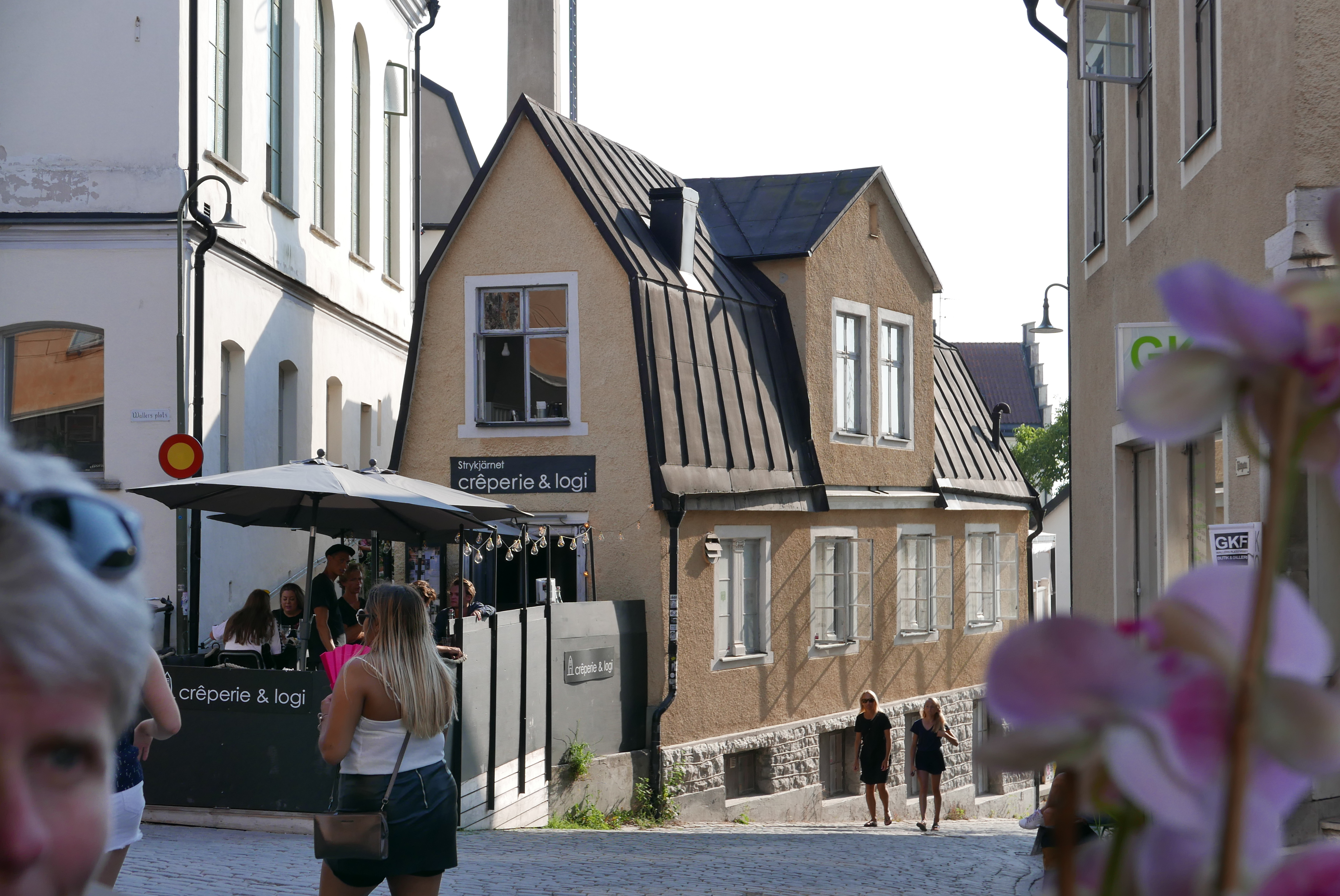 On our second day, we had dinner at the wonderful "Crêperie & logi". Down bellow you can see all the vegeterian and vegan options, but if you want to see the full menue you can check their website. It's so cool, how many options they have! Not to forget, they're in the White guide, which they totally deserve!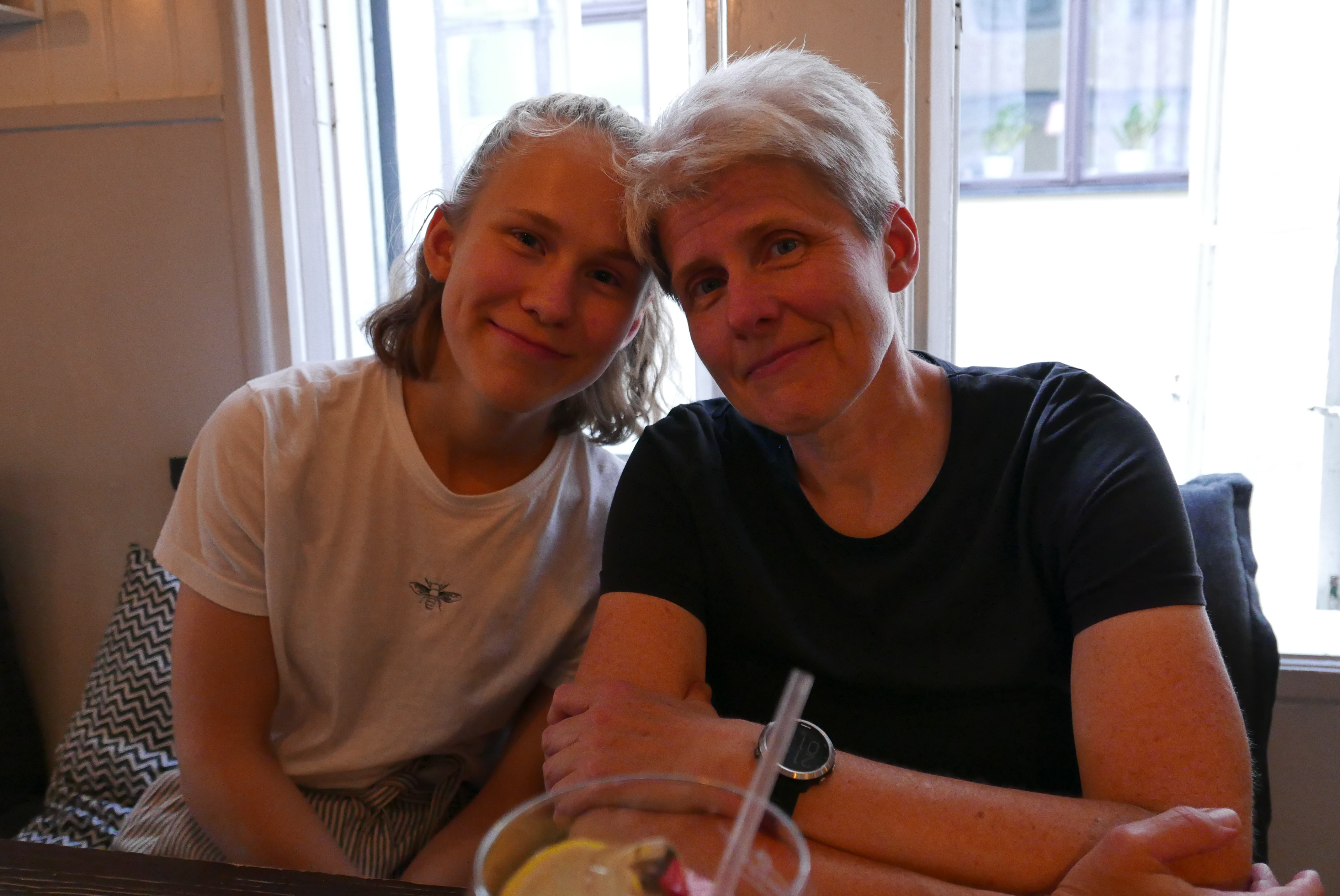 My mum and I posing.
I had the "Heta bönan", "The hot bean", galette with spicy marinated chickpeas, arrugla, pickled red onion, Oatly iMat fraîche, and olive oil. For dessert, I had "Vegangott", "Vegan deliciousness" (?), consisting of soy based ice cream topped with delicious chocolate sauce and roasted almonds. Funnily, I was expecting one or the scoops of ice cream, just to finish of the day. Instead, they came with this massive glass filled to the brim with deliciousness, haha. Anyway, 12/10, totally recommend going to Creperie & Logi. It definitely was one of the best spots during our whole trip.
My dad loved taking pictures of me taking pictures, as you can tell by all the photos of me with my camera.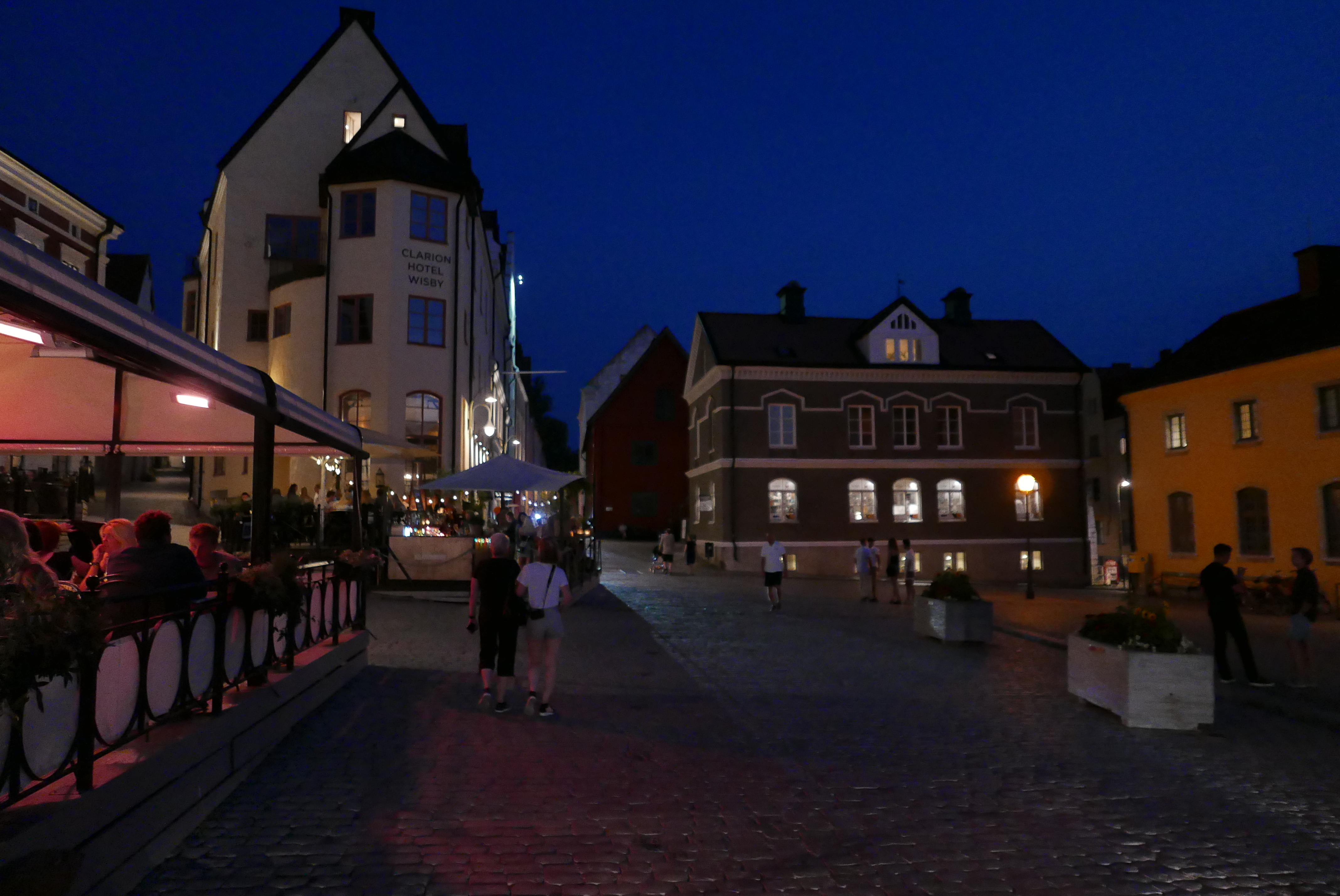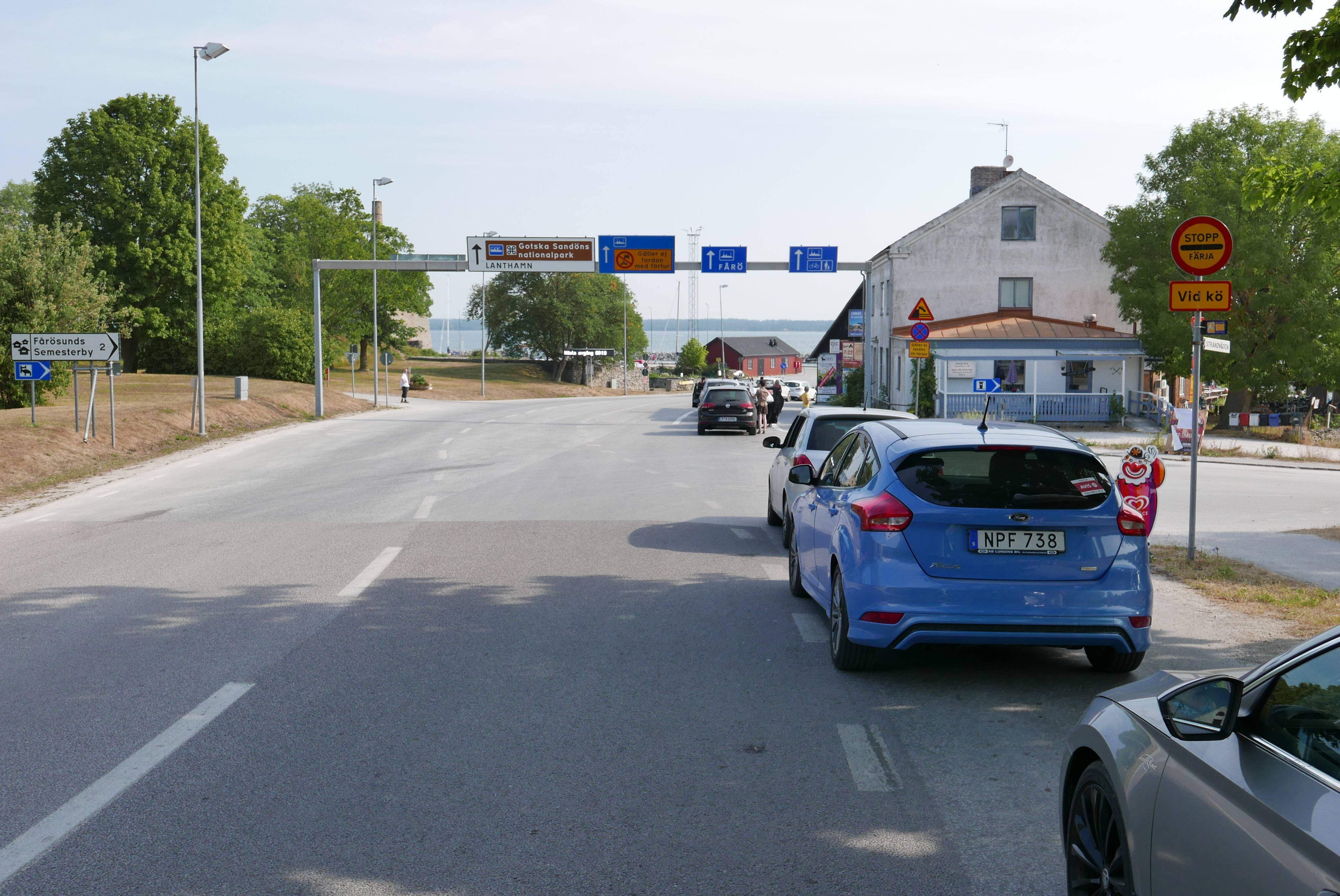 On our way to take the ferry to "Fårö", the an island that is northest part of Gotland.
Ferry pictures and photoboming.
Exploring and looking at rauks.
An old fishers' village. Some of the huts were incredibly old.
Lunch time! We stopped by "Förågården", and I had a vegan blackbean burger with fried new potato. I had to ask to get it vegan, and I got a gluten free bun as it usually is served with a brioche bun. Let me say, gluten-free bread is hella weird. Seriously, it was like a sponge, when pressed it bunched back. Anyhow, it was a rather delicious meal! Recommend going there.
Visiting the Fårö lighthouse, the northest point of Gotland
We visited a bunch of farm shops. On of the farms had the cutest chickens ever.
For dinner on the last evening we had dinner at Mizu, in Visby. It was a proper Japanese restaurant, and not the kind that only serves sushi. I had the vegetarian ramen, which was epic. The broth was absolutely scrumptious and the marinated mushrooms, oh boy!
The menu. They had lots of vegetarian and vegan options.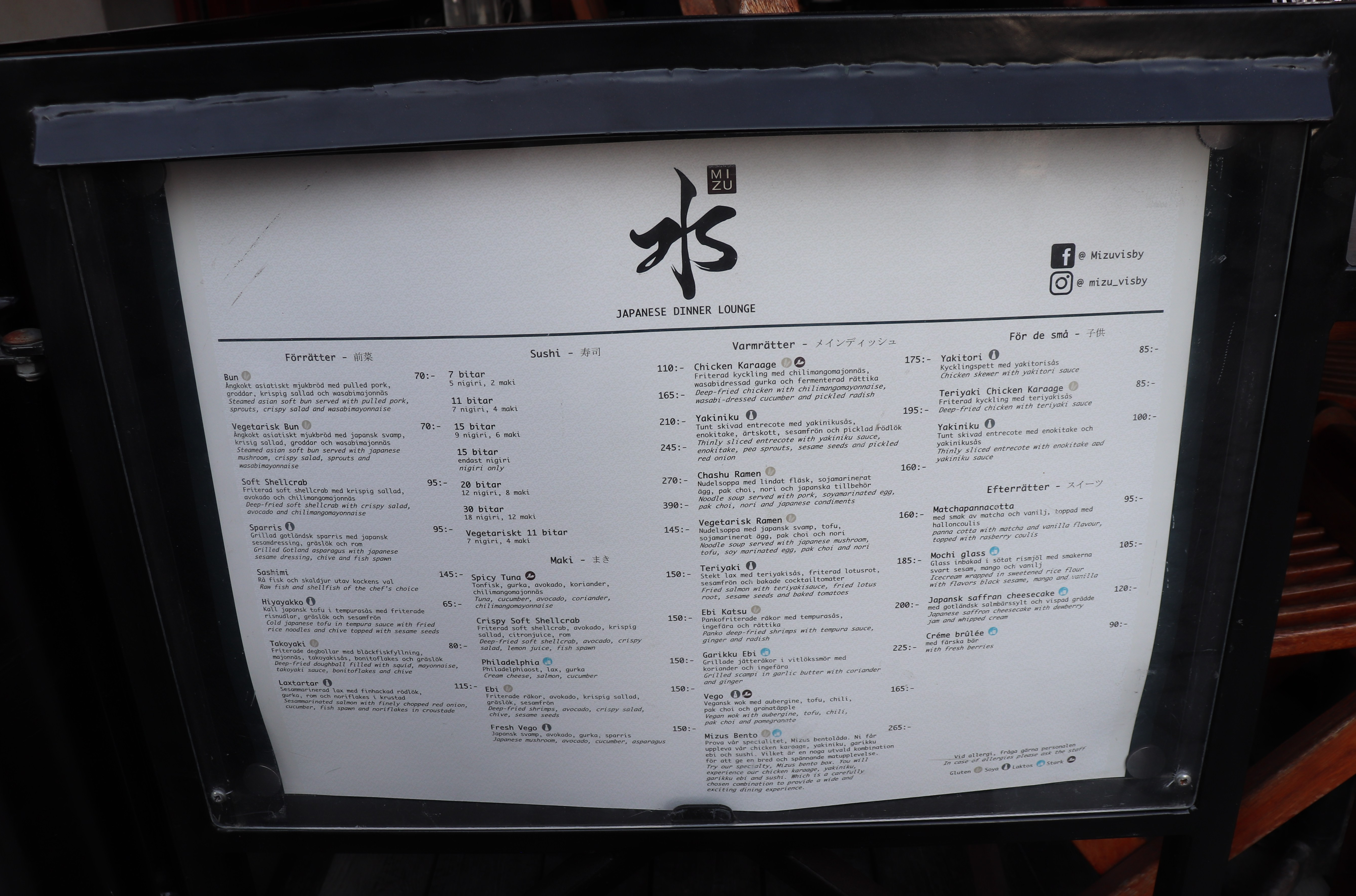 After dinner we headed out and visited the Visby cathedral. A beautiful church, with the weirdest of head decorations. Decorations shouldn't look like depressed, devils' babies.
Afterwards we went to "Gute glass" again, because why not? I had the same chocolate & coconut. My parents were slightly more experimental, and had a tasting menu consisting of ten ice cream flavours of choice. Delicious!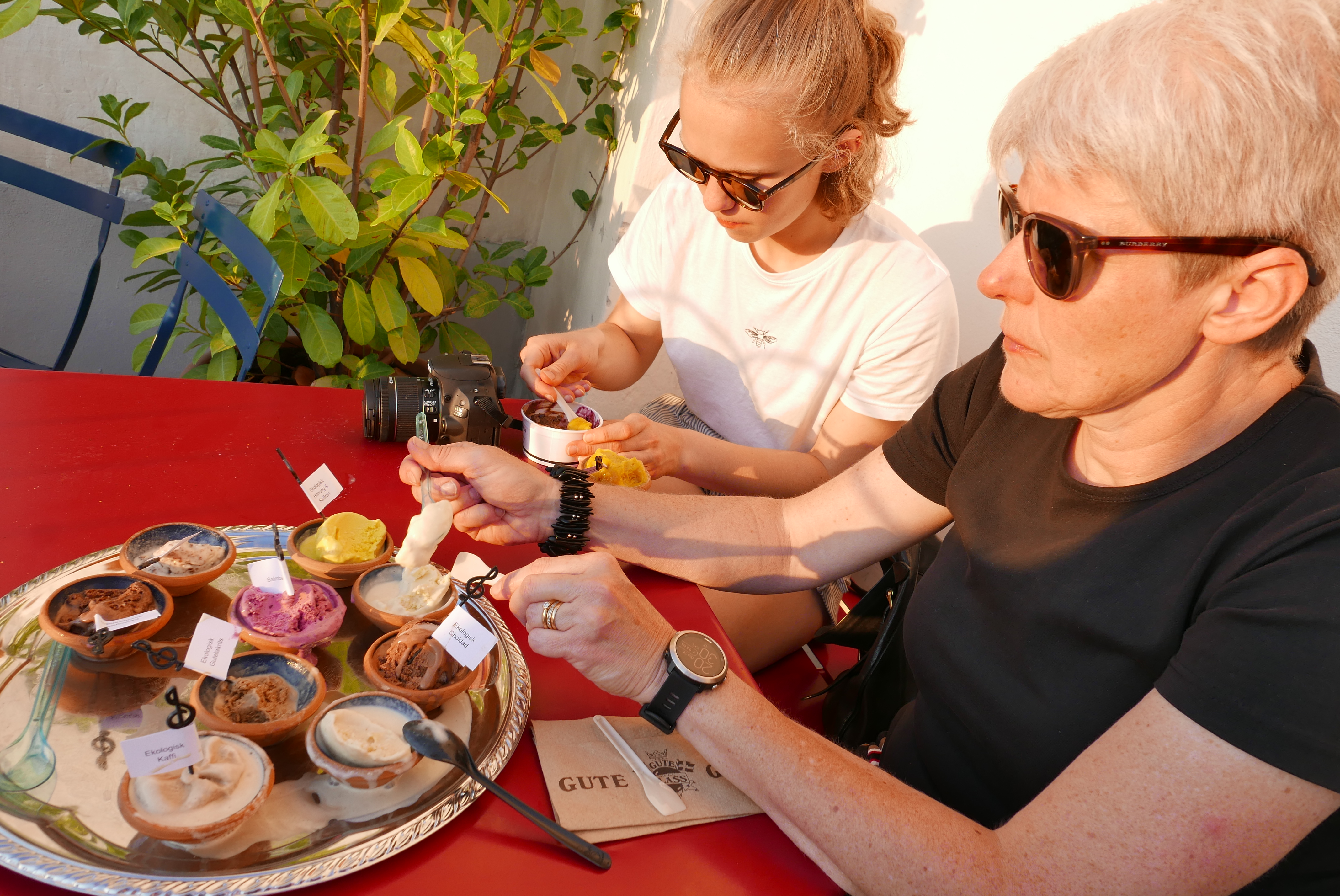 The view from their outdoor seating was/is amazing.
We spent out last day strolled around beautiful Visby. We walked by the Visby wall and just enjoyed the cute, cozy architecture.
By chance, we walked by a rather discreet café that turned out to be beyond good. Everything on the menu seemed great, but most importantly extremely fresh! My mother and I had their vegan salad with all the fresh delicious greens, everything from spinach, arugula, sugar snaps, asparagus to sprouts, parsley, yellow and reed beet, topped with quinoa, delicious beet hummus, and deliciously roasted salty nuts and seeds.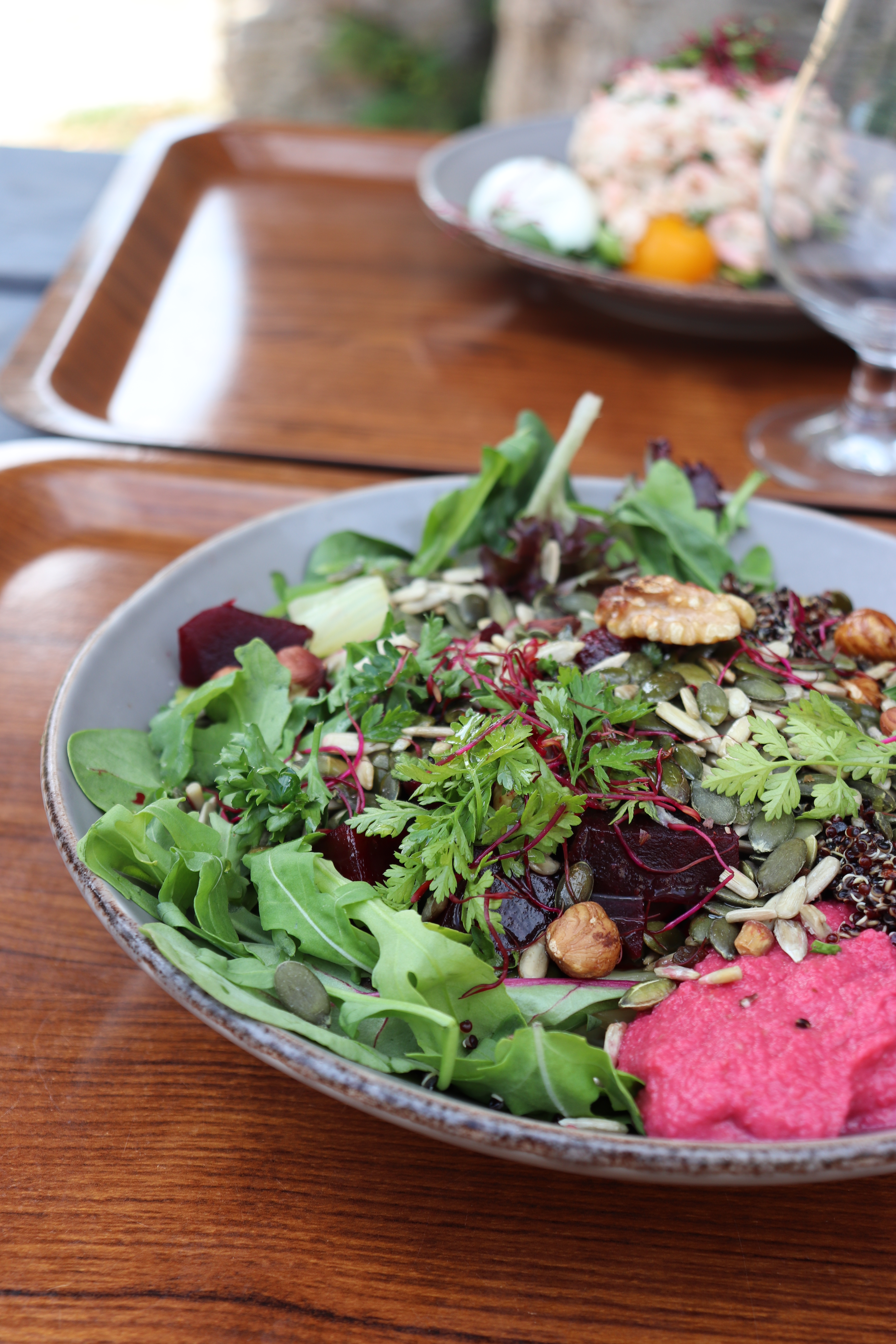 The food was not only delicious, but the outdoor seating was extremely cozy. It was set in the ruins of an old church, which couldn't be more cool!
Lastly on out trip, we went to the Gotland museum. Sadly, we did have the time to look at all the exhibitions, but it still was very interesting.
That was basically our whole trip to Gotland. All in all, I want to go back badly. I loved driving around the place, experiencing the layback Gotlandic culture, learning about how Gotland is made out ridiculously old coral reefs, and the Gotlandic history.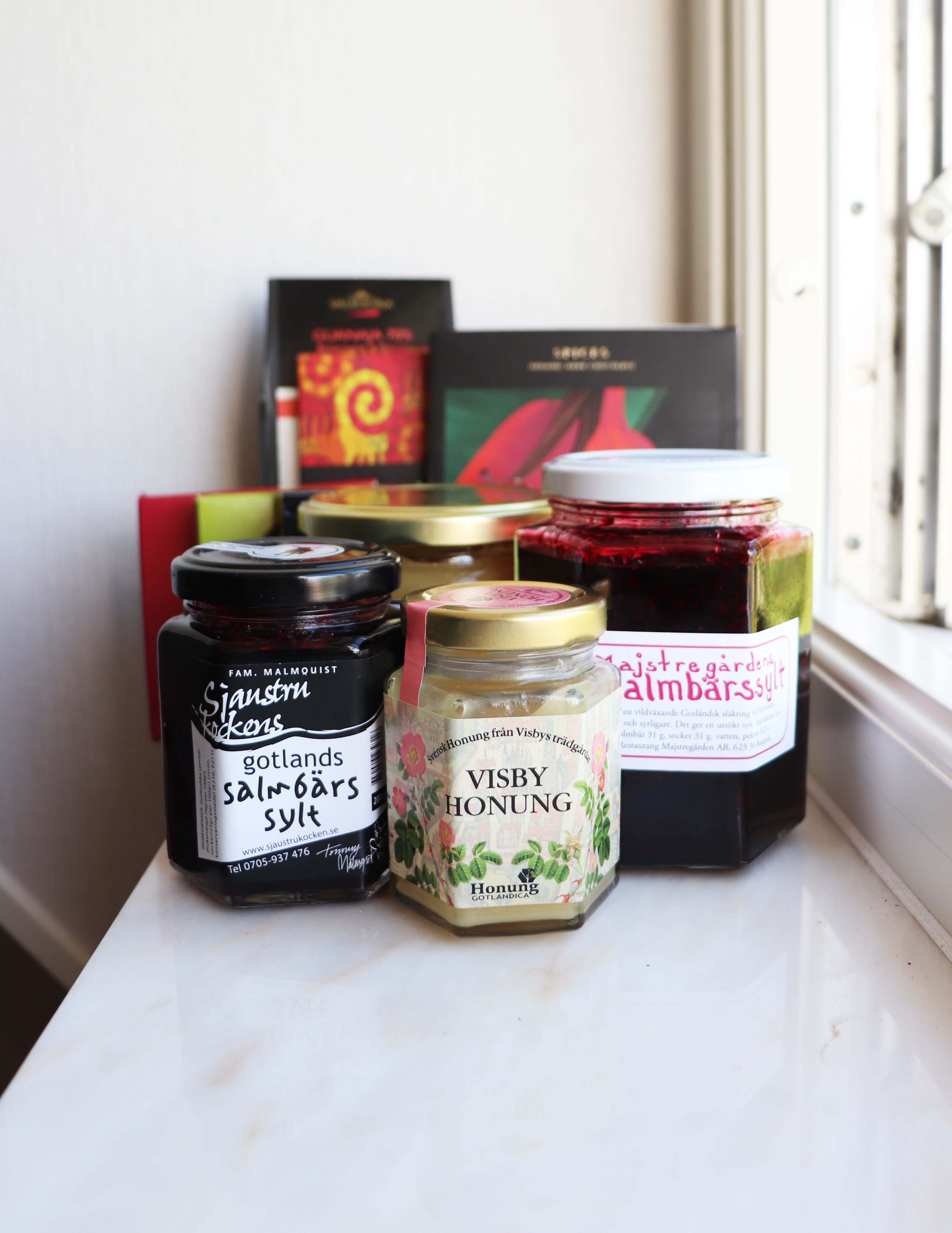 I definitely picked up a lot of goods during the trip. Did you know, Gotland is the only place where "salmbär", a special berry, grows. Salmbär tastes like a mixture between blackberries, blueberries, and raspberries. Of course, I had to buy two different kinds of salmbär jam to compare with. Except for jam, I also bought two different kinds of honey, one specifically from Visby, and a bunch of different chocolates. I don't want to bore you with talking about different chocolates and nerdy stuff. What I can say though, if you see any of these, I definitely recommend buying!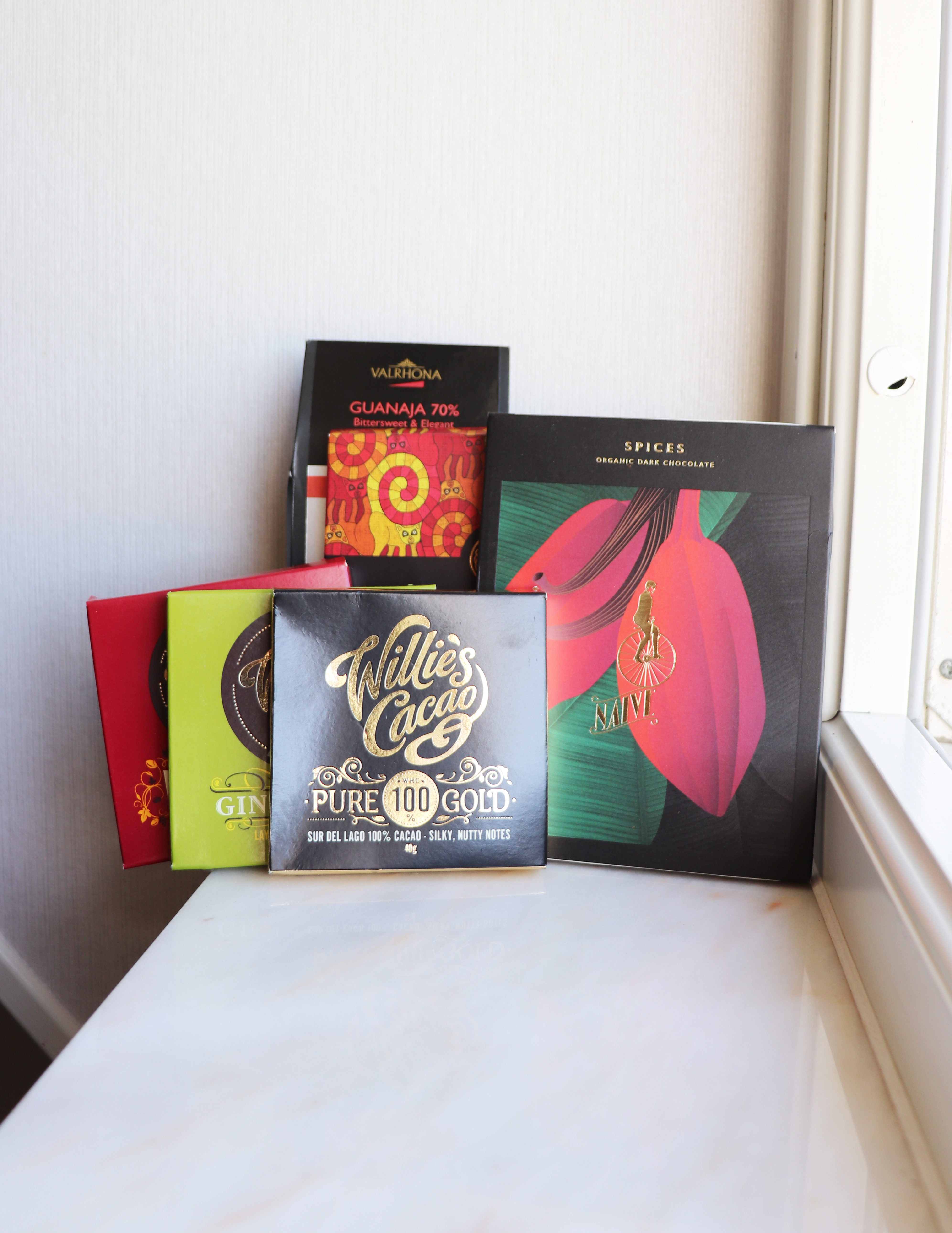 Almost forgot, I also bought this beautiful plate and even more beautiful painting. Who can say no to handmade china and a gorgeous painting?