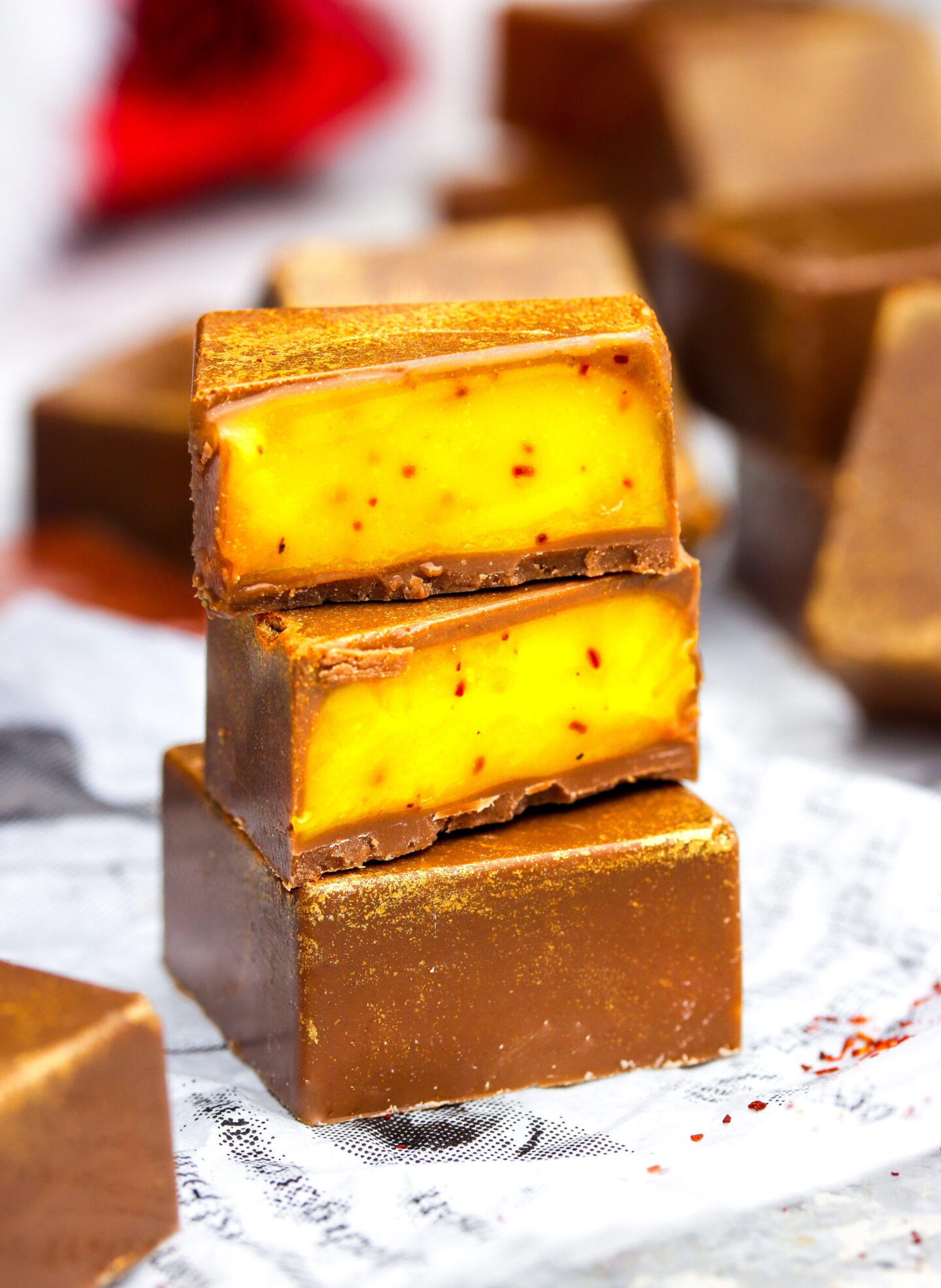 A little late to the party with a very "Christmassy" treat, but this was too good to wait to share till next Christmas! Saffron is a luxurious spice that for Swedes is most commonly used in sweet treats around Christmas. It's a spice I find hard to explain more than sublime and comforting. In combination with some white chocolate, cream, and butter, you can create the most gorgeous ganache filling that just melts in you mouth. However, it is so easy to make and only take three minutes melting the mixture in the microwave. A treat does not get any more high value low effort! I also decided to pair the saffron with a milk chocolate. This balances and adds notes of milky goodness and complexity to the ganache, while not making it overly sweet nor over powering it. Pro tip! If you don't want to make pralines, the filling is easily made into truffles by upping the white chocolate and butter ratio every so slightly, like 50g more white chocolate and an extra tbsp of butter. Then place the filling in the freezer for half an hour or so, scoop up, roll into balls, and roll in powdered sugar, and voila!
Hope you enjoy these and all of my other pralines as much as my family and loved ones did during Christmas! Really hope you've had an amazing holiday and start to 2022 despite the pandemic. Much love from me, your Hanna!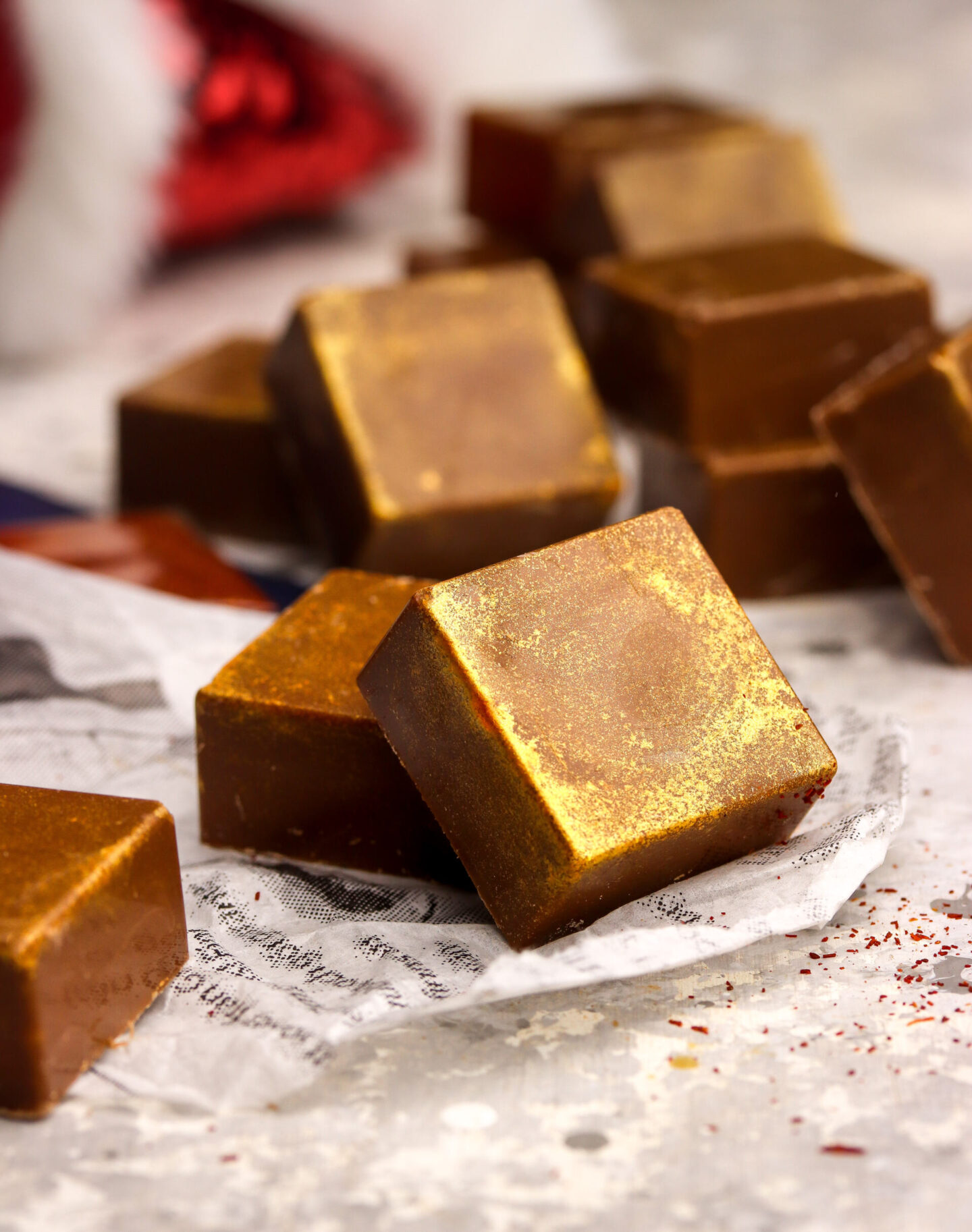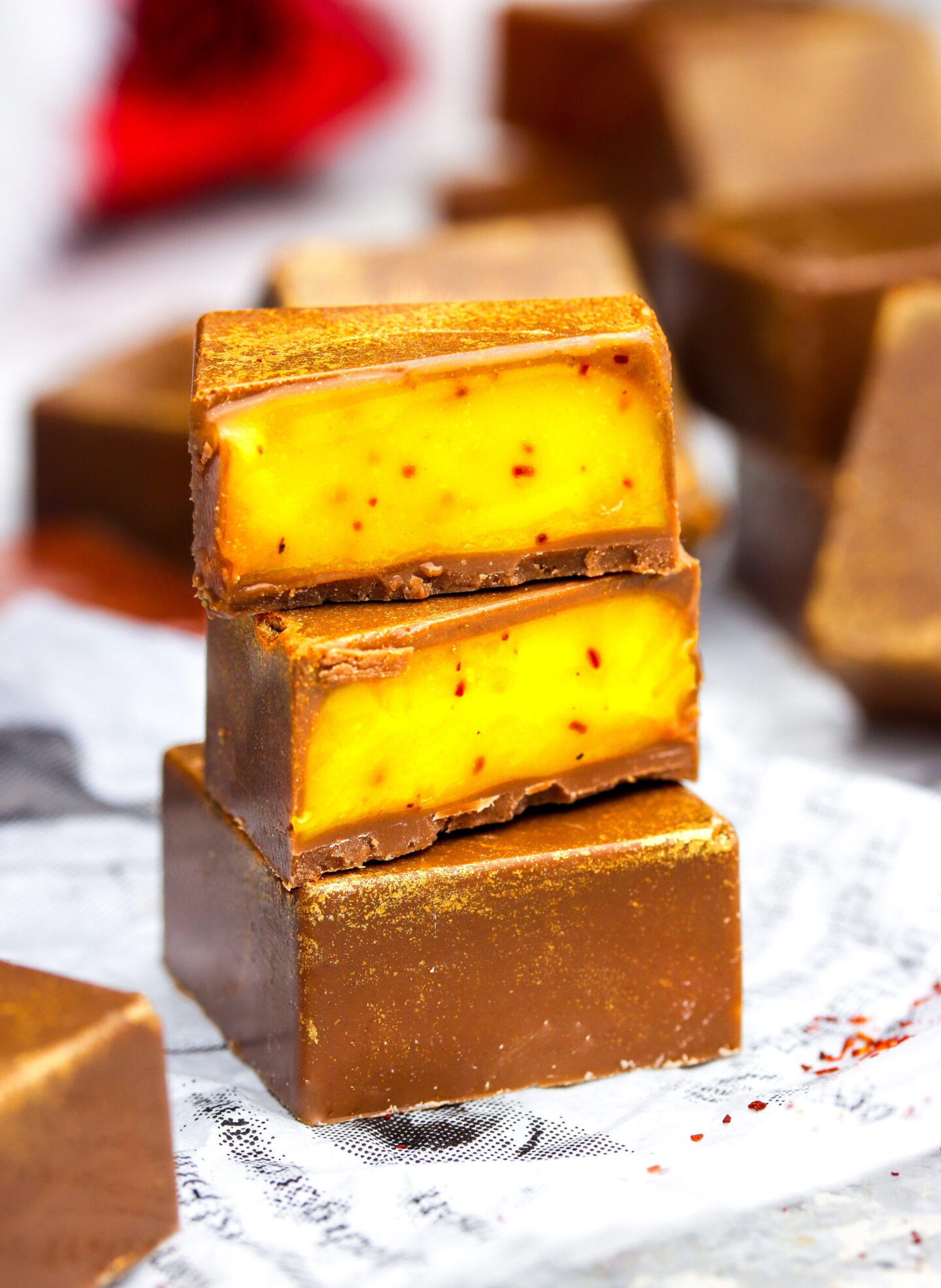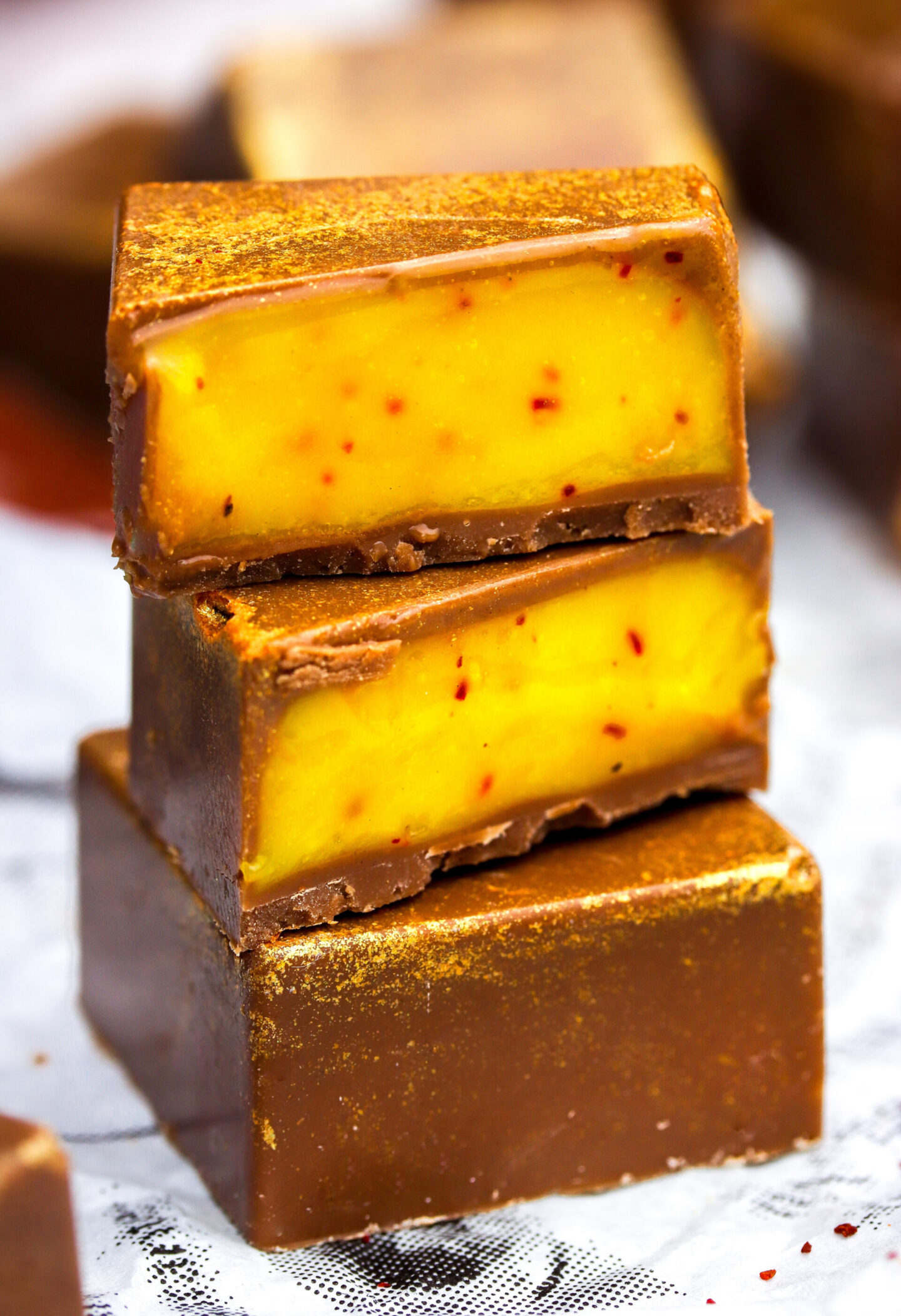 Print
Gorgeous Saffron & Milk Chocolate Pralines
Smooth, creamy, luxurious, and perfectly festive! One of my new go tos for Christmas!
Author: Hanna
Yield: about

48

pralines (

2

molds)

1

x
Chocolate casing
Optional edible decorative gold or silver powder

500g

/ 17,6oz dark chocolate, about

60

%

5g

/ 0,17 oz of mycryo
Saffron filling
250g

/ 8,8 oz white chocolate

80g

/ 2,8 oz cream, 40% fat

1

–

2

packages of saffron à 0,5g

30g

/ 1,1 oz butter

1/2 tbsp

vanilla sugar
A hearty pinch of salt
Instructions
Starts by making the chocolate shells. I use mycryo to temper the chocolate. I've found it to be successful every time, which I've not found when attempting the classic methods.
Clean you praline molds using water and washing-up liquid. I usually clean them with a cotton pad and vodka as well. Let the mold dry, and using a food safe brush brush with edible gold powder if you want.
Melt the dark chocolate over a water bath to 40-45C. Take off, and let cool to 32-33C in room temperature.
Mix in the mycryo, and let cool to 30C. Great tip to make sure the chocolate really is tempered is to spread a thin layer on a piece of parchment paper. If it sets within 5 minutes to a glossy, hard sheet, then the chocolate is well tempered. If it's not tempered, you'll not get the pralines out of the molds.
Then fill the cavities of the praline molds up to the top, even overflowing a little. Using the handle of a spatula or dough scraper, tap on the sides of the mold to remove air bubbles. Also, tap the mold on the counter top. This will prevent the formation of air bubbles on the surface of the chocolates.
Then, flip the mold over the chocolate bowl to empty the cavities. Let the chocolate to drip off. Tap the side of the mold to get rid of excess chocolate. Using the spatula or dough scraper, scrape of the excess chocolate from the molds' surface. Repeat for the second mold, and let set. You'll get a sense of how long you should let the chocolate set in the molds and how thick of a shell you'll get after some time making pralines.
For the filling, place the white chocolate, cream, saffron, butter, vanilla, and salt in a microwave safe bowl.  Melt over a water bath or melt in the microwave with short intervals on low effect. Make sure to stir every so often until fully melted and a smooth ganache like mixture. It may be quite loose, but it does thicken up in room temperature later. Let cool to room temperature. Once cool, transfer to a piping bag.
Fill the cavities until there's about 2-3mm left to the top. Let sit in room temperature for a few hours or over night till a not sticky or wet "skin" has formed on the filling.
Now for the lids, temper about 150g of chocolate with 1-2g of mycryo. Pour over the cavities until overflowing, and using the scraper scrape of excess chocolate chocolate. Repeat for both molds. Let set.
Once set, try to tap out the pralines. If the chocolate was tempered correctly, it should go pretty easily. Otherwise, if you know you've tempered the chocolate properly, you can put the mold in the freezer or fridge for a short amount of time, and then the chocolate should shrink even more and pop out more easily. Enjoy!
Keywords: pralines, praline, milk chocolate, saffron, saffranspraliner, vit choklad, saffro, saffronpraline, truffles, tryfflar, saffranstryfflar, truffle, recipe, recept, homemade, recipe, festive, Christmas, jul, julgodis, candy, chocolate, , choklad, sweets, treats, vegan friendly, mjölkchoklad, vit choklad, vitchoklad, lyxigt, homemade, hemmagjort, hemgjort