Hopefully, that GIF made you extra pumped for this recipe. Just look at that GODDAMN texture! These cookies are super chewy and fudgy yet, once they have cooled, their outside is perfectly crispy and delicious. Trust me guys, these cookies are a real winner. At the moment, I'm on an adventure to find the perfect whole food plant-based choc' chip cookie recipe and I'll definitely take inspiration from these. However, yes these do take around 40 minutes in the oven, but it's just because I have burned enough cookies in my rather short life so far. Also, waiting the long time for them to bake is SO worth it!
On another note, are these Snicker Doodles? As I Swede I don't actually know what the definition of a Snicker Doodle. If you know, please let me know. Help the confused Swede, haha. I almost forgot! Can we just take a moment and appreciate the fact that you can blend together dates, some flour, nuts, and some raising agent, bake it, and voilà, you've a cookie. Isn't that just awesome?
Anyhow, enjoy!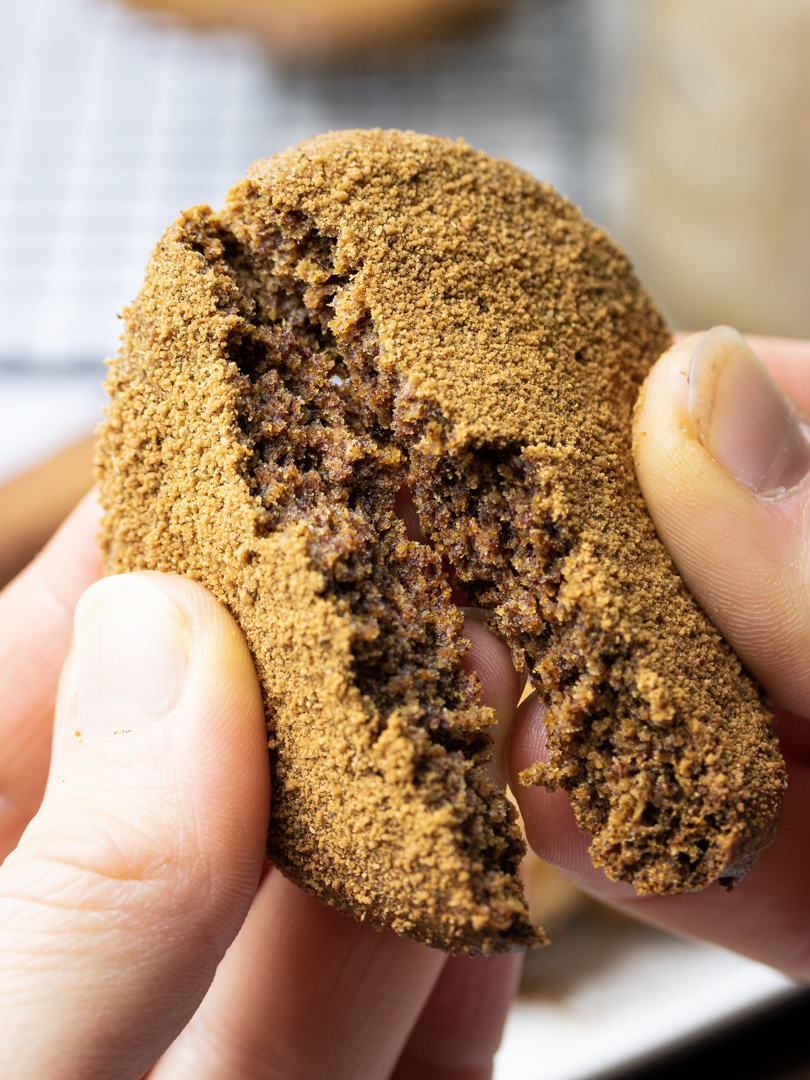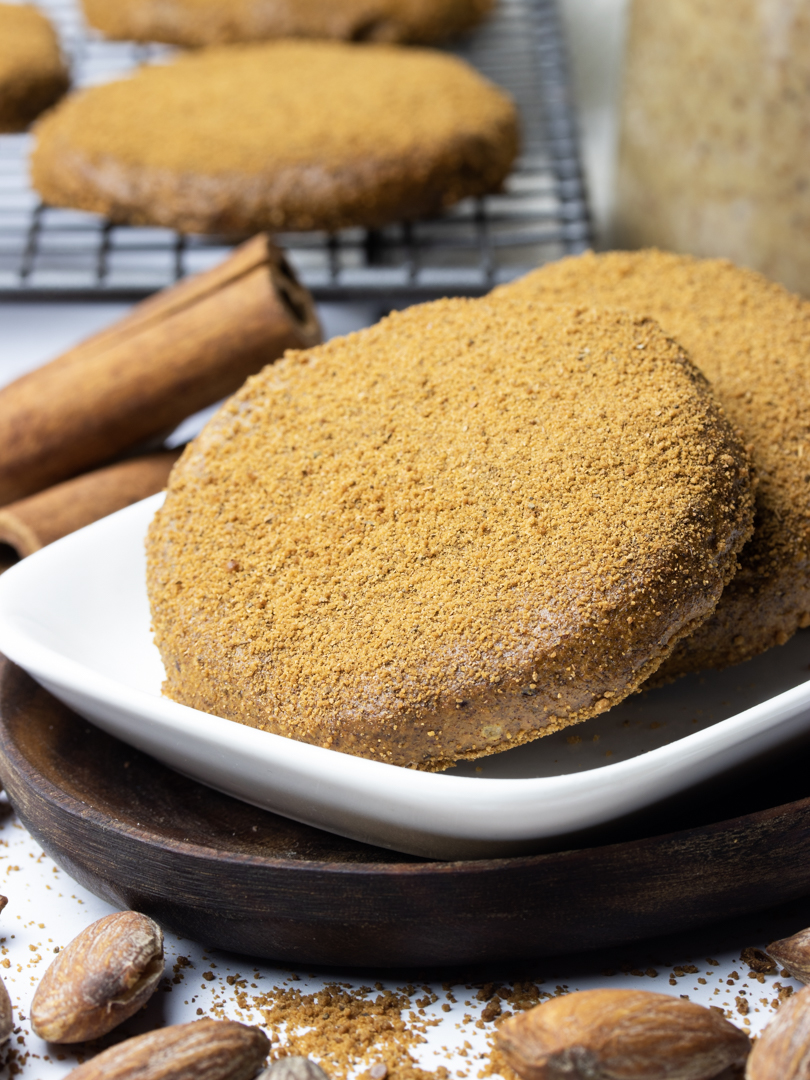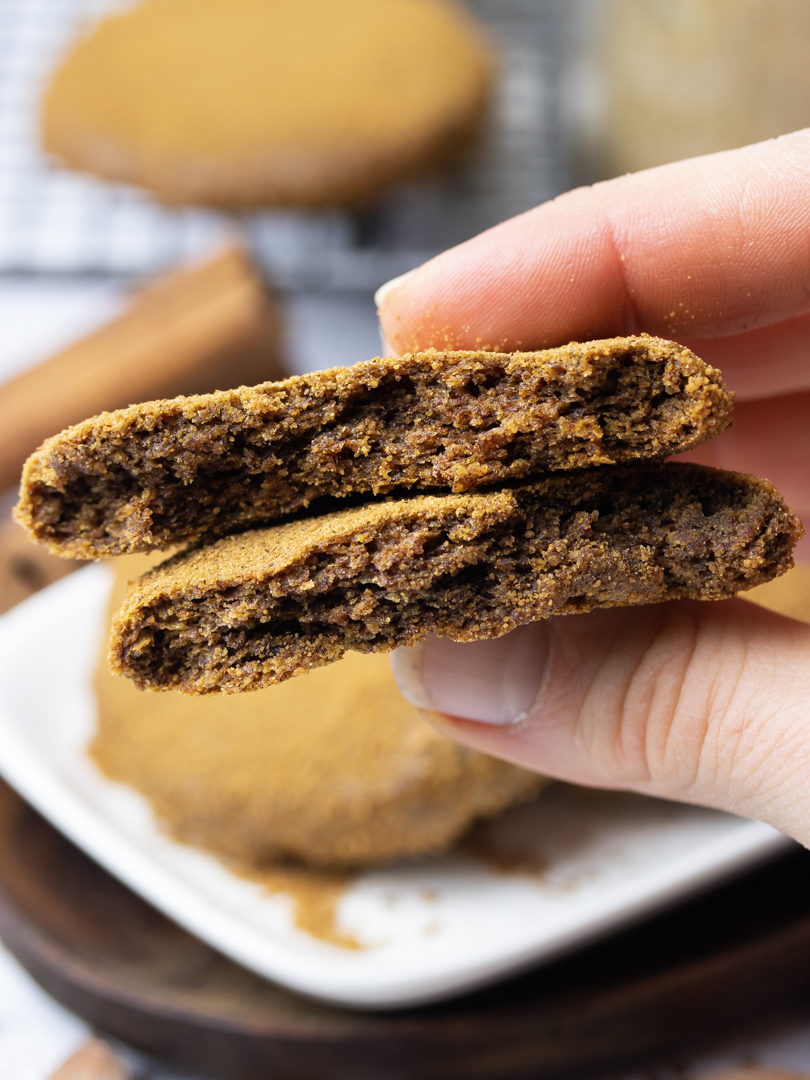 Print
Chewy & Crispy Cinnamon Sugar Maple Almond Butter Cookies
Cinnamon and coconut sugar covered cookies flavoured with maple syrup. 
120g

/ 4,2 oz pitted dates

3 tbsp

almond butter

2 tbsp

maple syrup (can be skipped, but is recommended)
A splash of vanilla essence
A pinch of salt

30g

/ 1 oz flour of choice (I used

20g

oat- and

10g

almond flour)

1 tsp

baking powder

1/4 tsp

baking soda
Cinnamon sugar topping
1/2 tbsp

coconut sugar or other granulated sweetener

1/2 tsp

ground cinnamon
Instructions
In a strong food processor or blender, process the dates, almond butter, maple syrup, and vanilla completely smooth.
Add the flour(s), baking powder, and baking soda, process until incorporated. The "dough" will be rather sticky and moist, but as long as it isn't like a thick paste kind of sticky, it's fine. Transfer to a bowl and let the "dough" rest in the freezer for around 20 minutes.
Preheat the oven to 150ºC / 300ºF and in a small bowl combine the coconut sugar and cinnamon.
Prepare and line a cookie tray with parchment paper. Divide the dough into six dollops. Flatten and shape each dollop using your hands. To make sure your hands don't stick to the dough, simply wet them every once in a while when shaping the cookies. Sprinkle and cover the top of the cookies with cinnamon sugar. Bake for 35-40 minutes, let cool completely and enjoy their delicious chewy and fudgy inside yet crispy outside texture. Store in an air tight container in the fridge.
Notes
You can probably cook these on a higher temperature, for example at 175ºC / 350ºF. However, I have burned enough cookies in my time, and prefer waiting ten minutes longer for the cookies to bake than burning another any. If you do try to bake them at a higher temperature, remember to keep a close eye on them and adjust the baking time. The result may be different though!
Keywords: Cinnamon sugar cookies, vegan, gluten free, healthy, maple syrup