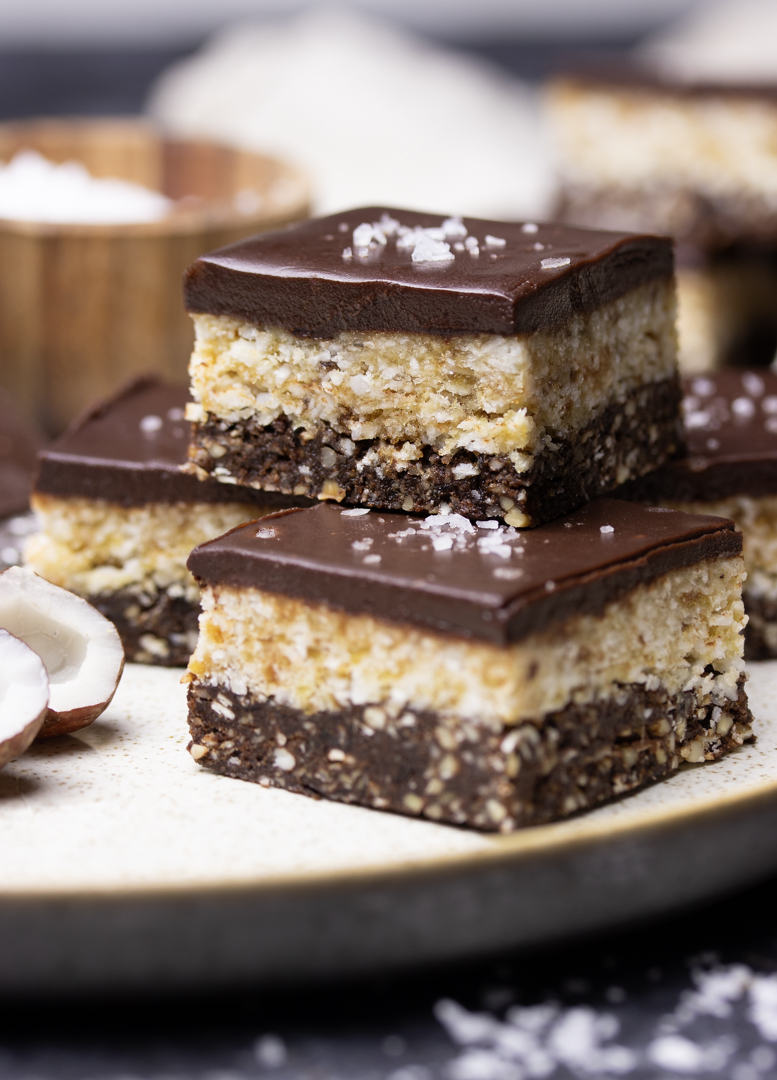 HELLOOOOO GOOD-LOOKING! If I may say it myself, this is one of the most gorgeous-looking treats I have ever made, also, one of the most decadent and delicious ones as well. Just look at all those layers! Honestly, the brownie layer is absolute perfection, especially in combination with a sweet salted caramel ish coconut bounty layer. Not to forget, the ganache is simply just spot on both texture and flavour-wise! Oh my LORD! This is the recipe to make if you feel like making something that's easy yet luxurious tasting and looking or when you need to impress someone and need to prepare something in advance. As always, I could rant about these slices of HEAVEN forever, but I think neither of us want that. Enjoy!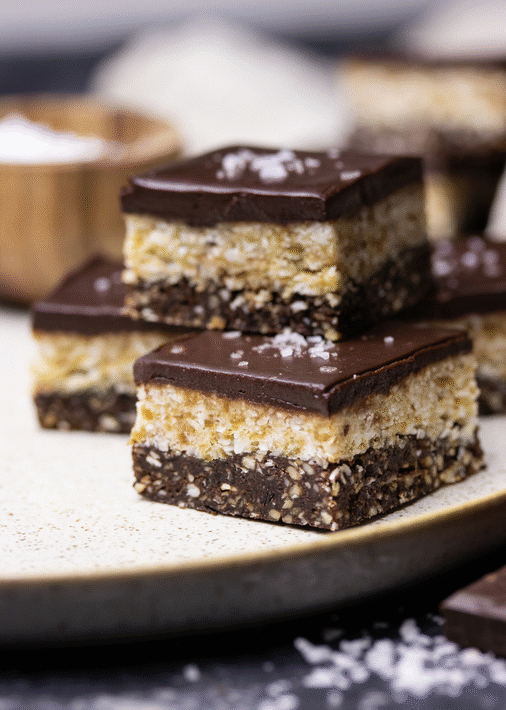 As very often, I've made a GIF. Hopefully, you enjoy it as much as I do.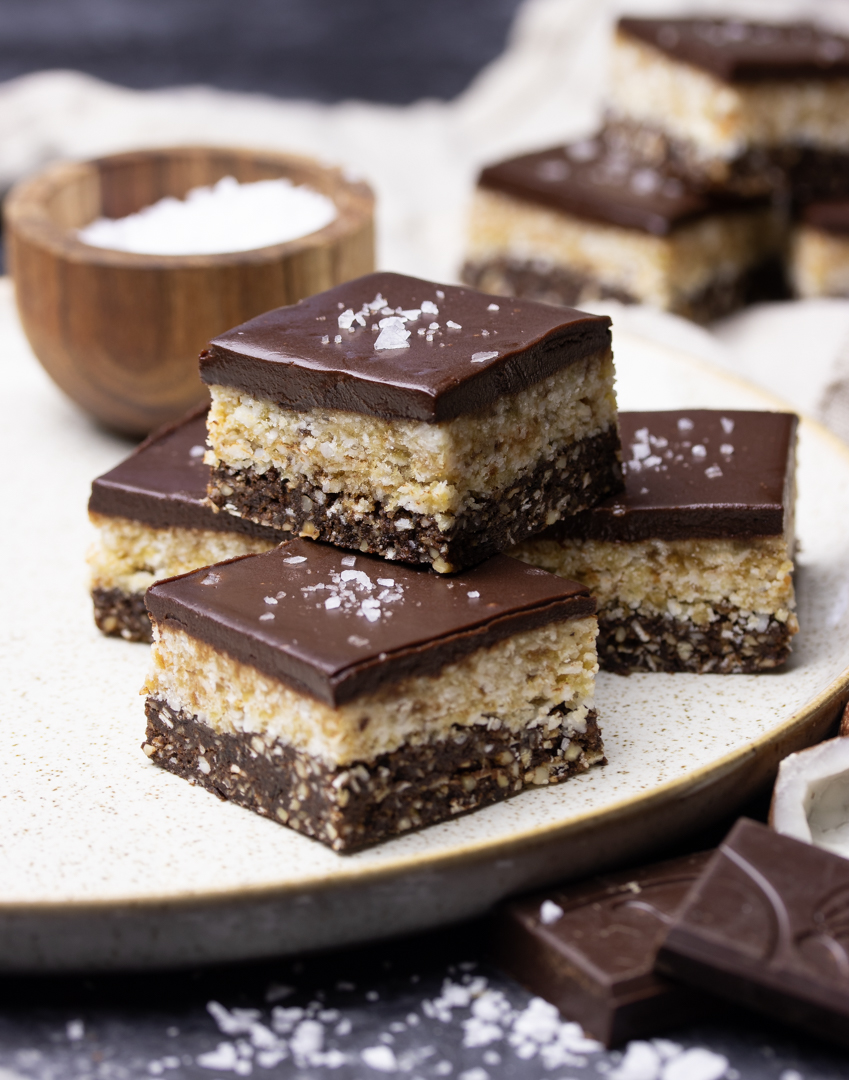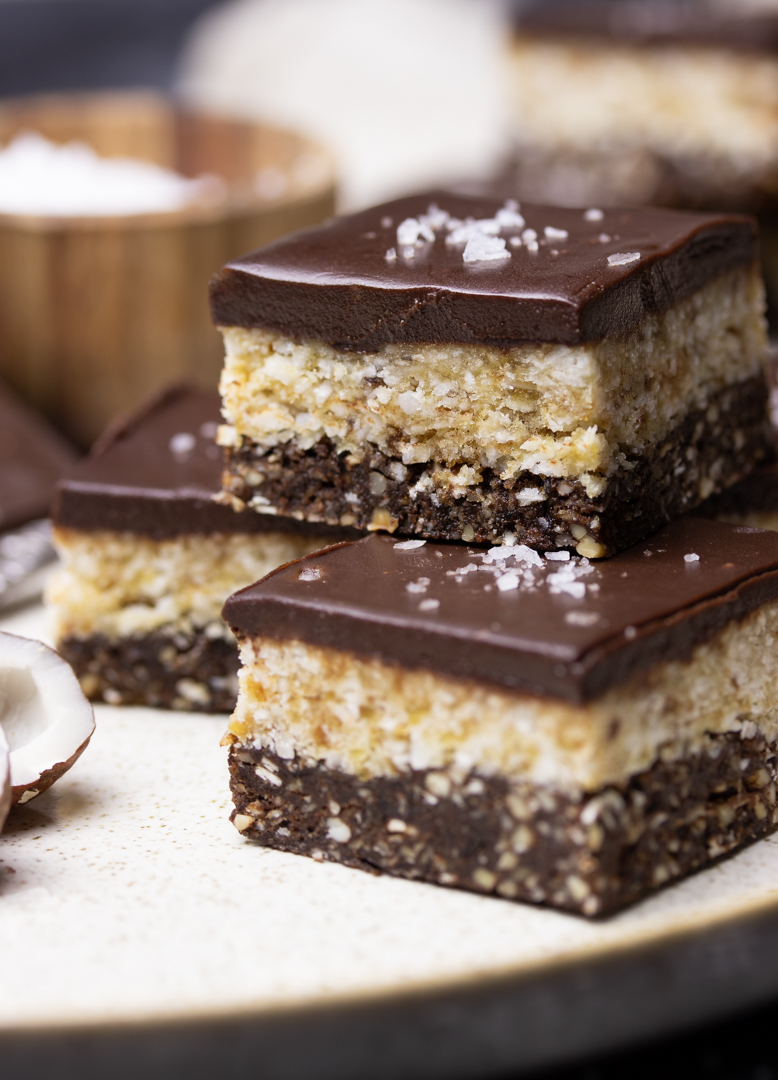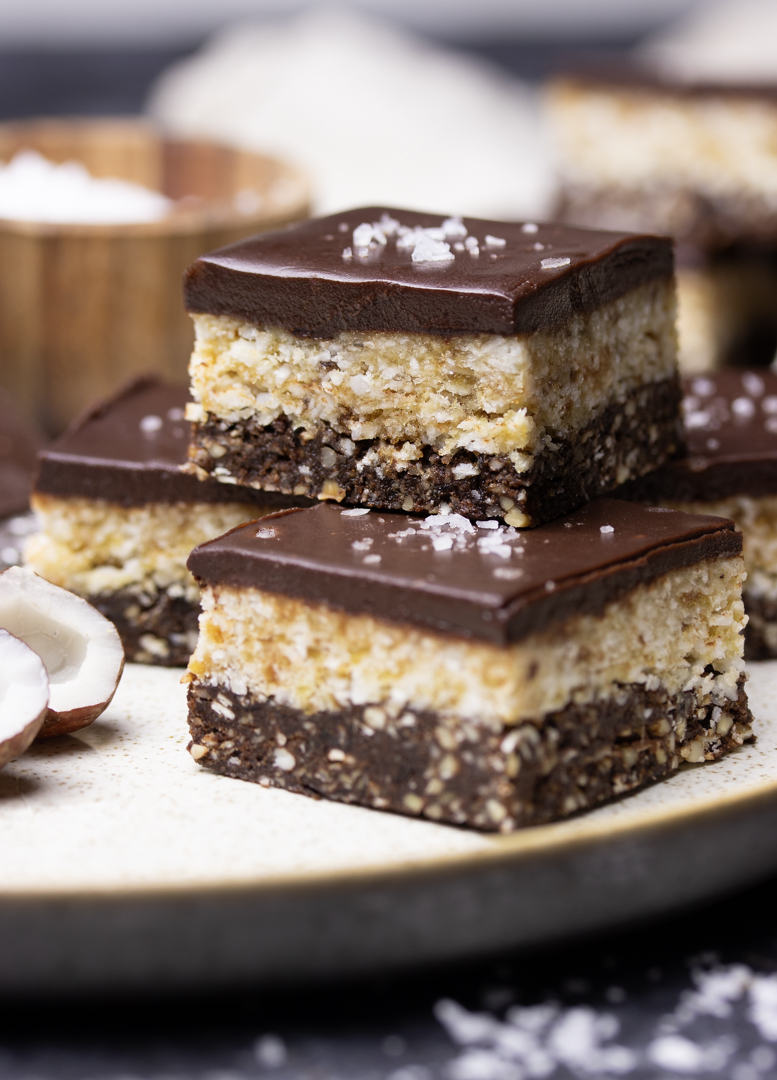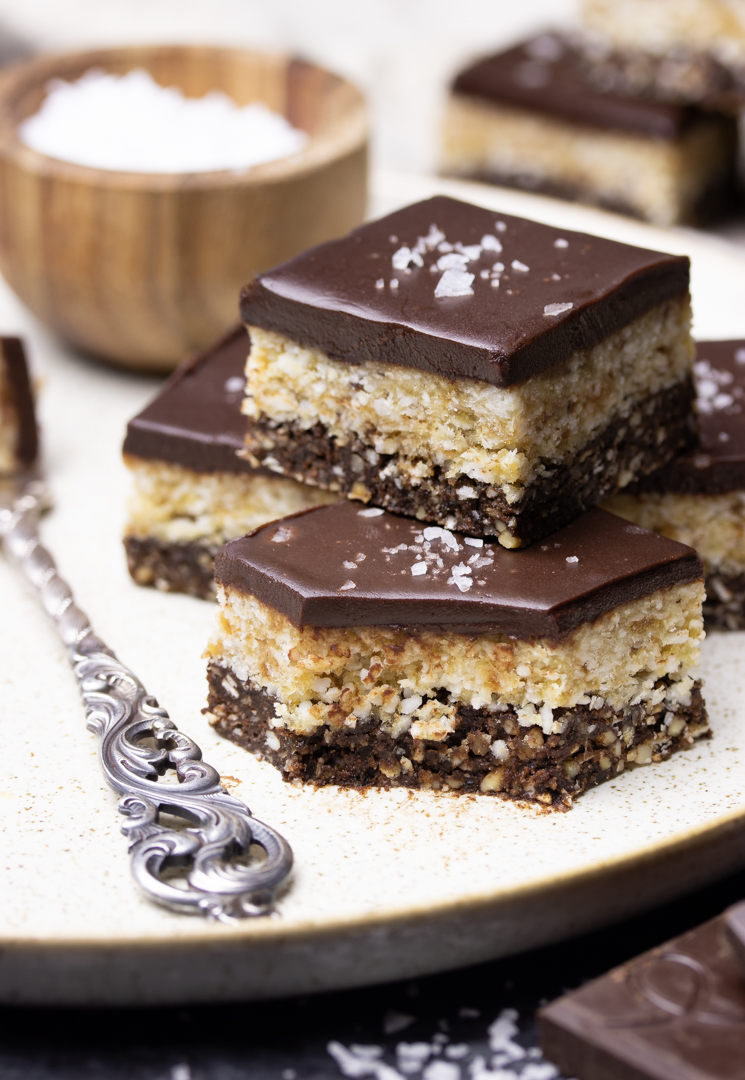 Print
No Bake Triple Layer Bounty Brownies with Chocolate Ganache
The classic combination of coconut and lots of chocolate combined with the perfect no bake brownie and divine chocolate ganache.
Brownie layer
100g

/ 3,5 oz pitted dates

60g

/ 2 oz nuts and seeds of choice (I used walnuts, almond, and cashews)

3 tbsp

rolled oats

3 tbsp

cocoa powder
A generous pinch of salt
A splash of vanilla extract
Coconut layer
100g

/ 3,5 oz pitted dates

100g

/ 3,5 oz desiccated coconut
A pinch of salt
Chocolate ganache
45g

/ 1,6 oz dark chocolate, broken up into pieces

1

,5 tbsp water

1

,5 tbsp liquid sweetener of choice
A pinch of salt
A splash of vanilla extract
Instructions
Start with lining a square or rectangular dish with plastic wrap or parchment paper. My dish was 12 x 16 cm / 5 x 6 inches.
Start with the brownie layer by processing the dates, nuts and seeds, rolled oats, cocoa, salt, and vanilla in a food processor or powerful blender into a nice slightly crumbly dough. It should easily keep it's shape squeezed in your hand.
Transfer the brownie "dough" to the prepped dish and press and flatten using your hands.
Move on to the coconut layer. Quickly rinse the food processer, and then process the pitted dates, coconut, and salt until you get a dough similar to the brownie dough. Transfer the coconut "dough" to prepared dish with the brownie layer and press and flatten on top of the brownie layer.
In a small microwave-safe bowl, put the dark chocolate, water, liquid sweetener, salt, and vanilla. Microwave on low to medium effect for 30 second intervals until the chocolate has almost completely melted. Once melted enough, mix until you get a smooth ganache. Pour and spread the ganache on top of the coconut layer. Put in the fridge or freezer until the ganache has set. Cut up and enjoy!
Notes
I like to store these in the freezer as the ganache is then more firm and the brownie and coconut layers chewier, however, they store just as well in the fridge.