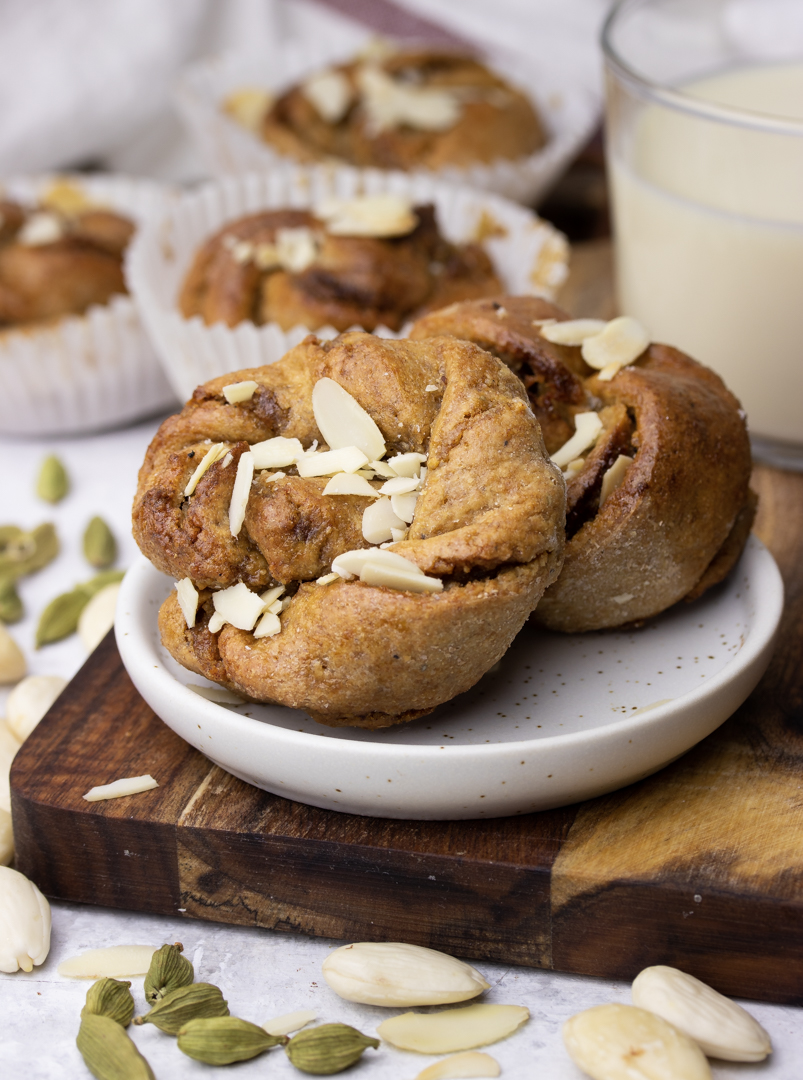 Okay, so I had some trouble with the name of this recipe. In Swedish this kind of buns is called "bullar med mandelmassa", which was trickier to translate than I initially thought. "Mandelmassa" is in English "almond paste", which in my opinion couldn't sound less appertizing. "Mandelmassa" is of a kind of marzipan with extra much almond, so basically a more tastier marzipan. Moreover, these "bullar med mandelmassa" are very Swedish treats, but not very common in the more basic bakeries. Instead, if you'd want a bun like this you'd have to go to a more upper-end bakery or you can make your own. I my opinion, making your own is both more delicious and less expensive.
Anyhow, you cliked on the recipe even though the name is a bit odd so let's talk about how delicious it is instead. The filling is beyond what I hoped to achieve when making these. It's decadent, sweet, and gosh darn flavourful yet wholesome and light in its own way. I have used this basic wholesome sweet yeast bread recipe a bunch of times now, and I'm still in love with it. On another note, I had some trouble shaping the buns, so I have linked another recipe of mine using a better technique down below in the recipe. Hopefully your buns will end up prettier than mine, but in the worst case, the taste is all that counts. Am I right?
Enjoy!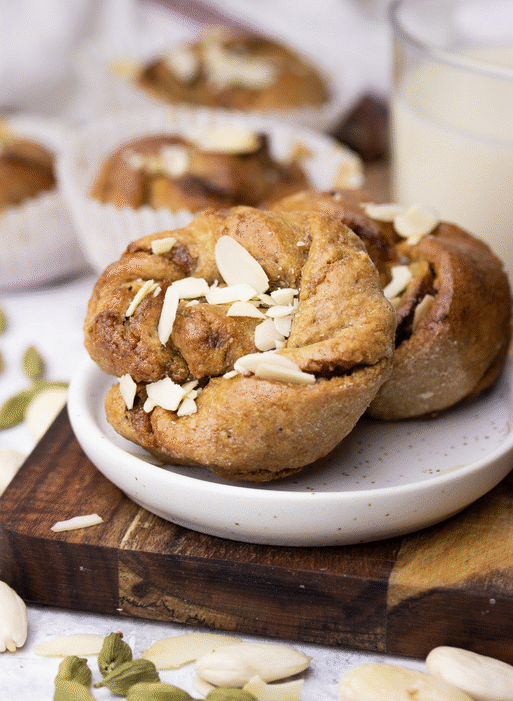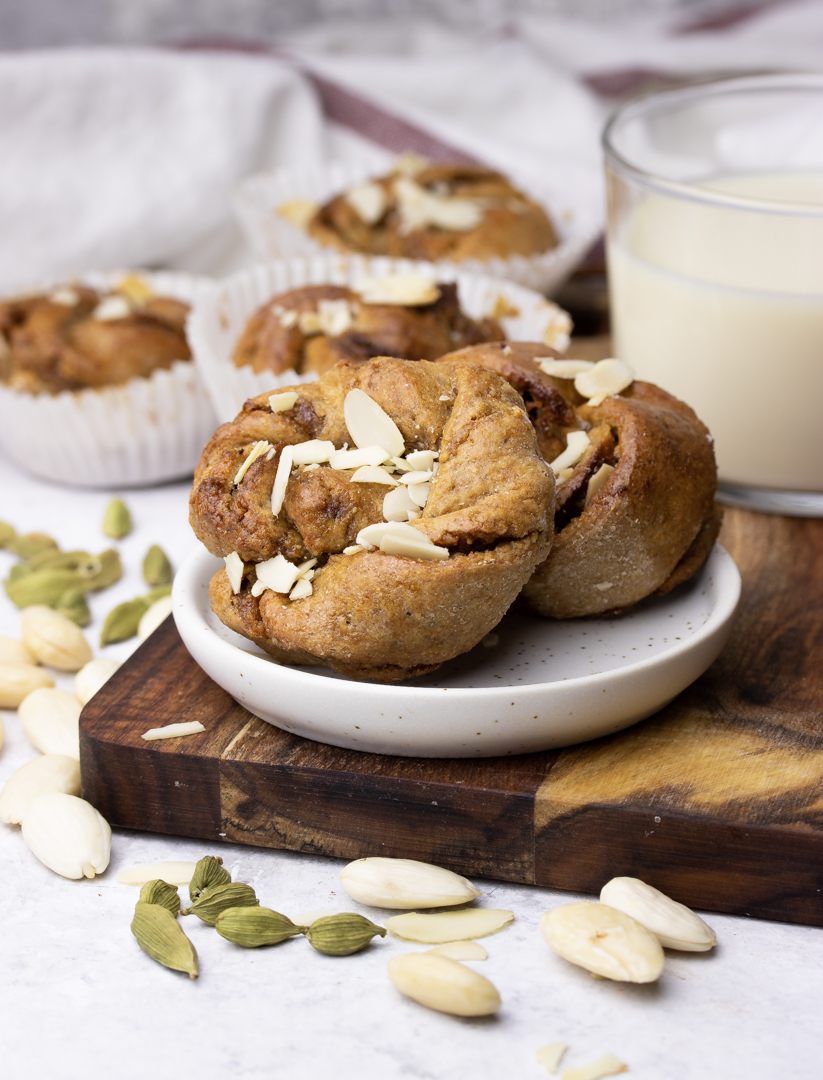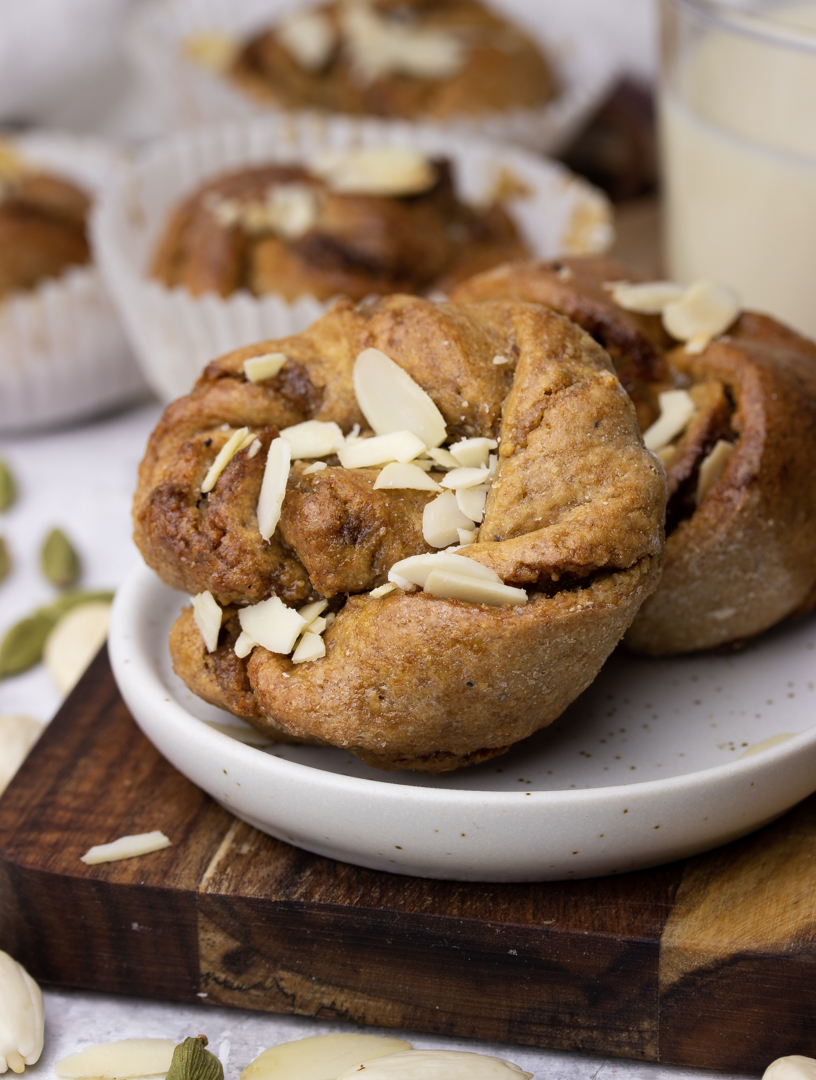 Print
Classic Swedish Buns with Sweet Almond filling A.K.A. Bullar med Mandelmassa
These are a proper Swedish classic you mostly find in more high-quality bakeries which you now can make your own at home. Hooray!
Dough
2

dl / 1 cup minus 3 tbsp milk of your choice

15g

/ 1/2 oz melted margarine or oil of choice

2

,5 tbsp liquid sweetener of choice

8g

/ 0,28 oz dried yeast or

25g

/ 0,88 oz fresh yeast, crumbled*
∼240g / 8,5 oz whole grain flour**

1 tsp

ground cardamom
Filling
150g

/ 5,3 oz pitted dates

50g

/ 1,75 oz almond flour

2 tbsp

water

1/2 tsp

salt

1 tsp

vanilla essence
A few drops of bitter almond aroma
Sugar "syrup" for brushing + topping***
3 tbsp

water

20g

/ 0,7 oz coconut sugar
Optionally some slivered almonds for topping
Instructions
Prepare a baking pan with 16 muffin or bun liners.
In a microwave safe bowl or in a medium sauce pan, combine the milk, oil/margarine and liquid sweetener. Warm in the microwave or on the stove until luke warm.
In a large bowl mix the luke warm liquid and fresh yeast*.
Start mixing in 2 dl / 0,75 cups flour, then continue adding a tablespoon of flour at a time until the dough starts to pull away from the bowl.
Form a ball out of the dough and flour well.
To make the filling, mix the pitted dates, almond flour, water,  salt, vanilla, and bitter almond aroma smooth in a food processor.
Preheat the oven to 175°C / 350°F. On a well-floured surface (you need more flour than you think, trust me) roll out the dough into a large rectangle, mine was 35 x 45 cm / 14 x 18 inches.
There's many ways to twist and shape buns. I did it this way, but it didn't really work out for me so I'll be explaining another and more successful way to shape the buns that I did in this cardamom bun recipe. In the notes I'll have linked some other ways.
Cover the rectangle with the filling. Fold one side over the other and briefly roll the pin over the folded dough. Using a pizza slicer or a sharp knife cut the rectangle crosswise to and even amount of 1 cm / 1/2 inch thin strips. Lay the strips with the cut side facing up. Start to twirl together by lifting one side over the other, to form a twist/braid. Always keeping the cut sides facing up. Then fold the ends together to create a bun. In the beginning, the buns will look a bit weird, but as you go you'll just get better and better.
Transfer the buns to muffins liners and let proof under a tea towel for 60-90 minutes.
For the sugar syrup, place the water and coconut sugar in a small sauce pan and heat on the stove over medium heat until the sugar is dissolved.
Brush half of the sugar syrup on top of the buns and bake for around 15 minutes. Take them out and brush on the rest of the syrup and top with slivered almonds, then bake for an additional 3-5 minutes. Take out, let cool, and enjoy!
Notes
*If you use dried yeast, mix and let it sit and active with the first 2 dl / 0,75 cups of flour for ten minutes before mixing the wet and dry. **As the gluten is a vital part of the bread, I do not and can not recommend using gluten-free flour. ***You could skip the sugar "syrup", but you'd miss out on how much prettier and slightly sweeter it makes the buns.
Different ways to shape buns: The classic log way or the very professional bakery way explained in this recipe
Keywords: Buns, marzipan, vegan, healthy, Swedish, almond