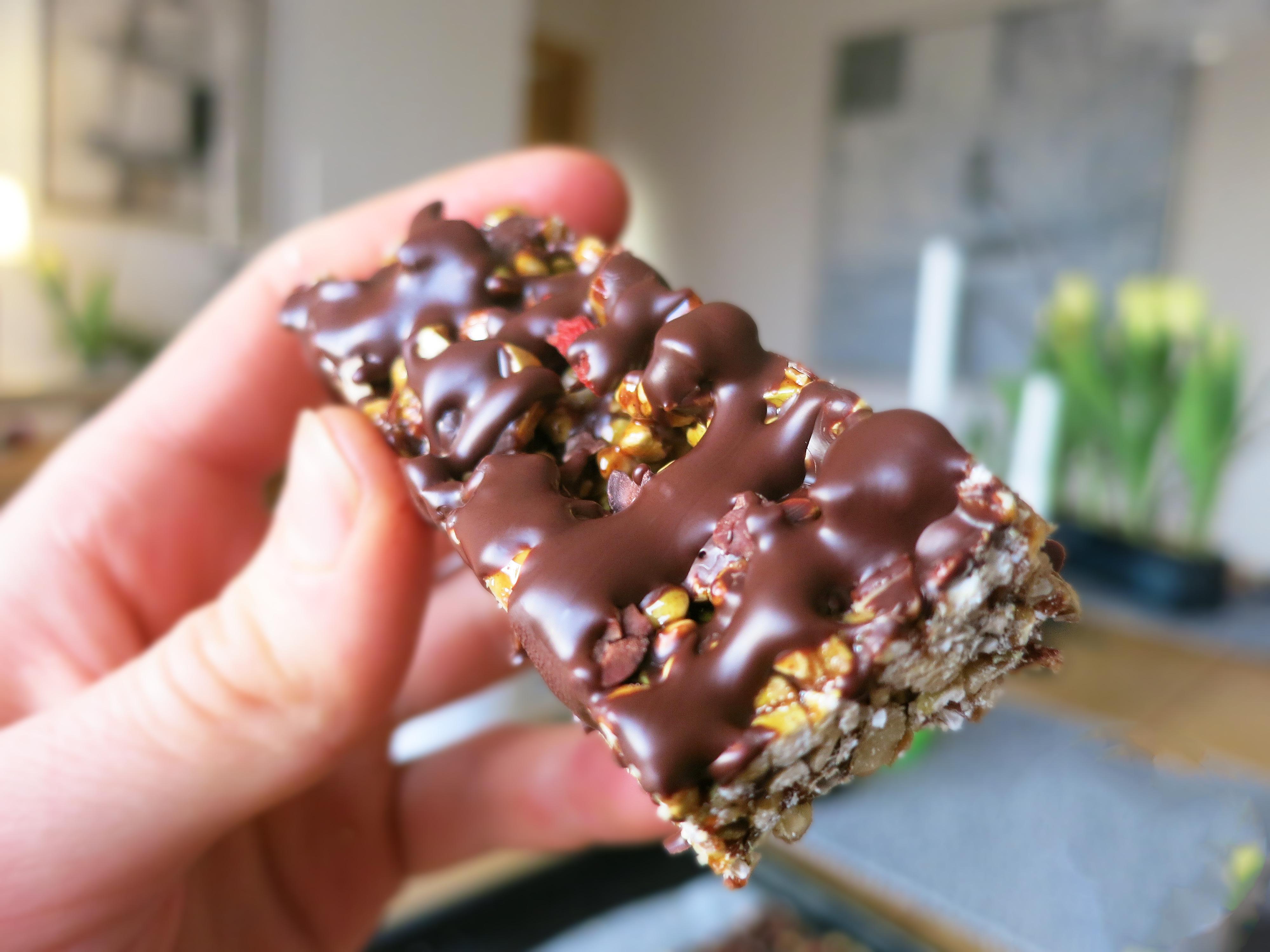 I promise you this recipe will definitely satesfy anyone's sweet tooth! It has all the elements, salty caramel, crunchy roasted buckwheat and nuts and also some chocolate, just because chocolate, duuuuh!
This whole recipe started with me remembering how I absolutely loved caramelized almonds as I grew up, a true childhood memory! I wanted to recreate those moment and started experimenting!
I caramelized nuts, roasted légumes, lots of different things and suddenly I thought why not make a candy bar out of it? Voilà! Refined sugar-, gluten-free, vegan, some that will satesfying your sweet tooth but not spike your blood sugar!
I made this as a part of an easter collaboration together with Green girl eats! Enjoy!
Print
Caramelized Buckwheat Nut Crunch Bars with Chocolate Drizzle
125g

/ 2,5 dl / 1 cup of mixed nut and seeds of choice

1

,25 dl / 1/2 cup buckwheat

3 tbsp

coconut sugar

3 tbsp

honey or other liquid sweetener of choice
Optionally a pinch of salt and cinnamon
Optionally chocolate for drizzling
Instructions
According to recommendations from multiple sources I recommend rinsing your buckwheat for a couple of minutes in boiling warm water and then in cold water for half a minute due to buckwheat containing a red coloring that can irritate your mucous membranes! It's super quick and easy. It only takes a couple of minutes to do.
Preheat your oven to 150ºC / 300ºF. Dry roast your nuts and buckwheat for 10-15 minutes as it's getting warm. Once they start to become golden take them out and let cool.
In a small sauce pan, with a thick bottom, combine the sugar and liquid sweetener over medium heat. Be careful, sugar can reach extremely high temperatures and can burn if you have it on too high heat! "Boil" until you can pour around a 1/2 tsp of the mixture into a glass of ice-cold water, it stiffens and you can roll a pretty hard ball out of it.
Stir in the spices, nuts and buckwheat. Transfer over to a mold lined with parchment paper (greasing it won't work!). Carefully flatten and press down. Don't burn yourself! Let harden in room temperature or in the fridge. Cut into 10 equal bars dip in or drizzle over some chocolate, let harden. Devour!!