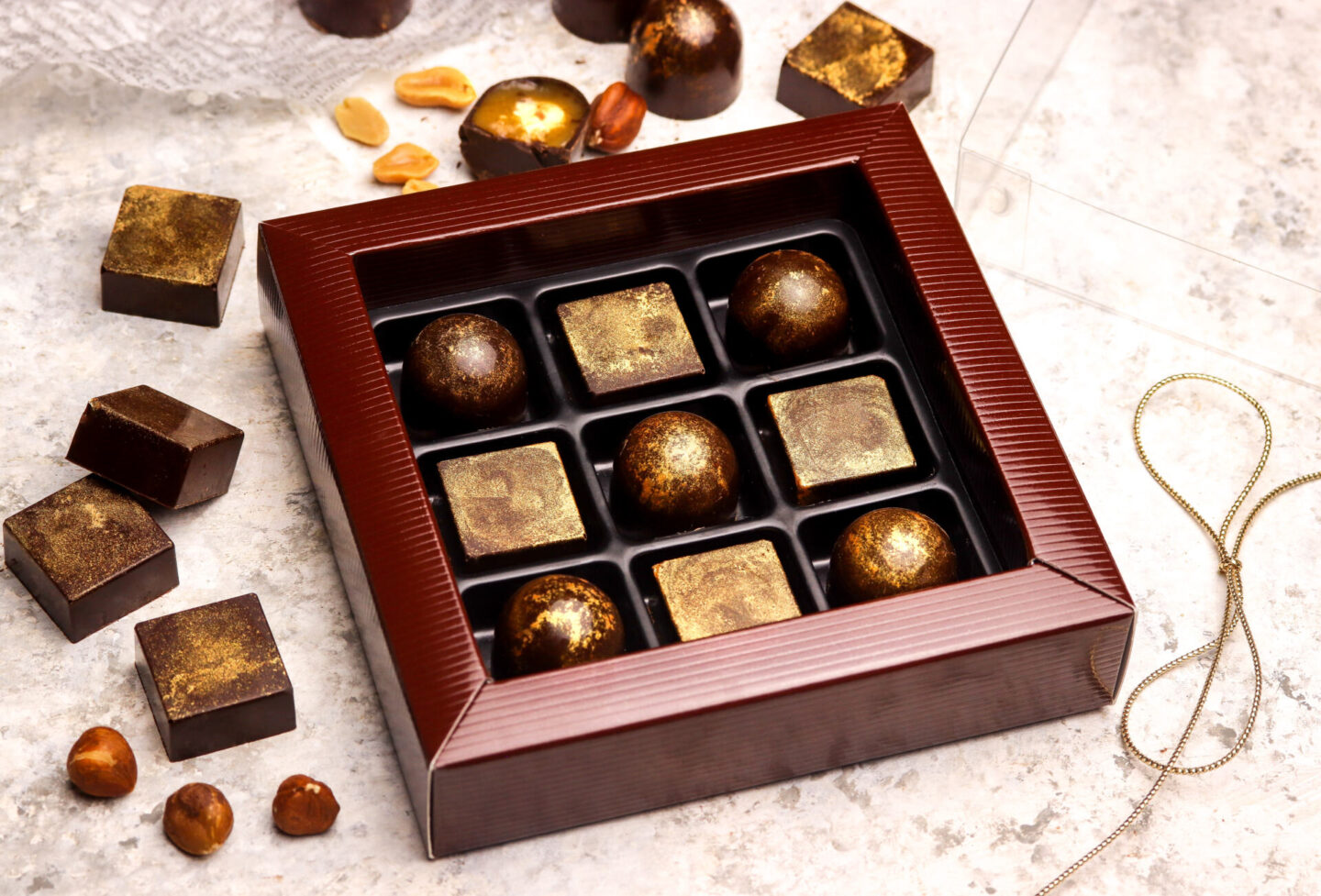 A while back, I spontaneously decided to master praline making, to become a PRALINE MACHINE as I've called it. Since my boyfriend had an internship out of town, and I had the weekdays very much to myself. I thought it was a good use of time and fun to master something supposedly complicated. What I found was that it was easier to make pralines than I imagined, however, the key is the successfully temper the chocolate which can be difficult for a beginner. After some research though, I found what have worked 10/10 times for me, mycryo! Mycryo basically is cocoa butter in form of a powder which gives reliable tempering and simplifies the process a lot. It can seem expensive to buy a big carton for quite a lot of money, but the thing is that you need 1g per 100g chocolate. Basically, you can temper 60kg of chocolate with one carton of that stuff. If you're like me and know you won't just try making pralines once, I'd say it's definitely worth the price.
Moving on to why this is THE ONE PRALINE IN YOUR LIFE. "Brown butter, how good can it actually be?", you may wonder. My answer if pretty fricking amaze balls, simply the best. These bad bois, melt in your mouth for real like a dream. I was inspired by a chocolate shop in my town, called "Alghrens Konfektyr". They have a browned butter praline which I've bought many times as a treat for me and my boyfriend. It was there my interest started since if they can make it, I should be able to make just as good of a praline at home. So I googled for some recipes, and then developed my own version. I've doubled the amount of butter compared to the original recipe I was following, just to get that intense, caramelly, heavenly brown butter flavour in combination with caramelly notes of the brown sugar, salt and vanilla. With the addition of some golden edible powder for that dazzling appearance and a hazelnut in the middle for some extra texture and nutty goodness, I've reached my dream praline. This is the one and the only one you need. It is heavenly a piece of goodness can get.
One last thing, a funny story! My boyfriend gave away a couple of these as a thank you to a friend after helping him out with a thing. The funny thing is that I met this friend a few days after that, had never met him before. Almost as soon as he spotted me, he came up to me asked if I was my boyfriend's girlfriend and couldn't stop talking about the pralines. He had tried one the same night as he was given them, and he thought it was some homemade pretty shiet thing, but oh lord was he surprised. Apparently, he had finished all of them before his girlfriend came home, and couldn't stop talking about them. Cute, huh? The point is, homemade amazing pralines that don't cost 22 Swedish kronor a piece are PERFECT to give away at any occasion or make them because you find it fun, like crazy old me. I myself have made a huge batch for Christmas, which I know my whole family's very excited about.
Enough said, enjoy and happy holidays!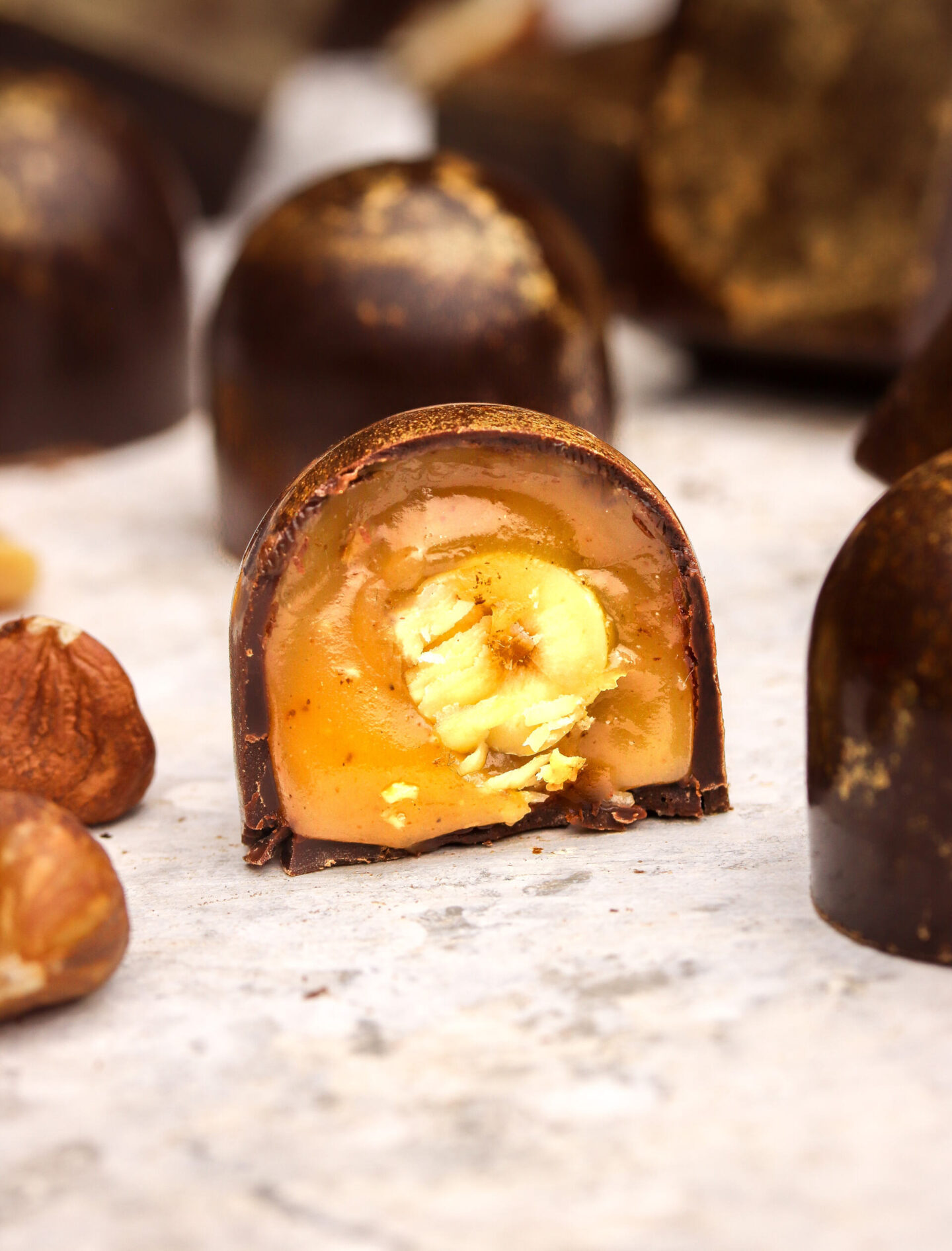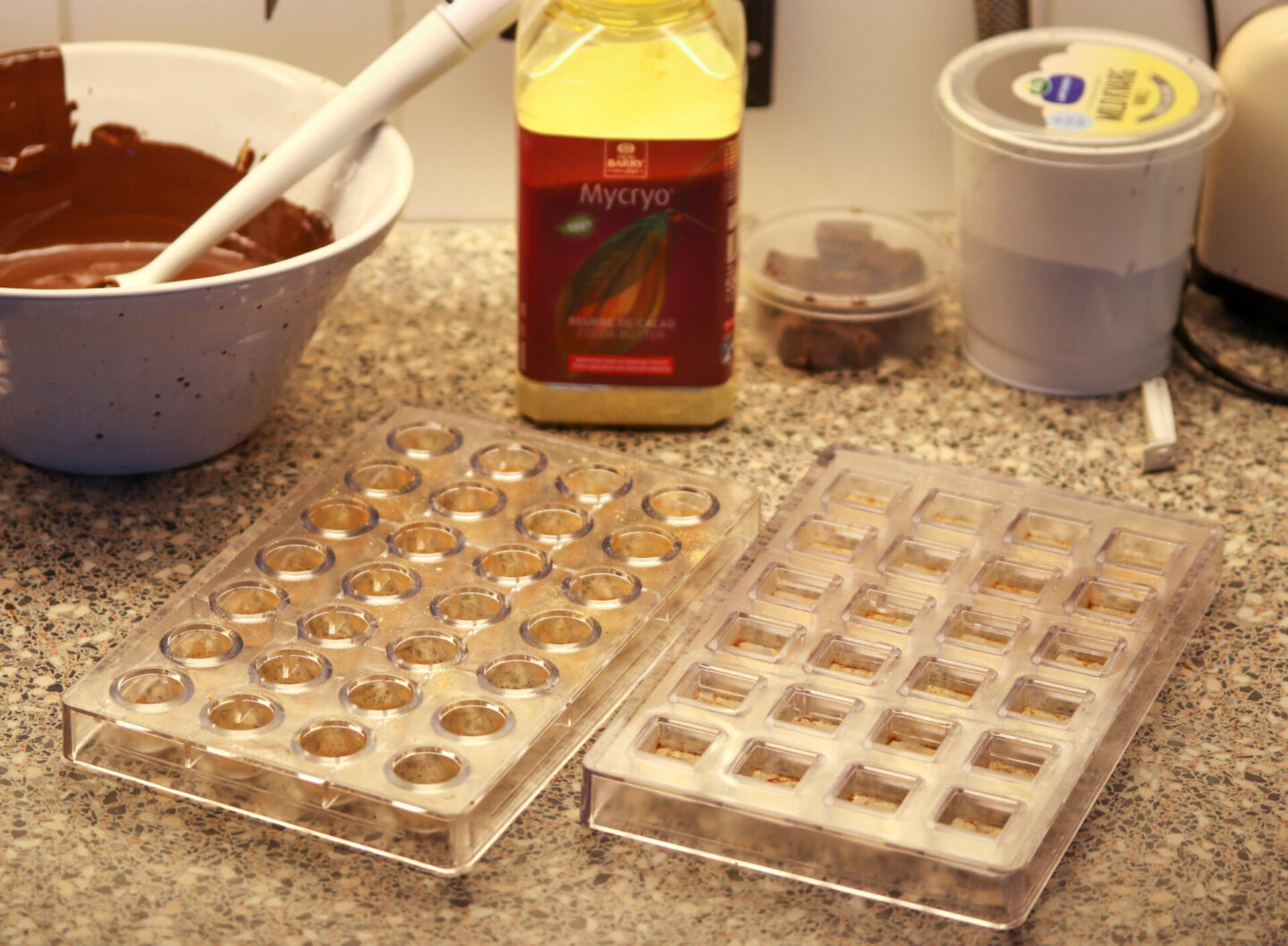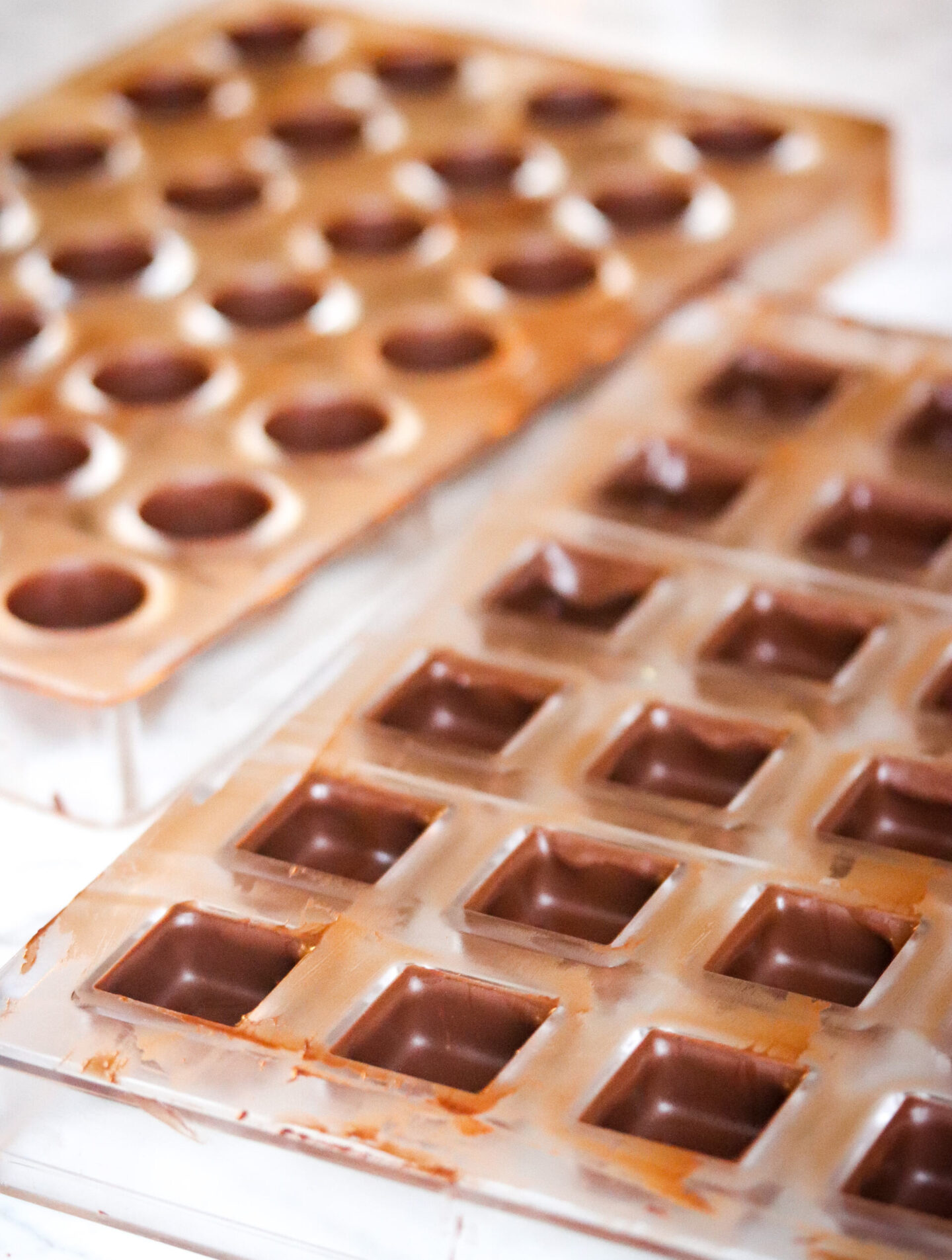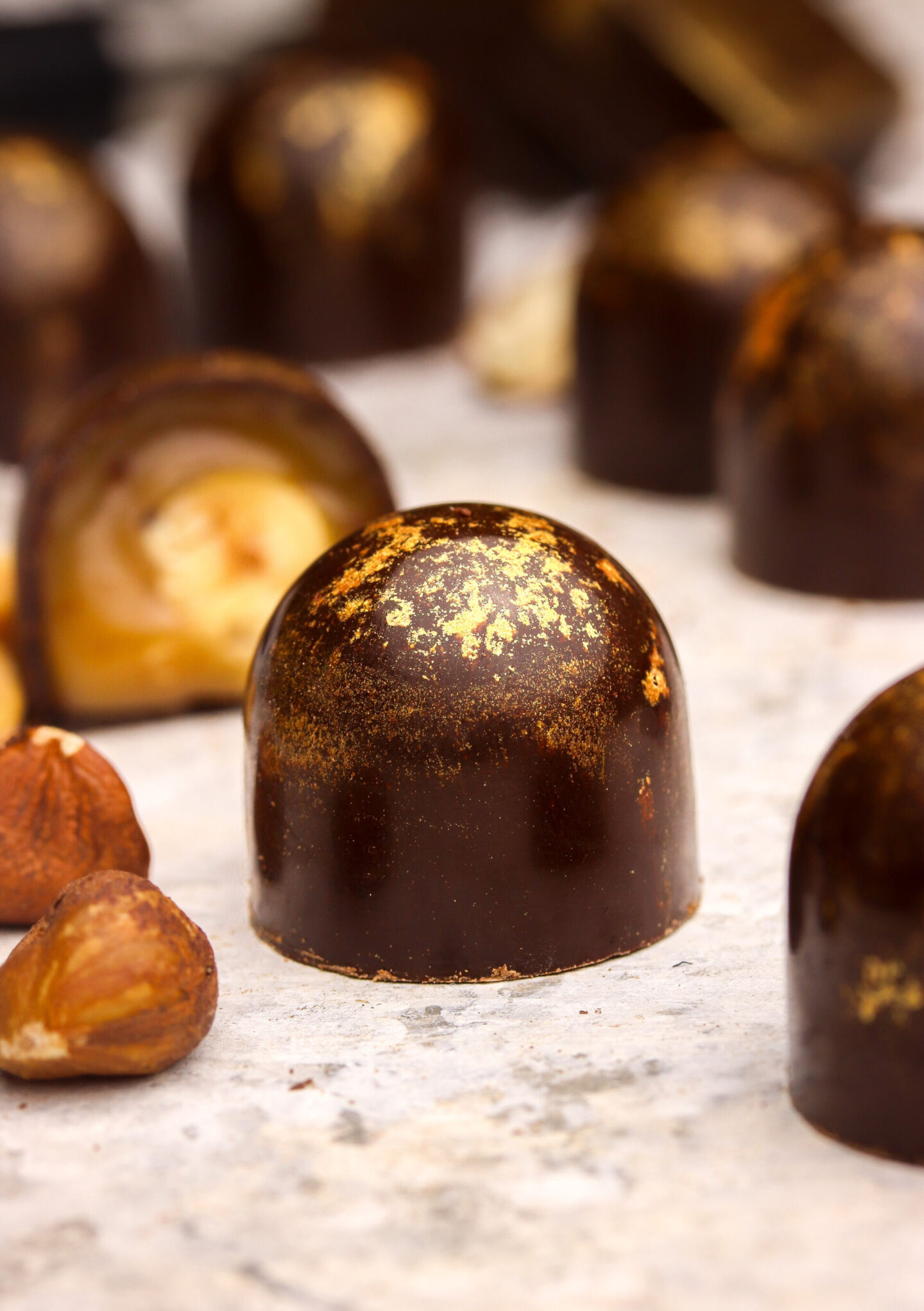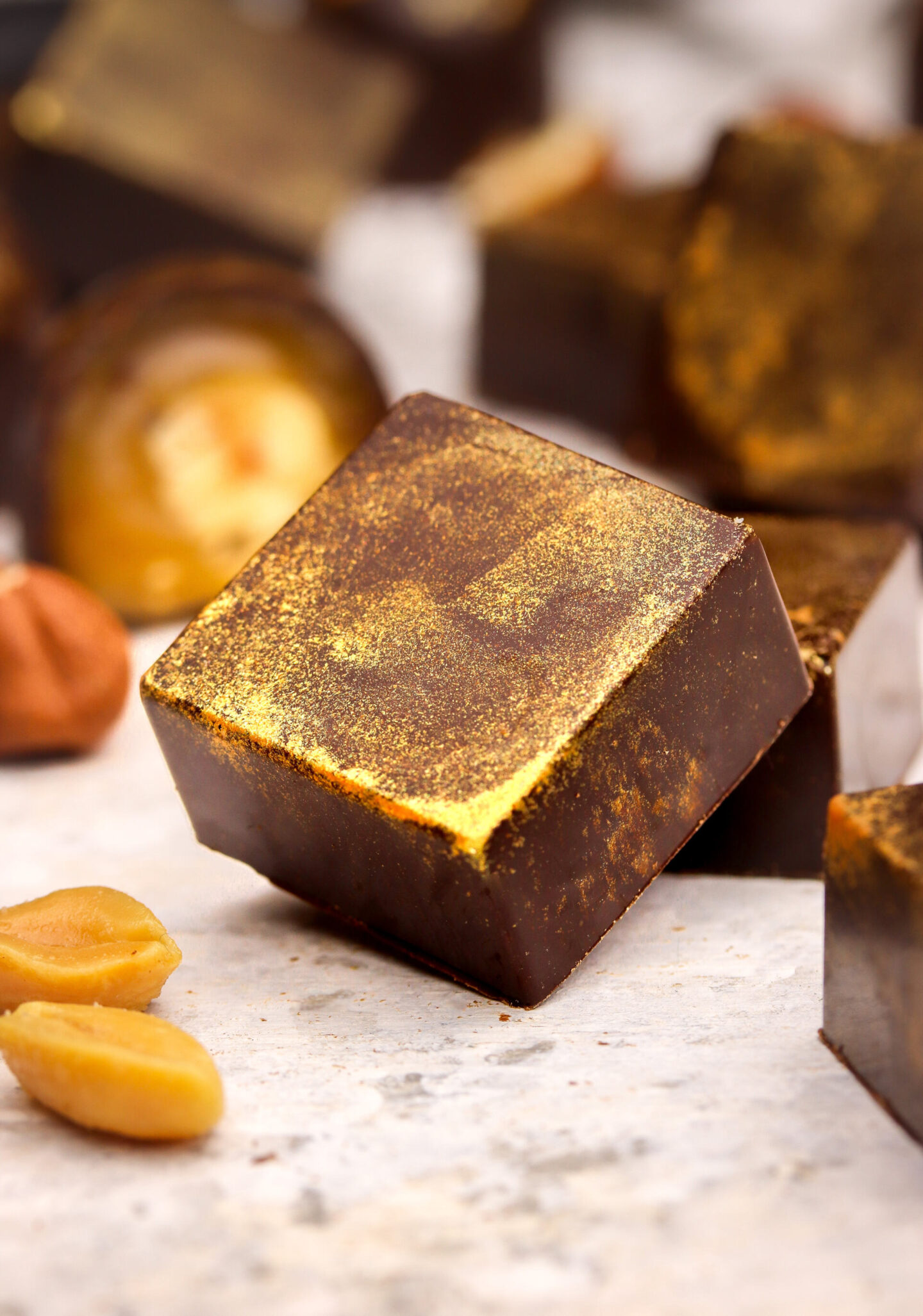 Print
Brown Butter Salted Caramel Pralines – Brynt smör Kola Praliner
As heavenly a piece of goodness can get. Chocolate enclosed brown butter caramel goodness, perfect to give away at any ocassion or make because you find it fun, like crazy old me.
Author: Hanna
Yield:

48

pralines (2 molds)

1

x
Chocolate casing
Optional edible decorative gold or silver powder

500g

/ 17,6oz dark chocolate, about

60

%

5g

/ 0,17 oz of mycryo
Filling
150g

/ 5,3 oz butter

75g

/ 2,6 oz light syrup

40g

/ 1,4 oz glucose syrup

110g

/ 3,9 oz whipping cream, 40% fat

60g

/ 2,1 oz granulated sugar

50g

/ 1,75 oz light muscovado sugar
A hearty pinch of salt

1tbsp

vanilla sugar
Toasted hazelnuts, one for each praline
Instructions
Starts by making the chocolate shells. I use mycryo to temper the chocolate. I've found it to be successful every time, which I've not found when attempting the classic methods.
Clean you praline molds using water and washing-up liquid. I usually clean them with a cotton pad and vodka as well. Let the mold dry, and using a food safe brush brush with edible gold powder if you want.
Melt the dark chocolate over a water bath to 42-45C. Take off, and let cool to 35C in room temperature.
Mix in the mycryo, and let cool to 32C. Great tip to make sure the chocolate really is tempered is to spread a thin layer on a piece of parchment paper. If it sets within 5 minutes to a glossy, hard sheet, then the chocolate is well tempered. If it's not tempered, you'll not get the pralines out of the molds.
Then fill the cavities of the praline molds up to the top, even overflowing a little. Using the handle of a spatula or dough scraper, tap on the sides of the mold to remove air bubbles. Also, tap the mold on the counter top. This will prevent the formation of air bubbles on the surface of the chocolates.
Then, flip the mold over the chocolate bowl to empty the cavities. Let the chocolate to drip off. Tap the side of the mold to get rid of excess chocolate. Using the spatula or dough scraper, scrape of the excess chocolate from the molds' surface. Repeat for the second mold, and let set. You'll get a sense of how long you should let the chocolate set in the molds and how thick of a shell you'll get after some time making pralines.
For the filling, start browning the butter in a medium sauce pan.
Add the rest of the ingredients except for the hazelnuts, and cook until it has reached a temperature of 100-105C. Set aside and let cool to room temperature. Once cool, transfer to a piping bag.
Fill the cavities to about 1/3, press a hazelnut into the filling and fill until there's about 2-3mm left to the top. Let sit in room temperature for a few hours or over night till a not sticky or wet "skin" has formed on the filling.
Now for the lids, temper about 150g of chocolate with 1-2g of mycryo. Pour over the cavities until overflowing, and using the scraper scrape of excess chocolate chocolate. Repeat for both molds. Let set.
Once set, try to tap out the pralines. If the chocolate was tempered correctly, it should go pretty easily. Otherwise, if you know you've tempered the chocolate properly, you can put the mold in the freezer or fridge for a short amount of time, and then the chocolate should shrink even more and pop out more easily. Enjoy!
Keywords: brynt smör, brynt smör praliner, praliner, recept, recipe, pralines, browned butter, kola, smörkola, knäck, hemmagjord, julgodis, godis, candy, Christmas, easter, påsk, brynt smörkola, caramel, filling, delicious, best, salted caramel, hazelnuts, how to,