This cake is all you need. The chocolate cake itself is rich, fluffy, moist, decadent, and ultra chocolatey. The pear gives the cake a gorgeous additional fresh sweetness sophisticated element, while the roasted hazelnuts deepens the flavour and brings the most beautiful nutty flavour to the table. This cake truly has it all and is elegant yet moreish. Yum!
My mum brought this cake to work and only came home with a small piece. Guys, this was a rather large cake, and they were not a lot of people in the office. Yet, they loved it so much they demolished it. In case my opinion doesn't convince you, ladies and gentlemen, that is hard proof of how good this cake is. Not to forget it is for everyone from vegans, gluten-intolerants, children to sceptical elders. Matter of fact, my grandmother approved of this cake with a loud: "MmmmMMM", and a big smile.
I truly hope you give this cake a go. It's easy and quick to whip up, delicious, wholesome, and so so worth every single second you spend making it. Enough said, I'll let the pictures speak. Enjoy!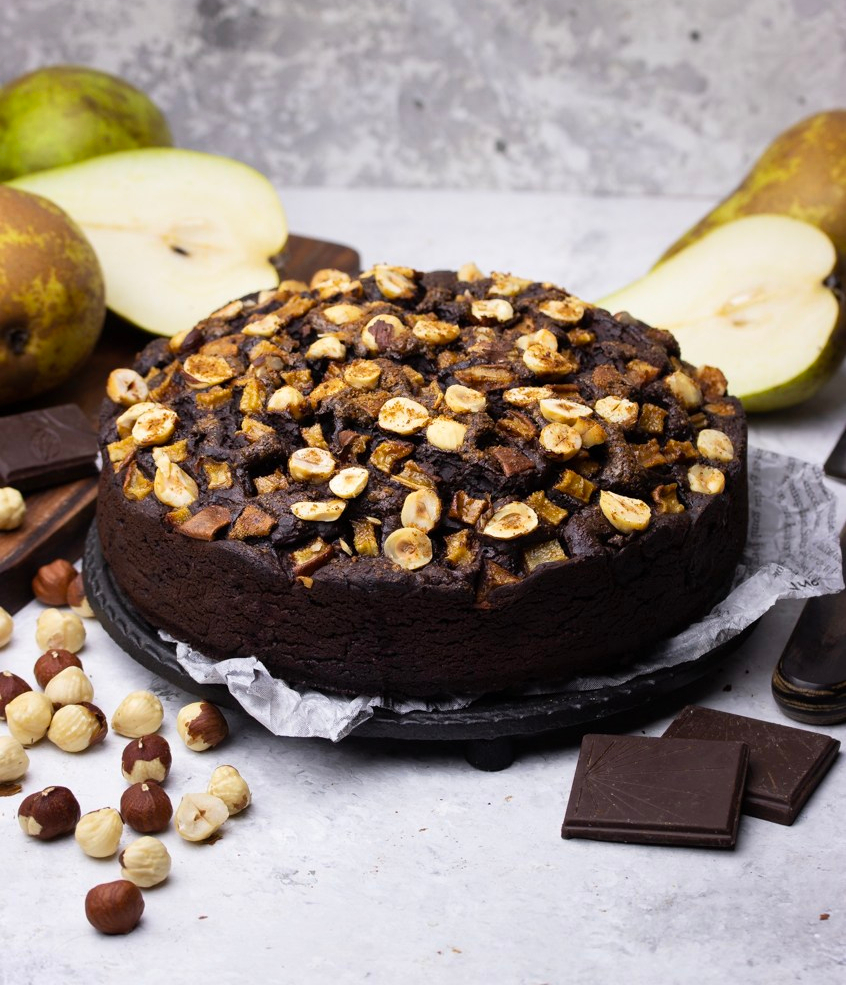 Isn't the top just gorgeous? The additional cubed pear, roasted hazelnuts, and extra 1/2 tbsp coconut sugar on top caramelises in an absolutely beautiful way. YUM!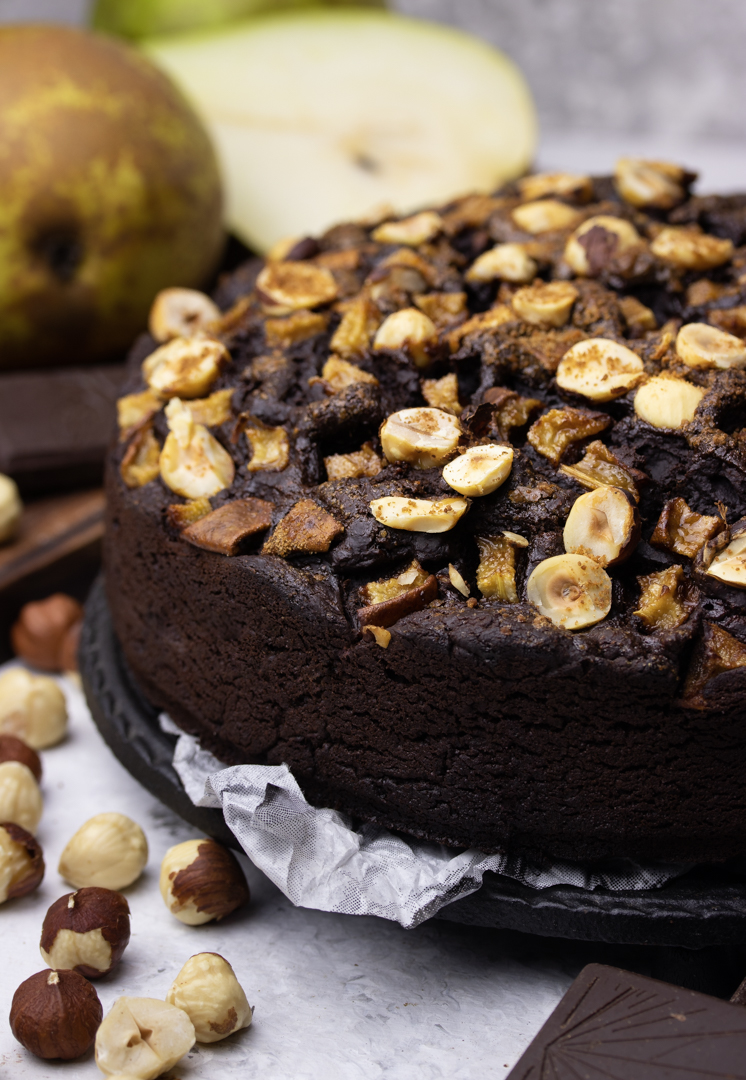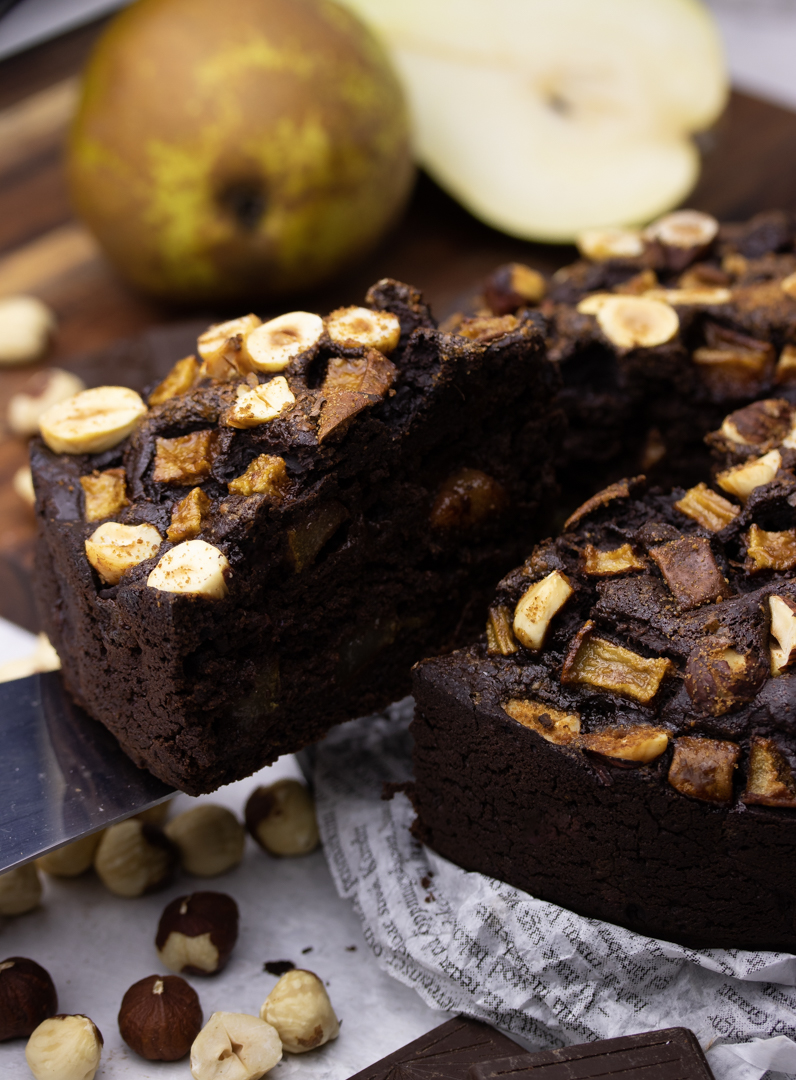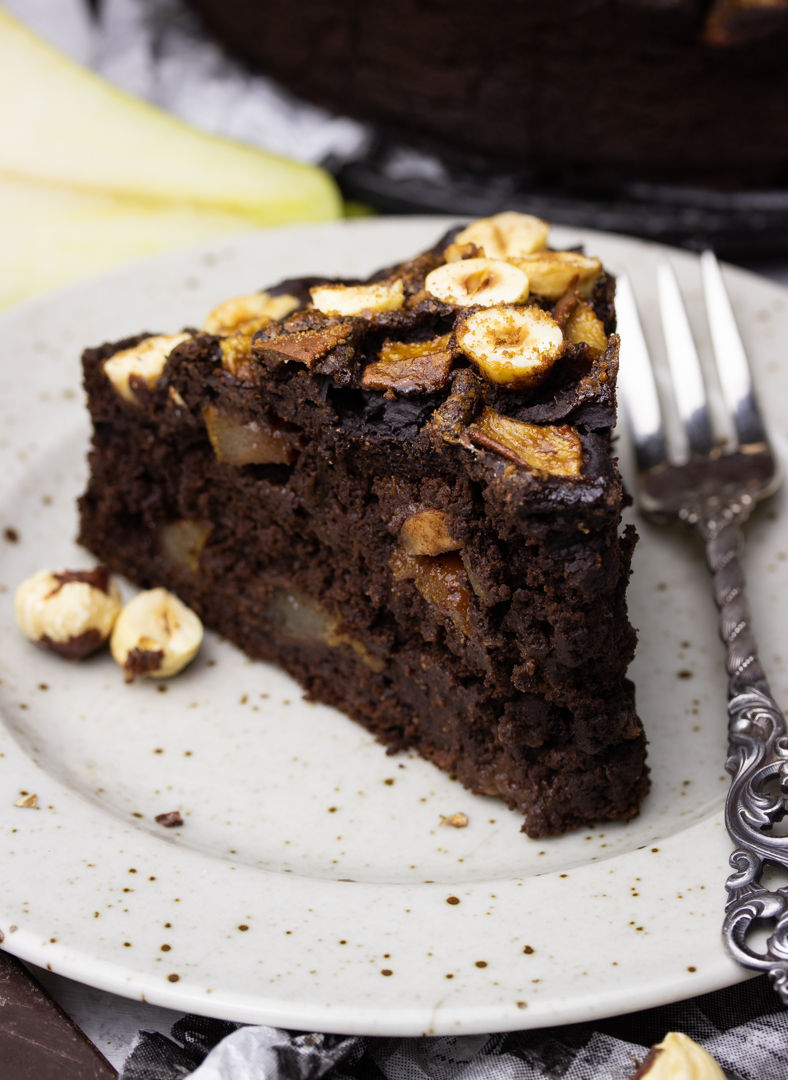 Let's just take a moment and appreciate the GORGEOUS texture the cake has. Daaaamn!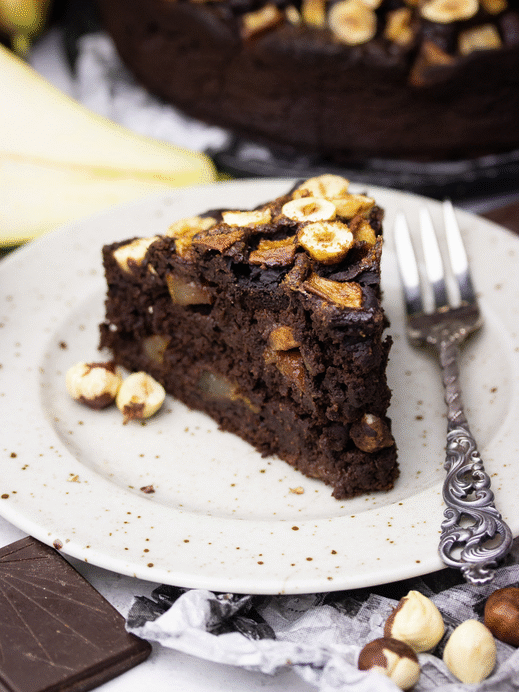 Print
Decadent Pear & Hazelnut Chocolate Cake
It may be an unexpected combination but beautiful pear paired with nutty roasted hazelnuts and a delicious dark chocolate combined in the form of a cake is truly next level. 
100g

/ 3,5 oz oat flour

65g

/ 2,3 oz cocoa powder

1

,5 tbsp milled flax or chia seeds

2 tsp

baking powder

1/2 tsp

baking soda
A pinch of salt

250

ml plus 1 tbsp / 1 cup plus 2 tbsp tbsp milk of choice

35g

/ 1,2 oz coconut sugar or other granulated sweetener

80g

/ 2,8 oz pitted dates

25g

/ 0,9 oz nut butter of choice

1/2 tsp

vanilla extract

25g

/ 0,9 oz dark chocolate, melted

200g

/ 7 oz ripe but firm pear, diced
Roughly

60g

/ 2 oz roasted hazelnuts, roughly chopped
An extra

1/2 tbsp

coconut sugar or other granulated sweetener
Instructions
Preheat the oven to 160ºC / 320ºF and prepare a cake pan. My pan had a diameter of 18 cm / 7 inches.
In a large bowl mix the oat flour, cocoa, milled seeds, baking powder, baking soda, and salt.
In a blender, blend the milk, sugar, dates, nut butter, and vanilla smooth.
Add the wet to the dry and mix until just combined. Add the melted chocolate and give another stir until incorporated. Carefully fold in half of the diced pear and hazelnuts.
Transfer the batter to the cake pan and top with the remaining diced pear and hazelnuts. Using your hands, carefully press the bits of hazelnut and pear into the batter. Sprinkle the extra coconut sugar on top and bake for 35-40 minutes or until a tooth pick runs clean. Baking time of course depends on the thickness of the cake, mine was super thick, hence, the long baking time. Let cool, cut up and enjoy!
Keywords: Chocolate cake, vegan, pear, hazelnut, gluten free, refined sugar free, desserts, baking